Titan slayers
Carlisle scores 3 TDs, Britt throws for 2 as Oxford wins fourth straight over Gadsden City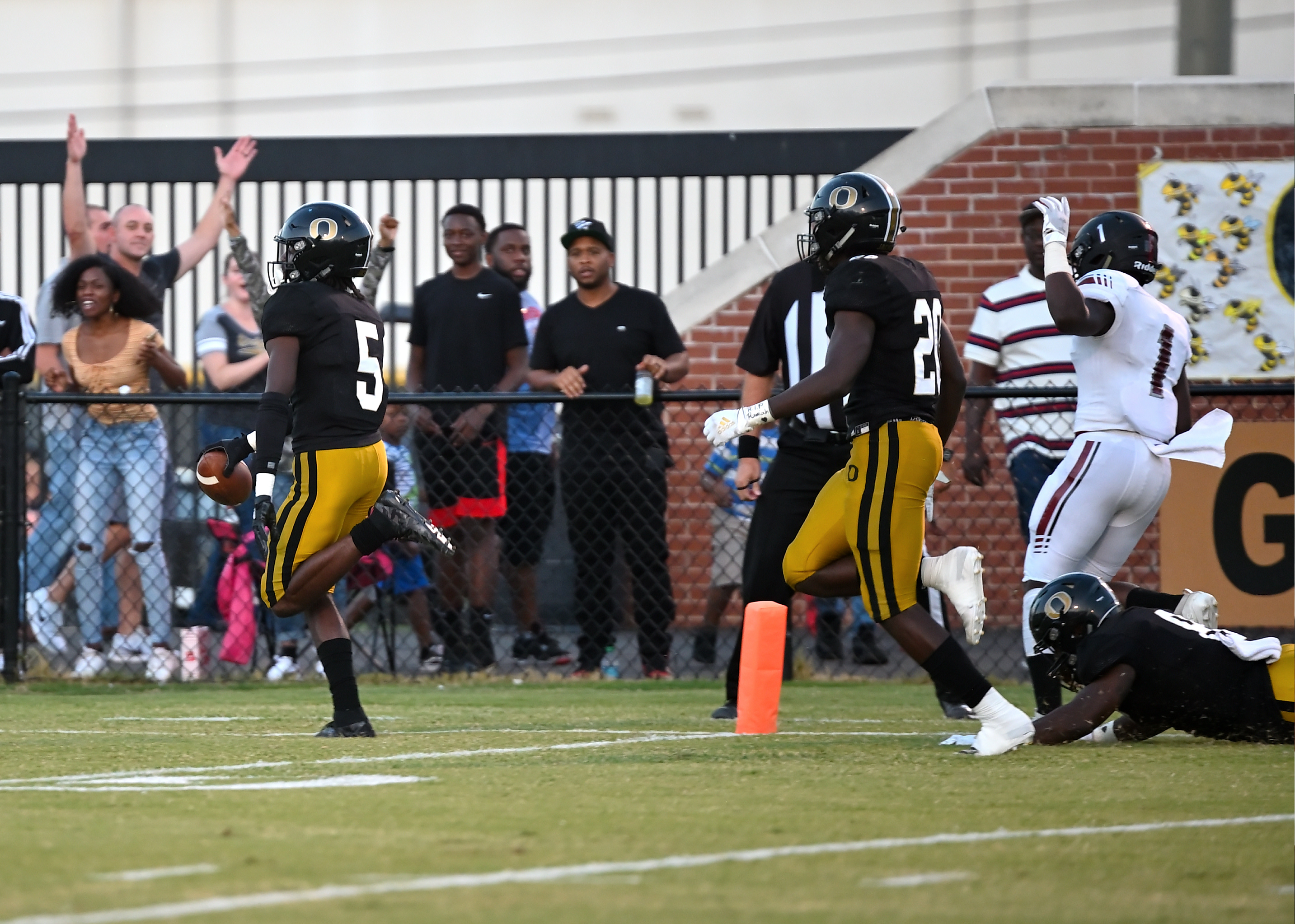 By East Alabama Sports Today
 
OXFORD – The weather was crisp with a slight tinge of cool in the air at Lamar Field, but the Oxford offense was crisper and red-hot as the Yellow Jackets bolted out quickly and went on to pound 7A Gadsden City 42-7.
 
It was Oxford's fourth straight victory in the series and the Yellow Jackets (2-0) now lead the all-time series 8-6 on the playing field.
 
Oxford got off to roaring start when receiver Zay Britt fired two first-half touchdown passes to Trequon Fegans and Devion Ball. Britt was the punter on the first drive and executed a fake punt perfectly and connected with Fegans on a 46-yard scoring pass.
 
Moments later, Britt had to move to quarterback for a play while starting quarterback Trey Higgins needed to get his helmet repaired. He took advantage of the opportunity and connected with Ball for an 18-yard score.
 
J.B. Carlisle kept the scoring parade going as he took a screen pass from Higgins and bolted 43 yards for the third Yellow Jackets touchdown. That touchdown came between two missed opportunities – Carlisle had a 63-yard burst called back and Higgins lost a fumble at the 5.
 
Late in the first half, Jaylen Swain caused and recovered a fumble at the Titans 19. Three plays later Carlisle scored from the 1 to give the Jackets a 28-0 halftime lead.  

Oxford enjoyed a 295 to 2 yards advantage in total yards in the first half. Fifteen of the Titans' 20 plays went for no gain or a loss in the half.
 
The Titans came out strong in the second half and took up the first six minutes of the clock, punching in a score on a 1-yard plunge by Jayden Lawson. The drive was aided by a huge late hit penalty that nullified an interception by Justin Woodrow.

Oxford answered with a 73-yard drive as Carlisle scored his third touchdown on another 1-yard run. Two plays later Antwon Fegans intercepted a Lawson pass and returned it 50 yards for a touchdown and a 42-7 lead.
 
Higgins ended the game completing 11 of 17 passes for 208 yards and a touchdown. Carlisle added 74 yards on 13 rushes and three touchdowns. He also had two receptions for 47 yards.Ball had six receptions for 107 yards and a touchdown.

The Jackets only had 3 penalties for 20 yards in the game, which was a big improvement over last week, while Gadsden City was plagued with 116 yards in penalties.

Oxford will be at arch-rival Pell City – one of new coach Keith Etheredge's former teams – next week in the Class 6A Region 6 opener for both teams. Gadsden City will be at Sparkman in a 7A Region 4 opener.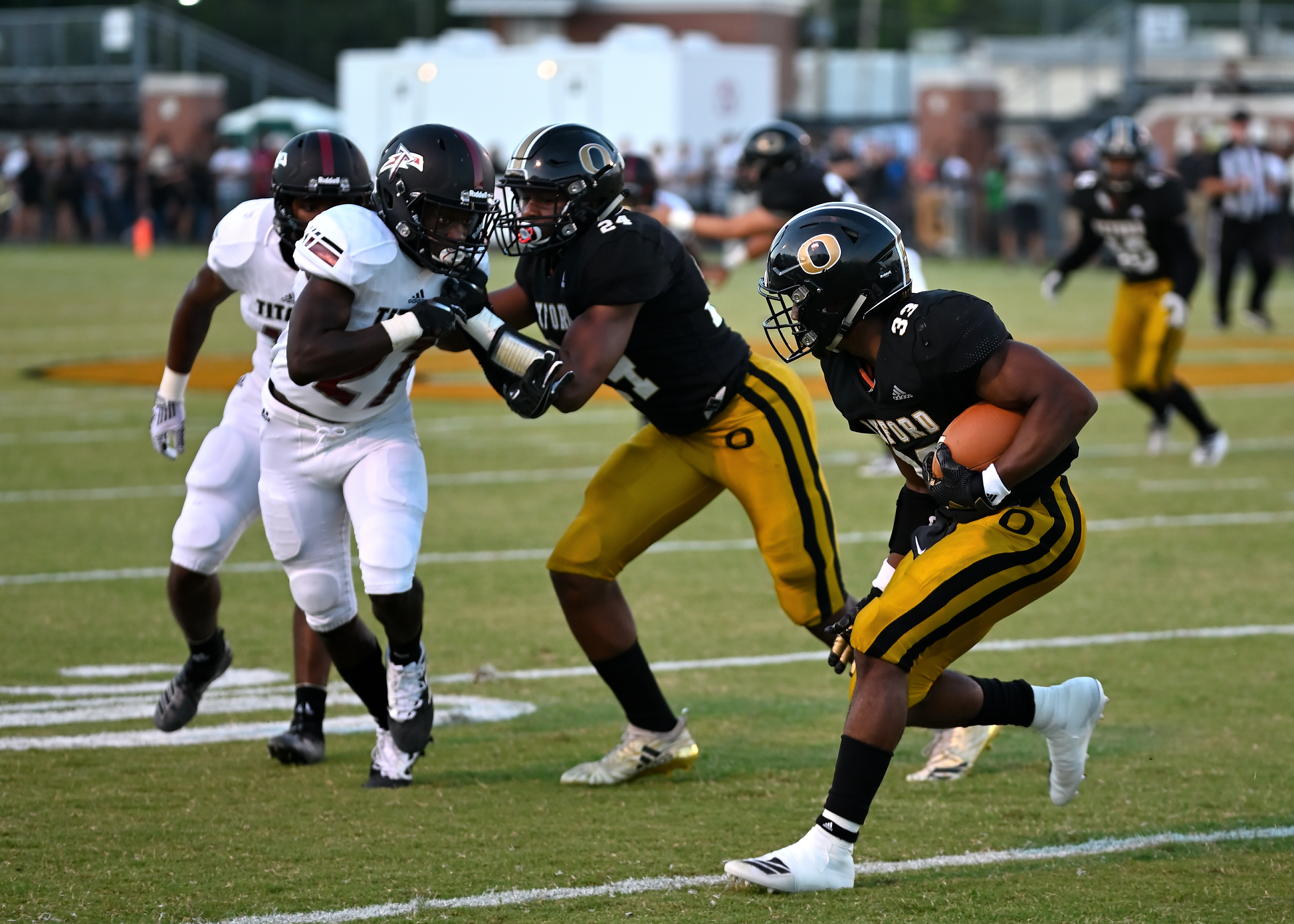 Oxford 42, Gadsden City 7
| | | |
| --- | --- | --- |
| GC | | Oxf |
| 6 | First downs | 14 |
| 32-58 | Rushes-yds | 27-123 |
| 5-13-1 | Passes | 13-19-0 |
| 48 | Passing yds | 274 |
| 4-1 | Fumbles-lost | 2-2 |
| 6-39.3 | Punts-avg | 3-32.5 |
| 18-116 | Penalty yds | 3-20 |
Scoring plays
Gadsden City 0 0 7 0 – 7
Oxford 13 15 14 0 – 42
O – Trequon Fegans 46 pass from Zay Britt (Andrew Warhurst kick), 8:59 1Q
O – Devion Ball 18 pass from Zay Britt (kick failed), 3:31 1Q
O – J.B. Carlisle 43 pass from Trey Higgins (Andrew Warhurst kick), 10:00 2Q
O – J.B. Carlisle 1 run (Jaylon Swain pass from Trey Higgins), 3:00 2Q
GC – Jayden Lawson 1 run (Daniel Sparks kick), 6:10 3Q
O – J.B. Carlisle 1 run (Andrew Warhurst kick), 1:34 3Q
O – Antwon Fegans 50 Interception return (Andrew Warhurst kick) 0:17 3Q