Man on a mission
Ohatchee's Thomas rushes for 252 yards, scores 5 TDs as Indians open season with 55-18 rout of White Plains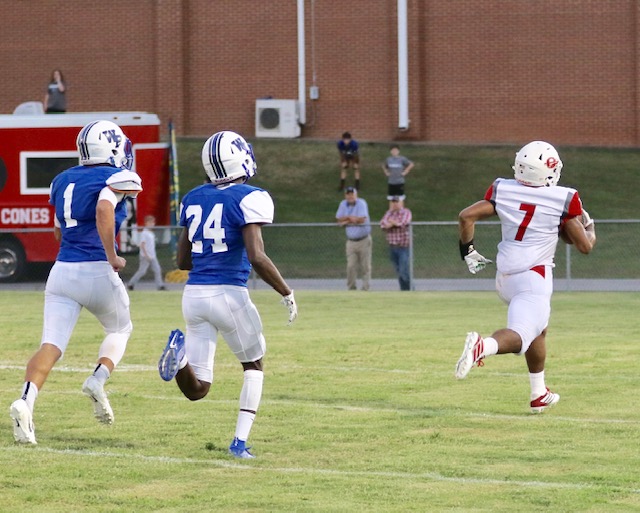 By Al Muskewitz
East Alabama Sports Today

Domonique Thomas doesn't have to go far to find motivation for this football season. It's right there in the palm of his hand every time he opens his phone.

There on the lock screen is a picture of Fyffe head coach Paul Benefield raising the Class 2A state championship trophy before his onrushing team and it's the single image that drives Thomas to carry Ohatchee further than it went a year ago when its playoff dreams were dashed by those same Fyffe Red Devils.

The result of that game stung so bad, Thomas replaced the family picture in his phone with that image just to keep it fresh in his focus.

"I'm still pretty mad about it and it's going to keep motivating me the whole season," he said.

His quest got off to a rousing start Friday night as he rushed for 252 yards on 17 carries in two quarters and one series of work, accounted for 281 yards of offense and scored a total of five touchdowns as the Indians rose up against White Plains 55-18 in their season opener.

Thomas, who played in the second half only three times last season, had 100 yards rushing in each of the first two quarters against the Wildcats and had 220 yards and three touchdowns rushing by halftime. He also took a screen pass from Cameron Foushee 29 yards for another score in the second quarter.

"The drive tonight was to send a message and set the tone for this season and let everybody know that we're still here, we're still good," he said. "I wanted to send a message personally, myself, too, that I'm coming."

It was an efficient Ohatchee team worried about playing a team that already had one complete formal game under their belt. The Indians scored touchdowns on their first four offensive possessions, seven of their first eight and squeezed a defensive score in between.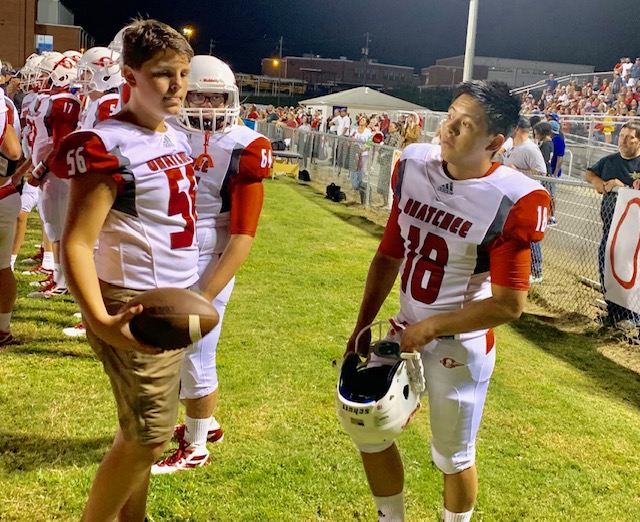 "I was very pleased to see us come out and take care of business early and kind of not put us in a position where we had to worry about that," Indians coach Scott Martin said. "I thought tonight at times Ryker (Lambright) ran the ball well and Eli (Ennis) came in and made some plays with his feet and Domonique was who Domonique is."

The Indians also debuted another weapon in the game. Emerson Abac played in his first ever high school American football game and hit the first seven extra points he attempted. The diminutive senior from the Guatemalan state of Quetzaltenango has been an Ohatchee student for three years but hadn't even kicked a football in a formal setting until about two weeks ago, but the first time he tried, Thomas reported, he kicked 20 field goals in a row.

"Nobody told me to play with them before," Abac said. "This year my teacher told me to try because they needed a kicker and I could do it. When they told me to kick the ball I went for it. I like it. It's a good game. I didn't think I was going to like it, but I do. I think they are proud of me and I think I'm doing a good job there."

Abac is pretty good at threading a needle a lot narrower than the goalpost uprights, too. He can tailor a mean suit of clothes and has won medals for his stitchery at state competitions. Actually, he made the alterations on the trousers Martin was wearing on the sidelines Friday night.

"Emerson is a unique individual," Martin said. "We approached him in the offseason if he'd be interested in kicking. We never really approached him about playing before because we always had Gage Harrell the last three years. I think Gage made over 150 extra points in the three years he started for us kicking; he was a kicker we forced to be a lineman.

"It's just so neat. He's more thrilled to be playing you'd think, but we're more thrilled that we have him. He's a feel-good story, the kids love him. I promise you two weeks ago he'd never kicked a football, so we've just kind of worked him through it and he's getting better and better."

The loss brought a different kind of vibe to the White Plains dressing room than the Wildcats had in winning in coach Chandler Tyree's head coaching debut last week. The Wildcats had some good individual performances – Jaden Harris rushed for 142 yards, Jaden Chatman threw for 107 yards and a touchdown and newcomer Teddy Hall caught five passes for 51 yards – but the Thomas and the Indians were just too much for them.

"You win some, you lose some; I've got to do a better job as a head coach getting our guys prepared," Tyree said. "Ohatchee is really good, they're good at what they do, but as a head coach I've got to do a better job. You've got to get your guys in position to make plays and I didn't do a real good job of that tonight. I'll get it fixed, I'll fix myself and we'll get in Sunday and mix some stuff. You learn stuff in adversity. When I get knocked down I'm going to get back up, and our kids are going to do the exact same thing."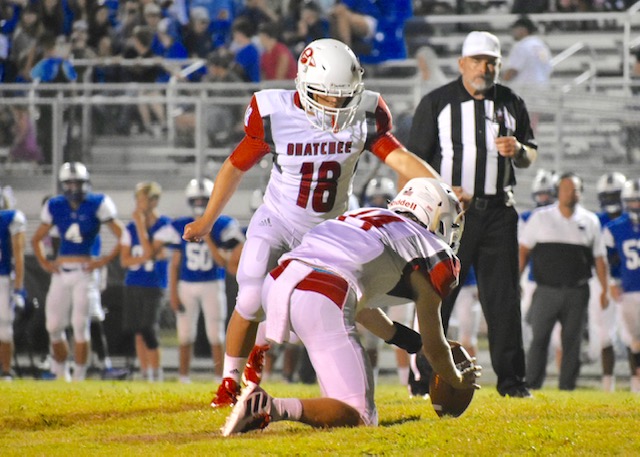 Ohatchee 55, White Plains 18

| | | |
| --- | --- | --- |
| Ohat | | WP |
| 17 | First downs | 9 |
| 61-517 | Rushes-yds | 23-138 |
| 1-1-0 | Passes | 9-20-1 |
| 29 | Passing yds | 107 |
| 1-1 | Fumbles-lost | 3-3 |
| 2-30.5 | Punts-avg | 5-33.6 |
| 5-50 | Penalties-yds | 9-90 |
Scoring plays
Ohatchee 21 21 13 0 – 55
White Plains 0 12 0 6 – 18
O – Domonique Thomas 49 run (Emerson Abac kick), 8:37 1Q
O – Eli Ennis 46 run (Emerson Abac kick), 4:56 1Q
O – Ryker Lambright 42 fumble return (Emerson Abac kick), 3:55 1Q
O – Domonique Thomas 4 run (Emerson Abac kick), 9:56 2Q
WP – Walker O'Steen 32 pass from Jaden Chatman (run failed), 7:43 2Q
O – Domonique Thomas 59 run (Emerson Abac kick)
WP – Teddy Hall 78 punt return (pass failed), 4:32 2Q
O – Domonique Thomas 29 pass from Cameron Foushee (Emerson Abac kick), 1:22 2Q
O – Domonique Thomas 1 run (Emerson Abac kick), 9:26 3Q
O – Noah Fuller 3 run (kick failed), 3:06 3Q
WP – Jaden Harris 30 run (kick failed), 1:42 4Q