Titans of the turf
Jacksonville goes 8-0 to win Gadsden City's Black Creek Parkway 7-on-7, beats 7A Opelika in finals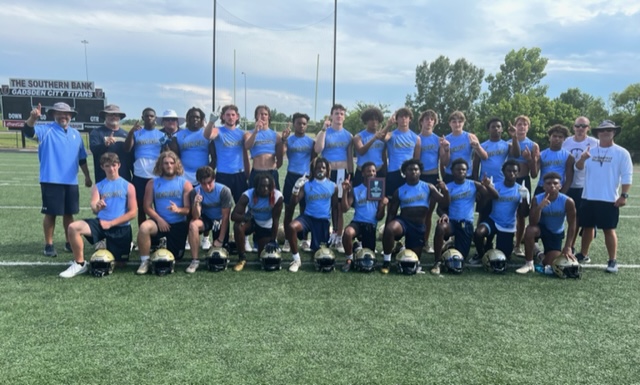 BLACK CREEK PARKWAY 7-ON-7
Semifinal Games
Opelika 29, Minor 20
Jacksonville 27, Southside 18
Championship Game
Jacksonville 23, Opelika 10
By Al Muskewitz
East Alabama Sports Today

GADSDEN – In the darkest moments of Thursday's Black Creek Parkway 7-on-7 Tournament – and there were a few for Jacksonville – Golden Eagles quarterback Jim Ogle found himself thinking back to the way last year's Ashville passing camp ended and he didn't want to feel that way again.
The Golden Eagles lost to Lincoln in the final play of that title game and it was a bitter pill to swallow. That memory brought Ogle back to the moment to get his team back on track.
Ogle used that drive to lead the Golden Eagles to the title of Gadsden City's 7-on-7 passing camp. They went 8-0, pulled out three nail-biters in the final rounds and beat 7A Opelika in the championship game 23-10.
They pulled away from a 10-10 tie in the final four minutes of the championship game with Drake Loggins' interception (a three-point defensive score) and Ogle's touchdown pass to Drew Pridgen with 22 seconds left to clinch it.

"I think it shows a lot about our team, how much fight we have," Ogle said. "Starting the (previous) game with two picks in a row and starting this one struggling … I got down on myself, but I had to get back up.

"Last year at Ashville, on a day like today – hot – we made it to the championship game and lost on the very last play. Threw a pick to end the game, they won. In my mind it was, 'OK, we can't do this again this year' and everybody came out and fought.

"How our season ended and that 7-on-7 last year, just in those moments, looking at those guys, we know what it feels like, we're not going to go out like this. We knew we were better than what we were playing and I realized I had to get the job done. If I get my head up and start leading, they'll follow."

The Golden Eagles stared down elimination in each of their last three games. Guntersville appeared to have snared the go-ahead touchdown in the final minute, but the catch was ruled out of bounds and they survived 26-21.The semifinals with Southside-Gadsden went back and forth with Ogle throwing the go-ahead touchdown with 12 seconds left and Damonte Sinclair snagging the clinching interception on the final play.
Ogle was 26-of-47 with nine touchdowns in the last three brackets games. He threw for 13 touchdowns in the knockout round.
"I was really proud of how our guys competed all day long," Jacksonville coach Clint Smith said. "I didn't hear how hot it was. I didn't hear how tired they were. They went out and competed. Our offense made plays, our defense made some stands when we needed to, especially against Opelika. When I was thinking, OK we may be running out of gas, they just picked it up again and made another play.
"That's what we talk about all the time: Right when you think you've done all you can do, you've still got some left. And I think that proved it to themselves today. Our guys did what they needed to go. We came here to compete and when they keep score you want to win and we went 8-0 and we won. I definitely think it gives you confidence and shows your guys regardless where you are you're always in it."
For the longest time it looked like county and region rivals Jacksonville and Anniston were headed to a semifinals showdown. But Southside's Gage NeSmith spoiled that plan when he threw a touchdown pass with 27 seconds left and Brody McCutcheon knocked down Kam Sandlin' pass to Jaylon Cunningham in the end zone on the final play to eliminate the Bulldogs 33-32.

"That's fourth-and-goal football," Anniston coach Rico White said. "We had our hands on the ball. We just didn't pull it in. I'll just say it wasn't meant to be."

The Golden Eagles, Bulldogs and Opelika all finished 4-0 in pool play with Anniston scoring the most points (105), but Opelika was installed as the No. 1 seed in bracket play by virtue of allowing the fewest points (27). Jacksonville was seeded second and Anniston third.
The Bulldogs' closest game in pool play was a 28-26 win over Boaz. In their pool play win over Briarwood, Sandlin was 7-of-10 with three touchdowns and in the loss to Southside he was 15-of-22 with four TDs, including a must-have score with 39 seconds to play to take the lead.
"I really just wanted the young kids to see what it was to play varsity ball," the South Carolina commitment said. "I just wanted to come out here and compete because we really only had two days of (7-on-7) practice and you see we did a pretty good job."
That's a good sign for August, when the Bulldogs will have the full complement. White will get a better picture when his team resumes OTA workouts later this summer.
"The biggest thing (here) was working on our passing game," White said. "Last year we were kind of one-dimensional. We had Antonio Kite and we depended on him a lot in the passing game, but overall growing as a unit, we did that today. Anyone can be a threat. We spread the ball out well today."

Weaver also was in the field. The Bearcats were the smallest team here (3A) and although they didn't win a game, coach Gary Atchley was happy with the way they competed. The only bad losses came in their last two games.

They only lost to Southside by four and to one of the Gadsden City teams by two.

"We competed until we got tired; depth got us," Atchley said. "When we first got here this morning we played well. When the sun got on my 12 guys you could tell the difference. Everybody else is rolling out offense and defense and we're busting our tails."

This story will be updated.
Black Creek Parkway 7-on-7
BRACKET GAMES
First-Round Games
Opelika 2, Carver-B'ham 0
Gadsden City Black 20, Bessemer City 10
Minor 31, Jemison 10
Austin 30, Ramsay 22
Anniston 25, Briarwood 8
Southside 26, Boaz 16
Guntersville 28, Gadsden City Cardinal 19
Jacksonville 35, Weaver 6
Quarterfinal Games
Opelika 26, Gadsden City Black 9
Minor 26, Austin 22
Southside 33, Anniston 22
Jacksonville 26, Guntersville 21
Semifinal Games
Opelika 29, Minor 20
Jacksonville 27, Southside 18
Championship Game
Jacksonville 23, Opelika 10

POOL PLAY (Calhoun County teams)
ANNISTON (4-0): def. Jemison, 33-2; def. Boaz, 28-26; def. Weaver 21-6; def. Guntersville, 23-14.
JACKSONVILLE (4-0): def. Austin, 22-14; def. Carver, 2-0 (forfeit); def. Minor, 24-16; def. Jemison, 38-18.
WEAVER (0-4): lost to Southside, 21-17; lost to Anniston 21-6; lost to Gadsden City Black, 16-14; lost to Boaz, 29-3.