Showdown stage set
Roundup: Wins by top-ranked Piedmont, Wellborn set the stage for region championship battle next week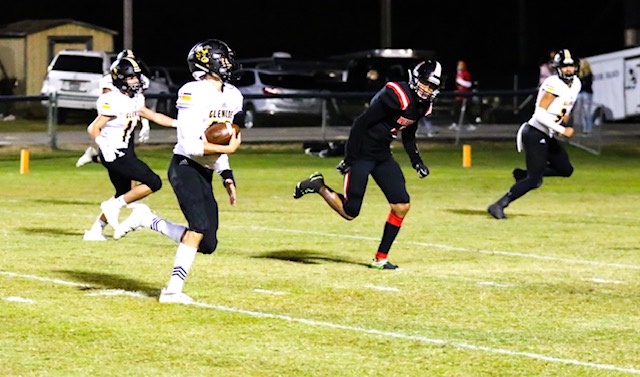 By East Alabama Sports Today
 
SYLACAUGA – Top-ranked Piedmont moved into position to win its eighth region championship under coach Steve Smith and fifth in a row Friday with a dominant 52-14 victory at B.B. Comer.
 
The Bulldogs (8-0, 6-0) can clinch the title with a road victory over Wellborn (8-1, 5-1) next week. A Wellborn win and a Randolph County loss to Pleasant Valley would give the Panthers their first region title since 1995.
 
Piedmont quarterback Jack Hayes was a proficient as ever, completing 9 of 10 passes for 101 yards and four touchdowns, a 306.84 pass efficiency rating (148.33 by NFL standards). Elijah Johnson rushed for 146 yards on 10 carries. 
 
The Piedmont defense held the Tigers (3-5, 2-5) to 99 yards of net offense, 62 of it on a third-down touchdown pass.
 
The Bulldogs opened a 21-0 lead in the first 2 minutes, 10 seconds of the game.
 
Jakari Foster returned the opening kickoff 86 yards for a touchdown and the Bulldogs were off and running. It was the second time this season Foster had returned the opening kickoff for a score.
 
After the Bulldogs held Comer on two running plays and a pass, Hayes threw a 29-yard touchdown pass to Foster. The Tigers fumbled the kickoff at the 11 and Hayes followed with a scoring strike to Silas Thompson.
 
Before the quarter ended, Hayes threw a TD pass to Austin Estes and Malachi Jackson had a 1-yard touchdown run. 
 
It was 32-0 after the first quarter, 45-0 at halftime and the second half had two eight-minute running clocks.
 
In the second quarter, Hayes threw a 9-yard touchdown pass to Max Hanson and Elijah Johnson had a 47-yard touchdown run. Kaleb Thomason had a 9-yard touchdown run in the third quarter.
 
Johnson rushed for 146 yards on 10 carries. 
| | | |
| --- | --- | --- |
| Pied (52) | | BBC (14) |
| 18 | 1st D | 4 |
| 231 | Rush | 34 |
| 9-10-0 | C-A-I | 3-6-0 |
| 101 | Pass | 65 |
| 1-1 | Fum-Lost | 1-1 |
| 0-0 | Punts | 6-32.0 |
| 2-20 | Penalty | 1-5 |
Piedmont 32 13 7 0 – 52
B.B. Comer 0 0 7 7 – 14
Scoring plays
P – Jakari Foster 80 kickoff return (kick failed), 11:45 1Q
P – Jakari Foster 29 pass from Jack Hayes (Bryce Mohon kick), 10:05 1Q
P – Silas Thompson 11 pass from Jack Hayes (kick failed), 9:50 1Q
P – Austin Estes 22 pass from Jack Hayes (Bryce Mohon kick), 5:17 1Q
P – Malachi Jackson 1 run (kick failed), 1:10 1Q
P – Max Hanson 9 pass from Jack Hayes (Bryce Mohon kick), 4:10 2Q
P – Elijah Johnson 47 run (kick failed), 0:30 2Q
B – Devonta Carmichael 62 pass (kick good), 6:10 3Q
P – Kaleb Thomason 9 run (Sloan Smith kick), 3:09 3Q
B – 4-yard run (kick good), 1:00 4Q
Wellborn 35, Pleasant Valley 13
JACKSONVILLE – Calvin Spinks scored the first of his three touchdowns on the first play from scrimmage and quarterback Jett Smith found the end zone twice to put the Panthers in position to win a share of its first region title in 24 years.
 
Spinks rushed for 183 yards. He scored on a 67-yard run on Wellborn's first play and added scored of 1 and 42 yards.
 
Smith rushed for 102 yards and scored on runs of 1 and 8 yards.
 
Brody Phillips and Jake Upton scored touchdowns for Pleasant Valley. The Upton score matched Spinks' opening burst, the Raiders just didn't hit the extra point. 
 
Wellborn (8-1, 5-1) can claim a share of the Class 3A Region 6 title with a victory over top-ranked Piedmont at home Friday. The Panthers, assured of no worse than the No. 3 seed, would be the No. 1 seed in the region with a win and a Randolph County loss to Pleasant Valley. A Randolph County win in that scenario would throw the region into a three-way tie for first.
 
PV, meanwhile, could lock up the No. 4 seed in the region and its first playoff berth since 2010 with a win over Randolph County. A PV loss and likely wins by Saks (at Glencoe) and B.B. Comer (at Weaver) would throw the spot into a three-way tie with the teams splitting among themselves.
 
Glencoe 27, Weaver 6: The Yellow Jackets scored 27 unanswered points in the second half to claim its first win of the season and keep Weaver winless. Glencoe had lost 21 region games in a row.
 
Hokes Bluff 28, Cherokee County 27 (2OT): The Eagles denied Cherokee County's potential game-winning two-point conversion for their fourth win in a row and a spot in the Class 4A playoffs.
 
The game was tied at 14 at the end of regulation and both teams scored in the first overtime. Darrian Meads put the Eagles up and they tacked n the PAT. Kendrick Fife found the end zone on Cherokee County's turn, but the Eagles stopped Damien Ramsey on the conversion to secure the victory.
 
Hokes Bluff quarterback Ashton Gulledge passed for 123 yards and two touchdowns to Jalen Robinson and rushed for 65 more. Meads had 82 yards on 23 carries. Cherokee County's Slade Alexander passed for 177 yards and Fife rushed for 111.
| | | |
| --- | --- | --- |
| Cher (27) | | HB (28) |
| 23 | 1st D | 16 |
| 48-187 | Rushing | 36-153 |
| 13-19-0 | C-A-I | 7-14-0 |
| 180 | Passing | 123 |
| 2-2 | Fum-lost | 0-0 |
| 4-38.5 | Punts | 5-33.4 |
| 4-30 | Penalty | 9-45 |
Cherokee County 0 0 0 14 7 6 – 27
Hokes Bluff 7 0 7 0 7 7 – 28
Scoring plays
H – Jalen Robinson 39 pass from Ashton Gulledge (Jadan Burns kick), 0:46 1Q
H – Jalen Robinson 16 pass from Ashton Gulledge (Jadan Burns kick), 5:48 3Q
C – Damien Ramsey 1 run (Vicente Mejia kick), 11:05 4Q
C – Damien Ramsey 1 run (Vicente Mejia kick), 7:54 4Q
C – Slade Alexander 10 run (Vicente Mejia kick), OT
H – Ashton Gulledge 10 run (Jadan Burns kick), OT
H – Darrian Meads 7 run (Jadan Burns kick), OT
C – Kendrick Fife 1o run (run failed), OT