Drama ends drought
McGatha uses eagle-birdie finish to come roaring back and win the Pine Hill Invitational, his 11th win on the County Tour, first since 2019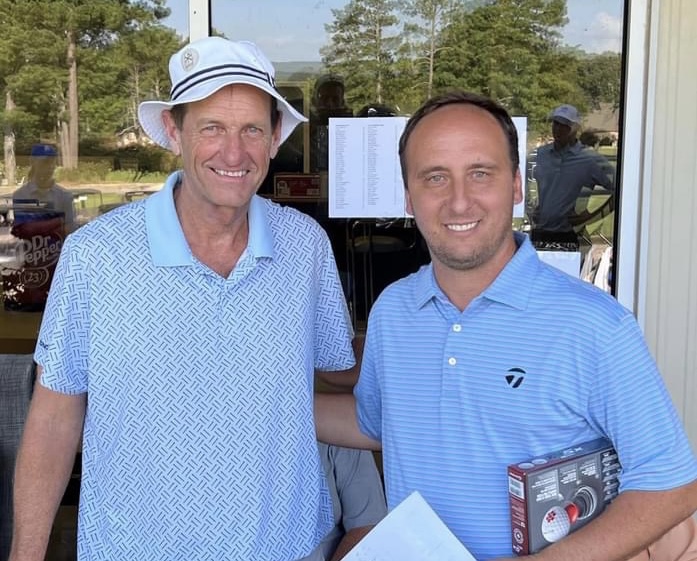 | | | | |
| --- | --- | --- | --- |
| PINE HILL INVITATIONAL | | | |
| Jeremy McGatha | 69 | 66 | 135 |
| Brennan Clay | 69 | 67 | 136 |
| Gary Wigington | 69 | 69 | 138 |
| Ty Cole | 67 | 71 | 138 |
| Brad Moultrie | 67 | 71 | 138 |
| Landon Straub | 69 | 69 | 138 |
| Layton Bussey | 70 | 68 | 138 |
By Brant Locklier
For East Alabama Sports Today
Jeremy McGatha led only once by himself in the Pine Hill Invitational this weekend and that was on his very last shot, a tap-in 12-inch birdie putt on his final hole of the two-day event.
The birdie capped off a brilliant eagle-birdie finish that thrust him to his 11th career win on the Calhoun County Golf Tour and ended a frustrating three-year absence from the Tour's winner's circle.

McGatha shot a final-round 66 Sunday for a two-day 9-under 135 that was one shot better than his Sunny King Charity Classic partner Brennan Clay and capped a wild shootout on the final day. Six-time Pine Hill winner Gary Wigington was among five players tied for third at 138.

First-round leader Gage Ledbetter had another tough Sunday, shot 74 and finished at 139.

"It was a real honor to get the win and to go past some of the names I had to pass today," McGatha said. "There were some tough names out there and it is kind of special to win this and know that I can still win out here.

"I never felt like at any point that I was gonna win; it just kind of happened real fast there at the end. Maybe it was easier to win not having to think about it all day. It is just never easy and I am grateful for the win today."

It was his first win on the Calhoun County Golf Tour since the 2019 Match Play Championship and his first in a County Tour stroke play event since the 2017 County. He has played in every Tour event since its inception, and is the only player in Tour history to do so. He has 21 career runner-up finishes.

"I keep seeing Twig (Wigington) and Ty (Cole) get the wins and all their wins and I never thought I'd win again," he said. "It's hard to win on our county tour. For me to win this one, with 160 guys, our strongest field in a long time and I pull it out, wow, I'll take it."

The eagle-birdie finish was actually part of a larger closing run. He played his last five holes in 5-under-par, with birdies on 14 and 15. The 45-year-old lipped out a birdie putt on 16.
McGatha started the day four strokes behind Ledbetter, who held a two-shot lead on the field to start the day. He started out birdie-birdie to close within two, but gave them both back with a double bogey at the third and was back to four back.

"It was one of those holes that I am prone to have and they always seem to knock me out of contention," said McGatha.

He finished out the front nine with birdies on 6 and 8 and was back to 5-under at the turn. Leader Ledbetter shot even par on the front nine and led by two shots over Ty Cole of Albertville, Brad Moultrie of Decatur, McGatha and Clay.

At one point there were seven players within sight of the lead.
It seemed as if Ledbetter was going to be able to hold off the pack with steady pars. He parred the first 10 holes and maintained that two-shot lead. Cole and Moultrie made birdies to chop the lead to one, but they followed up those birdies with quick bogeys.

The whole afternoon changed on 11 when Ledbetter missed a par putt and Cole birdied and with Moultrie's birdie at 10 there was a three-way tie for first. McGatha bogeyed 12 and was three back with six holes to go.

At hole 14, Moultrie made a long putt for birdie to save par and Ledbetter and Cole bogeyed. McGatha snuck within one with a birdie at 14. He then birdied 15 to get to 6-under par and tie Moultrie.

Clay was on fire three holes ahead of them. He birdied his last four holes and got to 8-under, two ahead of McGataha. Ledbetter and Moultrie bogeyed 16 and Cole missed a short putt on 16 to fall off the pace.

McGatha then boomed his drive on 17 onto the green and rolled in a dramatic 30-footer for an eagle to suddenly tie for the lead.

His drive on 18 was in the fairway. His second shot on the 508-yard par-5 found the bunker next to the green. His sand shot was magnificent, as it took one hop, hit the pin and settled just 12 inches from the cup.

He knocked it down and the Pine Hill Invitational was his.

"It's been a long time," he said. "I still don't know how 5-under in the last five holes happened. I just hit the shot and they went in. When that eagle putt went in on 17 I thought I had a chance I could win it. It's been a while, but I could win this. Then on 18 I hit a great drive, hit a shot up there (into the bunker) and I was as nervous as all get-out. I was like please hit that close and then hit it to six inches."

"It was great to see Jeremy win," Clay said. "I had it at 5-under and then bogeyed 11. I was able to give it a good run by ending with four straight birdies."

Pine Hill Invitational
| | | | | | | | |
| --- | --- | --- | --- | --- | --- | --- | --- |
| CHAMPIONSHIP FLIGHT | | | | FIRST FLIGHT | | | |
| Jeremy McGatha | 69 | 66 | 135 | Layton Bussey | 70 | 68 | 138 |
| Brennan Clay | 69 | 67 | 136 | Gage Miller | 71 | 69 | 140 |
| Gary Wigington | 69 | 69 | 138 | Wesley Jenkins | 71 | 72 | 143 |
| Ty Cole | 67 | 71 | 138 | Mason Dennis | 71 | 72 | 143 |
| Brad Moultrie | 67 | 71 | 138 | Chip Howell | 70 | 74 | 144 |
| Landon Straub | 69 | 69 | 138 | Chance Harris | 71 | 74 | 145 |
| Gage Ledbetter | 65 | 74 | 139 | Greg Barnett | 72 | 73 | 145 |
| Jonathan Pate | 68 | 72 | 140 | Kobie Webb | 70 | 76 | 146 |
| Josh Reynolds | 68 | 73 | 141 | Jeff Noah | 72 | 74 | 146 |
| John Rollins | 69 | 72 | 141 | Chris Randall | 71 | 77 | 148 |
| Seth Wallace | 69 | 73 | 142 | Vance Lewis | 72 | 77 | 149 |
| Chad Calvert | 69 | 73 | 142 | Billy Thompson | 72 | 84 | 156 |
| Nick Ledbetter | 68 | 75 | 143 | | | | |
| Kenny Okins | 69 | 77 | 146 | | | | |
| | | | | | | | |
| --- | --- | --- | --- | --- | --- | --- | --- |
| SECOND FLIGHT | | | | THIRD FLIGHT | | | |
| Chase Hollingsworth | 73 | 69 | 142 | Mark McCaig | 76 | 71 | 147 |
| Randy Lipscomb | 73 | 69 | 142 | Hunter Carr | 76 | 74 | 150 |
| Kent Whitley | 74 | 68 | 142 | Will Brown | 76 | 75 | 151 |
| Daily Thomas | 74 | 69 | 143 | Nick Hubbard | 76 | 75 | 151 |
| Clay Calkins | 73 | 73 | 146 | Marcus King | 76 | 75 | 151 |
| Landon Winfrey | 74 | 74 | 148 | Sawyer Edwards | 76 | 75 | 151 |
| Riley Boyd | 74 | 76 | 149 | Bob Eaton | 76 | 76 | 152 |
| Craig Duncan | 75 | 76 | 151 | Josh Poole | 77 | 75 | 152 |
| Daniel Black | 75 | 77 | 152 | Cam Hurst | 77 | 75 | 152 |
| Chris Hubbard | 75 | 78 | 153 | Tony Hicks | 77 | 76 | 153 |
| Bradley Elliott | 75 | 79 | 154 | Casey Harmon | 76 | 78 | 154 |
| Cain Hollingsworth | 75 | 80 | 155 | Lamar Carter | 77 | 77 | 154 |
| Jimbo Phillips | 75 | 80 | 155 | Mark Durden | 76 | 80 | 156 |
| Matt Rogers | 75 | 81 | 156 | Brock Young | 76 | 80 | 156 |
| Tyler Teneyck | 75 | 83 | 158 | Houston Black | 77 | 80 | 157 |
| Coleman Messer | 74 | 86 | 160 | Joe Hedgepeth | 76 | 81 | 157 |
| Benji Turley | 73 | WD | WD | | | | |
| FOURTH FLIGHT | | | | FIFTH FLIGHT | | | |
| Shawn Ledbetter | 78 | 72 | 150 | Sean Kline | 82 | 78 | 160 |
| Shannon Page | 78 | 72 | 150 | Mike Wallace | 83 | 78 | 161 |
| Chris Sprayberry | 79 | 75 | 154 | Heath Waldrop | 81 | 81 | 162 |
| Samuel Wallace | 79 | 77 | 156 | C.J. Murphy | 81 | 83 | 164 |
| Nick Pollard | 78 | 79 | 157 | Wyatt Cotney | 81 | 83 | 164 |
| Patrick Cooper | 79 | 78 | 157 | David Coffey | 81 | 84 | 165 |
| Aaron Whitley | 78 | 80 | 158 | Frankie Hanvey | 82 | 83 | 165 |
| Jared Waits | 80 | 78 | 158 | Chris Reaves | 81 | 85 | 166 |
| Johnny Barnes | 79 | 80 | 159 | Heath Hammond | 82 | 84 | 166 |
| Mark Minton | 78 | 82 | 160 | Landon Holley | 83 | 83 | 166 |
| Austin Elliott | 80 | 84 | 164 | Greg Rainey | 83 | 85 | 168 |
| Shane Lee | 80 | 85 | 165 | Terry Cobb | 81 | 89 | 170 |
| Spence Florczak | 79 | 88 | 167 | Bart Smith | 83 | 88 | 171 |
| Zack Goss | 79 | 92 | 171 | | | | |
| SIXTH FLIGHT | | | | SEVENTH FLIGHT | | | |
| Mark Gaines | 85 | 77 | 162 | Logan Turner | 90 | 84 | 174 |
| Billy McCroskey | 84 | 78 | 162 | Shaughn Rankin | 91 | 83 | 174 |
| Taylor Vera | 86 | 78 | 164 | Keith Hutcheson | 89 | 85 | 174 |
| Blake Jones | 85 | 79 | 164 | Ryder Hudgins | 88 | 87 | 175 |
| Ethan Davis | 86 | 79 | 165 | Mason Nolen | 89 | 87 | 176 |
| Keaton Borrelli | 85 | 81 | 166 | Wimberly Scarbrough | 94 | 88 | 182 |
| Steve Taylor | 84 | 83 | 167 | Kelly Rogers | 97 | 86 | 183 |
| Austin Jones | 84 | 83 | 167 | Alex Whaley | 92 | 85 | 187 |
| Eddy Burks | 87 | 80 | 167 | Ken Renfroe | 91 | 96 | 187 |
| David Medders Jr. | 86 | 82 | 168 | Jeff Roszell | 88 | 100 | 188 |
| Jared Joiner | 85 | 86 | 171 | Mickey Sheppard | 94 | 96 | 190 |
| Jarred Driggers | 87 | 84 | 171 | Greg Goodwin | 96 | 101 | 197 |
| Warren Sewell | 87 | 92 | 179 | Johnston Smith | 99 | 100 | 199 |
| Scott Watson | 86 | 94 | 180 | Jake Moore | 100 | 106 | 206 |
| Mike Ledbetter | 87 | 94 | 181 | | | | |
| SENIOR CHAMPIONSHIP | | | | SENIOR FIRST | | | |
| David Sanders | 71 | 69 | 140 | Ted Heim | 75 | 72 | 147 |
| Robbie Hurst | 69 | 72 | 141 | Allen Mangham | 75 | 73 | 148 |
| James Beavers | 72 | 73 | 145 | Jerry Irwin | 76 | 73 | 149 |
| Jerry Kemp | 73 | 72 | 145 | David Toland | 77 | 74 | 151 |
| Mike Lett | 71 | 78 | 149 | David Messer | 77 | 75 | 152 |
| Rick Barthel | 72 | 77 | 149 | Dennis Austin | 75 | 79 | 154 |
| Tim Steward | 74 | 76 | 150 | Buddy Eiland | 78 | 76 | 154 |
| Ron Wheeler | 74 | 80 | 154 | Frank Toland | 75 | 80 | 155 |
| | | | | Bob McClain | 76 | 80 | 156 |
| | | | | Keith Haywood | 77 | 79 | 156 |
| SENIOR SECOND | | | | SENIOR THIRD | | | |
| Gary Austin | 81 | 76 | 157 | Frank Cobb | 86 | 85 | 171 |
| Randall Doss | 79 | 78 | 157 | Steve Perry | 85 | 86 | 171 |
| Lamar Ward | 81 | 78 | 159 | Bobby Vinson | 85 | 86 | 171 |
| Steve Williams | 82 | 78 | 160 | David Stephens | 85 | 87 | 172 |
| Wilton Page | 82 | 81 | 163 | Greg Thrower | 86 | 86 | 172 |
| Tim Hill | 82 | 82 | 164 | Ron Fleming | 85 | 88 | 173 |
| Jim Landers | 81 | 83 | 164 | David Medders Sr. | 87 | 87 | 174 |
| Robbie Robertson | 82 | 82 | 164 | Lee Clark | 86 | 93 | 179 |
| Carter Gable | 82 | 84 | 166 | Steve Borrelli | 102 | 89 | 191 |
| Steve Smith | 83 | 83 | 166 | Paul Dorsey | 96 | 98 | 194 |
| Mike Thompson | 83 | WD | WD | Sam Morgan | 97 | WD | WD |