Familiar frontrunner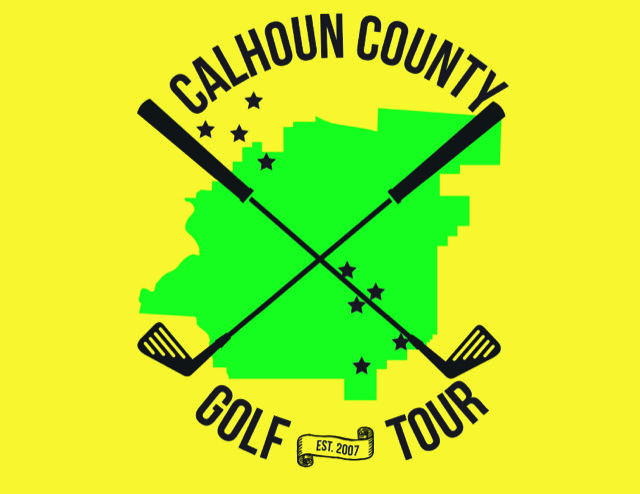 Gage Ledbetter grabs first-round lead in area stroke play tournament for third week in a row, leads at Pine Hill by 2
By Brant Locklier 
For East Alabama Sports Today

Gage Ledbetter can thank his wife for his recent surge to the upper echelon of the Calhoun County Golf Tour. He is currently sitting 16th in the points race, the final qualifying spot for the County Match Play Championship, but has shown signs of moving up the leaderboard quickly. 

He was a winner last week at the Dub Ellis Invitational at Cherokee County Country Club and Saturday in the 15th annual Pine Hill Invitational he opened first-round play with a masterful 7-under-par 65 to take a two-stroke lead over Ty Cole of Albertville and Brad Moultrie of Decatur..

"I played golf at Gadsden State, but had quit playing for nine months," Ledbetter said. "I guess my wife got tired of me being around the house all the time and she encouraged me to get back out there playing and here I am..
"I was feeling a little slow this morning, but I birdied four of my first five holes. I made some good putts on the back nine, but I think I hit my best shot on 18 (No. 9)."

The 23-year-old welder hit his approach shot 30 feet over the green and had a downhill chip to save par. He lofted the shot high in the air and it landed within two feet and he tapped in for a par.
It's the third tournament in a row, across three separate counties, he has shot a blistering Saturday round. He shot 65 in the opening round of the Etowah Open to get into the final group of Sunday, a 62 in the opening round of the Dub Ellis, and Saturday's 65.

He'd like to finish strong. He shot 73 in the final round at Briarmeade to finish T-6. He won in Centre, but shot a 76 in the final round.

"I've been practicing," he said. "I work 10 hours a day and I practice five. Now I need to learn how to close and control my nerves; that's my only missing piece. I can play golf, I just need to figure out how to beat myself."

Cole closed with a back nine 32 to move into second. Moultrie started his round with a chip-in eagle on 1, but turned in 1-under and shot 33 on the back to pull into a tie. Most everyone in the tournament's largest and strongest field played the back nine better.

Jonathan Pate, Nick Ledbetter and Josh Reynolds are all at 68 and six-time event winner Gary Wigington is among eight players at 69 to complete the championship flight.
"The trees were my friends today," Ledbetter said. "I got to see a lot of them. I had one spurt where I birdied 11, 12 and 13 and then it was mostly pars the rest of the afternoon."

The course endured five hours of rain overnight, including a stretch in which two inches fell in an hour then when the workers got to the course in the morning they discovered it had no water due to a nearby main break.
Despite all the rain, the course held up well, yielded some good scores and drew raves. There were 31 scores of par or better in the round, 25 under par.
"The comments we've gotten on the facility have been unbelievable," Pine Hill operator Cory Etter said. "People have said it's the best they've seen the golf course. We've had those kinds of comments come in all week and all day today. Our staff has done a really, really good job. They take pride in making this a fun event."

Pine Hill Invitational
| | | | |
| --- | --- | --- | --- |
| CHAMPIONSHIP FLIGHT | | FIRST FLIGHT | |
| Gage Ledbetter | 65 | Kobie Webb | 70 |
| Ty Cole | 67 | Layton Bussey | 70 |
| Brad Moultrie | 67 | Chip Howell | 70 |
| Jonathan Pate | 68 | Chris Randall | 71 |
| Josh Reynolds | 68 | Mason Dennis | 71 |
| Nick Ledbetter | 68 | Chance Harris | 71 |
| Jeremy McGatha | 69 | Wesley Jenkins | 71 |
| Brennan Clay | 69 | Gage Miller | 71 |
| Landon Straub | 69 | Greg Barnett | 72 |
| Kenny Okins | 69 | Billy Thompson | 72 |
| Gary Wigington | 69 | Vance Lewis | 72 |
| Chad Calvert | 69 | Jeff Noah | 72 |
| John Rollins | 69 | | |
| Seth Wallace | 69 | | |
| | | | |
| --- | --- | --- | --- |
| SECOND FLIGHT | | THIRD FLIGHT | |
| Clay Calkins | 73 | Mark McCaig | 76 |
| Riley Boyd | 73 | Nick Hubbard | 76 |
| Chase Hollingsworth | 73 | Will Brown | 76 |
| Randy Lipscomb | 73 | Casey Harmon | 76 |
| Benji Turley | 73 | Hunter Carr | 76 |
| Daily Thomas | 74 | Bob Eaton | 76 |
| Landon Winfrey | 74 | Joe Hedgepeth | 76 |
| Coleman Messer | 74 | Marcus King | 76 |
| Kent Whitley | 74 | Mark Durden | 76 |
| Bradley Elliott | 75 | Sawyer Edwards | 76 |
| Tyler Teneyck | 75 | Brock Young | 76 |
| Craig Duncan | 75 | Mark Minton | 77 |
| Chris Hubbard | 75 | Cam Hurst | 77 |
| Matt Rogers | 75 | Tony Hicks | 77 |
| Cain Hollingsworth | 75 | Houston Black | 77 |
| Daniel Black | 75 | Lamar Carter | 77 |
| Jimbo Phillips | 75 | | |
| FOURTH FLIGHT | | FIFTH FLIGHT | |
| Shannon Page | 78 | C.J. Murphy | 81 |
| Aaron Whitley | 78 | Heath Waldrop | 81 |
| Shawn Ledbetter | 78 | Chris Reaves | 81 |
| Nick Pollard | 78 | Terry Cobb | 81 |
| Mark Minton | 78 | David Coffey | 81 |
| Johnny Barnes | 79 | Wyatt Cotney | 81 |
| Zack Goss | 79 | Frankie Hanvey | 82 |
| Patrick Cooper | 79 | Sean Kline | 82 |
| Chris Sprayberry | 79 | Heath Hammond | 82 |
| Spence Florczak | 79 | Landon Holley | 83 |
| Samuel Wallace | 79 | Greg Rainey | 83 |
| Shane Lee | 80 | Bart Smith | 83 |
| Jared Waits | 80 | Mike Wallace | 83 |
| Austin Elliott | 80 | | |
| SIXTH FLIGHT | | SEVENTH FLIGHT | |
| Billy McCroskey | 84 | Jeff Roszell | 88 |
| Steve Taylor | 84 | Ryder Hudgins | 88 |
| Austin Jones | 84 | Keith Hutcheson | 89 |
| Mark Gaines | 85 | Mason Nolen | 89 |
| Blake Jones | 85 | Logan Turner | 90 |
| Keaton Borrelli | 85 | Ken Renfroe | 91 |
| Jared Joiner | 85 | Shaughn Rankin | 91 |
| Ethan Davis | 86 | Alex Whaley | 92 |
| Taylor Vera | 86 | Mickey Sheppard | 94 |
| David Medders Jr. | 86 | Wimberly Scarbrough | 94 |
| Scott Watson | 86 | Greg Goodwin | 96 |
| Jarred Driggers | 87 | Kelly Rogers | 97 |
| Warren Sewell | 87 | Johnston Smith | 99 |
| Mike Ledbetter | 87 | Jake Moore | 100 |
| Eddy Burks | 87 | | |
| SENIOR CHAMPIONSHIP | | SENIOR FIRST | |
| Robbie Hurst | 69 | Dennis Austin | 75 |
| Mike Lett | 71 | Allen Mangham | 75 |
| David Sanders | 71 | Ted Heim | 75 |
| Rick Barthel | 72 | Frank Toland | 75 |
| James Beavers | 72 | Jerry Irwin | 76 |
| Jerry Kemp | 73 | Bob McClain | 76 |
| Tim Steward | 74 | Keith Haywood | 77 |
| Ron Wheeler | 74 | David Messer | 77 |
| | | David Toland | 77 |
| | | Buddy Eiland | 78 |
| SENIOR SECOND | | SENIOR THIRD | |
| Randall Doss | 79 | Steve Perry | 85 |
| Jim Landers | 81 | David Stephens | 85 |
| Gary Austin | 81 | Bobby Vinson | 85 |
| Lamar Ward | 81 | Ron Fleming | 85 |
| Carter Gable | 82 | Frank Cobb | 86 |
| Tim Hill | 82 | Greg Thrower | 86 |
| Steve Williams | 82 | Lee Clark | 86 |
| Wilton Page | 82 | David Medders Sr. | 87 |
| Robbie Robertson | 82 | Paul Dorsey | 96 |
| Steve Smith | 83 | Sam Morgan | 97 |
| Mike Thompson | 83 | Steve Borrelli | 102 |
Sunday pairings
Early Wave
No. 1 Tee
7 a.m.: Steve Borrelli, Sam Morgan, Paul Dorsey, Jim Landers
7:10: Lee Clark, Greg Thrower, Steve Smith, David Medders Sr.
7:20: Ron Fleming, Bobby Vinson, Lamar Ward, Frank Cobb
7:30: David Stephens, Steve Perry, Randall Doss, Robbie Robertson
7:40: Jake Moore, Johnston Smith, Kelly Rogers, Shaughn Rankin
7:50: Scott Watson, David Medders Jr., Taylor Vera, Ethan Davis
8:00: Austin Jones, Mark Gaines, Blake Jones, Keaton Borrelli
8:10: Billy McCroskey, Barat Smith, Landon Holley, Heath Hammond
8:20: Greg Rainey, Sean Kline, Heath Waldrop, Frankie Hanvey
8:30: Jared Waits, Samuel Wallace, Patrick Cooper, Zack Goss
8:40: Johnny Barnes, Mark Minton, Nick Pollard, Shawn Ledbetter

No. 10 Tee
7:00: Mickey Sheppard, Wilmberly Scarbrough, Jason Nolen
7:10: Greg Goodwin, Mike Wallace, Alex Whaley, Steve Taylor
7:20: Mike Thompson, Wilton Page, Steve Williams, Gary Austin
7:30: Ken Renfroe, Keith Hutcheson, Jeff Roszell, Logan Turner
7:40: Eddy Burks, Mike Ledbetter, Warren Sewell, Jarred Driggers
7:50: Ryder Hudgins, Terry Cobb, Jared Joiner
8:00: Carater Gable, Tim Hill, Buddy Eiland, Keith Haywood
8:10: Wyatt Cotney, David Coffey, Chris Reaves, C.J. Murphy
8:20: Austin Elliott, Shane Lee, Spence Florczak, Chris Sprayberry
8:30: Aaron Whitley, Shannon Page, Lamar Carter, Houston Black
8:40: Tony Hicks, Cam Hurst, Josh Poole, Brock Young

Late Wave
No. 1 Tee
11:20 a.m.: Sawyer Edwards, Will Brown, Mark McCaig, Nick Hubbard
11:30: Hunter Carr, Casey Harmon, Mark Durden, Marcus King
11:40: Bob Eaton, Joe Hedgepeth, Cain Hollingsworth, Craig Duncan
11:50: Jimbo Phillips, Daniel Black, Chris Hubbard, Tyler Teneyck
Noon: Matt Rogers, Landon Winfrey, Bradley Elliott, Kent Whitley
12:10 p.m.: Open
12:20: Randy Lipscomb, Chase Hollingsworth, Clay Calkins
12:30: Chad Calvert, Gary Wigington, Brennan Clay
12:40: Jeremy McGatha, Landon Straub, Nick Ledbetter, Josh Reynolds
12:50: Gage Ledbetter, Ty Cole, Brad Moultrie, Jonathan Pate

No. 10 Tee
11:20 a.m.: Coleman Messer, Daily Thomas, Benji Turley, Riley Boyd
11:30: David Toland, David Messer, Frank Toland, Dennis Austin
11:40: Jeff Noah, Vance Lewis, Billy Thompson, Greg Barnett
11:50: Gage Miller, Wesley Jenkins, Chance Harris, Mason Dennis
Noon: Chris Randall, Chip Howell, Layton Bussey, Kobie Webb
12:10 p.m.: Open
12:20: Seth Wallace, John Rollins, Kenny Okins
12:30: Jerry Irwin, allen Manghaaam, Ted Heim
12:40: Tim Steward, Jerry Kemp, Ron Wheeler, Rick Barthel
12:50: Robbie Hurst, David Sanders, Mike Lett, James Beavers