Blue skies follow Woodstock winners
Brown wins men's race that eluded him last year, women's race closest this century, 2 state age records set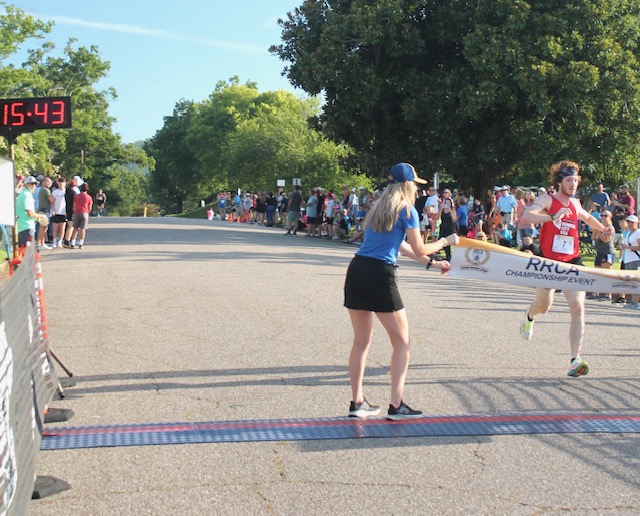 By Allen J. Long
For East Alabama Sports Today
A "blue sky" was the theme of this year's Woodstock 5K. A motif seen throughout its promotional material, social media posts, award plaques and even the color shades of its T-shirts, the theme came to life on Saturday morning as the weather was clear and the skies were, in fact, blue.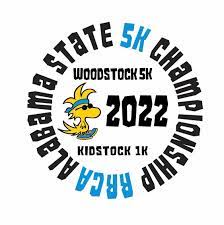 It was the perfect weather for running and 20-year-old William Brown of Marietta, Ga., took full advantage of it. Brown won the men's race of the Woodstock 5K's 41st edition with a time of 15:43.

In the women's race, 38-year-old Beatrice Jepchumba of Homewood won the closest women's Woodstock this century with a time of 17:52.

Brown most often runs 10K races, and admitted that he usually starts off faster than he should on the first mile. However, so long as he gets through mile two, he can finish strong on the third and final mile. It appears this was the case on Saturday.

He beat last year's race winner Ethan Mines of Panama City to wire by 11 seconds. They ostensibly flipped positions from last year's race. Yet even after finishing first, Brown remained modest.
"(There were) a couple places I could've done better, honestly," he said shortly after finishing. "Really I'm just racing myself out there, though."

Jepchumba beat last year's Woodstock runner-up Carmen Hussar, also of Homewood, to the women's wire by five seconds. It was the tightest Woodstock women's finish this century and beat the previous mark of six seconds when Janet Cherobon of Rome, Ga., edged Stephanie Pezzullo of Indian Trails, N.C., in 2010.
The last hill before the finish line can be daunting, but it represents the last push for runners before they complete the race. Jepchumba said at the start she pushed alongside the men to get ahead, but by the time of the finish she came up the final hill at her own pace. Regarding the hardest part of the course, Jepchumba said "it was here" as she stood right outside of the finish line.
Brown had a different answer, however. "Immediately after mile one, there is a half-mile incline. It is not steep at all, but it is there and it is long, and it takes it out of you — regardless of whether or not you're prepared," he said.
Maddyn Conn, a 15-year-old White Plains sophomore from Piedmont and the reigning Calhoun County girls cross country champion, rounded out the women's top three with a time of 19:43.
Another teen runner, 17-year-old Noah George of Oxford's cross-country team, was the fastest local finisher for the second year in a row. He improved on his placements this year, however, by finishing third overall in 16:11.
"I know this course is difficult, and I was definitely feeling it," George said. "That last 200 meters, I was just giving everything to get my knees to start driving and start pushing as hard as I could."
George, the record-setting reigning Calhoun County boys cross country champion, prepared for the Woodstock 5K by running about 40 to 50 miles a week, and accomplished a lot of strength-based training.
Although the overall course records were not broken on Saturday, Jepchumba and Hussar broke Alabama state records for their ages.

Jepchumba broke the 38-year-old women's record by a tenth of a second. Hussar smashed the 45-year-old women's record; the old record was 19:02. Hussar also holds the overall fastest women's 5K record in Alabama, which she set 10 years ago at age 35 when she again finished second in the Woodstock.
This was the first time Race Director Hayley Long was in charge of the Woodstock 5K, which was this year's Road Runners Club of America (RRCA) Alabama State Championship 5K. Long's hard work seems to have paid off, as in 2023 Woodstock will be the RRCA National Championship 5K.

It is the first time Woodstock has held this distinction since 2018 and will be the sixth time overall.
"I've always been on the finish line as a runner," Long said. "But to be on the other side of the line, as the race director watching the runners pour in, is totally different. It's not what I expected, but it's very rewarding."
During the awards ceremony at the conclusion of the race and its Kidstock 1K variant, Long recognized several volunteer groups and sponsors who have supported Woodstock for more than 10 years. The ARC of Calhoun and Cleburne Counties, which provides assistance for people with intellectual and developmental disabilities, is the primary beneficiary of the Woodstock 5K's proceeds. The group has volunteered at Woodstock for more than 10 years and received a plaque on Saturday.
Other groups who were recognized and awarded for their service included the Northeast Alabama Bicycle Association, DD Club, the Calhoun County Amateur Radio Association and the YMCA.
Awards were also given out for Woodstock's Team Challenge. The team with the most members was the Golden Bears of Lincoln High School, which had 45 runners cross the line. They received a $300 prize, which will be used to benefit the high school athletic program.
2022 Woodstock 5K
| | | | |
| --- | --- | --- | --- |
| MEN'S TOP 10 | TIME | WOMEN'S TOP 10 | TIME |
| William Brown, Marietta, Ga. | 15:43 | Beatrice Jepchumba, Homewood | 17:52 |
| Ethan Mines, Panama City, Fla. | 15:54 | Carmen Hussar, Homewood | 17:57 |
| Noah George, Oxford | 16:11 | Maddyn Conn, Piedmont | 19:43 |
| Cole Byers, Northport | 16:13 | Lucy Guthrie, Northport | 19:49 |
| Josh Whitehead, Madison | 16:13 | Karis Kelley, Cottondale | 20:25 |
| Dakota Frank, Munford | 16:54 | Abby Little, Ragland | 20:40 |
| Chris Mahaffey, Springville | 17:08 | Ivy Kibet, Homewood | 20:41 |
| Cayden Nelson, Jacksonville | 17:15 | Anna Strickland, Anniston | 21:05 |
| Evan Somers, Anniston | 17:15 | Mary Shelton, Oxford | 21:33 |
| Dalton Benefield, Cedartown, Ga. | 17:16 | Brandi Nichols, Gadsden | 22:07 |
Closest Women's Woodstocks (since 2000)
| | | | | |
| --- | --- | --- | --- | --- |
| YEAR | WINNER | TIME | RUNNERUP | MARGIN |
| 2022 | Beatrice Jepchumba, Homewood | 17:52 | Carmen Hussar, Homewood | 0:05 |
| 2010 | Janet Cherobon, Rome, Ga. | 16:46 | Stephanie Pezzullo, Indian Tr., N.C. | 0:06 |
| 2002 | Emily Hulse | 20:56 | Athena Naugher | 0:09 |
| 2019 | Emma Neigel, Gainesville, Ga. | 17:49 | Esther Kipserem, Huntsville | 0:15 |
| 2018 | Gladys Cheboi, Homewood | 17:32 | Purity Munene, Homewood | 0:18 |
| 2016 | Justyna Mudy-Mader, Huntsville | 17:57 | Rachel Harley, Birmingham | 0:18 |