SBL Prospects team
Monsters' Prince among 28 players to represent the Sunbelt Baseball League at this week's Southeast Collegiate Prospects Showcase

By Al Muskewitz
East Alabama Sports Today

Twenty-eight major-league prospects from the Sunbelt Baseball League are headed to Virginia next week to play in this year's ninth Southeast Collegiate Prospect Showcase at Liberty University.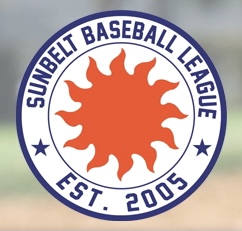 Every team in the league has at least one player on the roster. The league-leading Gainesville Gol'Diggers have the most selections (six). The Gwinnett Astros have five. Versatile Brandon Prince will represent the Choccolocco Monsters.

"The coaches have nominated these players and there were some who probably could join us as well but we can only take so many," said SBL commissioner Todd Pratt, who will manage the team. "Our pitching staff we're happy with. I think our outfield is probably our strength offensively."

While the team wasn't necessarily picked on season statistics, many of the team and league statistical leaders are on the roster.

Among the pitchers, Gainesville's Halton Hardy is 3-0 with a 1.61 ERA and 0.99 WHIP with 26 strikeouts in a league-leading 22.1 innings. Columbus' Bryce Valero leads the league in strikeouts (32 in 16 IP) with Brookhaven's Cole Turner right behind (28 in 12.1). Hunter Lane of the Atlanta Crackers (seven games) and Ben Norton of the Atlanta Blues (13 IP) have yet to allow an earned run this season.

Prince leads the league in batting (.457) among hitters with more than 25 at bats. Gainesville's Jackson Mayo is second in the league in hits (17). The Blues' Allen Grier, the likely 2-hole hitter behind Prince on the trip, leads the league in runs scored and is tied for second in stolen bases (15-16). Crackers outfielder Colson Lawrence leads the league in homers (5) after his two-run walk-off blast Saturday, and is second in RBIs (12).

Prince, an electric player who can play in the infield and outfield, is riding a 10-game hitting streak. He leads with the Monsters with 16 hits and 11 stolen bases in 15 attempts.

"Brandon is a ballplayer," Monsters manager Steve Gillispie said. "When you start looking from an offensive standpoint, he's got a couple tools that project really nice. From a defensive standpoint he has some versatility to himself as well. It's fitting he's in a game designed for prospects."

The SBL prospects will play the Florida Collegiate Summer League prospects Monday at 7:30 p.m. Eastern and the Southern Collegiate Baseball League prospects Tuesday at 12:45 p.m. Eastern. The Hamptons Collegiate Baseball League will be participating for the first time.

Perhaps the SBL's best prospect, Atlanta Blues infielder Termarr Johnson, is working out with the Miami Marlins this week and is not on the trip.

The MLB Draft starts July 17, the day of the SBL All-Star Game at Choccolocco Park.

Here is the schedule:

SOUTHEAST COLLEGIATE PROSPECT SHOWCASE
Monday's Games
(All times Eastern)
Hamptons vs. Southern, 4 p.m.
Sunbelt vs. Florida, 7:45 p.m.
Tuesday's Games
Florida vs. Hamptons, 9:30 a.m.
Southern vs. Sunbelt, 12:45 p.m.

Sunbelt Baseball League Prospects roster
| | | | | |
| --- | --- | --- | --- | --- |
| PITCHERS | B/T | HT | WT | COLLEGE |
| Tyler Clayton, Astros | L/L | 6-3 | 190 | Ga. Gwinnett |
| Tyler Dietz, Gol'Diggers | R/R | 6-2 | 185 | South Florida |
| Halton Hardy, Gol'Diggers | R/R | 6-1 | 195 | Francis Marion |
| Nathan Alexander, Wild Things | R/R | 6-1 | 180 | Gardner-Webb |
| Blake Gillispie, Blues | S/R | 6-1 | 190 | Georgia |
| Ben Norton, Blues | R/R | 5-10 | 175 | Wabash Valley |
| Hunter Lane, Crackers | L/R | 6-0 | 200 | Lee |
| Cade Mitchell, Astros | L/L | 6-3 | 220 | Chatt Valley |
| Bryce Valero, Hoots | R/R | 6-2 | 220 | Murray State |
| Blake Wehunt, Gol'Diggers | R/R | 6-6 | 225 | Southern Miss |
| Riley Stanford, Gol'Diggers | R/R | 6-3 | 235 | Georgia Tech |
| Jacob Riordan, Wild Things | R/R | 6-3 | 220 | Ark.-Pine Bluff |
| Cole McNamee, Bucks | R/R | 6-4 | 215 | Georgia Tech |
| Cole Turner, Bucks | R/R | 6-1 | 215 | Ala.-Huntsville |
| Bailey Shannon, Blues | R/R | 6-4 | 210 | Ga. Southwestern |
| Harry Cain, Crackers | R/R | 6-7 | 225 | Kennesaw State |
| CATCHERS | | | | |
| Jacob Harper, Astros | R/R | 6-0 | 195 | Valdosta State |
| Jack Rubenstein, Bucks | R/R | 5-11 | 210 | Georgia Tech |
| J.D. Kaiser, Aviators | L/R | 6-1 | 225 | Georgia Southern |
| INFIELDERS | | | | |
| Brandon Prince, Monsters | R/R | 5-10 | 185 | Georgia Tech |
| Wyatt Castoe, Crackers | R/R | 6-0 | 180 | NW Florida CC |
| Brady Moore, Gol'Diggers | R/R | 6-2 | 200 | Troy |
| Connor O'Neal, Hoots | L/R | 6-0 | 200 | Chatt Valley |
| Devin Warner, Astros | S/R | 6-2 | 210 | Greyson County |
| OUTFIELDERS | | | | |
| Jackson Mayo, Gol'Diggers | L/L | 6-2 | 190 | South Florida |
| Allen Grier, Blues | R/L | 5-9 | 170 | Arkansas State |
| Elgin Bennett, Astros | L/L | 6-0 | 190 | Kansas State |
| Colson Lawrence, Crackers | R/R | 6-5 | 200 | South Alabama |