Coming up short
Monsters eye second half after extra-inning loss keeps them from getting first home win and holding West lead at break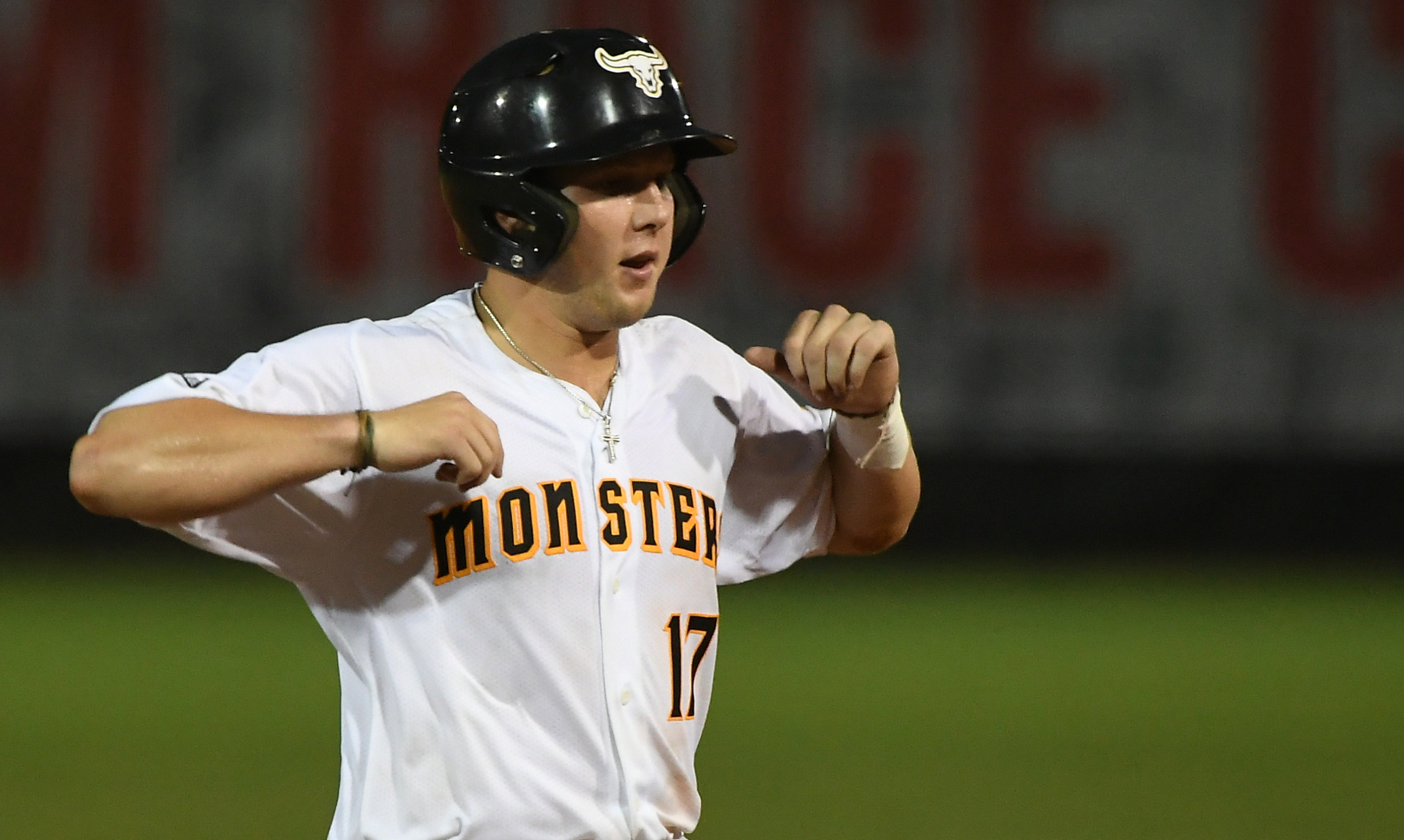 By Al Muskewitz
East Alabama Sports Today

OXFORD — The Choccolocco Monsters came so close to making a lot of good things happen for themselves before the first all-star break of the season, but in the end the visitors just had a little more baseball luck.
The Columbus Chatt-a-Hoots scored three runs in the top of the tenth to hand the Monsters another loss in Choccolocco Park 8-5.

The Monsters are 0-6 in The Big House this season. Had they won, they would have won back-to-back games for the first time this season, won their first game at home this season and, more importantly, taken the virtual lead in the Sunbelt Baseball League West Division.

They would have pulled into a tie with the Chatt-a-Hoots at 6-8 going into the Prospect Games break and been considered the division leader by virtue of their 3-1 series lead over their sister club.

As it was, they fell two games behind the division-leading Hoots at the midpoint of the season and their series for the Ignite Cup is tied 2-2, with each team winning twice on the other's field.

"They did a couple things in a couple innings better than we did," Monsters manager Steve Gillispie said. "It was baseball is what it was. We just came out on the wrong side."

"We did a really good job of fighting back," infielder Josh Cooper said. "We battled, we just couldn't pull it off. It's always tough to lose, but we've just got to keep fighting."

The Monsters were playing catch-up all game and finally tied it in the eighth. Extra innings in the SBL means a ghost runner at second base. Monsters reliever Alexander McKay had pitched with a runner in scoring position in his two previous innings, but not right off the bat.

He walked Connor O'Neal to put two runners on and then Cam Gray belted a grounds rule double to right to bring the go-ahead run home. The Monsters intentionally walked Jesse Donohoe to load the bases, then McKay walked Britt Netterville to force home another run. The third run scored on Edwin Johns' grounder to third.

"I would've bet and I told Alex McKay on the mound this wouldn't have happened if it had been straight-up baseball," Gillispie said. "All of a sudden he goes from cruising to doing something he hadn't done yet."

In the bottom of the inning the Monsters had their ghost runner forced at third and the game ended on a double play.

Until the tenth, relievers David Cherwonuk and McKay threw zeroes to give the Monsters every chance to get back in the game.

They fell behind early and drew within a run twice — 4-3 in the fifth and 5-4 in the seventh — then tied the game in the eighth when Brandon Prince beat the throw home on Tyler Waugh's grounder to short.

"Obviously, the goal was to score the run and I got that in," Waugh said. "I wish I hit it a little harder, things might have gone the other way, but at the end of the day I got the job done, got the run in."

The Monsters had the go-ahead run in scoring position with none out, but Hoots right-hander Clay Weatherly got out of it with three straight strikeouts to the heart of the Monsters' order.

The Monsters collected 11 hits in the game. Prince went 3-for-4, extending his hitting streak to 10 games. Josh Cooper and Jackson Sweatt had hits two apiece. Cooper is 7-of-15 in his last four games. Sweatt drove in the runs that made it 4-3 and 5-4.

Despite the loss, all is not lost. Gillispie is convinced the Monsters can still win the division with a strong second half. They have shown signs over the last week of being able to put it together. In their last six games they have scored 40 runs and banged out 68 hits. Nate Shipley has had the hottest back through the run, going 10-for-18 during that stretch.

"I'm excited about the second half," Gillispie said. "We're playing pretty good. I told them we're getting better, we're playing pretty good baseball, really.

"I think we can win the division. The goal is we start back in our minds it's 0-0 and try to win the second half. If you think about it we're two games out of the lead. If you win the second half you're probably winning the division, so it's all right there in front of us to do what we can do to control the division."
Columbus 120 101 000 3 – 8 12 2
Choccolocco 001 020 110 0 – 5 11 1
WP: Clay Weatherly (2-0). LP: Alexander McKay (0-1). 2B: Cam Gray (Co), Britt Netterville (Co).
Sunbelt Baseball League standings
| | | | | |
| --- | --- | --- | --- | --- |
| EAST DIVISION | W | L | PCT. | GB |
| Gainesville GolDiggers | 12 | 3 | .800 | — |
| Waleska Wild Things | 7 | 5 | .583 | 3.5 |
| Alpharetta Aviators | 3 | 11 | .214 | 8.5 |
| CENTRAL DIVISION | | | | |
| Atlanta Crackers | 9 | 4 | .692 | — |
| Atlanta Blues | 8 | 8 | .500 | 2.5 |
| Brookhaven Bucks | 6 | 7 | .462 | 3 |
| WEST DIVISION | | | | |
| Columbus Chatt-a-Hoots | 7 | 7 | .500 | — |
| Gwinnett Astros | 4 | 7 | .364 | 1.5 |
| Choccolocco Monsters | 5 | 9 | .357 | 2 |
Saturday's Games
Atlanta Blues 3, Brookhaven 0
Atlanta Crackers 11, Waleska 9
Columbus 8, Choccolocco 5, 10 inns.
Gainesville 9, Alpharetta 5

Monday's Games
SBL Prospects vs. Florida League in Southeast Showcase

Tuesday's Games
Alpharetta at Gwinnett, 6:05 p.m.
SBL Prospects vs. Southern League in Southeast Showcase

Friday's Games
Atlanta Crackers at Waleska, 6:05 p.m.
Brookhaven at Columbus, 6:05 p.m.
Gainesville at Alpharetta, 6:05 p.m.
Gwinnett at Choccolocco, 7:05 p.m.