Good day for locals
Wigington, Daugherty within 4 shots of State Senior lead; Sanders, Howell make cut in Super Seniors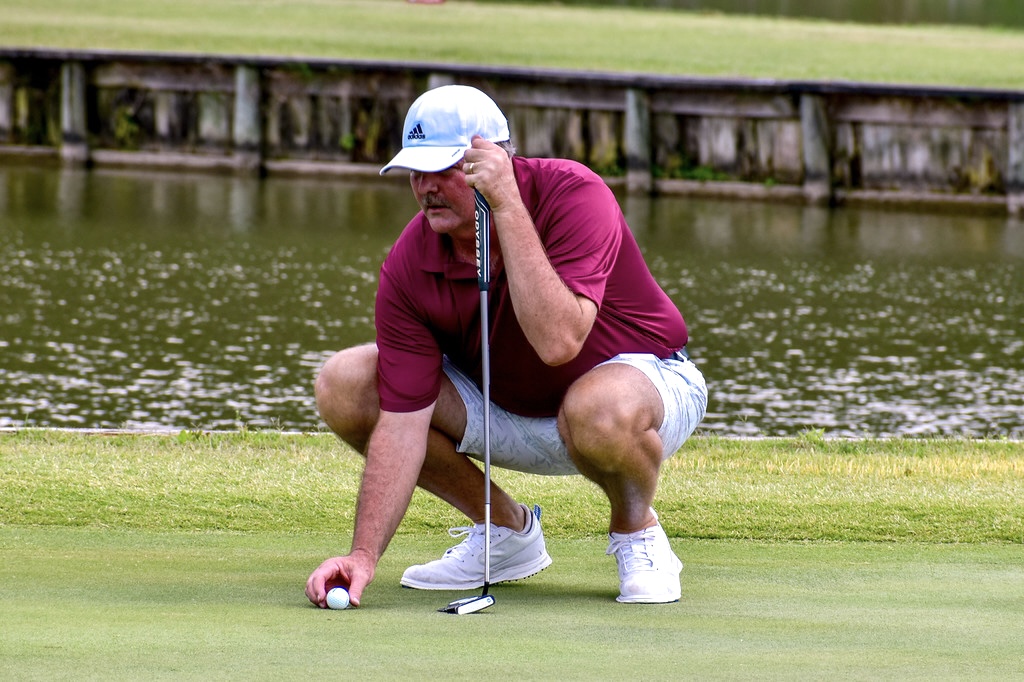 By Al Muskewitz
East Alabama Sports Today

GADSDEN — Gary Wigington hit the ball well enough to go really low Saturday in the second round of the State Senior Golf Championship. If he could ever get his putter to cooperate it wouldn't be a stretch to think he could be in the lead.

Wigington shot 70 for the second day in a row and will go into Championship Sunday at Gadsden Country Club tied for fourth just two shots behind co-leaders Shaw Pritchett and Chris Lemley.

The 52-year-old from Anniston gave himself numerous opportunities to score, but just couldn't get it in the hole quick enough. He played the three par-5s in 4-under-par, but had eagle putts on all three and the one he made on No. 3 came on the longest putt. He didn't birdie a par-3 or par-4 despite hitting most of his approaches inside six feet. He had 34 putts.

"I'm hitting it a little bit better, it's coming around, but I just putted awful today," he said. "I should've shot about 65 today, but you can't do it when you take 34 putts. If you get it down to 30, which isn't even good, that's four shots better. I just putted terrible.

"I hadn't really putted really good all year, hadn't done anything good, really. I started making a few putts on the practice green afterwards. Hopefully, if I hit it good again tomorrow and then make some putts I make a run at it."

He did get within a shot of the lead with three holes left in his round, but made a bogey on 8 – his 17th hole of the day – from 75 yards out to fall back. He shanked his second shot from the rough, but hit a good recovery shot to eight feet for a chance to save par, but missed the putt.

"It was little stuff like that all day long," he said. "It was real close to shooting a real good number if I had made a few putts and got a break or two, but it just didn't happen.

"You hate to waste a round of hitting it pretty good and not take advantage of it and putt bad, but it'll come around. If I start making them tomorrow and hit it decent you can score out there. It's a very scoreable course. You get to rolling it and make a few you can really get on a roll out there."

It was a good day for Calhoun County players in the field. Four made the cut in their respective divisions to play in the final round.

Anniston's Kevin Daugherty put up a 69 and is eighth in the Senior Championship, two shots behind Wigington and just four off the lead.

Oxford's David Sanders and Anniston's Chip Howell shot 73 and 76, respectively, and both are in the top 10 in the Super Senior Championship.

Daugherty, 52, was four shots better than the day before simply by eliminating the bad holes that cut into his score in the opening round. He had two double bogeys and a pair of three-putts not on the double-bogey holes Friday, but had only two bogeys on moving day.

Starting on the back nine, he turned at even par, then made birdies on 3 and 4 to get to even for the tournament. He bogeyed 5, but got the shot back with a birdie on 8. He was able to gain ground when none of the players on the leaderboard in front of him ran away and hid.

"That was kind of my goal coming into it, to get it back to even par or better for the tournament," he said. "I was glad to see that the lead kind of stayed the same. I'm within shouting distance. If I can have a good round tomorrow, you never know.

"I'm thinking more along the lines of get off to a good start, make a few birdies and get close. Any time you get within two or three shots with five or six holes left you've got a chance. It's just according to how the first 12 holes or so go. Maybe I can get close enough to where I can run them down."

Lemley of Decatur and Pritchett of Montgomery both shot 69 for the second straight day to share the Senior lead. Their 36-hole total 138 is one shot ahead of Mike Arasin of Auburn with Wigington and Doug McLeod of Mobile on their heels.. 

David Head of Sterrett maintained his overnight lead in the Super Seniors. His two-day total 138 is four shots ahead of John Gibbs of Oneonta.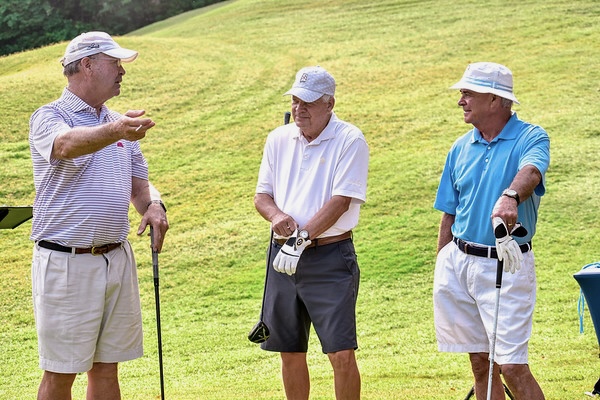 State Senior Championship
| | | | |
| --- | --- | --- | --- |
| TOP 10 LEADERBOARD | | | |
| Shaw Pritchett, Montgomery | 69 | 69 | 138 |
| Chris Lemley, Decatur | 69 | 69 | 138 |
| Mike Arasin, Auburn | 71 | 68 | 139 |
| Doug McLeod, Mobile | 68 | 72 | 140 |
| Gary Wigington, Anniston | 70 | 70 | 140 |
| Robert Nelson, Fairhope | 73 | 68 | 141 |
| Claud Cooper, Birmingham | 69 | 72 | 141 |
| Kevin Daugherty, Anniston | 73 | 69 | 142 |
| Alan Seigel, Birmingham | 72 | 72 | 144 |
| Bryan Askew, Decatur | 75 | 70 | 145 |
| Mike Greer, Birmingham | 78 | 67 | 145 |
| Brian Baker, Hoover | 71 | 74 | 145 |
| Tracy Lentz, Decatur | 73 | 72 | 145 |
| Charles Noto, Pinson | 76 | 69 | 145 |
State Super Senior Championship
| | | | |
| --- | --- | --- | --- |
| TOP 10 LEADERBOARD | | | |
| David Head, Sterrett | 67 | 71 | 138 |
| John Gibbs, Oneonta | 72 | 70 | 142 |
| John Coles, Birmingham | 73 | 70 | 143 |
| Richard Jeffers, Mobile | 75 | 69 | 144 |
| Gary Randall, Trussville | 69 | 75 | 144 |
| Al Gibbs, Vestavia Hills | 75 | 70 | 145 |
| Ray Harris, Leeds | 79 | 66 | 145 |
| Buddy Alexander, Auburn | 71 | 75 | 146 |
| David Sanders, Oxford | 73 | 73 | 146 |
| Chip Howell, Anniston | 71 | 76 | 147 |
| Robert Pewitt, Hoover | 73 | 74 | 147 |