Ace in the crowd
Howell makes sixth career hole-in-one, first in competition, currently T-3 in State Super Seniors; Wigington two shots off lead in Senior Division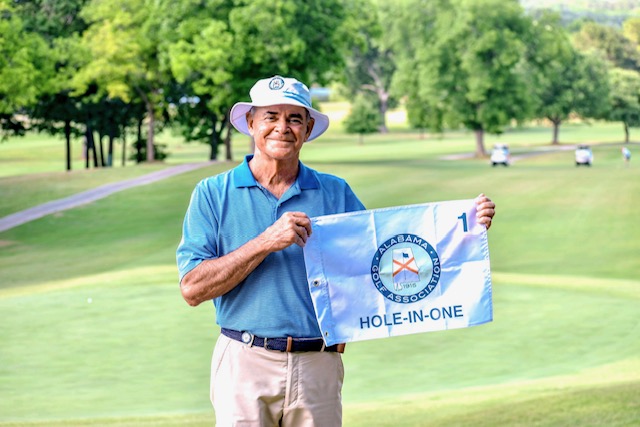 By Al Muskewitz
East Alabama Sports Today

GADSDEN – Making a hole-in-one anytime is fun. But doing it in competition – in a major, even – just makes it more memorable.
Anniston's Chip Howell made his sixth career hole-in-one ever and first in competition Friday when he aced the second hole at Gadsden Country Club during his opening round in the Alabama State Senior/Super Senior Championship.

He was 2-over for the round when he came to the first par-3 on the front nine that's surrounded by trouble – water in front and out of bounds left, right and long.

Hitting into the sun and a stiff wind, he went to the tee on the 137-yard hole with a 7- and 8-iron in his hand. He certainly didn't want to be long or right, so he hit trusted the 8 and it found the bottom of the cup.

"All I said was 'be close' and (playing partner) Emile (Vaughn) said, 'it is," Howell said.

The Alabama Golf Association recognized the feat by presenting Howell with a commemorative Hole-In-One pin flag.

"It's the first one I've seen," he said. "Being a director for the last 40 years of the AGA it was a nice one to have."

The ace got him back to even on the day. He double bogeyed No. 4, but bounced back with back-to-back birdies on the way in to finish at even-par 71. He's tied for third in the Super Senior Division with Buddy Alexander of Auburn, four shots off the lead currently held by Sterrett's David Head.

The Calhoun County Sports Hall of Famer and former Anniston mayor missed an ace on 13, the first par-3 he played, by eight inches and made his first birdie there. He ended up with one of each on the four par-3s – a 1, 2, 3 and 4 – and had every number from 1 through 6 in his round.

It was a good day for several Calhoun County golfers in the field.

Gary Wigington posted the best round among the locals, a "solid" 1-under 70 that has him in fifth place, two shots off the lead of defending champion Doug McLeod of Mobile. His round was highlighted by an eagle on 14.

Kevin Daugherty is among five players tied for tenth at 73, five shots back. And Clay Calkins got off to a rough start and shot 82.

In Howell's Super Senior Division, David Sanders shot 73 with three birdies, tied for seventh; Pat Hughes shot 80 and Ron McClellan shot 84.