Second senior
Anniston's Kevin Daugherty makes a late run, finishes second by 1 in State Senior; all 4 county players making cut finish top 5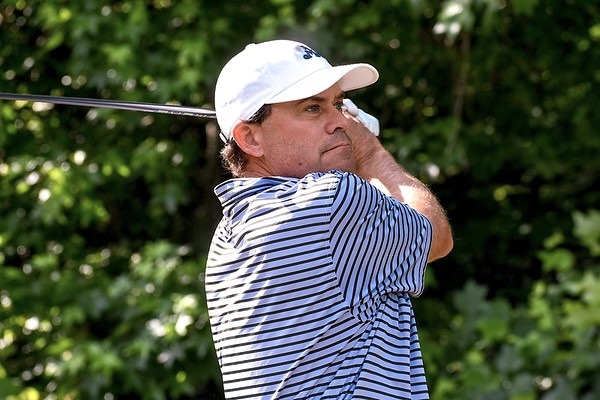 By Al Muskewitz
East Alabama Sports Today
GADSDEN — Kevin Daugherty always thought anyone within two or three shots of the lead with five or six holes to play had a chance to win the tournament.

He was and he did.

Daugherty played steady enough to have a nice finish, but caught fire on the back nine at Gadsden Country Club Sunday and wound up finishing tied for second, one shot behind playing partner and winner Robert Nelson of Fairhope in the 25th Alabama State Senior Championship.

He shot a 4-under-par 67 in the final round for a 4-under total 209. He shot 4-under 32 on the back and played the back in 3-under for the week.
"I was pretty excited to play good, put a round together and actually get a chance to contend," he said. "This winter and this spring was the first time I really practiced in a long, long time, so it does feel good to see some of that practice actually turn into a good weekend."

Daugherty was tied for third when he and Nelson finished, but co-leader at the time, Chris Lemley of Decatur, double bogeyed 15 and couldn't recover, opening the door for Nelson to win.

Nelson made eight birdies in his round, shot 30 on the front and was six shots ahead of Daugherty at the turn, but he still had to hold off a charge by the former Anniston Country Club pro.

Daugherty was four behind through 13, but vaulted into contention when he smoked a 3-wood on 14 from 252 yards to a foot behind the hole for eagle and then birdied 15 from eight feet.

"That's when I realized I've got a chance now," he said. 

He was still three back with two holes left, but Nelson bogeyed 17 and 18 and Daugherty had a 15-foot birdie putt on 18 to force a playoff that touched the left side of the hole.

All four Calhoun County players who made the cut finished in the top five in their respective fields.

Gary Wigington shot a final-round 72 and finished tied for fifth (212) in the Senior Division. 

Chip Howell finished fourth in the Super Senior and Oxford's David Sanders finished tied for fifth. Howell shot a final-round 71 and Sanders shot 73 for the third day in a row with an eagle on 14.

Howell made his first hole-in-one in competition on No. 2 Friday and was in the group when Dora's Bill Griffin aced the same hole Sunday.
25th State Senior Championship
| | | | | |
| --- | --- | --- | --- | --- |
| TOP 10 LEADERBOARD | R1 | R2 | R3 | TOT |
| Robert Nelson, Fairhope | 73 | 68 | 67 | 208 |
| Kevin Daugherty, Anniston | 73 | 69 | 67 | 209 |
| Shaw Pritchett, Montgomery | 69 | 69 | 71 | 209 |
| Chris Lemley, Decatur | 69 | 69 | 72 | 210 |
| Adam Jacobs, Arab | 74 | 72 | 66 | 212 |
| Claud Cooper, Birminghaam | 69 | 72 | 71 | 212 |
| Gary Wigington, Anniston | 70 | 70 | 72 | 212 |
| Doug Davis, Birmingham | 76 | 71 | 66 | 213 |
| Mike Greer, Birmingham | 78 | 67 | 68 | 213 |
| Mike Arasin, Auburn | 71 | 68 | 75 | 214 |
4th State Super Senior Championship
| | | | | |
| --- | --- | --- | --- | --- |
| TOP 10 LEADERBOARD | R1 | R2 | R3 | TOT |
| David Head, Sterrett | 67 | 71 | 70 | 208 |
| Richard Jeffers, Mobile | 75 | 69 | 70 | 214 |
| Robert Pewitt, Hoover | 73 | 74 | 68 | 215 |
| Chip Howell, Anniston | 71 | 76 | 71 | 218 |
| David Sanders, Oxford | 73 | 73 | 73 | 219 |
| Ray Harris, Leeds | 79 | 66 | 74 | 219 |
| Stewart Alexander, Auburn | 71 | 75 | 73 | 219 |
| John Gibbs, Oneonta | 72 | 70 | 77 | 219 |
| Gary Randall, Trussville | 69 | 75 | 76 | 220 |
| Tom Jungkind, Hoover | 77 | 71 | 73 | 221 |
| John Coles, Birmingham | 73 | 70 | 78 | 221 |