Lowering the boom
Mines, Walker win milestone races as Woodstock 5K returns for 40th after COVID interruption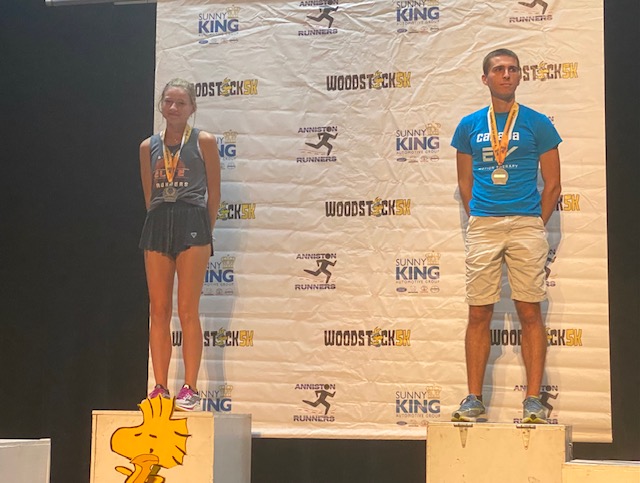 By Al Muskewitz
East Alabama Sports Today

Ethan Mines has the kind of name that fits perfectly for a great finisher in his sport. He introduced himself to the reporters gathered around him after the race as "Mines, M-I-N-E-S, just like the explosives."

Even though he doesn't consider himself that type of runner, the 23-year-old "UA reject" from Panama City, Fla., was explosive enough to blast out of the pack at the Woodstock 5K Saturday morning.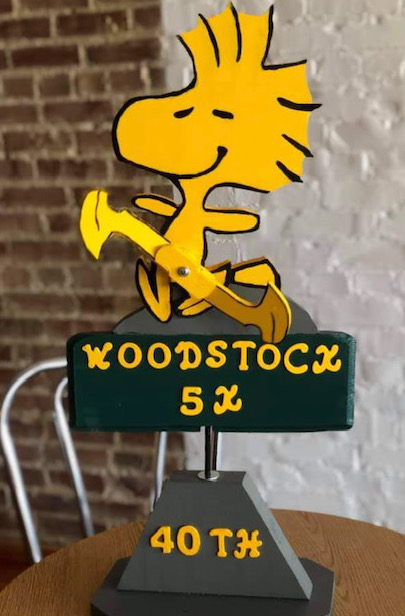 Mines won the men's race in the 40th edition of the Woodstock in a time of 15:49. It was his third Woodstock start and first win.

"Praise God; it's really great," he said of winning the anniversary race. "I can't wait to tell my friend back at UA who ran with me out here the last time (2019). Praise God for letting me do it."

And that would have been the last time they ran the race. Last year's event was postponed due to COVID concerns. But the break allowed Mines, who comes from a family of runners, to take a step back and focus his training on mileage.
Ashley Walker of Alexander City won the women's race in 17:37. The 20-year-old incoming Montevallo junior won by 50 seconds over Carmen Hussar of Homewood.

Oxford cross country coach Landon Delozier set a fast pace, breaking away from the pack through the finish line and leading it through the checkpoint at 12th and Christine. But the pace caught up to him and he was overtaken by the field. He still finished in the top 10.

Mines said the turning point for him came just about the next to last hill when he reached the point he couldn't hear the footsteps of his pursuers any more. He called over to his coach with about 300 yards remaining and got the response "30 meters," meaning the gap between him and eventual runner-up William Brown of Marietta, Ga.

Former Samford runner and marathon trainee Ramsey White was third. Oxford junior Noah George, Delozier's top Yellow Jackets runner and a favorite for county champion this cross-country season, was the fastest local finisher, in seventh.

Delozier, Ramsey and George were part of the fastest male team entry, the Patriots.

Asked if his running style reflected his intro, Mines balked. His father was in the Air Force and used the term "EOD" (explosive ordnance disposal) around him once and Ethan didn't know what it meant "so I don't think I deserve to be called explosive runner."

Still, he was petty explosive on this day.

Walker, the women's winner, grew up playing softball, but gave up the sport just a few years ago after "it got to an unhealthy point for me," and only started running at the urging of a friend who played soccer and ran cross country for conditioning.

"I still wanted to be involved in something," she said. "I actually didn't like to run when I first started running, but in November 2018 I met (Point coach) Greg Mann, bought into everything he said and signed on a whim to run for Point. I had never even toured the school, I had never met him in person and he's my coach today.

"I've trusted in my faith and the Lord and I trusted in my coach and my friends and my teammates and everyone around me who've helped me become better. All of the environment and the people and my coach has helped me progress in this sport way better than I could have on my own. I'm just having fun. I don't ever want it to get how I got with softball." 

During the race she wore a bracelet that bore the word "relentless" she was gifted from a fellow competitor at her last NAIA race with Point. The friend parted with it because she had planned to have the word tattooed on her wrist foregoing any need for the bracelet.

The bauble was accented with a series of colored beads that ironically matches the team colors of Montevallo, the school Walker didn't know she was going to attend at the time of the gift.
In keeping with the deep appreciation she has gained for the sport, Walker planned to donate her race winnings to her local running club – GEAR, Great Elite Alabama Runners – which was looking to buy new uniforms.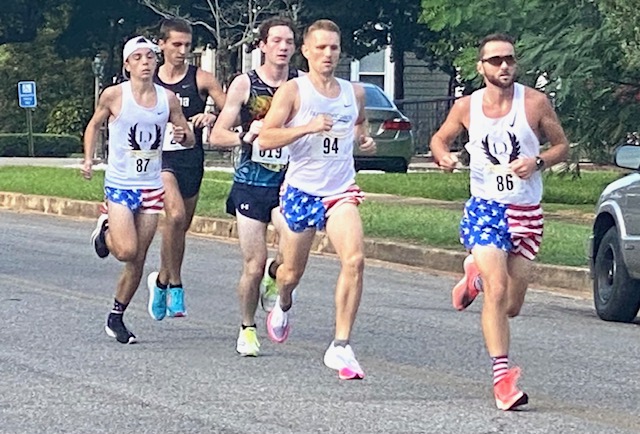 Woodstock 5K
| | |
| --- | --- |
| Men's Top 15 | |
| Ethan Miles (23), Panama City, Fla. | 15:49 |
| William Brown (19), Marietta, Ga. | 16:02 |
| Ramsey White (30), Birmingham | 16:10 |
| Zack Brantley (30), Santa Rosa Beach, Fla. | 16:19 |
| Jason Crosson (39), Birmingham | 16:28 |
| Josh Evans (25), Montevallo | 16:31 |
| Noah George (16), Oxford | 16:34 |
| Fred Kosgei (44), Birmingham | 17:14 |
| Joe Stevens (16), Lincoln | 17:21 |
| Landon Delozier (26), Lincoln | 17:28 |
| Cayden Nelson (16), Jacksonville | 17:34 |
| Jake Moore (18), Anniston | 17:46 |
| Drew Davis (23), Rainbow City | 17:59 |
| Wyatt Knight (17), Gallant | 18:04 |
| Marcus Harris (34), Pelham | 18:09 |
| | |
| --- | --- |
| Women's Top 15 | |
| Ashley Walker (20), Alexander City | 17:37 |
| Carmen Hussar (44), Homewood | 18:27 |
| Ivy Kibet (31), Homewood | 18:35 |
| Elise Picard (16), Talladega | 20:55 |
| Maddyn Conn (14), Piedmont | 21:22 |
| Anna Strickland (17), Anniston | 21:25 |
| Eva McGowan (15), Auburn | 22:23 |
| Graci Gonzales (6), Oxford | 22:24 |
| Zoie Menk, (15), Rainbow City | 22:35 |
| Abby Little (17), Pell City | 22:42 |
| Adriana Sotelo (17), Anniston | 22:49 |
| Taylor Knight (15), Gallant | 23:11 |
| April Bishop (34), Anniston | 23:41 |
| Maggie Perez (41), Albertville | 23:52 |
| Robin White (41), Birmingham | 23:55 |