Hall of Famers
Calhoun County Sports Hall of Fame inducts six into COVID-delayed Class of 2020, running roster of inductees to 100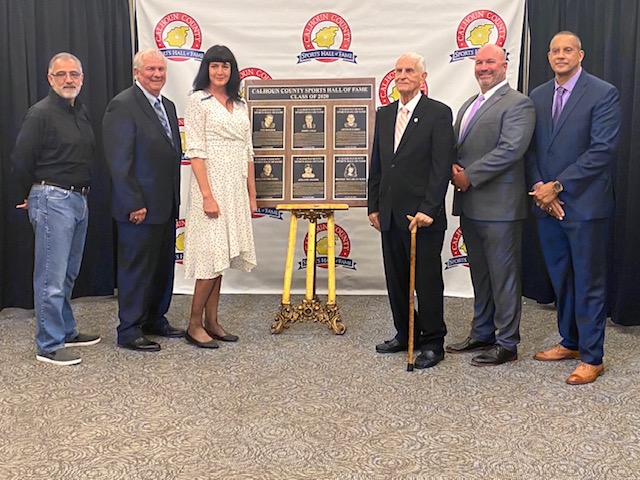 By Al Muskewitz
East Alabama Sports Today

OXFORD – It was 15 months ago but Jeramie Moore remembers exactly where he was the day he got the call.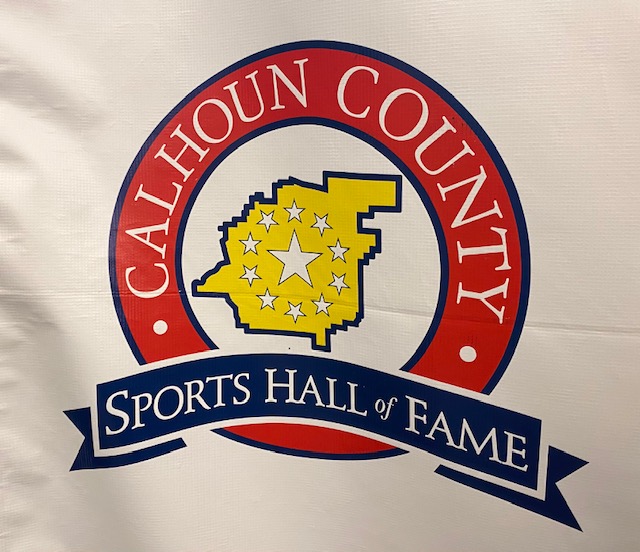 He had just pulled into his driveway in Baton Rouge, La., after a long day of work when Ken Grissom phoned to tell the former Alexandria and LSU first baseman he had been selected for induction into the Calhoun County Sports Hall of Fame, Class of 2020.

He may have been some 500 miles away, but he always stayed connected to his roots and knew by nostalgia the elite class of county sports luminaries he was joining. 

"It was one of those (calls) you really can't put into words," Moore said Saturday night. "It was just he and I on the phone. I was sitting in my truck after work. Just a very surreal thing.

"I had to do some homework. I went back and looked to see all the members of the Hall of Fame and now it becomes even more surreal that they thought enough of me to mention me with those people. I start looking and see (Lou) Scales, Larry Ginn, Sargent Prickett, Coach (Mike) Deerman at Weaver. Now it becomes even more surreal to see all the names you're in there with. That's the thing that is really neat with me."

The induction ceremony took place Saturday and the memories came pouring back. Moore had to stop several times early in his acceptance speech to check his emotions.

"The closer it got, the more I started thinking about it and I literally read about every member," he continued. "Dad and I were a bunch of sports rats. We were field rats, gym rats. Played against Coach Deerman's son. Coach (Bill) Burgess went to church with granny for a while. I played for Coach (Larry) Ginn.

"Even the stories that go back of dad telling me about Mike Tucker and Echols Bryant. He talked about Sargent Prickett. Him and my pawpaw used to sit around and talk about Sargent Prickett was the best around. And I watched Mike Tucker's induction speech and he mentioned Sargent.

"And even Big Ted (Boozer) going in. I didn't know Big Ted, but Little Ted was a few years ahead of me. That's who I wanted to be a pulling guard like. For me to be a part it, that's worth something."

Moore was joined in this delayed 16th induction class by Boozer (Alexandria), Brooke McCarley Suda (Alexandria), Roland Houston (Oxford), Arthur Hardy (Weaver) and Jerry Cole (Jacksonville). The class was selected in March 2020, but the traditional Father's Day weekend induction ceremony was postponed due to COVID-19 restrictions.

If you consider the alphabetical order in which the inductees gave their acceptance speeches at the Oxford Civic Center, Moore, the final honoree of the night, was the Hall of Fame's 100thinductee.

"This class has had a unique situation this year," Grissom, the CCSHOF president, said. "This class would have been inducted last year on June 20, but for reasons that we all did not see coming, it just didn't happen, so we're thankful that we can bring these guys here and honor them tonight."

Suda called it "amazing that it's falling on Father's Day; what a present to give my dad to get to see me nominated for the Hall of Fame."

Moore was a football and baseball standout at Alexandria, but made his bones in baseball. After starring for the Valley Cubs he went on to play at LSU, where he lettered for three years. The last game he ever played was the dramatic Warren Morris walk-off homer game that gave the Tigers their third College World Series title, an event that he said changed his life.

He went into coaching with stops at McNeese State, Oneonta High School, Samford and back to LSU. He left LSU in 2006 for private business, but he's still coaching. He was leaving out at 3 a.m. Sunday for Orlando to coach his son's 12-year-old team in The Ripken Experience at Disney World.

Moore's inclusion expands the Alexandria wing of the County Sports Hall to 13. While Boozer was way before their time, Suda and Moore were contemporaries with the Valley Cubs. Suda was an eighth- and ninth-grader when Moore was a junior and senior. Moore's sister played volleyball with her, McCarley's brother Bert played baseball and football with him.

"My brother was playing with Jeramie a lot and I knew him kind of watching my brother play," Suda said. "Of course, he was a standout. As a young person, even if I wasn't keeping up with everything, you just knew Jeramie Moore was a standout athlete."

All the inductees were.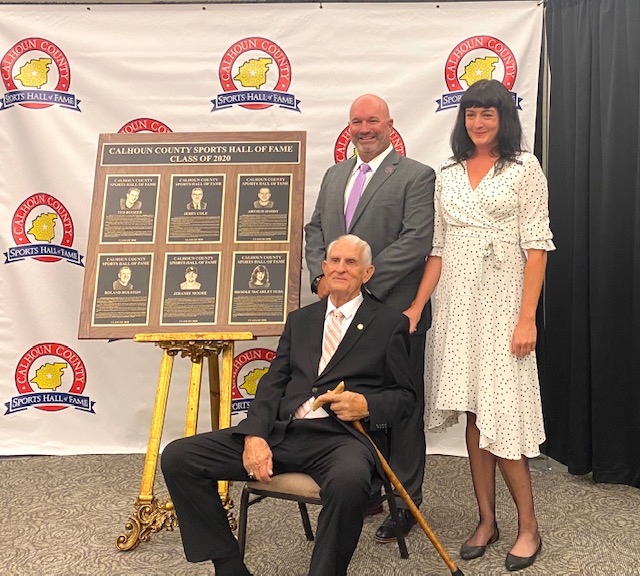 Boozer was a three-sport athlete at Alexandria prior to graduating in 1955. He was a power hitter on the baseball team. In basketball, he was a forward on the Valley Cubs' Sixth District tournament champions as a junior and earned all-tournament honors at the Calhoun County tournament as a senior.

In football, Boozer earned first-team all-county honors at end as a senior. His football skills caught the eye of Texas A&M coach Bear Bryant. He played on the Aggies' freshman team then spent one year at Allen Military Academy where he caught 15 touchdown passes and earned Wigwam Wiseman junior college All-American honors.

He returned to Alabama and played his final two years of college football at Jacksonville State for coach Don Salls.It wasn't so much that he had to tell Bryant, who had renewed his scholarship, he was leaving, but rather Bryant wished him well when he learned Boozer was considering options.

"I had taken a couple boys to San Antonio to interview for job down there," Boozer recalled. "They signed one of them and they wanted a bunch of them. They asked me what I wanted and I said 'nothing, I'm going back to A&M.' They said don't you want to come down here and I said I've never been offered. Well, I'm offering.

"(The coach) picked up the phone and called Coach Bryant. I heard Coach Bryant say 'What the hell is he doing down there?' Then he said let me talk to my coaches and after about a five-minute span he said, 'well, if he's down there and he wants to go, let him go.' So he kind of released me."

Boozer made the starting lineup in San Antonio in the spring, but returned home that summer and decided to stay.

Cole starred in football at Jacksonville. He was a three-year starter for the Golden Eagles, earning honorable mention all-county status at tackle as a junior and first-team all-county as a tackle in 1952, his senior season. Jacksonville State football coach Don Salls offered Cole a football scholarship and Cole became a four-year letterman and two-year starter for the Gamecocks.

In early 1974, JSU president Dr. Ernest Stone, who had been Cole's high school principal, asked him to become JSU's first full-time director of athletics. He continued in that role for more than 25 years. During that time, the Gamecocks won NCAA Division II national championships in baseball, basketball and football and two national titles in gymnastics. The Gamecocks won 37 Gulf South Conference championships during Cole's tenure.

Hardy was part of the Weaver's basketball and track programs for four years. For each of his final three years of high school, he competed in both hurdles, long jump, triple jump and high jump. As a senior, he was fourth in the intermediate hurdles at the state meet. In basketball, he was first-team all-county as a sophomore, junior and senior. He averaged a double-double each of those three seasons – 15.0 points, 14.9 rebounds as a sophomore; 20.9 and 17.7 as a junior; and 25.6 and 17.6 as a senior.

He was a member of the Calhoun County tournament all-tournament team as a junior and was county tournament most valuable player as a senior despite Weaver's loss in the tournament's semifinals. He played two seasons at Northeast Alabama State Junior College in Rainsville and returned to Calhoun County to complete his degree at JSU.

Houston played football at Oxford for coach Jack Grizzard (1968-70) and earned all-county honorable mention as a senior at offensive end. He was a team captain that same season and his teammates voted him the recipient of the first Jack Grizzard Golden Helmet award – recognizing the player who most exemplified the spirit, determination and pride shown by Grizzard during his time at Oxford.

While a student at JSU, Houston was a volunteer coach at Oxford. After graduation, he was an assistant coach for one year in Georgia then returned to Oxford as an assistant for eight years while working with the offensive line and defensive tackles.

He went back to JSU with coach Bill Burgess and served as offensive line coach (1985-91) and defensive coordinator (1992-96); the Gamecocks won the Division II national champions in 1992. He was Weaver's head coach from 2000-03, winning Calhoun County coach of the year honors in 2002 and 2003 and after returning to JSU for a year (2005) became Jacksonville's head coach from 2006-11, where he won county coach of the year honors in 2009.

McCarley (Suda) was outstanding in both volleyball and basketball. In basketball, she was honorable mention all-state as a sophomore, second-team all-state as a junior and first-team all-state as a senior. But volleyball was her sport of choice.

As a freshman, she helped the Valley Cubs to a state runner-up finish and each of the next three years they claimed Class 4A state championships. She was state tournament most valuable player as a junior and again as a senior. Following her senior season, she was named Alabama's Gatorade player of year. She went on to Auburn, where she was All-SEC in 1997, 1998 and 1999 and still is among the program's all-time statistical leaders.