All together now
New Jacksonville coach Morrow put his talented team on the floor for first time since getting the job; newest Golden Eagle Phillips has nice exchange with old team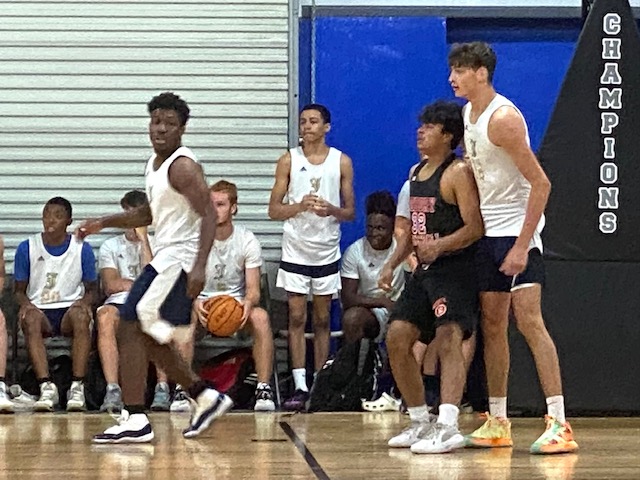 By Al Muskewitz
East Alabama Sports Today

Shane Morrow has never backed away from a challenge.

He has heard the expectations even before he became Jacksonville's new boys basketball coach Wednesday morning and for a first-time head coach they can be daunting.

The biggest challenge for any coach is coming to a team that has to be built from the ground up. But what if it's coming from the other direction? That can be just as intimidating.

Morrow is inheriting a team people are saying should win the next two Class 4A state championships. Not the more conservative or polite have-the-potential-to-win, but outright should. The advice to him in advance is don't screw it up.

"Obviously, it's the elephant in the room," Morrow said of the expectations. "But they're still kids, so – I hate to sound like (Alabama football coach Nick) Saban here – we've got to get them not to worry about that as much as worrying about what it takes to get to that, and that's what we're going to focus on when we start going to work.

"We've just got to focus on what it takes to get there and not worry about the end result right now. I've been there when the cupboard's bare and I'd rather the cupboard be full. The expectations I'm not worried about. A lot of these kids have played a lot of basketball; they've been around it a lot. It's just a matter of getting them focused and doing the things we need to do to win."

They are off to a good start. With no formal practice together with their new coach, no set plays to call and armed only with Morrow's expectations for them and their ample natural ability, the Golden Eagles swept through the Champions Boys Play Date Tournament Friday. They beat Asbury (75-20), Class 4A Area 10 rival Cherokee County (74-63) and county rival Alexandria for the championship (56-52).

"It's a dream come true," said Morrow, promoted from the Golden Eagles junior high boys post. "I've been coaching now 17 years. I've been waiting on this opportunity. I've been blessed with a lot of great kids, they played hard, so it's kind of a culmination of 16 years of work and the truism of a dream come true."

The players have heard the expectations and take them at face value.

"I feel like they're where they're supposed to be," 6-8 forward Cade Phillips said. "We've got everything we need to win a state championship. But we need to realize that's not what we need to focus on. We need to focus on getting better as a team and jelling together.

"It's hard to understand not to look at the state championship and the bright lights and not to look forward to that but to look toward what we do now to get better. Those expectations are where they need to be. We got all the talent we need. We got the depth on the bench that we need. We play really good together, that's what we need to do."

The Golden Eagles already had the most top-to-bottom talent-rich basketball roster in Calhoun County, returning most of the players that had eventual 4A state champion Anniston on the ropes in the County Tournament, and they got even stronger earlier this month when Phillips transferred in from Westbrook Christian to provide the solid big man they had been missing. Their first group opened a 24-7 lead in their first game against Asbury.

"Before we had Cade I thought we were going to be a pretty good team, a pretty solid team," said 6-5 junior guard John Broom, who had 17 in the game with Alexandria. "Now that we've added Cade I think we can be a really great team and have a really good opportunity to go to Birmingham this year.

"But we have to keep working hard in the gym, get in the gym every day and all learn how to play together. Once we do that we'll just keep it humming."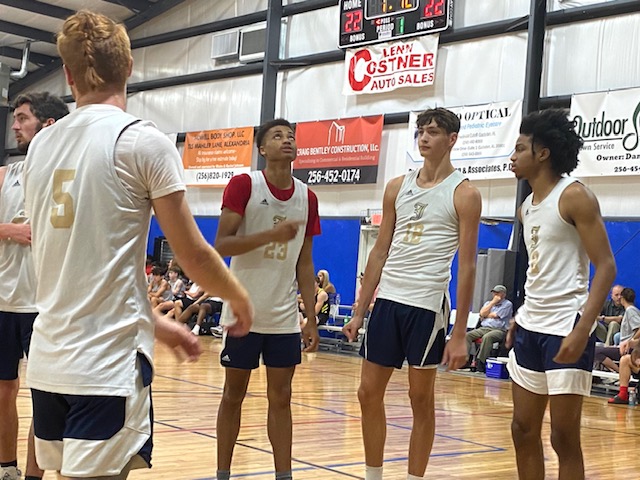 Phillips knew he wouldn't be returning to Westbrook a few weeks after basketball season ended, but wasn't' sure where he would land. He officially joined the Golden Eagles a week ago, right before they left for their first June camp at Birmingham Southern.
The move to Jacksonville allows Phillips to alongside Broom after forging a close friendship during their travels on the EYBL circuit.
"We got a really big addition to our team," Broom said. "I didn't really recruit him, but I told him it'd be great if he came."
Broom shouldn't sell his influence short. Phillips said their friendship played "a lot" into his choice of landing spots.
"It wasn't the main reason we transferred, but it definitely made … the decision easier to come here," he said.
And now that he is there, it hasn't taken long to connect with his new teammates.
"Being a good friend of John's I've slowly got to meet a bunch of (Jacksonville players), so it was kind of easy," Phillips said. "A bunch of the guys have heard of me and I've played video games (remotely) with them, so it was really smooth.
"Playing with them is a different story. It took a little bit to kind of get jelled together, but I only had one practice before our first game. It's been fun. They're a bunch of guys with good personalities, a bunch of good athletes, a bunch of good guys. It's a good recipe for a good season."
Phillips and his former team could have met in Friday's championship game, but Westbrook couldn't get past Alexandria in the semifinals. Instead, they passed cordially when the teams traded benches between their first games of the day.
"I love those guys; those are my guys," he said. "I've been from there my whole life so I've grown up with a bunch of those guys. Those are my boys, pretty much family to me. They're happy for me for what I'm doing in life and it's good to know they have my back even though we're at separate schools.
"Nothing but love with them. That's not where I expected seeing the team for the first time, but it was good. That's the first time I've seen them since the change."
NOTES: Morrow will be 44 when the Golden Eagles open their season for real Nov. 16 at home against Spain Park … Phillips had 13 points, 10 rebounds and three blocked shots against Alexandria … The Golden Eagles' first group included Phillips, Broom, Q Long, Cam and Caden Johnson. Phillips called the twins "probably two of the most underrated guys in the state in our class." … Phillips said he plans to cut his plentiful list of college offers to nine "probably" at the end of the upcoming school year and "probably" make his commitment before the start of his senior year or shortly thereafter. "We'll just see how it goes," he said. "A lot can happen in a year and a half, too." … Former Alexandria running back Ronnie Royal was in the house to watch his former teammates.