What a weekend
County tournament roundup: Oxford wraps up busy week with quarterfinal win, joins Alexandria, Ohatchee, Piedmont in semifinals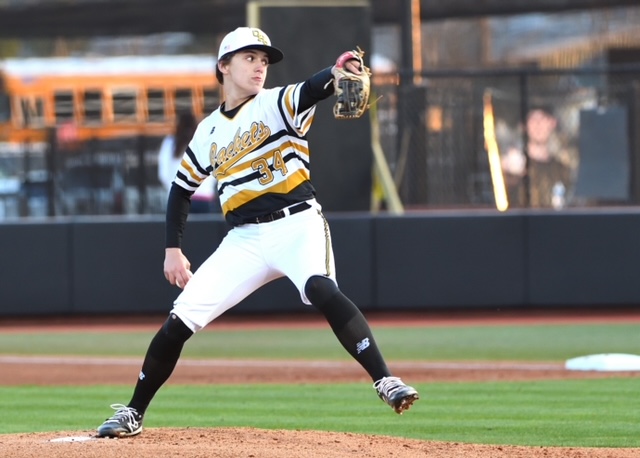 Calhoun County Tournament
at Choccolocco Park
Saturday's games
White Plains 11, Faith Christian 2
Donoho 8, Saks 2
Alexandria 5, Wellborn 1
Ohatchee 8, Pleasant Valley 5
Piedmont 12, Donoho 2
Oxford 14, White Plains 4
Monday's semifinals
Ohatchee vs. Piedmont, 4:30 p.m.
Alexandria vs. Oxford, 7 p.m.

By Al Muskewitz
East Alabama Sports Today

OXFORD – Two games. Two cities. Two separate tournament wins. Too much of the Yellow Jackets.
Oxford wrapped up a busy day of baseball Saturday that started in Hoover with the Yellow Jackets winning a division championship in the National Perfect Game High School Showdown and wrapped at friendly Choccolocco Park with a 14-4 five-inning win over White Plains in the Calhoun County Tournament quarterfinals.

The top-seeded Yellow Jackets will now play fourth-seeded Alexandria in Monday's 7 p.m. semifinal at Choccolocco Park. It'll be their only game that day – promise.

It was a busy weekend, really. In case you're counting, that's five games in three days capped with the two wins in two towns Saturday.

"I don't know we've ever done that," Jackets coach Wes Brooks said. "We've probably like won in Oxford and traveled to JSU one time in 2011 when we hosted a big weekend, but I don't think we won. I think Auburn beat us at JSU like 2-1."

"It was cool," third baseman Peyton Watts said. "I've never been a part of a tournament like that … I think we did a really good job today."

The logistics of the day was a masterstroke of scheduling – even with an unforeseen traffic jam and other delays that almost made them late to the first venue and prompted a slight delay in their nationally broadcast game. The day started at 6:15 a.m. and the Jackets were still milling around their ballpark at 8 p.m.
The Jackets had a lot easier time with White Plains than they did with Loganville at the Hoover Met, where Brooks said "every pitch is like a state championship." They won that one on freshman R.J. Brooks' sacrifice fly in the top of the seventh and three innings of stout relief.
There was no bus lag when the Jackets got back home. Against White Plains, they scored six runs in the first inning and never looked back. They sent 12 batters to the plate, their first eight reached base and the first six scored. Trey Higgins came all the way around on a combination of doubles, throws and errors to produce the first two runs.

As soon as Chance Griner dumped a pop fly into short left field just inside the line to chase home the winning run in the fifth, the Yellow Jackets bolted up the tunnel to their Boom-Boom Room. It's what they call their locker room after they get the strobe light, music and huddle going to celebrate their victories.

"It brings a lot of confidence into everybody, winning that championship with a bunch of really good teams and then coming down here and getting a good start to a tournament," Watts said. "We're all happy. We're happy how it's turned out and we're happy that we got this W today."

Brooks turned the county tournament game over to a couple eighth-grade pitchers – Hudson Gilman and Eli Bozeman – with designs on establishing a foundation for the future, and with the exception of a few tense moments the youngsters held their own. It's not like they were thrown to the wolves – or, in this case, the Wildcats – they had been establishing themselves in recent weeks.
"We've got 17 pitchers grades 7 through 12 who can get it done on our level," Brooks said. "You've always got to think about the future. Here's an opportunity to play a lot of games in a row and think about the future."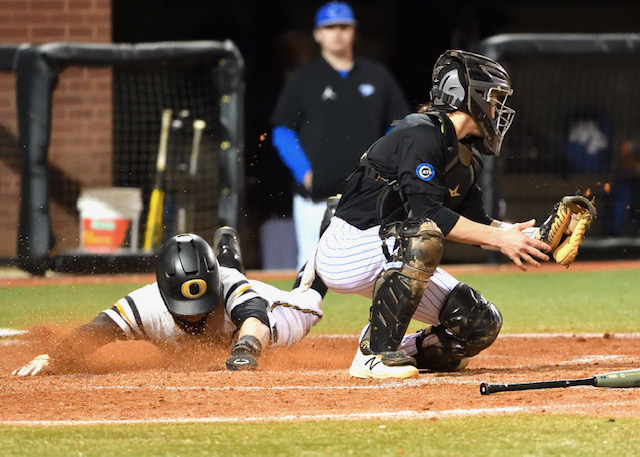 Cubs' Carmichael has knockout return
Ian Cartwright couldn't wait to get back in the lineup Saturday after two weeks on the sideline in concussion protocol and he put all that pent-up energy to good use.
The freshman first baseman ripped a two-run double in his first at-bat to stake Alexandria to an early lead, which the Valley Cubs carried to a win over upstart Wellborn.

Cartwright got hurt in a collision while in the field against Gadsden City. He had been taking batting practice during his recovery, but was only cleared to play Friday.

In his first at-bat back in the game, Cartwright took the first two pitches he saw for strikes, watched a passed ball advance to two runners on base, then raked a double to right for the first two runs of the game.

"It felt good," he said from behind his amber sunglasses, there for the field glare and not the concussion. "We had runners in scoring position. I just had to do a job.

"I was a little bit nervous because it was my first game, but I stayed ready to play. It just felt good to be back with my team."

Cartwright went 2-for-3 in the game, adding a single in his second at-bat back in the third.

"We wanted to get him back in the lineup because it's all about getting ready for after spring break," Valley Cubs coach Andy Shaw said. "He did a good job.

"I think if he would have gotten hit at the plate it would have been a different thing. He got hit playing defense, so I don't think he had any mental things about it. I'm guessing he didn't. The way I saw him swinging yesterday, he seemed like he was ready to go."

The fourth-seeded Valley Cubs added two more runs in the fourth and extended the lead to 5-0 in the fifth.

Wellborn scored its run in the sixth and had bases loaded with one out, but couldn't get any more. The 12th-seeded Panthers reached the quarterfinals after beating Anniston and fifth-seeded Jacksonville Friday night.
Ohatchee gives 'extra' effort
Hitters may not be able to get many balls out of the Signature Field at Choccolocco Park, but that doesn't mean they can't inflict a world of hurt on teams here.
Ohatchee had six extra-base hits Saturday, some into the deepest recesses of the park, and then ran for days, beating area rival Pleasant Valley to reach the semifinals of the Calhoun County Baseball Tournament for the second time in three years.
The third-seeded Indians will play second-seeded Piedmont – another area rival – in Monday's 4:30 p.m. semifinal.
Ohatchee coach Blake Jennings likes playing in this park for what it does for his pitching staff. But when his hitters get hold of one and hit it in the right spot, they can run the bases for a long time.
"When I talk about hitting (it's) can we knock the center field wall down," Jennings said. "Chipper Jones is one of my favorite players ever to play and that's the way he was taught to hit.

"I am not of this belief of talking about this launch angle stuff and all that. You talk about Tony Gwynn, Chipper Jones, the greatest guys to ever do it. Knock the center field wall down. If you do, it'll create some backspin and you'll get those big hits in the gaps and you'll do great. Hit it hard.

"Good guys with speed that makes a big difference. Our guys got a lot of speed, they run the bases well, that's what we've been trying to preach and they've been doing a good job of it. Putting the ball in play and taking the extra base when we can get it."

The Indians bashed four doubles and a pair of triples in the game, five of them in their last three bats to break away from ties at 2-2 in the fourth and 4-4 in the fifth.
They broke it open with a three-run fifth. Konner Baswell got it started with a triple and he scored the go-ahead run on a Devin Howell's sacrifice fly. Aiden Simpson hit a two-run triple later in the inning to go with the RBI double he hit earlier in the game. Brent Honaker went 3-for-4 with a double.
Baswell's triple came in his first at-bat after being lifted from the mound. Before he got pulled, counting a double play he got in the second inning, he had recorded 10 consecutive outs after Jackson Almaroad's sky-high pop fell in the infield and gave the Raiders a 2-0 lead in the first.

"I love it here because we're a pretty quick baseball team and when we get our bats hot and put the ball in the play out there in that outfield, get it in the gaps, we can run effectively and get on base and get extra bases because it's so deep," Baswell said. "I've never hit one out so I just live off base hits and when I get here I know I can extend base hits better than that and get doubles and triples."
Hayes once again Bulldog tough
Jack Hayes has had plenty of opportunities throughout his career to show how tough he is and rarely has he disappointed.

Hayes fought off two bases-loaded situations from the mound during Piedmont's 12-2 county tournament win over Donoho.

The Falcons touched him for a run on Slade Haney's RBI single in the first and then loaded the bases with two outs, but Hayes got out of it with no further damage with an inning-ending strikeout. He then retired the next six in a row.

Donoho loaded the bases with none out in the fourth. William Folsom hit a shot to the right side of the infield to get a run home, but Bulldogs second baseman McClane Mohon smothered it to save at least another run and then Hayes fanned the next three batters to get out of the jam.

"We did a really good job," Hayes said. "I trusted my guys behind me and I knew they were going to make the plays we needed to make, really. We just got out of it together.

"(In the fourth) I just had to get refocused, step off the back of the rubber and take a deep breath and then get back in it. It really got me back going."

Hayes worked the first four innings, giving up seven hits, no walks and striking out nine.

"Jack is strike machine," Piedmont coach Matt Deerman said. "I told him to fill the zone up, make them hit it and trust the guys behind you. He did a good job.

"He's been there and done that. He's a player who doesn't get rattled very easily. We had him on a pitch limit today and he was right around it. We trusted him to get out that and he did a good job.

"I thought he did a good job of mixing his pitches up. We attacked them early with the fastball to see what they could do. They proved they could hit the fastball and later on he started mixing them up and got them guessing a little bit and I think that paid off in that (fourth) inning."

Piedmont took the lead with a four-run second. Cassius Fairs sliced a two-run bases-loaded single into right, McClane Mohon hit a deep sacrifice fly to center and Austin Estes drove an RBI ground single underneath the shortstop.

They walked off with a four-run fifth, highlighted by Noah Reedy's two-run single. Hayes went 3-for-4 with three RBIs. Max Hanson went 3-for-3 and Jakari Foster went 2-for-3.

WHITE PLAINS 11, FAITH CHRISTIAN 2: Ty Daniel went 3-for-4 and Duke Barnett, Quin Wilson and Josh Ortiz all drove in two runs as the Wildcats won their tournament opener to give interim coach Chandler Tyree his first victory.

The Wildcats gave starting pitcher Jaden Chatman a 6-0 lead through the first two innings. Chatman threw the first five innings and got out of a bases-loaded jam in the third with only one run scoring.

The Wildcats will play top-seeded Oxford tonight at 5:30 p.m. Oxford will be coming into the game off a 3-2 win over Loganville in the National Perfect Game HS Showdown in Hoover earlier in the day.

DONOHO 8, SAKS 2: The Falcons got timely hitting and gave up no earned runs in winning their tournament opener.

Tyler Allen and William Folsom each drove in a pair of runs and the heart of the Falcons' batting order went a combined 8-for-14 with three RBIs.

Nick Thompson, Judson Billings, Allen and Slade Haney all had two hits for the Falcons. Rickey Garrett and Mason Jairrels had two hits apiece for Saks.

This story will be updated.