Back on top
Jacksonville wins last two sets, rallies to overtake Alexandria 3-2 and win its first County volleyball title since 2016; Broom MVP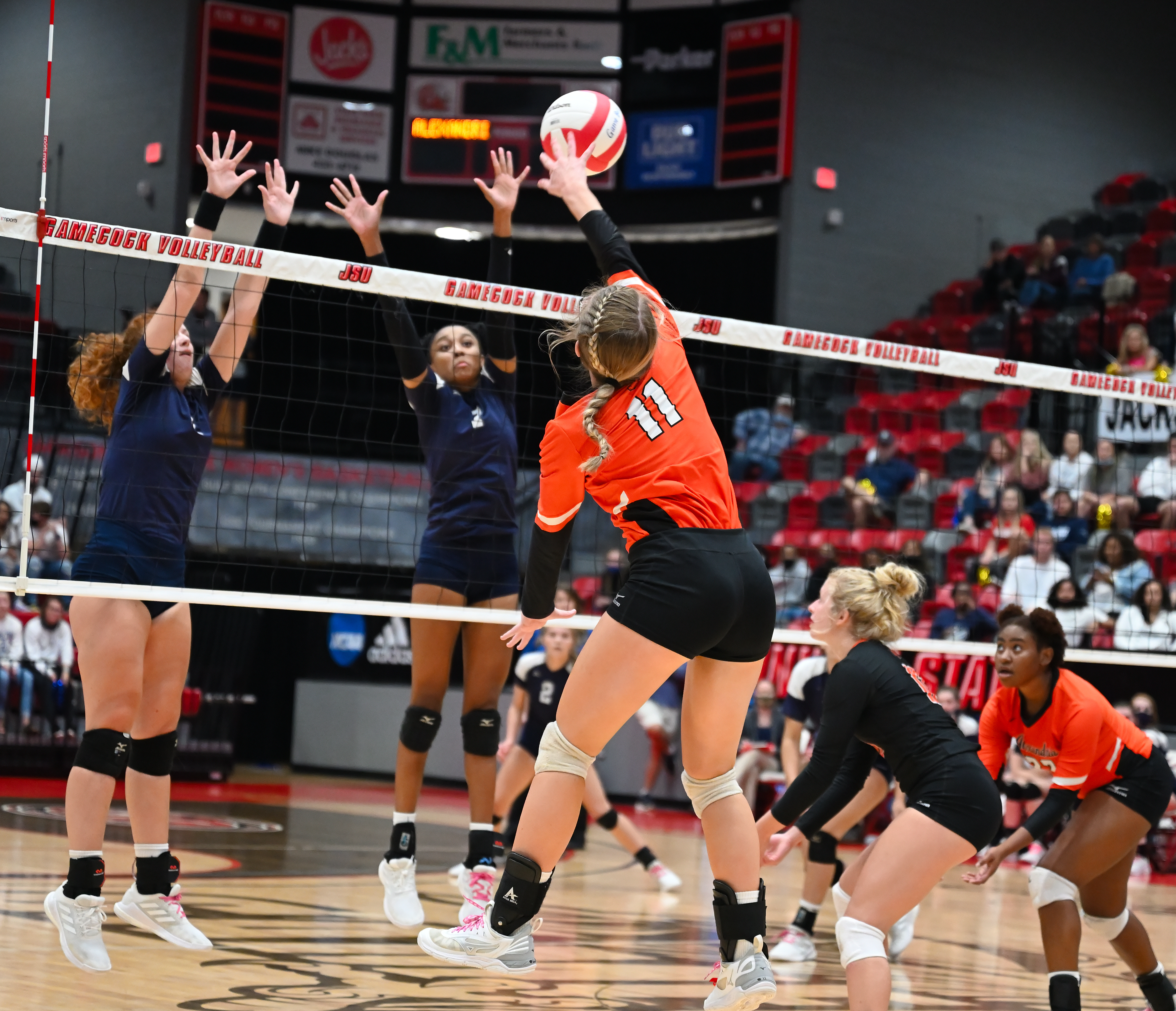 By Al Muskewitz
East Alabama Sports Today
JACKSONVILLE — Outside of winning a state championship, which is next on the list of things to do, Jacksonville's Kayla Broom hasn't wanted anything more in her entire sporting life.
For all the good things they've done in their careers, the Calhoun County Volleyball Tournament championship has somehow eluded Broom and her fellow Lady Golden Eagles seniors. But that all changed Monday night.
The Lady Golden Eagles may not have been at their best the whole time, but they were good when they needed to be and beat top-seeded Alexandria 3-2 to win their first county title since 2016. The set scores were 22-25, 25-16, 18-25, 25-20, 16-14.
"This is my senior year, I've wanted to win this bad; as a team, we wanted to win this bad," Broom said. "I wanted to win this, like, heavy bad. I've been telling myself, even from last year, we have to win this, like, it has to happen.
"I've been striving for this, I've been looking over film, making sure it happened. I just wanted to win so bad."

She wasn't the only one.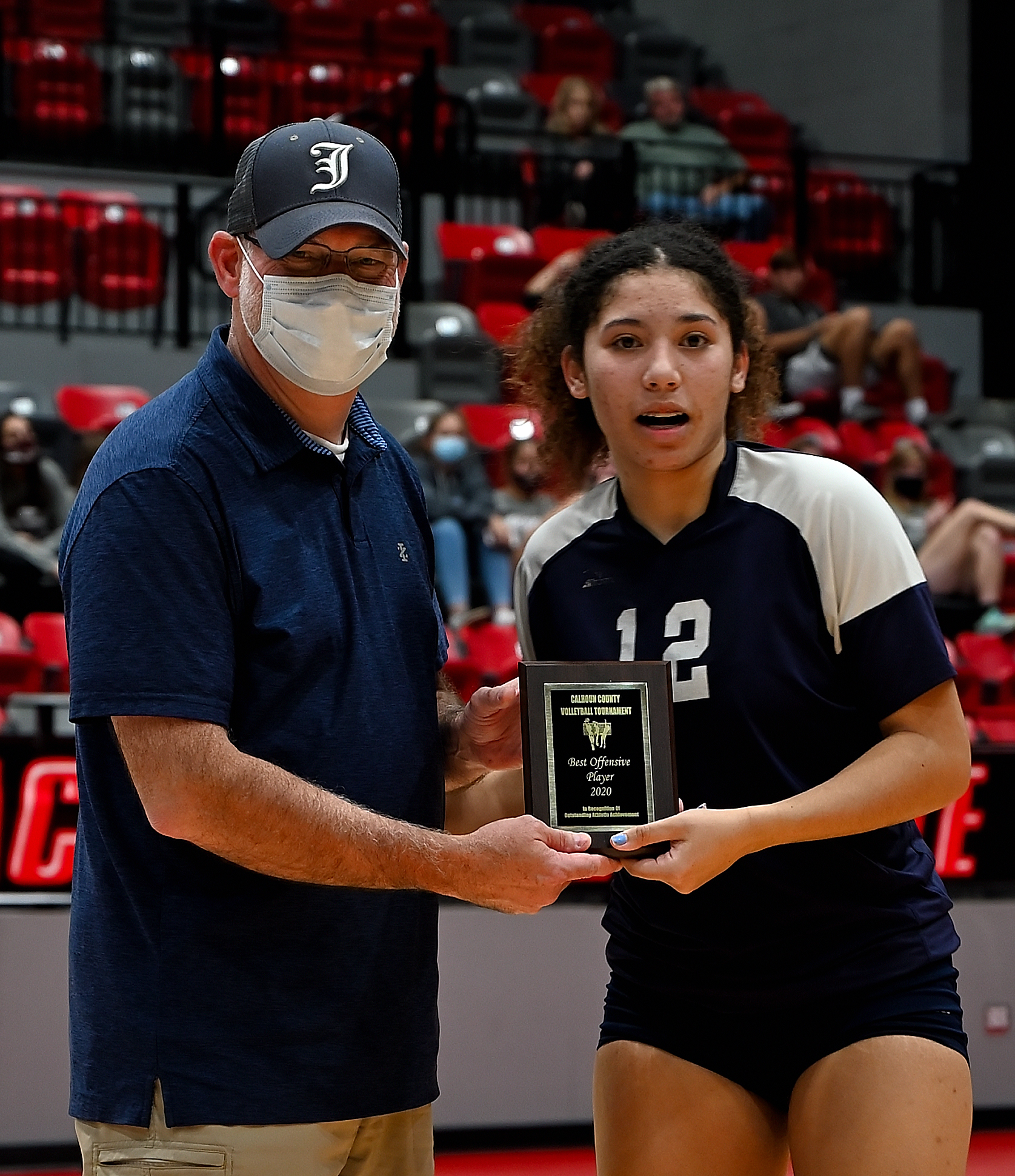 "When I saw my sister, I said, 'ooh I wanted to win that too' and be like we're the No. 1 team in the county, that we're the best team," said Brenna Stone, whose sister Sierra was on Jacksonville's last two county championship teams (2014 and 2016). "I had full confidence in my whole team and myself that we would win this because we wanted it s-o-o-o-o bad, so bad."
"We've really been out for blood against Alexandria since I started as a sophomore on varsity and it's always been such a big thing for us," Bailee Pritchett said. "It's such a big accomplishment to do this because we've built for three years and it's something that has been really important to us and I'm just thankful that we finally get the opportunity to do it."

"I'm just really happy for this group, especially these five seniors," Jacksonville coach David Clark said. "They've been here, haven't been able to accomplish this. Winning Calhoun County is not an easy thing to do. There's always quality teams in this county. You don't luck through this and win, so for them to have that experience, that's what it's about."
The second-seeded Lady Golden Eagles (31-7) had to work hard for their 10th county crown (all this century). They trailed 1-0 and 2-1 in sets and were down 16-13 and 19-17 in the fourth set before winning it all.

They're the first team to win the championship match after dropping the first set and trailing 2-1 since Pleasant Valley beat Alexandria in 2017. It's also the first title match to go five sets since that year.
"A testament to me always of how good a team is is can you still win when you're not at your very best, when everything's not going the way you want it to go, and that's where we were for a good portion of the night, just to be honest," Clark said. "It was pretty much a rollercoaster ride over here most of the night.

"I think sheer effort got us through early and then when the volleyball picked up is really when we pushed and surge through. You don't beat somebody like Alexandria without your best unless it's a tremendous effort … I think we were great at times tonight, but I don't think it was a sheer hey we were fantastic every point all the way through. I've pushed this group about having some grit for what we do and I think tonight was a good example of that. When we got our backs against the wall they came out swinging."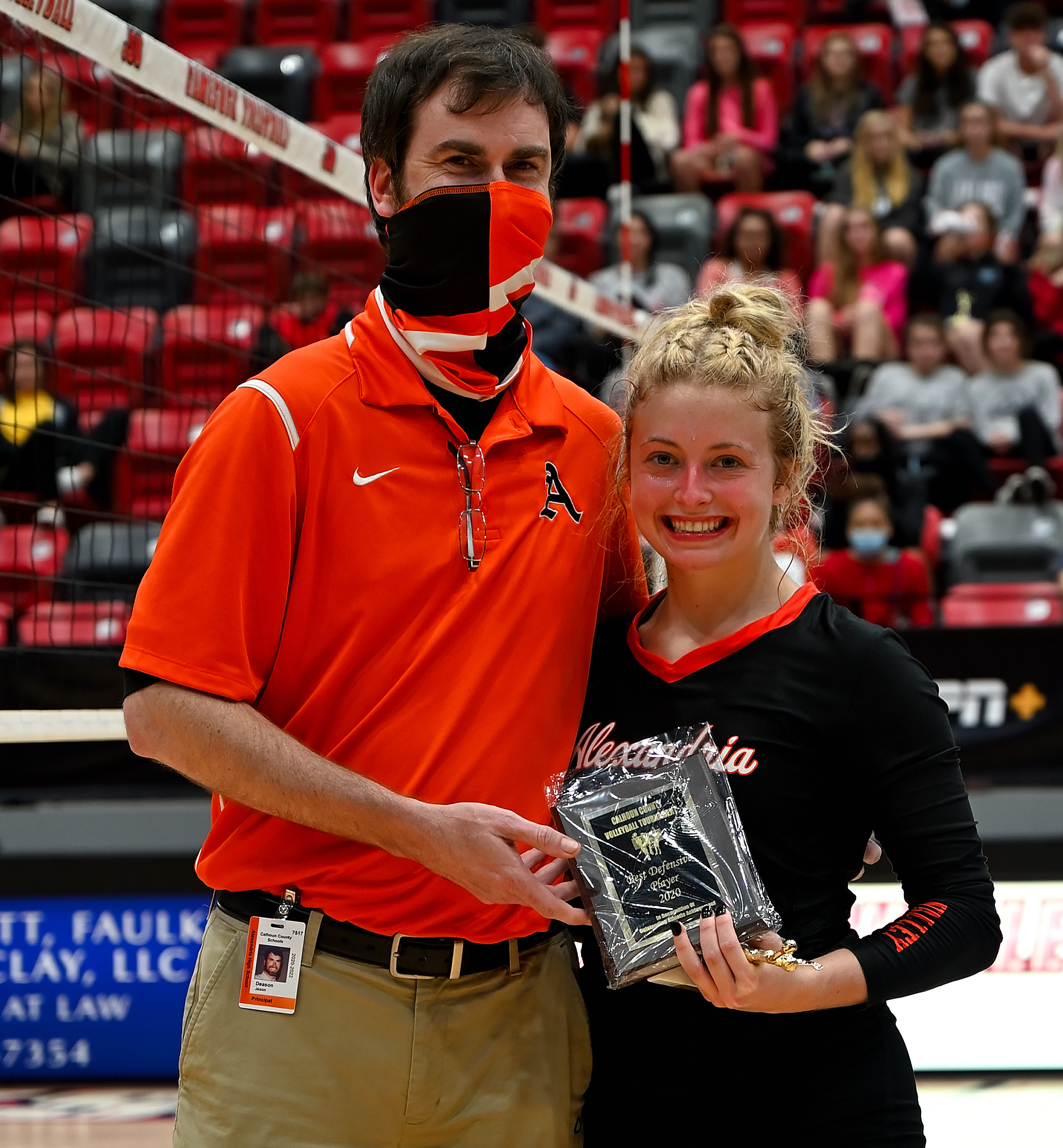 Broom was voted overall tournament MVP. She had 22 kills and 19 blocks in the title match. Stone was voted best offensive player; she had 22 kills in the title match. Alexandria's Sarah Pelham was best defensive player; she had 27 digs in the title match.
Alexandria was looking to become the first team to win three in a row since Jacksonville won four straight 2008-2011.
While these five Jacksonville seniors were looking to win a county title for the first time, Alexandria's senior class has played in all four finals since their freshman year.The Lady Cubs (28-12) had chances to put this one away in the fourth set, and ultimately missed too many serves in key moments down the stretch. They fought off two championship points to tie the fifth set 14-14 but hit a return long and then on the clinching point they simply failed to get the ball over the net.
"They're just going to have to learn from that," Alexandria coach Whitney Welch said. "It was a really good match between two good teams. I'll tell you, in 2017 we played a match just like this (in the finals against Pleasant Valley), and after that game we really turned a corner (and won the state championship). It could be a turning point for the season."
This story will be updated. See photos from the match at www.bjfranklin.smugmug.com or camerainnandbikes.com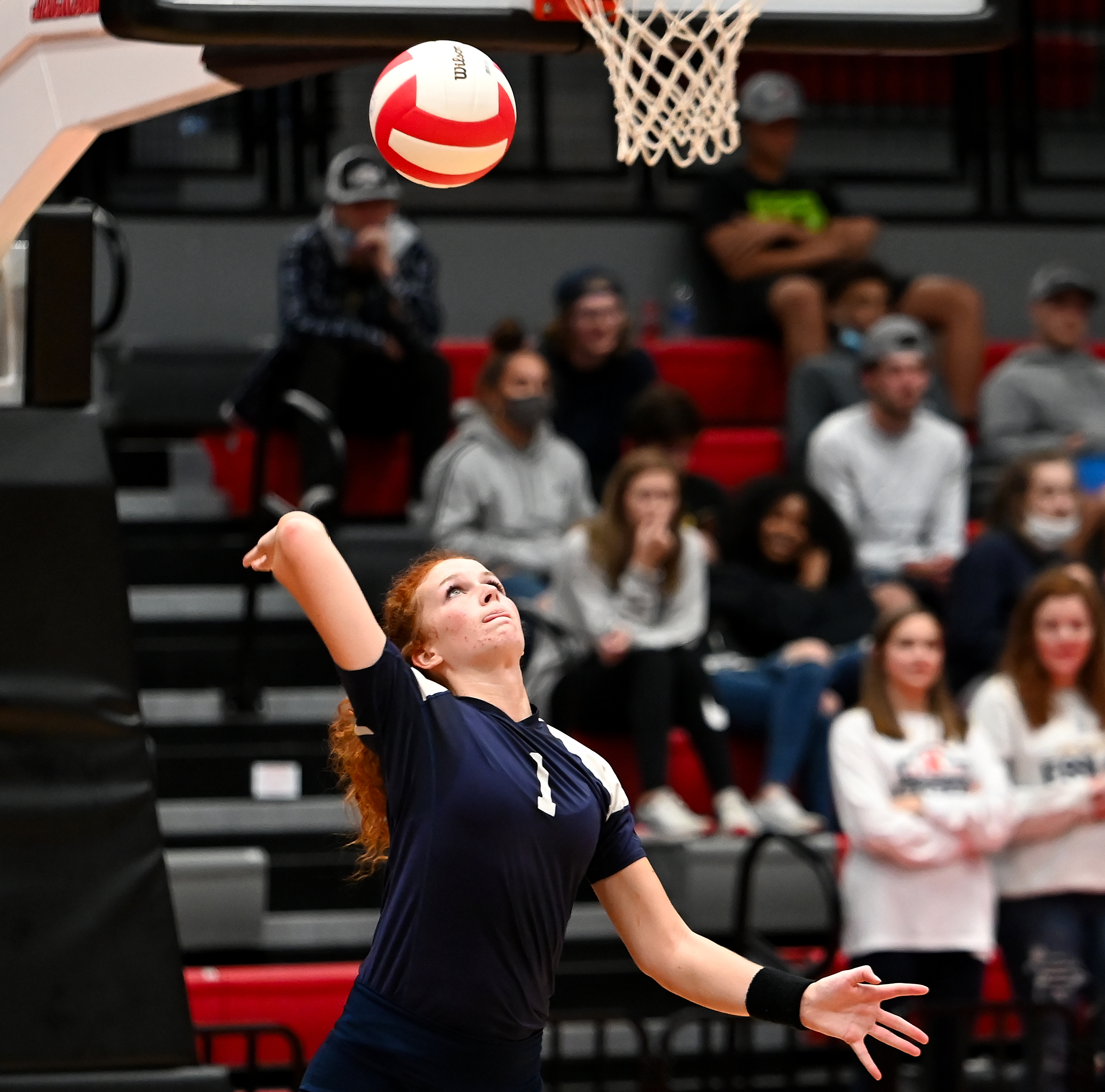 COUNTY VOLLEYBALL TOURNAMENT
Championship match
Jacksonville 3, Alexandria 2
(22-25, 25-16, 18-25, 25-20, 16-14)

JACKSONVILLE (31-7)
KILLS: Molly Wilson 3, Kayla Broom 22, Brenna Stone 17, Caitlin Clark 4, Aly Harris 15, Lexi Callahan 1, Natalie Patterson 1.
ASSISTS: Molly Wilson 46, Caitlin Clark 1, Jules Grass 1, Bailee Pritchett 2.
ACES: Molly Wilson 1, Allie Thompson 1.
DIGS: Molly Wilson 3, Kayla Broom 14, Brenna Stone 19, Caitlin Clark 19, Lexie Callahan 8, Bairlee Pritchett 5.
BLOCKS (Points): Molly Wilson 3, Kayla Broom 19 (4), Brenna Stone 3 (1), Caitlin Clark 1, Aly Harris 8.

ALEXANDRIA (28-12)
KILLS: Jordan Beason 14, Anna Johnson 3, Lexi Weber 18, TyShica Woodgett 3, Kandyn Blankenship 7, Kaylee Smith 2, Rylee Gattis 4.
ASSISTS: Anna Johnson 44, Sarah Pelham 1.
ACES: Jordan Beason 4, Anna Johnson 2, Sarah Pelham 1, Kandyn Blankenship 1, Kaylee Smith 1.
DIGS: Jordan Beason 17, Anna Johnson 5, Sarah Pelham 27, TyShica Woodgett 4, Kandyn Blankenship 18, Jolie Weathington 5, Kayle Smith 7, Rylee Gattis 1.
BLOCKS: Lexi Weber 2, Kandyn Blankenship 1, Rylee Gattis 2.
ALL-TOURNAMENT TEAM
Jacksonville: Caitlin Clark, Aly Harris, Molly Wilson, Brenna Stone, Kayla Broom.
Alexandria: Jordan Beason, Anna Johnson, Lexi Weber, Sarah Pelham.
Oxford: Lisa Montgomery, Lakijah Brown.
Pleasant Valley: Leah Patterson, Ryle Haynes.
Ohatchee: Jorda Crook.
White Plains: Gracie Morgan.
Wellborn: Kinlee Pritchett.
Donoho: Lily Grace Draper.
Overall MVP: Kayla Brown, Jacksonville
Best Offensive Player: Brenna Stone, Jacksonville.
Best Defensive Player: Sarah Pelham, Alexandria.