At last
Clay takes down 'best player in our history' in Match Play finals to claim first Calhoun County Tour victory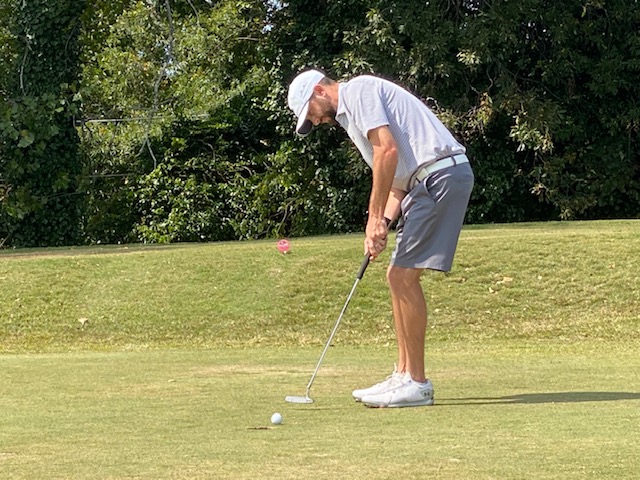 CALHOUN COUNTY MATCH PLAY
Semifinals
No. 1 Gary Wigington def. No. 12 Andrew Brooks, 7&6
No. 3 Brennan Clay def. No. 7 Wesley Jenkins, 2&1
Championship match
No. 3 Brennan Clay def. No. 1 Gary Wigington, 2&1

By Al Muskewitz
East Alabama Sports Today

Gary Wigington has said all season it was just a matter of time before Brennan Clay would win on the Calhoun County Golf Tour. It was a just a matter of putting two good days together on the same weekend.

That day came Sunday – at the expense of the reigning Player of the Year.

Clay earned his first Calhoun County Tour win when he beat Wigington in the finals of the County Match Play Championship, 2&1, at Anniston Municipal.

It's taken him 31 events, but the 31-year-old landscaper from Alexandria finally shed the image of Best Player to Never Win a Tour Event.
"That was the way I wanted to get my first one, going against the best player in our history," Clay said. "Obviously, I had a couple chances against him – quite a few chances, actually – but he's played so good for so long and this year especially I knew I was going to have to play pretty danged good to have a chance to beat him. Thankfully, I did play pretty good and I made some putts when I needed to finally."
He has come close to break through earlier this year – sharing the 36-hole lead at Gadsden (two ahead of Wigington) and leading after the first day of the County (by one over Wigington) – but just couldn't close. In his previous 30 Tour starts, he's had three seconds, five thirds, three fourths and 23 top 10s. He's finished out of the top 15 only three times.

But he was solid down the stretch Sunday, getting the match square on 15 and then making birdies on 16 and 17 to close it out and deny his opponent a sixth victory on the Tour this season. It was Wigington's 26th Tour runner-up finish (to go with 21 all-time wins).

"He's been playing good all year and playing really good one day and then just not as well the second day and I just knew he was due to put two together," Wigington said.

The match was all you'd expect between two of the county's top players. Ten of the 17 holes were won. There were 11 birdies made. Clay was 5-under-par when the match ended, Wigington was 3-under.

Clay had the player he admired growing up at Indian Oaks 2-down after 5, but Wigington birdied the next two holes to get square and then took a 1-up lead at the turn when Clay bogeyed No. 9.

Wigington, who led the Tour in scrambling during the season, missed a chance to extend the lead with a poor chip on 10 and settled for a halve. Clay chipped in for birdie on the par-3 11th to tie it, but literally gave it right back on the next hole, missing a three-foot par putt.

Wigington maintained the lead through 14, but another poor chip there negated his advantage of nearly driving the green and they halved that hole. Then he got out of position off the tee on 15, didn't make it to the green from there and made bogey, leaving it all square with three holes to play.

"I played really good all the way up to, really, the last nine holes," Wigington said. "The short game let me down a little bit, but it had been good all the way up to then."

Clay won 16, a hole he's played very well this last month, with an eight-foot birdie putt to regain the lead and then closed it out on 17. He drove it pin-high right off the tee with an amped-up 3-wood, chipped on to three feet after Wigington's chip went long, and sank the winning putt after Wigington's shot stopped 18 inches from the hole.

"That match was the best I played out of the four (in the tournament)," Clay said. "(Jonathan) Pate outplayed me (in Round 1); he probably deserved to win, but I made a couple pars to where he made some bogeys to kind of take control of that match. Against Clay (Calkins), neither of us really played good in that match. And then against Wesley (Jenkins) this morning, I played better (than Saturday). I knew he was going to be uber-aggressive – that's how I was at 17 – so I had a game plan on some holes and it worked out pretty good against him."

NOTES: Twenty-seven players have now won on the Calhoun County Tour … In the semifinals, Wigington roared past 2014 champion and finals opponent Andrew Brooks 7&6 and Clay edged Jenkins 2&1. Jenkins was 1-up through 7, then hit driver out of bounds on 8 and lost the hole. He hit driver OB on 17 as well trying to make birdie to get back even. He admitted he shouldn't have taken driver the first time being ahead in the match, but had to from behind the second time … Shortly after Clay dropped his winning putt, Wigington reflected on his record-setting comeback from offseason elbow surgery. In eight Tour starts he had five wins and three seconds. "It was a great year, it really was, better than I was expecting," he said. "It was just a fantastic year and look forward to next year" … Next up for Clay: The USGA Four-Ball qualifier Wednesday at Huntsville CC with Jeremy McGatha. Matt Rogers and Andrew Brooks will give Calhoun County a second team there. McGatha and Rogers played in the main event at Winged Foot in 2016.