Getting to it away from it all
White Plains runners get some high-altitude training in Colorado while escaping coronavirus quarantine; and, yes, they are doing schoolwork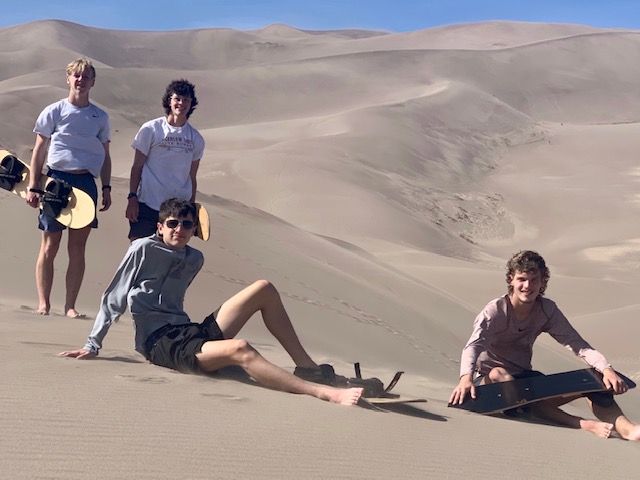 By Al Muskewitz
East Alabama Sports Today

Jake Moore has always thought it would be nice to live in a place like Colorado once he got out on his own. Now that's he's had a little taste of the life above the clouds he's even more convinced that's the place for him.

Moore and three of his White Plains cross-country teammates have been in the Rocky Mountain State for the past two weeks. What started as a plan to remain active during a coronavirus quarantine at home has led to some high-altitude training that could translate well when the group returns home later this week to prepare for a stretch run they hope culminates in a state championship.
"Hopefully it'll make us run way better," the defending county champion and reigning 4A state runner-up said. "I know we're kind of behind now that everybody else has got some races under their belt and we really haven't, so hopefully it'll put us above or with the competition so we can actually compete. I feel like we still would've been good if we stayed in the state of Alabama but this is just an experience."

The whole thing started when Moore's mom caught the coronavirus and had to be quarantined. Jake wasn't around it and didn't have it, but questions related to contact tracing persisted, so dad and Wildcats coach John Moore finally said the runners were welcome to self-quarantine out of an abundance of caution but if they did they had better be doing some kind of training.

A two-week shutdown in the middle of the season would have adversely affected Jake's push for a big senior season he already felt was behind schedule for various reasons. So, together with his dad, they started brainstorming ideas to get him back on track through any lockdown.

A running friend of the family in Colorado suggested some high-altitude training, but he was in Colorado. That didn't stop the wheels from turning.

Among the ideas they considered were heading out to camp on Mt. Cheaha or just sending Jake out by himself to train with the friend.

"That's what it initially started out, then I started thinking what other mountains do we have nearby," John Moore said. "Well, Brasstown Bald in Georgia has some big mountains, I was like, why don't y'all do that? Then they got to talking about climbing some big mountains.

"They're out there with one of the boys' (Caden Johnson) uncles. The uncle said if you want to climb some mountains we've got some 14,000-foot mountains out here. Everything went bigger and better. With Jake Moore, there's never a ceiling with Jake. It's always like what's the next thing I can do, what's the next challenge."
So, the older running buddies – Moore, Johnson, Kayd Hightower and Cole Senciboy – packed their running shoes and followed Horace Greeley's famous advice – "Go West, Young Man." They flew to Jamie and Michelle Presley's place in Leadville, about 100 miles southwest of Denver in the heart of Colorado ski country, elevation 10,152 feet, and the adventure began.

Of course, it helped the logistics that all four are virtual learning students at White Plains, so they are able to keep up with their classwork – just as they would confined indoors – while doing their roadwork.

"I told them if you don't do your on-line learning and you make some bad grades, your butt's coming back home," John Moore said.

The runners assured they have been hitting the books.

They are expected home from "The Colorado Experiment" Friday, in time to start prepping for White Plains' Wildcat Fall Classic.

"This experience is something I don't think any of us could've imagined ourselves doing," Johnson said. "We're extremely lucky to have this opportunity to train for a sport we're so dedicated to."

The group has been training "a good bit" with some runners from the local Lake County High School team that has won 28 state championships, but they are not competing with them. In addition, they are doing four- to six-mile training runs on their own. One of their first time trials featured a steady incline that had to be a good 45 degrees. That'll take the breath away from you at any altitude.

"Today we have 10 640s to do," Jake Moore said. "Most of the days we're just kind of doing some longer, easy runs because the altitude going from 700 feet down in White Plains to 10,000 up here is kind of rough with breathing. We're taking it kind of easier, not doing as many speed workouts as we would at home, but we're running more miles."
"We expected the altitude to have an effect on our breathing when we ran, but we definitely didn't expect the smallest things such as walking up stairs or playing basketball to affect us like it did when we first got here," Johnson said. "We've adjusted pretty good over the course of being here, though. … We're hoping the training helps us run whatever time it takes to win county, sectionals and state."

Who knows? The experience might even bring a few southern transplants to the state in a couple years.

"It's amazing," Jake Moore said. "Colorado is so beautiful. I've always wanted to live here. Ever since I was like 13 or 14 I've always wanted to move up here and live up here in the mountains. The place we're staying is just covered, mountains everywhere. I was thinking Colorado or North Carolina or Tennessee. Now that I'm here, I think it's Colorado."