First win
County roundup: Anniston scores its first victory of the season in shootout with White Plains; Saks gets first region win

Friday's Calhoun County games
Alexandria 56, Hayden 7
Anniston 48, White Plains 42
Faith Temple (JCA) 46, ASD 18
Hokes Bluff 62, Weaver 8
Ohatchee 20, Piedmont 15
Ragland 20, Donoho 7
Saks 36, Pleasant Valley 8
Wellborn 49, Glencoe 0
By Gregory Kirby
Special to East Alabama Sports Today

Anniston picked up its first win of the season and kept its hopes for a playoff bid alive Friday night but had to survive a high-scoring shootout with White Plains to do it.

The Bulldogs scored four touchdowns in the second quarter to open a 26-point halftime lead, but had to hold their breath through a last-minute series to hold off the Wildcats 48-42.
"It's always good to win; you don't take them for granted," Anniston coach Rico White said. "The way the season's been going … or them to keep fighting in that situation, it shows a lot about the whole team."

The win pulled the Bulldogs (1-5, 1-4) into a tie with Munford and Cleburne County for the fourth and final playoff spot out of Class 4A Region 4. The Bulldogs host Munford next week. The region's fourth seed will play its first playoff game at the No. 1 seed from Region 1, projected to be Mobile Christian.

"We feel if win out we have a chance," White said. "The kids want to do it. We'll see."

The Bulldogs scored four touchdowns and four two-point conversions in the second quarter, including two scores in the final minute, to open a 32-6 halftime lead. They extended the lead to 48-14 with two quick drives to start the third quarter but lost their momentum through a series of penalties.
White Plains rallied in the fourth quarter and got back within a touchdown. The Wildcats (3-4) recovered an onsides kick with less than 30 seconds to play. They got four plays and had a pass from inside the 25 to the end zone, but couldn't get the tying or winning points.

Jaden Chatman was 15 of 23 for 199 yards passing in the half. He spread the wealth to Carson Tyree (5-84), Walker O'Steen (4-71) and Carson Wright (4-37). 

"We just made some adjustments and just kind of challenged our kids and they responded," White Plains coach Chandler Tyree said. "I'm super proud of the way we compete. I hate if for them, man. I'm heartbroken for our kids right now."

Anniston's Brandon Roberts rushed for 188 yards on 21 carries and two touchdowns and had five two-point conversions.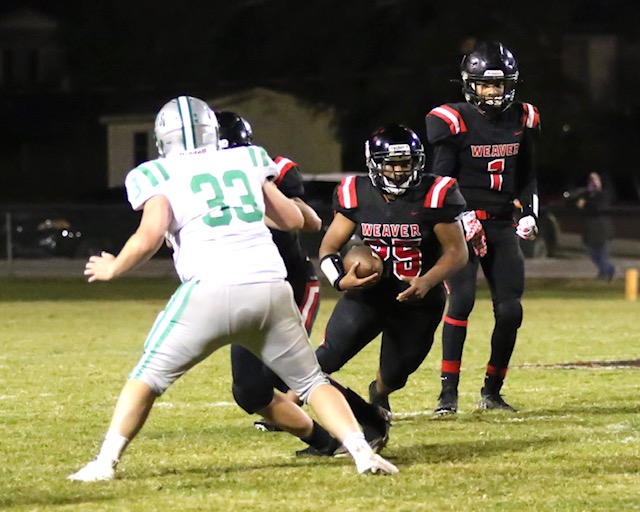 Hokes Bluff 62, Weaver 8
WEAVER –The Bearcats were back on the field for the first time after a two-week COVID-related hiatus and while they may have been looking forward to getting back, their return came against a team very much in the hunt for the region championship.

Hokes Bluff amassed 342 yards of offense and scored a school-record 62 points without throwing a pass in the game. The Eagles scored four touchdowns in the first quarter and opened a 42-0 halftime lead.
The win moved the Eagles into a three-way tie for second place with Ohatchee and Piedmont (3-1) in the tough Class 3A Region 5, one game behind undefeated region leading Wellborn. The Eagles host Wellborn next week. Their lone region loss came against Ohatchee. In the three games since that loss, the Eagles have outscored their opponents 146-36.

Weaver has lost 17 in a row.

Bailey Stephens scored the Bearcats' only touchdown on a 1-yard run early in the fourth quarter. Kaden Gooden ran in the two-point conversion. Payton Martin led Weaver's ground game with 100 yards on 15 carries. Taylor Thompson rushed for 29 yards. 
Layton Horne led Hokes Bluff's ground attack with 89 yards on nine carries. Justice Brock rushed for 67 yards and two touchdowns. Hunter Burke rushed for 65 yards and Noah Sprayberry had 35 yards and two touchdowns. Will Clemson intercepted two passes, the first of which he returned for the game's first score.

"We're just at a point in our program we're just not physical enough," Weaver coach Justin Taylor said. "We're growing and trying to get more physical as we're growing in age, too. Hokes Bluff is a physical team. I knew that going in and we just have to be to the point where our kids want to be physical all the time. I don't think the quarantine had any effect on the game in my mind. We've just got to get more physical." – Greg Warren
Hokes Bluff 62, Weaver 8
Hokes Bluff           28  14  13  7  –  62
Weaver                   0    0    0   8  –   8
HB – Will Clemons interception return (Jaden Burns kick), 11:07 1Q
HB – Hunter Burke 60 run (Jaden Burns kick), 5:17 1Q
HB – Tucker Griffin 5 run (Jaden Burns), 2:55 1Q
HB – Connor Faulkner 1 run (Jaden Burns kick), 1:49 1Q
HB – Noah Sprayberry 7 run (Jaden Burns kick), 11:23 32 2Q
HB – Noah Sprayberry 20 run (Jaden Burns kick), 9:32 2Q
HB – Justice Brock 14 run (Jaden Burns kick), 6:24 3Q
HB – Westin Day interception return (kick failed), 5:04 3Q
W – Bailey Stephens 1 run (Kaden Goodwin run), 11:15 4Q
HB – Justice Brock 21 run (Jaden Burns kick), 7:35 4Q

| | | |
| --- | --- | --- |
| HB (62) | | Wea (8) |
| 20 | 1st Downs | 11 |
| 39-342 | Rushes-yds | 34-120 |
| 0-0-0 | C-A-I | 4-10-2 |
| 0 | Passing yds | 24 |
| 0-0 | Fum-lost | 2-2 |
| 1-26.0 | Punts-avg | 5-24.0 |
| 3-30 | Pen-yds | 4-29 |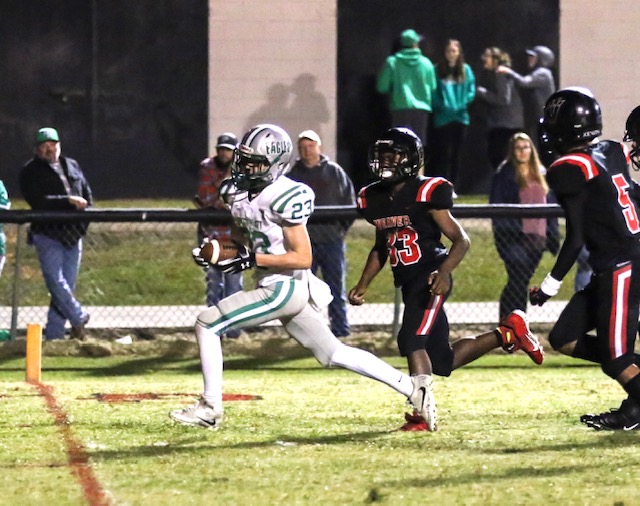 Alexandria 56, Hayden 7
Ronnie Royal rushed for 125 yards and scored three first-quarter touchdowns to lead the Valley Cubs to a Homecoming victory.

Royal scored on runs of 6, 4 and 21 yards as the Valley Cubs scored half their points in the first quarter and led 42-0 at halftime. Javais McGhee also was responsible for four scores – throwing two touchdown passes, catching a touchdown pass and returning the second half kickoff.

Alexandria 56, Hayden 7
Hayden                   0   0   0    7  —   7
Alexandria            28 14 14 0  —  56
A – Ronnie Royal 6 run (kick good), 7:17 1Q
A – Ethan Barnes 23 pass from Javais McGhee (kick good), 4:30 1Q
A – Ronnie Royal 4 run (kick good), 2:06 1Q
A – Ronnie Royal 21 yards (kick good), 0:00 1Q
A – Antonio Ross 40 pass from Javais McGhee (kick good), 8:17 2Q
A – Javais McGhee 20 pass from Wesley Wright (kick good), 0:52 2Q
A – Javais McGhee 72 kickoff return (kick good), 11:36 3Q
A – Jonathan West 2 run (kick good), 1:50 3Q
H – Ashton Hicks 43 run (kick good), 5:04 4Q
Saks 36, Pleasant Valley 8
JACKSONVILLE – Jaylon Cunningham scored touchdowns on a 53-yard run and a 26-yard pass from Sean Parnell as the Wildcats earned their first region win of the season. Rickey Garrett, Jordan Cosper and Jalen McCants scored Saks' other touchdowns. Hunter Sallee scored Pleasant Valley's touchdown. Parnell rushed for 135 yards and hit on 4-of-6 passes for 64 yards.