'Biggest win'
Ohatchee edges top-ranked Piedmont, Martin calls it 'definitely the biggest win of my tenure;' Indians had lost nine straight to No. 1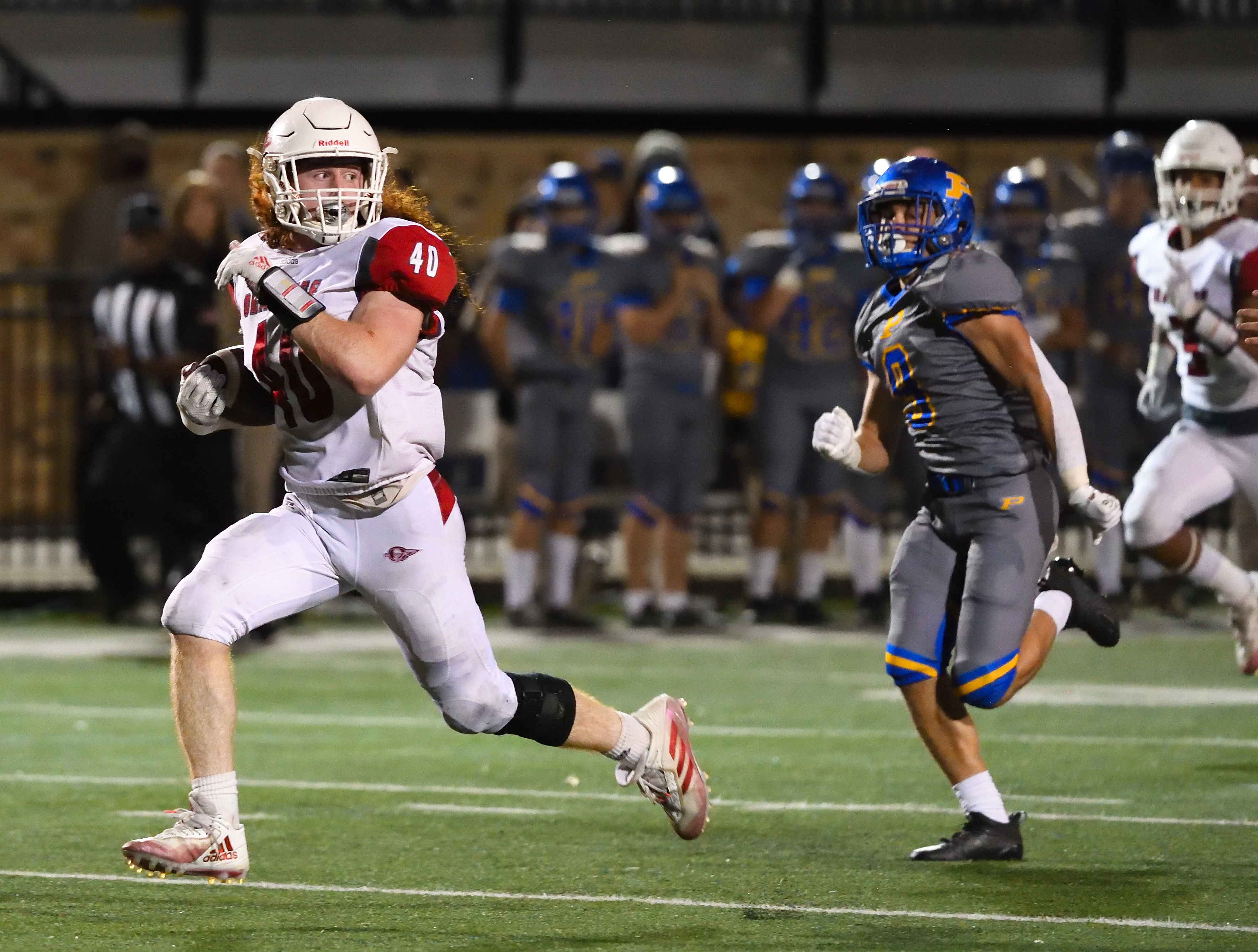 By Al Muskewitz
East Alabama Sports Today
PIEDMONT —The Ohatchee players were mingling with happy fans before getting into their dressing room. There was a party going on in the horseshoe at the Field of Champions, but it wasn't the home team that was doing the celebrating.
Sixth-ranked Ohatchee went into one of the toughest places to play in the state and knocked off top-ranked defending state champion Piedmont 20-15 Friday to climb back into the Class 3A Region 5 title race.
It was Piedmont's first loss at home in two years – Oct. 5, 2018 – and the Indians' first win over the Bulldogs since 2003 – the year many of the team's current seniors were born.
Piedmont had an 11-game winning streak, including a pair of COVID related forfeits (12, if you consider their non-counter win over 7A Grissom last week).

"The kids started to believe," Ohatchee coach Scott Martin said. "It's hard to come into an opponent's place when you hadn't beat them since 2003 … and to be able to come in here and upset them at their place, what a great thing for our kids and our coaches and our whole community.
"It's definitely the biggest win in my (seven-year Ohatchee) tenure so far, to be able to come in to the No. 1 team in the state's place and upset them at home. I don't know what to say other than I'm extremely happy right now, but not for me, but for these guys who have worked their tails off and done a fantastic job."

The Indians had lost nine in a row to teams ranked No. 1 in their classification before Friday and are now 2-9 all-time against the top-ranked team. Their last win over a No. 1 came in Week 9 of the 1984 season, when they beat 3A Piedmont as a 2A program. They are now 11-56 against ranked teams all-time.

Here is Ohatchee's history against No. 1 teams in the state (since 1984, x-playoffs)
2020: at Piedmont, W 20-15
2018: x-at Fyffe, L 21-13
2017: at Piedmont, L 41-20
2016: x-at Piedmont, L 53-26
2016: Piedmont, L 45-35
2012: Fultondale, L 36-7
1993: x-Hazlewood, L 33-0
1992: x-at Randolph County, L 37-7
1990: Ranburne, L 31-6
1984: x-at Millport, L 40-28
1984: at Piedmont, W 12-7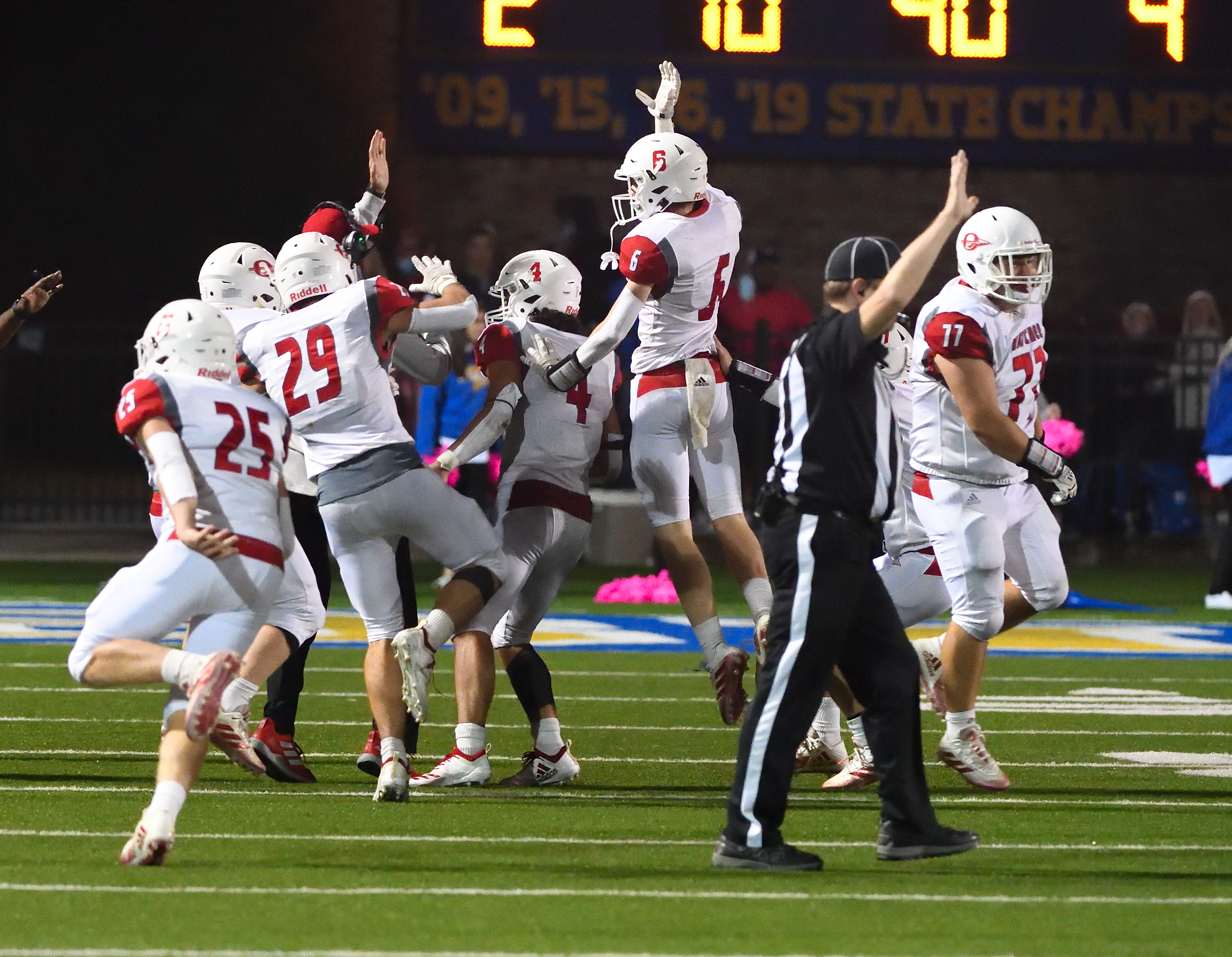 The game, as Martin described, figured to be one expected to be "played in a phone booth," and it didn't disappoint.

Neither team mustered much offense. Ohatchee held the Bulldogs to 148 yards of net offense and forced a team that had one turnover in its first five games into three. The Indians had better luck, but still managed only 226 yards.
The Indians scored the go-ahead touchdown on Noah Fuller's 1-yard dive with 3:18 left in the third quarter after Eli Ennis completed an 18-yard pass to Troy Galloway on fourth-and-8.
Ennis had a huge 24-yard gain on third-and-26 late in the fourth quarter. The play prompted Ohatchee assistant Bryant Ginn to lean into the coaches and implore them to "go for it" on fourth down from the Piedmont 37.

They did, and Ennis picked up the necessary two yards to move the chains on the next play.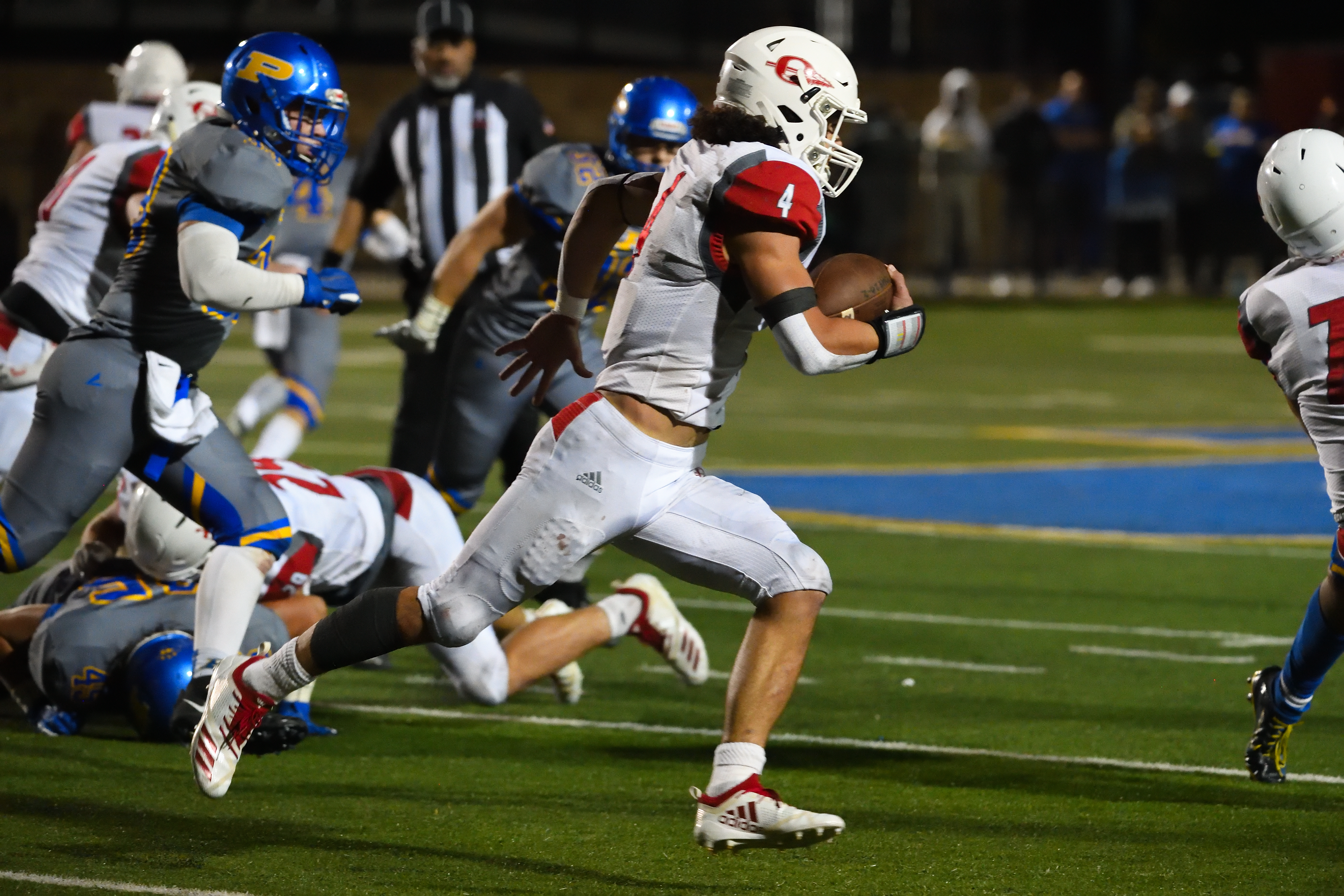 The Indians may not have scored on the drive, but moving the chains allowed them to eat up enough clock so not to give Piedmont much time to work with at the end.

The Bulldogs got it across midfield on their final possession, but Ennis sealed the win when he intercepted a Jack Hayes pass inside the 20 with 42.6 seconds to play.

"I saw him coming across and I knew it was going to be a tipped ball, so I kind of set back and it landed right in my hands," Ennis said. "To me it was crazy because that last play I was cramping and I came out for a play and I was thinking they were going to target me. I knew as soon as I dropped back I was going to have to be farther back and the way it fell, it fell right into my hands."

There were those type plays throughout the game for the Indians. Not to be overlooked was the tipped pass and interception Aiden Simpson returned 53 yards to the 2 to set up Ennis' touchdown that got them to within 15-14. Martin called it "one of the greatest plays I've ever seen."

Piedmont took a 15-8 halftime lead on a couple scoring drives that started right at midfield. But after they got that lead, the Bulldogs managed only 64 total yards the rest of the game against a defensive look the Indians had basically two weeks to perfect.

"Our defense played lights out," Martin said.

"They were better prepared than we were; that falls back on the coach and it showed on the field tonight," Piedmont coach Steve Smith said. "Tonight we're walking off this field as a loser and that doesn't happen very often and I hope it hurts them a little bit that we lost. If we're the kind of team I think we are, we'll come back with a great attitude on Monday and get to work on Pleasant Valley and see if we can't get ready to go back and get on the win column."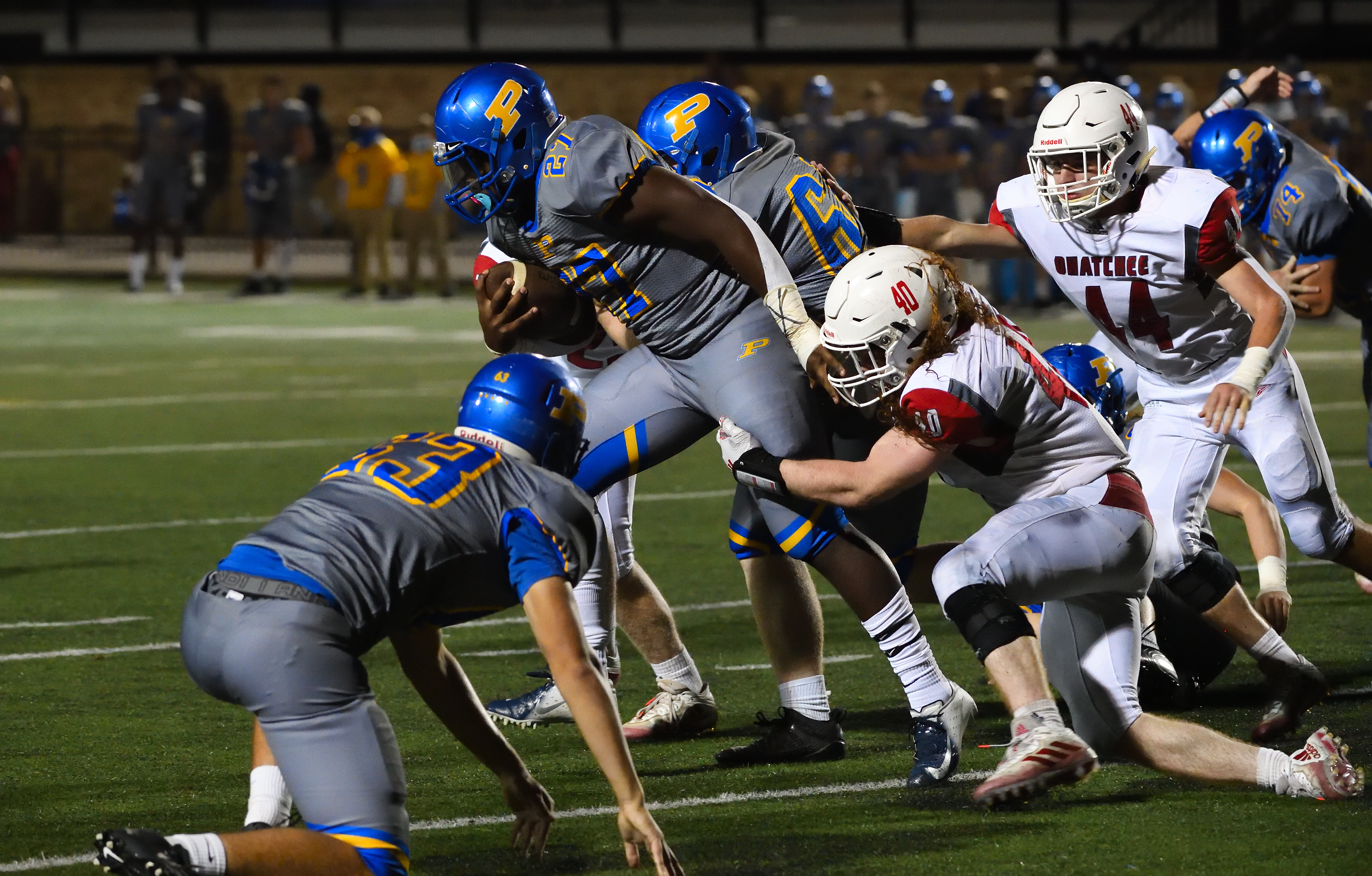 OHATCHEE 20, PIEDMONT 15
Ohatchee 0 8 12 0 – 20
Piedmont 7 8 0 0 – 15
P – Jack Hayes 13 run (Sloan Smith kick), 7:36 1Q
O – Eli Ennis 4 run (Noah Fuller run), 11:53 2Q
P – Coleman Reid 13 pass from Jack Hayes (Sloan Smith run), 9:09 2Q
O – Eli Ennis 1 run (run failed), 7:43 3Q
O – Noah Fuller 1 run (run failed), 3:18 3Q

| | | |
| --- | --- | --- |
| Ohat (20) | | Pied (15) |
| 15 | 1st Downs | 11 |
| 49-162 | Rushes-yds | 25-95 |
| 4-9-0 | C-A-I | 8-15-2 |
| 64 | Passing yds | 53 |
| 2-1 | Fum-lost | 2-1 |
| 2-26.5 | Punts-avg | 2-42.0 |
| 4-49 | Pen-yds | 8-90 |