'Bell-ringer' of a round
Beating his age by one puts Howell, 65, in contention at County Championship; Clay leads at 62, Wigington 63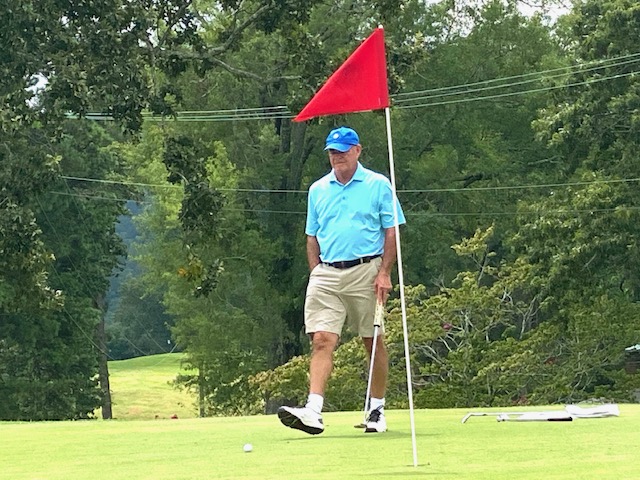 By Al Muskewitz
East Alabama Sports Today

No matter what happened the rest of the day – everybody in the afternoon wave could break the course record, so what – Chip Howell will be satisfied knowing he did something that appears on every golfer's bucket list but isn't easily attained.

Howell, the 65-year-old Calhoun County Sports Hall of Famer, shot his age for the first time ever Saturday – actually beating it by one – to grab the lead after the morning wave of the opening round of the 84th Calhoun County Championship at the Anniston Municipal Golf Course.

His 6-under-par 64 was best in the wave by two shots (Chris Cox). If he could hold on for a couple hours he'd have a spot in one of the final two groups off No. 1 on Championship Sunday for the third time on the Calhoun County Golf Tour this year.

Howell will be in the leaders' group Sunday, but he'll be chasing the leaders as Brennan Clay and Gary Wigington led the afternoon wave with 8-under 62 and 63, respectively.

'When that putt went in on 18 (for 64), everybody kind of gave me a hug and I said I feel like I did when I had 71 at Pebble,' Howell said. 'When I made a putt and shot 71 at Pebble I just wanted to kind of drop on my knees and thank the Lord and cry.

'That's a bucket list thing that I just did today. That was a bell-ringer.'

According to some statistics readily found on that authority known as the Internet, the percentage of golfers who shoot their age is .0000089 percent or less than 9 per million.

"We were on No. 3 and one of the guys (Chad Calvert) said, 'Boy, I hope I can be out here when I'm your age,'" Howell recalled. "One of the other guys said, 'Well, he's not 87.' I just kind of laughed and said 'I'm 2-under, how are y'all doing?' That kind of spurred me on."

His round features five birdies and an eagle with one bogey. He hit 12 fairways, 11 greens (17 if you count the fringes) and took 24 putts. He got up and down on six of the seven greens he missed.

In situations like these it's customary to ask a player who was the best player of his generation if the round felt like old times. (It did.) Besides his three County titles (1979, 1985, 1998), he was Anniston Country Club's club champion 13 times between 1975 and 2009. He's been part of three Calhoun County team championships and won the 1989 Sunny King.

"I told Chris Randall when we were on 14 or 15 this is how I used to hit it when I used to scare the crap out of them," Howell said.

He had come close to shooting his age a couple times in the past, but either "thought about it too much coming in" or just didn't make those extra birdies a player has to get to pull off the feat.

He has shot 64 (6-under) at ACC before, on a day he just planned to play nine holes with the guys and made an ace on No. 9 (the current 16th) and had to keep going. And he's had a couple 67s at Cane Creek.

He thought if it ever were going to happen it would probably be here. He admitted thinking about it when he turned today in bogey-free 31, then realized how the stat to the back nine at The Hill can jump up and bite you and dashed those thoughts real quick.

He guessed his best score out here has been a 65, but it wouldn't have been in any of the County titles he won when the golf course was a bit more rustic than the conditions they played on today and the winning scores were in the low single digits.

"They have done an incredible job up here; Buddy would be so proud," he said, referring to Buddy Moore, the course's pro for more than 40 years who passed away in February 2011.
Howell's eagle at 13, a short chip-in from just off the green, gave him a real chance to shoot his age. Then he almost made a 1 at the par-3 16th, inching him even closer. He played 17 smartly for par and then just had to keep it in play on 18 to complete the round of a lifetime.

On 18, he hit a perfect drive and then a choked-down 3-wood that left him the chip shot he wanted into the green. The noise of a car in the distance caused him to back off the shot and then he hit it chunky. It made the green, but left him a challenging two-putt to avoid a bogey that would put his score right on the number.

His birdie putt stopped about four feet short of the hole, but he calmly walked up to it, marked and then calmly dropped it into the cup for a career moment.
"Other than winning or making a shot that's certainly right up there," Howell said. "This one will be going in my case along with my ball that I hit every shot with, right next to my Hall of Fame ring."
Only two players beat his round in the afternoon wave and both will have a lot to play for chasing the title.

Clay holds the lead going into Sunday for the second time in three weeks, but will be looking for his first County Tour win and shed the moniker of Best Player Never To Win A Tour Event. He shared the lead going into the final round of the Gadsden Invitational, but never got on track the last day after a second-round 66. He had nine birdies and a bogey Saturday. He birdied five of his last eight holes after the bogey.
Wigington clinched County Tour Player of the Year even before the week began and if he wins Sunday he will become the first player to sweep the standings, winning all five of his best finishes used in the points process. His two other finishes on the Tour this year both were seconds. He had eight birdies and a bogey Saturday. He birdied four of his first six and four of his last six.
NOTES: Max Basler won the Dennis Gable Duffer Award for fewest putts Saturday, taking a County Tour record 20 in his 67. Speaking of putting, Kenny Wright and Jake Goggans have been drawn to compete in a putt-off prior to Sunday's afternoon wave … Morning closest-to-the-pin winners were Landon Straub (2/11), Caleb Bowen (4) and Clay Calkins (7/16). The afternoon winners were Wigington (2/11), Steve Davis (4) and Jaylon Ellison and Gage Miller (7/16) … Long drive prizes were won by Kenny Okins (AM) and Basler (PM) … The fourth player in the leaders group is Jesus Montenegro, a JSU senior from Argentina. Montenegro played in the U.S. Amateur in 2018 (Pebble Beach) and 2019 (Pinehurst), losing in the Round of 32 in 19 holes at Pebble Beach. Quim Vidal-Mora, a JSU senior from Spain who shot 68 Saturday, played in the U.S. Amateur this year … Montenegro shot 58 in a practice round at The Hill Aug. 18.
CALHOUN COUNTY CHAMPIONSHIP
Championship Flight A
Brennan Clay 31-31—62
Gary Wigington 32-31—63
Chip Howell 31-33—64
Jesus Montenegro 33-32—65
Billy Thompson 34-32—66
Chris Cox 32-34—66
Chad Calvert 34-33—67
Jeremy McGatha 34-33—67
Layton Bussey 36-31—67
Max Basler 34-33—67
Wesley Jenkins 36-31—67

Championship Flight B
Johnathan Pate 36-32—68
Kenny Okins 35-33—68
Jaylon Ellison 37-31—68
Randy Reaves 35-33—68
Quim Vidal-Mora 31-37—68
Clay Calkins 34-34—68
Will Brown 34-34—68
Timmy Woodard 39-30—69
Landon Straub 33—36—69
Andrew Brooks 34-35—69
Caleb Bowen 35-34—69

First flight
Tyler Dopson 37-33—70
Tony Hicks 34-37—71
Nick Hubbard 36-35—71
Matt Rogers 32-39—71
Chris Hubbard 34-38—72
Cole Fuller 35-36—71
Chris Reaves 37-35—72
Frank Brady 37-36—73
Randy Lipscomb 39-34—73

Second flight
Tim Turner 36-37—73
Tim Dennison 36-37—73
Cameron McCareeth 35-38—73
Johnny Barnes 37-36—73
Jake Goggans 36-37—73
Rodney Grubbs 37-36—73
Benji Turley 36-38—74
Ted Towns 39-35—74
Landon Winfrey 37-37—74

Third flight
Gage Miller 37-37—74
Tim Steward 38-36—74
Daniel Black 39-35—74
Mark Guyther 39-35—74
Steve Davis 35-39—74
Chris Randall 38-36—74
Cal Lambert 37-38—75
Peyton Bradley 40-35—75
Rick Okins 37-38—75
Ted Heim 39-36—75
Danny Whittaker 36-39—75
Lamar Carter 39-36—75

Fourth flight
Mark Gaines 36-40—76
Chad Mullinax 40-36—76
Kenny Fulmer 37-39—76
Andy Jenkins 38-38—76
Mike Hughston 37-39—76
Cain Hollingsworth 40-36—76
Chase Hollingsworth 38-38—76
Robin Wood 39-37—76

Fifth flight
Mark McCaig 39-38—77
Bruce Collins 40-37—77
Zach Mangum 38-39—77
Kenneth Patterson 40-37—77
Kenny Wright 36-42—78
Jeff Noah 39-39—78
George Salmon 40-38—78
Ron McClellan 38-40—78
Dennis Austin 42-37—79

Sixth flight
Byron Preston 43-37—80
Dru Snow 39-41—80
Lenn Coffey 42-38—80
Don Hill 41-40—81
Nick Pollard 41-40—81
Kelly Rogers 39-43—82
Mark West 42-38—80-WD

Seventh flight
David Gattis 48-38—86
Randy Watson 44-42—86
Ron Fleming 44-43—87
Jeff Barnwell 44-43—87
Lamar Ward 46-46—92

Sunday's tee assignments
8 a.m. Shotgun
1A – Steve Davis, Chris Randall, Cal Lambert, Peyton Bradley
1B – Gage Miller, Tim Steward, Daniel Black, Mark Guyther
2 – Rick Okins, Ted Heim, Danny Whittaker, Lamar Carter
3 – Mark Gaines, Chad Mullinax, Kenny Fulmer, Andy Jenkins
4 – Mike Hughston, Mark McCaig, Cain Hollingsworth, Chase Hollingsworth
5 – Robin Wood, Bruce Collins, Zach Mangum, Kenneth Patterson
6 – Kenny Wright, Jeff Noah, George Salmon, Ron McClellan
7 – Dennis Austin, Bryon Preson, Dru Snow, Lenn Coffey
8 – Don Hill, Nick Pollard, Kelly Rogers, David Gattis
9 – Randy Watson, Ron Fleming, Jeff Barnwell, Lamar Ward
1 p.m. Shotgun
1A – Billy Thompson, Chris Cox, Chad Calvert, Jeremy McGatha
1B – Brennan Clay, Gary Wigington, Chip Howell, Jesus Montenegro
2 – Layton Bussey, Max Basler, Wesley Jenkins, Johnathan Pate
3 – Kenny Okins, Jaylon Ellison, Randy Reaves, Quim Vidal-Mora
4 – Clay Calkins, Will Brown, Timmy Woodard, Landon Straub
5 – Andrew Brooks, Caleb Bowen, Tyler Dopson, Tony Hicks
6 – Frank Brady, Nick Hubbard, Matt Rogers, Chris Hubbard
7 – Cole Fuller, Chris Reaves, Randy Lipscomb, Tim Turner
8 – Tim Dennison, Cameron McCareeth, Johnny Barnes, Jake Goggans
9 – Rodney Grubbs, Benji Turley, Ted Towns, Landon Winfrey