Ty tops Tour
Ty Cole, Calhoun County Tour's winningest player, rallies from two down with two holes to play as Wigington falters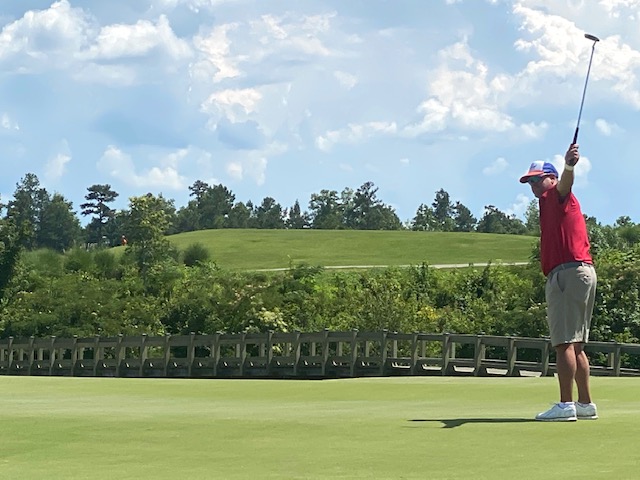 By Al Muskewitz
East Alabama Sports Today
 
SILVER LAKES – Ty Cole called it, with all the nicest intentions, "a pillow fight for idiots."
 
The closing stretch of Sunday's RTJ-Silver Lakes Championship final round came down to a battle between the tour's brightest stars, but instead of an epic showdown between the two winningest players on the tour, it was, well, an exercise in who wanted to give it away best.
 
Cole eventually pulled it out, coming from two shots down with two holes to play to edge Gary Wigington by one shot and become the first County Tour winner of the season. He has won 10 of the 18 Tour events since 2018.
 
The 44-year-old Etowah County native shot a final round 71 to finish at 4-under-par 140. Wigington bogeyed the final two holes and three of his last four for a 1-over 73 to finish at 141. Jake Goggans (72-142) was third.
 
It was dramatic, but far from the duel in the sun the Sunny King Charity Classic partners are capable of putting together when they're on their games.
 
The lead was tied five times in the round and changed hands three times in the final eight holes, not so much because some made a great shot, but because someone opened the door.
 
"It was a pillow fight for idiots," Cole said. "We played pretty solid on the front, but just the back nine was just, 'Here you win, no, here you win, no, you win.
 
"One back going to the last three I'm saying OK, make birdie here and if he doesn't make birdie we've got a little match and then I hit in the water again. Then he makes birdie and it's two down with two to play; you say, OK at least you've got a chance."
 
Wigington, playing his first tournament in 10 months coming off elbow surgery, went two shots up on Cole when he birdied the par-5 16th (Heartbreaker 7) and Cole battled to make par after hitting his drive into the hazard. It was all even after the next hole, a par-3, when Cole made a short birdie putt and Wigington bogeyed after his wedge off the tee stayed on the shelf about 12 feet above the hole.
 
It really was anybody's tournament going to the last hole. Wigington's iron off the 18th tee appeared to be a good shot to his playing partners but it left him about 170 yards while Cole was inside the 150 pole. Wigington thought he hit a good 9-iron to gimme range of the front right pin position, but a sudden gust of wind at the green knocked the ball down and into the edge of the lake.
 
With half the ball sticking out of the water and the title on the line, Wigington played the ball as it laid. He hadn't hit one of those "Entertaining Your Friends: Priceless" shots like that since college and it's not one you practice, so he caught too much ball and it shot over the green. He did pitch back nicely onto the green, but Cole had gotten on with his approach and two-putted for the winning par.
 
"It was just frustrating to bogey the last two holes," Wigington said. "If either one of us would have really played good we could have created some distance between the other. Neither one of us were on our game; we were just trying to manage it as good as possible. Neither one of us were hitting any good shots or doing anything extraordinary. We were just hitting a lot of bad shots. Uncharacteristic.
 
"It was a good match, but it's just frustrating when you just give it away basically the last two holes. It was the first tournament back and it was fun being in the hunt, but four wedge shots cost me three bogeys that's just not called for. You go from some really good looks at birdie to making three bogeys out of four. You can't win when you do that."
 
As much as Ty and Twig are the gold standard on the County Tour (30 combined wins since 2013) and finish in some combination of first and second in many of the events they've entered, rarely are they paired together in the final round.
 
Sunday marked only the 10th time since 2015 they've been paired together on the final day of a County Tour event (37 total tournaments) and only the second time since 2018.
 
Wigington has posted the better score in six of those rounds with one push, but each have closed out five wins, although Cole has raised the championship trophy after the last four rounds they've been paired. Cole's stroke average in those rounds is 70.4, while Wigington's is 69.4.
 
"When you beat him you know you've beaten somebody who's been the best in Calhoun County for two decades," Cole said. "You always have to play harder (paired with Wigington). We go to the back nine and I'm one back, he's liable to shoot 30 or 29. I've seen it, especially in the Sunny King.
 
"Not that I can't do it, too, but I have seen that switch go off and I know it can be (clicking his fingers) and you just ride around and watch because it doesn't matter what you do. You can hit it in there a foot, he'll hit it in there six inches. He's always capable of that."
 
Wigington knows he has to be sharp whenever Cole is in the field, but particularly so when they're in the same pairing.
 
"You know he's been the best player out there the last few years and you know you've got to play," he said. "You can't play not good and win; today was another prime example. He wasn't on his game and if I hadn't made several bad wedge shots and played good I would've beaten him.
 
"You can't expect to play decent and beat him; you've got to play good. If you play good you're going to have a chance to win, but you've got to play good. You can't have a decent day because decent is not going to do it."

Goggans, the early first-round leader in the clubhouse, got within one shot of the lead after the second hole, but even with all the movement in front of him he couldn't get closer, partly because a set of sore ribs limited his ability to hit complete shots. Still, he was pleased to back up his opening-round 70 with a final-round 72.
 
"I could have played better, but my goal was to just hang in there and not throw it away in the first few holes," the 35-year-old Oxford salesman said. "I knew that Twig and Ty didn't have their A-game, so I knew there was an opportunity there if I could roll in some putts to put the pressure on. And I did that, but I just couldn't get all the way there."

NOTES: Scott Martin posted the best round of the tournament Sunday, a 5-under-par 67, and won the Championship B flight. He made six birdies, including four in a six-hole stretch in the middle of the round … Wesley Jenkins' 69 was the second-best round of the day and a 15-shot improvement over his opening round. The White Plains rising junior played his front nine (Heartbreaker) in 3-under, made six birdies and finished second in the second flight to defending tournament champion Randy Lipscomb … Corey Ray, last year's runner-up (70) and Cole (71) had the only other under-par rounds on the day … Fourth-place finisher Brennan Clay had the craziest round of the day (74). He had eight bogeys, six birdies and four pars..
 
Cole gave a shout-out to Silver Lakes director of golf Jason Callan and his staff on behalf of the players for putting on the tournament. "I'm so appreciative of Jason for actually having it," the champion said. "He could've very easily been like everybody else and said, sorry, we're not having it because of COVID … but he did everything he could do. He made it work for us and that means the world to the players. Kudos for him for doing it because a lot of people wouldn't have done it; that's the kind of guy I think Jason is" … The next event on the Calhoun County Tour is the Etowah Open at the Links at Briarmeade June 27-28.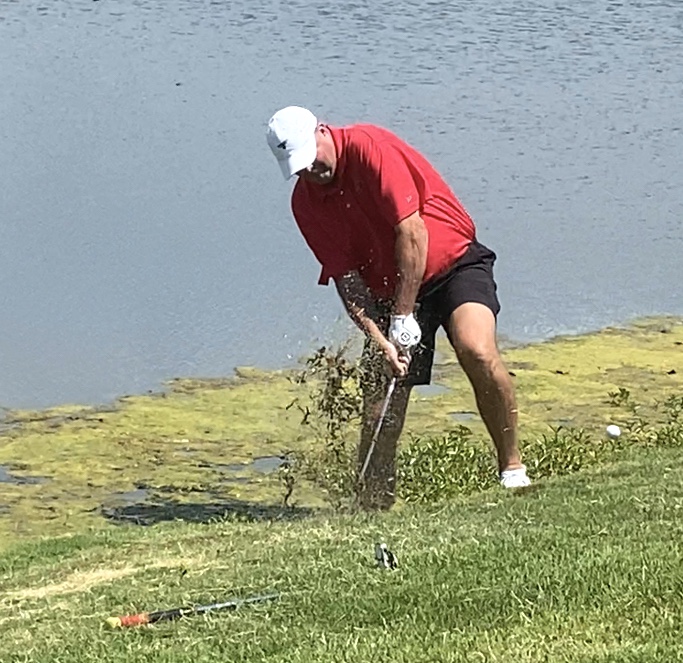 SILVER LAKES CHAMPIONSHIP
Mindbreaker-Heartbreaker
Final scores
Championship A flight
Ty Cole 69-71—140
Gary Wigington 68-73—141
Jake Goggans 70-72—142
Brennan Clay 69-74—143
Alex Harper 71-75—146
Justin Graveman 71-79—150
Mark Hudgins 72-79—151

Championship B flight
Scott Martin 76-67—143
Jeremy Willis 73-74—147
Jeremy McGatha 76-72—148
Frank Brady 75-73—148
Randy Reaves 74-75—149
Chris Cox 76-73—149
Andrew Brooks 75-76—151
Drew Anderton 76-76—152
Clay Calkins 75-77—152
Dane Moore 76-76—152
Bumper Jones 74-81—155
Michael Rich 76-80—156
Tyler Dopson 75-85—160
Ryan Huff 76-86—162
Dan McClellan 75-87—162

First flight
Corey Ray 79-70—149
Shawn Ledbetter 77-74—151
Chad Hare 77-75—152
Caleb Bowen 78-74—152
Jeff Bain 77-77—154
Gage Miller 77-77—154
Morton Holcomb 78-77—155
Nick Ledbetter 77-78—155
Matt Rogers 80-77—157
Landon Straub 78-79—157
Greg Shultz 77-82—159
Clayton Chandler 77-82—159
Mason Dennis 78-81—160
Greg Bannon 80-80—160
Jake Monroe 79-81—160
Sam Bone 77-83—160
Chip Howell 78-83—161
Austin Minter 77-85—162
Casey Harmon 78-85—163
Luke Armstrong 80-86—166
Zach Mangum 78-92—170
Michael Ledbetter 79-92—171
Maverick Smith 78-WD

Second flight
Randy Lipscomb 81-72—153
Wesley Jenkins 84-69—153
Doug East 84-76—160
Skylar Dennis 81—79—160
Darin Smith 82-79—161
Jason Britton 83-78—161
Joseph Hedgepath 84-78—162
Timmy Woodard 81-82—163
Daily Thomas 81-83—164
Samuel Burrell 81-83—164
Benji Turley 84-80—164
Chase Hollingsworth 83-83—166
Dustin Underwood 82-85—167
Patrick Cooper 82-85—167
Justin Wood 81-88—169
Jeff Noah 82-88—170
Daniel Black 84-88—172
David Lipscomb 81-93—174
Phillip Hunt 84-WD
Jason Rich 84-WD

Third flight
Nick Pollard 86-79—165
Jarrod Smith 86-81—167
Graham Morrow 87-82—169
Ethyn Roberts 86-84—170
Rob Loboda 86-84—170
Hunter Carr 87-85—172
Brad Baird 86-86—172
Josh Hicks 88-86—174
Cain Hollingsworth 89-86—175
David Clark 90-85—175
Kenny Fulmer 91-85—176
Kevin Garnett 88-89—177
Derek Epperson 86-92—178
Shane Chappell 86-92—178
Randy Watson 89-90—179
Nathan Williams 90-91—181
Jacob Pennington 94-87—181
Chase Thomas 93-91—184
Cal Lambert 99-90—189
Kelly Rogers 105-96—201
Hogan Page 105-96—201
Davis Culler 102-102—203
Keith Hutcheson 102-108—210