Twig on top
Wigington shoots 68 in his first tournament round since offseason elbow surgery, leads by 1 at Silver Lakes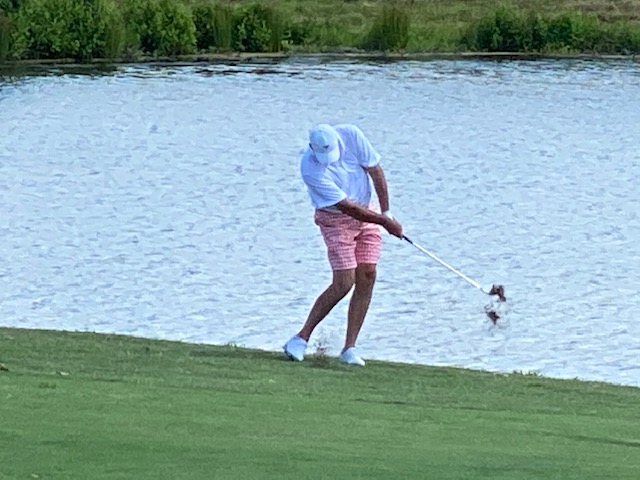 By Al Muskewitz
East Alabama Sports Today
 
SILVER LAKES – Gary Wigington was back in tournament mode for the first time since August, but judging from the day's results it was as if he never left.
 
But, oh, has so much happened in between.
 
Most notably the 16-time Calhoun County Tour winner underwent surgery in September to clean up some bone chips in his left elbow that that kept him from being all that he could be on the golf course.
 
But back at it Saturday with no hint of pain, he shot 4-under-par 68 and took the first-round lead in the RTJ-Silver Lakes Championship, the first event of a post-coronavirus 2020 Calhoun County Tour schedule.
 
He takes a one-shot lead into Championship Sunday over Ty Cole, his partner in the Sunny King Charity Classic, and Brennan Clay, the former Silver Lakes pro. Jake Goggans is another shot back and will complete the final group Sunday.
 
"Overall it was good, the score was good for the way I hit it," Wigington said. "I'm hitting it much better than I hit it last year. There's still a few ragged shots in there that come out but it's getting much less than it was.
 
"The arm feels good; it just feels a lot better. I can swing it and not have to worry about it. It's just a matter of playing some competitive rounds again and getting back into the swing of things."
 
His first tournament round since withdrawing from the 2019 County Championship after four holes couldn't have started better. 
 
He birdied his first two holes and turned in 4-under. He bogeyed 10 with a little bad luck at the hole, but got it to 5-under through 17, then pulled a 5-iron into the water off the tee at 18, a subtle reminder he did have some work done in the offseason, but salvaged a bogey.
 
He didn't hit a fairway on the back nine and the ones he missed were only by a few inches, but still far enough to make it tough to hit the green.
 
Each of the top three players had a hiccup down the stretch that impacted their finish.
 
Clay made five birdies in his first 11 holes (holing out from the bunker on 11) and was 5-under through 16, but four-putted the par-3 17thfor a double bogey. Cole was 4-under through 14, but found the fairway bunker on 15 and made bogey, then found the water off the tee on 16, but salvaged his par.
 
"I can't tell you the last time I four-putted – ever," Clay said of his "freak accident" on 17. "I rushed it and you can't rush it."
 
"It was out there today, but it's probably the lack of tournament golf; it's different than going out and playing with your buddies," said Cole, who shot 59 in a regular round at his home club earlier in the coronavirus lockdown. "But at the end of the day, to shoot 3-under and be one or two back, whatever it ends up being, I'm good with that."
 
Goggans was anxious to get back in the tournament swing, went out in the first group of the day and posted the score for the rest of the field to shoot at his playing partners said could have been a lot better because of the way he hitting his wedges into the greens. He made three birdies and a bogey, but didn't birdie any of the par-5s.
 
Goggans typically has been a strong starter. In five of his previous seven Tour starts over the last two years his first round was his best of the event (he had matching 75 here last year).
 
In some instances, the championship flight gets moved back a tee on Championship Sunday, but part of it, he admitted, is psychological as well.
 
"If I can hit wedges like Ty and those guys can I can shoot under par," Goggans said. "Once they back it up that second day and I'm hitting a 7-iron and they're still hitting wedges it's hard for me to compete. But if I can hit wedges just like they can I can get around here."
 
Goggans is eager to buck the scoring trend and he could get that opportunity Sunday. The final round will be played from the same 6,200-yard set up as Saturday.
 
"Yes, it bothers me," he said. "I'm tired of shooting 68-78. I'm tired of shooting 70-77. I'm tired of shooting that. Hopefully, tomorrow I can follow it up with another under-par (round) and we'll see where it falls."
 
NOTES: Justin Graveman, another typically fast starter in Tour events, and Alex Harper both shot 71 for the only other under-par rounds of the day. … Andrew Brooks scored the lone eagle in the round and won the Skins Game. He chipped in from just off the green on Mindbreaker No. 1, his first hole of the Tour season.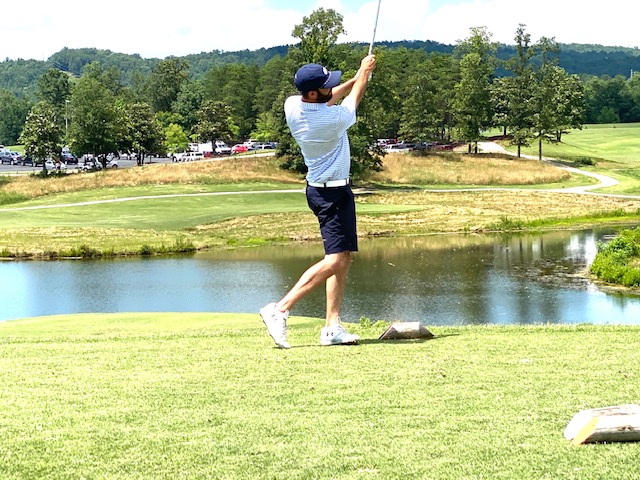 RTJ-SILVER LAKES CHAMPIONSHIP
Mindbreaker-Heartbreaker
First-round scores
Championship flight
Gary Wigington 32-36—68
Brennan Clay 33-36—69
Ty Cole 33-36—69
Jake Goggans 35-35—70
Alex Harper 37-34—71
Justin Graveman 36-35—71
Mark Hudgins 36-36—72
Jeremy Willis 36-37—73
Bumper Jones 37-37—74
Randy Reaves 34-40—74
Clay Calkins 39-36—75
Tyler Dopson 37-38—75
Andrew Brooks 40-35—75
Dan McClellan 38-37—75
Frank Brady 37-38—75
Scott Martin 36-40—76
Jeremy McGatha 38-38—76
Chris Cox 40-36—76
Michael Rich 37-39—76
Ryan Huff 35-41—76
Drew Anderton 38-38—76
Dane Moore 38-38—76

First flight
Shawn Ledbetter 37-40—77
Nick Ledbetter 40-37—77
Chad Hare 37-40—77
Austin Minter 41-36—77
Greg Shultz 37-40—77
Jeff Bain 41-36—77
Sam Bone 41-36—77
Clayton Chandler 40-37—77
Gage Miller 38-39—77
Mason Dennis 39-39—78
Maverick Smith 41-37—78
Morton Holcomb 40-38—78
Landon Straub 39-39—78
Zach Mangum 40-38—78
Casey Harmon 36-42—78
Chip Howell 38-40—78
Caleb Bowen 39-39—78
Michael Ledbetter 38-41—79
Corey Ray 37-42—79
Jake Monroe 39-40—79
Matt Rogers 40-40—80
Greg Bannon 43-37—80

Second flight
Randy Lipscomb 40-41—81
Daily Thomas 40-41—81
Skylar Dennis 42-39—81
Justin Wood 44-37—81
David Lipscomb 40-41—81
Luke Armstrong 36-45—81
Samuel Burrell 41-40—81
Timmy Woodard 39-42—81
Jeff Noah 41-41—82
Dustin Underwood 43-39—82
Patrick Cooper 43-39—82
Darin Smith 44-38—82
Jason Britton 41-42—83
Chase Hollingsworth 39-44—83
Doug East 37-47—84
Benji Turley 46-38—84
Daniel Black 43-41—84
Phillip Hunt 40-44—84
Jason Rich 42-42—84
Joseph Hedgpath 43-41—84
Wesley Jenkins 39-45—84

Third flight
Derek Epperson 44-42—86
Shane Chappell 44-42—86
Nick Pollard 45-41—86
Jarrod Smith 44-42—86
Brad Baird 41-45—86
Ethyn Roberts 45-41—86
Rob Loboda 43-43—86
Hunter Carr 44-43—87
Graham Morrow 43-44—87
Josh Hicks 45-43—88
Kevin Garnett 44-44—88
Randy Watson 44-45—89
Cain Hollingsworth 44-45—89
David Clark 46-44—90
Nathan Williams 43-47—90
Kenny Fulmer 45-46—91
Chase Thomas 45-48—93
Jacob Penningon 47-47—94
Cal Lambert 56-43—99
Davis Culler 46-56—102
Keith Hutcheson 49-53—102
Kelly Rogers 50-55—105
Hogan Page 52-53—105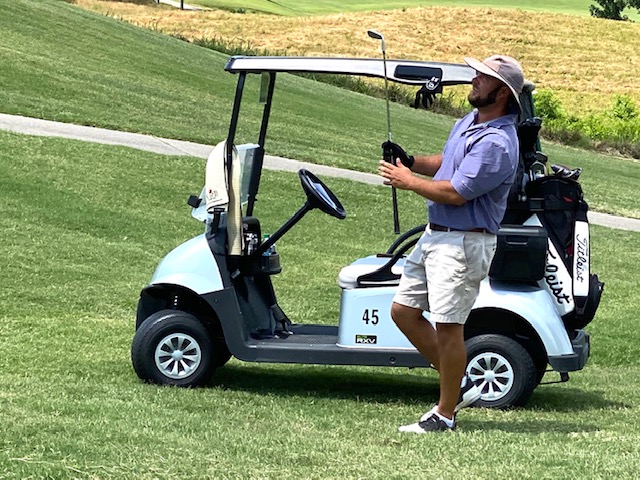 Sunday tee times
No. 1 Tee (Mindbreaker)
8 a.m. – Michael Ledbetter, Nick Ledbetter, Casey Harmon, Greg Brannon
8:10 – Clayton Chandler, Zach Mangum, Mason Dennis, Corey Ray
8:20 – Jake Monroe, Matt Rogers, Chip Howell, Landon Straub
8:30 – Maverick Smith, Morton Holcomb, Chad Hare, Caleb Bowen
8:40 – Jeff Bain, Austin Minter, Shawn Ledbetter, Gage Miller
8:50 – Jeremy McGatha, Ryan Huff, Greg Shultz, Sam Bone
9:00 – Chris Cox, Michael Rich, Dane Moore, Drew Anderton
9:10 – Tyler Dopson, Andrew Brooks, Clay Calkins, Scott Martin
9:20 – Randy Reaves, Bumper Jones, Frank Brady, Dan McClellan
9:30 – Justin Graveman, Alex Harper, Mark Hudgins, Jeremy Willis
9:40 – Gary Wigington, Ty Cole, Brennan Clay, Jake Goggans
 
No. 10 Tee (Heartbreaker)
8 a.m. – Davis Culler, Keith Hutcheson, Hogan Page, Kelly Rogers
8:10 – Kenny Fulmer, Chase Thomas, Jacob Pennington, Cal Lambert
8:20 – Randy Watson, Cain Hollingsworth, Josh Hicks, David Clark
8:30 – Hunter Carr, Graham Morrow, Nathan Williams, Kevin Garnett
8:40 – Derek Epperson, Shane Chappell, Rob Lohoda, Nick Pollard
8:50 – Doug East, Ethyn Roberts, Jarrod Smith, Brad Baird
9:00 – Joseph Hedgepath, Phillip Hunt, Wesley Jenkins, Jason Rich
9:10 – Jason Britton, Chase Hollingsworth, Daniel Black, Benji Turley
9:20 – Jeff Noah, Darin Smith, Dustin Underwood, Patrick Cooper
9:30 – Daily Thomas, Justin Wood, Skylar Dennis, Timmy Woodard
9:40 – David Lipscomb, Samuel Burrell, Randy Lipscomb, Luke Armstrong