Mansfield pick for Bulldogs
Lincoln defensive coordinator and head wrestling coach gets his first head football coaching job at Winterboro
By Al Muskewitz
East Alabama Sports Today

As a two-time college walk-on, Skylar Mansfield knows all about the hard work it takes to achieve one's goals.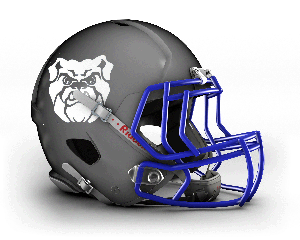 It's one of the qualities the former Lincoln defensive coordinator and wrestling coach hopes to instill in his players in his first job as a head football coach.

On Monday, Mansfield was confirmed as the new head football coach at Winterboro High School, a position he's coveted for a long time. He succeeds Alan Beckett, who resigned last week after seven seasons to take a coordinator's spot at Gadsden City High School.

"It's an opportunity to finally run a program," Mansfield said. "Just to have an opportunity to be considered as a head coach is a blessing.

"I've looked to be a head coach for a while just waiting on the right opportunity to present itself. I think Winterboro is a good place to start as a head coach. I've got 10 years left. Who knows what the future holds?"

Loyalty is another quality he holds in high regard. It's the reason he's stayed at Lincoln as long as he has. The Golden Bears gave him an opportunity to grow as a coach and a teacher and he honored their confidence with his commitment to the community and the program.

"With Winterboro giving me the opportunity I feel out of loyalty to this community and this school that I give them everything I've got," he said.

Mansfield knows all about hard work. He walked onto the football teams at Middle Georgia College and later Jacksonville State, and went on to become a key contributor to the teams.

"It was all worth going through just to get to this point," he said.

The new coach was on campus at Winterboro Monday taking notes and getting a lay of the land. He plans to get started with the group Wednesday.

"The coaches who are already there are doing a good job, they have a plan in place," he said. "I'm not going to come in in the middle of the week and interrupt those guys, but I will have a chance to sit down with the coaches before the week is out and we'll come up with how we want to implement a program for July."

The Bulldogs went 6-3 last year, their fourth winning season in the last five years, but were the odd-man-out in a three-way tie for the final two Class 1A Region 5 playoff spots. Their region for 2020-21 includes Donoho, Ragland, Talladega County Central, Victory Christian, Wadley and Woodland.

Winterboro does not offer wrestling and Mansfield admitted he'll miss that, but as he has said, who knows what the future holds. With some hard work maybe he can move the program towards making that happen, too.