Jackets sack Generals
Quick start, tight defense carry Oxford to another double-digit win over ranked opponent and into the Northeast Regional to face No. 1 Pinson Valley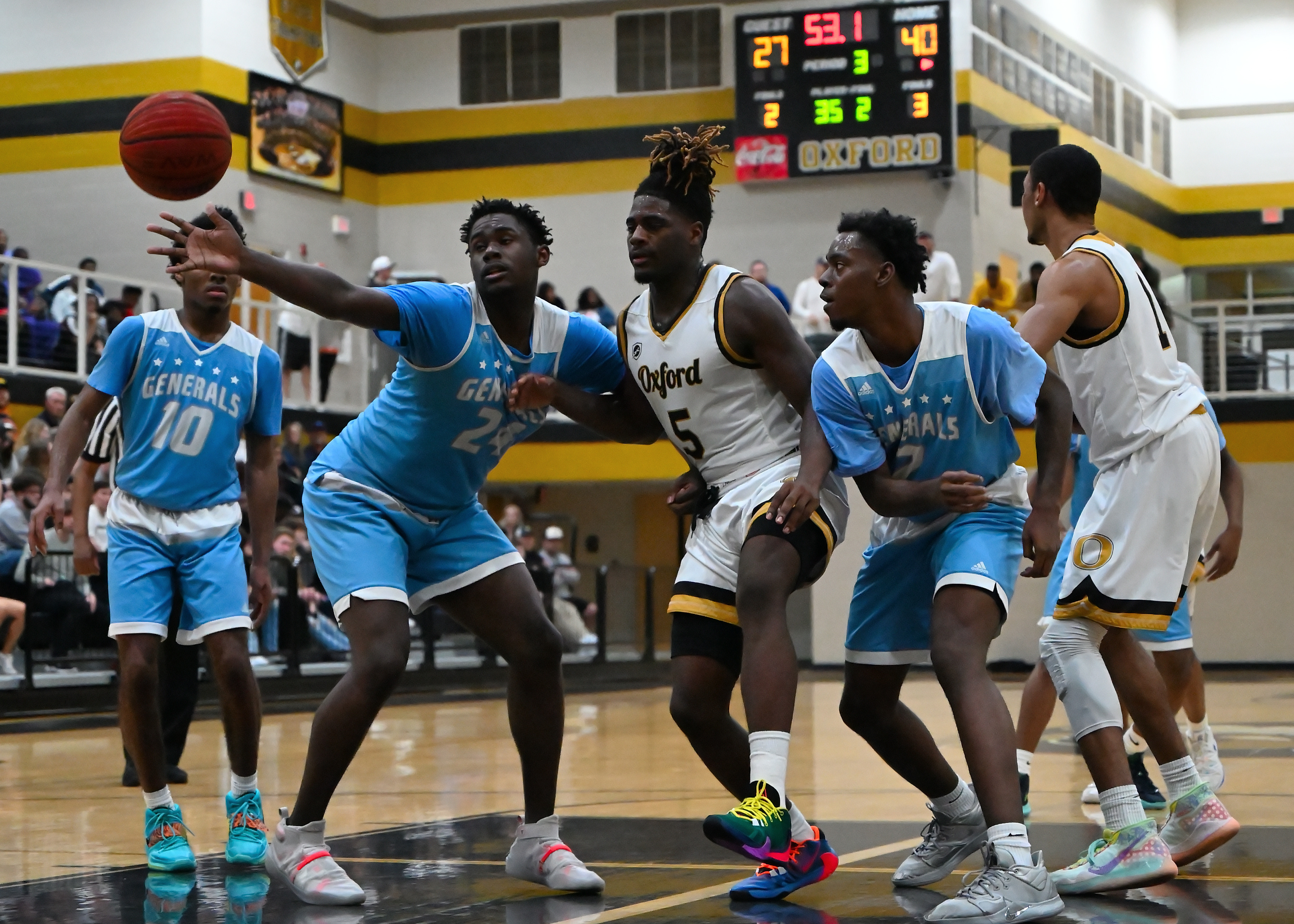 By Brant Locklier
For East Alabama Sports Today

OXFORD – For the second straight game, the Oxford Yellow Jackets took down a ranked 6A opponent by double figures. It was another quick start and a suffocating defensive performance that carried the eighth-ranked Jackets to a 57-43 victory over No. 6 Lee-Huntsville in the Class 6A Northeast sub-regionals Tuesday night.

The first half was fitting of two highly ranked teams. The much-taller Generals (16-10) provided a different set of opportunities for the Jackets (22-8). They lined up in a man-to-man defense, but this gave Jackets center Zondrick Garrett room to move down low and he pumped in eight points early. Ryan Houck buried a 3-point basket and the Jackets were out to an 11-5 lead.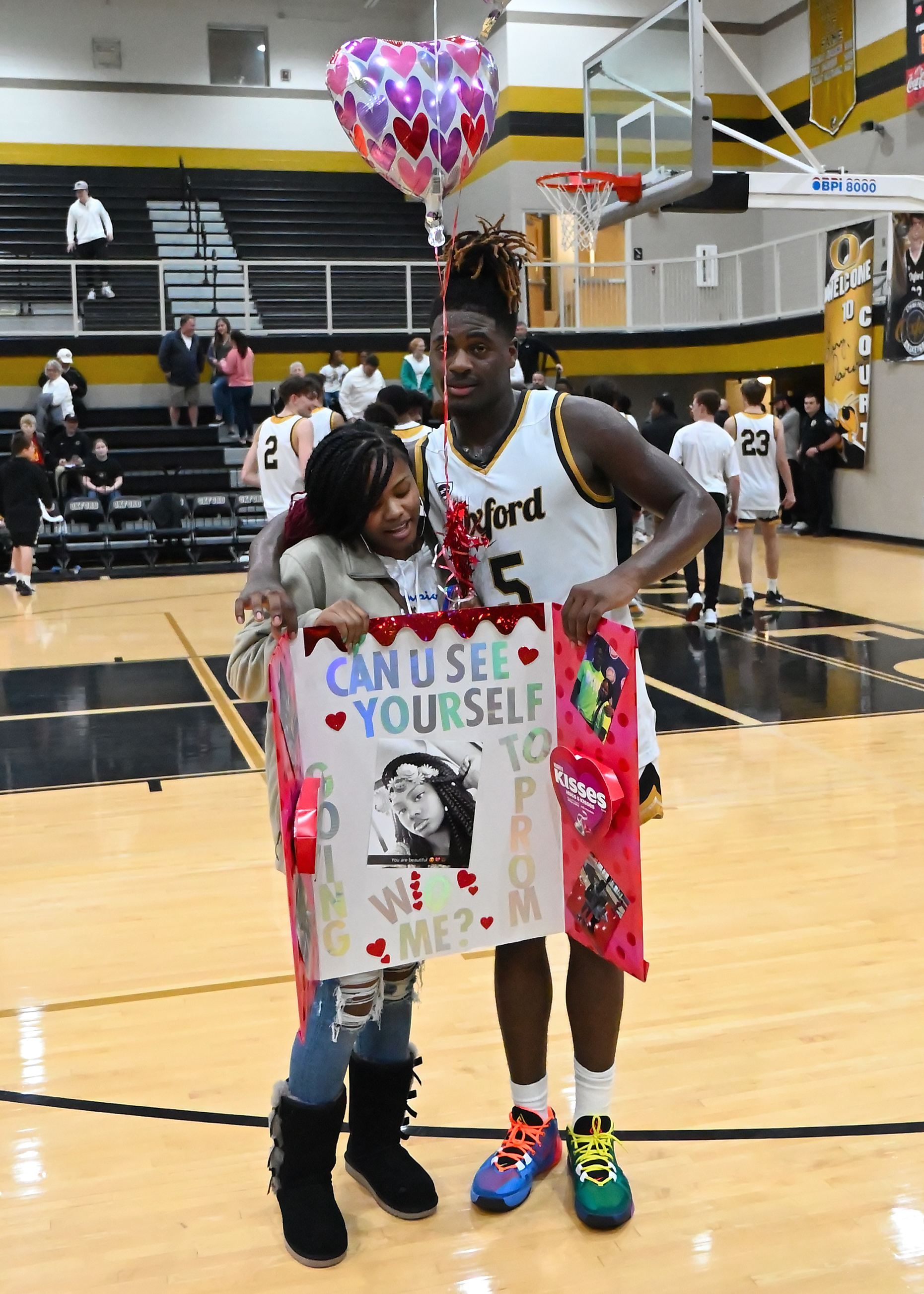 The Generals then tightened up on Garrett and that left Rock Taylor open for short jumpers and he scored eight points in the second quarter.
 
Taylor was outstanding on defense as Oxford coach Joel Van Meter put him on Lee's 6-8 Caleb Brown, who scored five quick points to start the game. Taylor shut him out the rest of the game while scoring 17 points of his own.

Midway through the third quarter, Lee coach Greg Brown was screaming for Brown to get the offense going, but a very frustrated Brown yelled back, "I can't get the ball, coach," as Taylor was relentless staying between him and the ball. The Oxford defense held the Generals to just one field goal in the third quarter.
 
"Rock just absolutely shut down Brown tonight and held him to no points when we put him on him," Van Meter said.

And then after doing such good work in the game, he made a very public proposal to his girlfriend Kyera Tolbert to be his prom date. Of course, she said yes.

Trailing by six points at the half the Generals came out in a four-corner type offense with a full court press. Big mistake! The Jackets quickly extended their lead to 15 points and never looked back.

The closest Lee got in the second half was even points and the Jackets went on a 6-0 run to quickly open the lead back to double digits.

Garrett had 17 points, nine rebounds and seven blocked shots as the taller Generals tried to take him to the basket. Taylor had 17 points and six rebounds. Houck had another big 3 in the first quarter and along with Justin Moore had seven points for the game.

"You can say that Rock played great and that Zondrick played great, but Kobe Warren was masterful out there tonight," Van Meter said. "He controlled the whole game and got the ball up the court and got our offense into what we wanted to do out there.
 
"Mont (McClendon) was big in the fourth quarter and Rylan got big baskets all night."

The Jackets now move to the Northeast Regionals in Jacksonville where they face No. 1 Pinson Valley 1:30 p.m. Friday.
 
NORTHEAST CLASS 6A
Oxford 57, Lee-Huntsville 43
LEE (16-10) – Jahwan Fields 8 5-5 21, Zyan Green 2 0-0 4, Jarius Hayes 1 0-0 3, James Vassar 0 0-0 0, Jacari Lane 1 4-4 6, Henry Lee 0 0-0 0, Ryan Anderson 0 0-0 0, Che Ben 0 0-0 0, Assad Ben 0 0-0 0, Dexter Smith 2 0-0 4, Kaleb Brown 2 0-0 5. Totals 16 9-9 43.
OXFORD (22-8) – Cordell Chatman 0 0-0 0, Zondrick Garrett 6 4-4 17, Rylan Houck 3 0-0 7, Mont McClendon 1 2-2 4, Kobe Warren 1 3-4 5, Roc Taylor 8 1-2 17, Bakari Dailey 0 0-0 0, Justin Moore 3 1-3 7, MIlas Jackson 0 0-0 0, Ethan Page 0 0-0 0, Avelon Bush 0 0-0 0. Totals 22 11-15 57.

Lee           7    12    8    16  –  43
Oxford    15  10    17  15  –  57  
3-point goals: Lee 2 (Brown, Hayes); Oxford 2 (Garrett, Houck).