Chasing gold
Updated: February 8, 2020
White Plains pole vaulter Yates, Ohatchee 4×200 relay win titles at state indoor meet; Ohatchee's relay sets state mark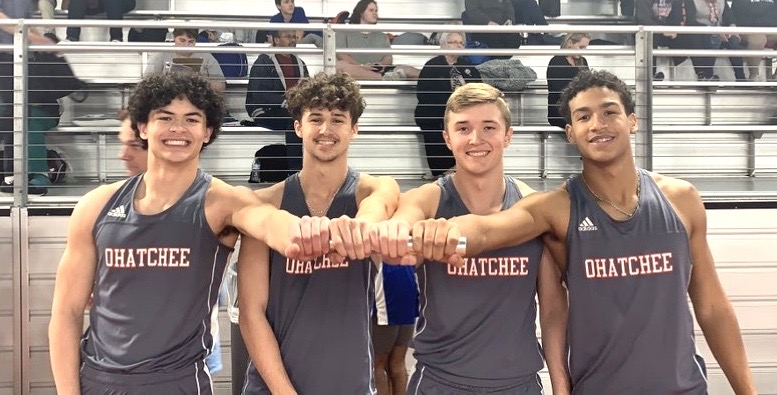 By East Alabama Sports Today
 
BIRMINGHAM – Savannah Yates was struggling with her confidence this whole indoor track season. That suddenly all disappeared as she was going over the bar to win a state championship Friday.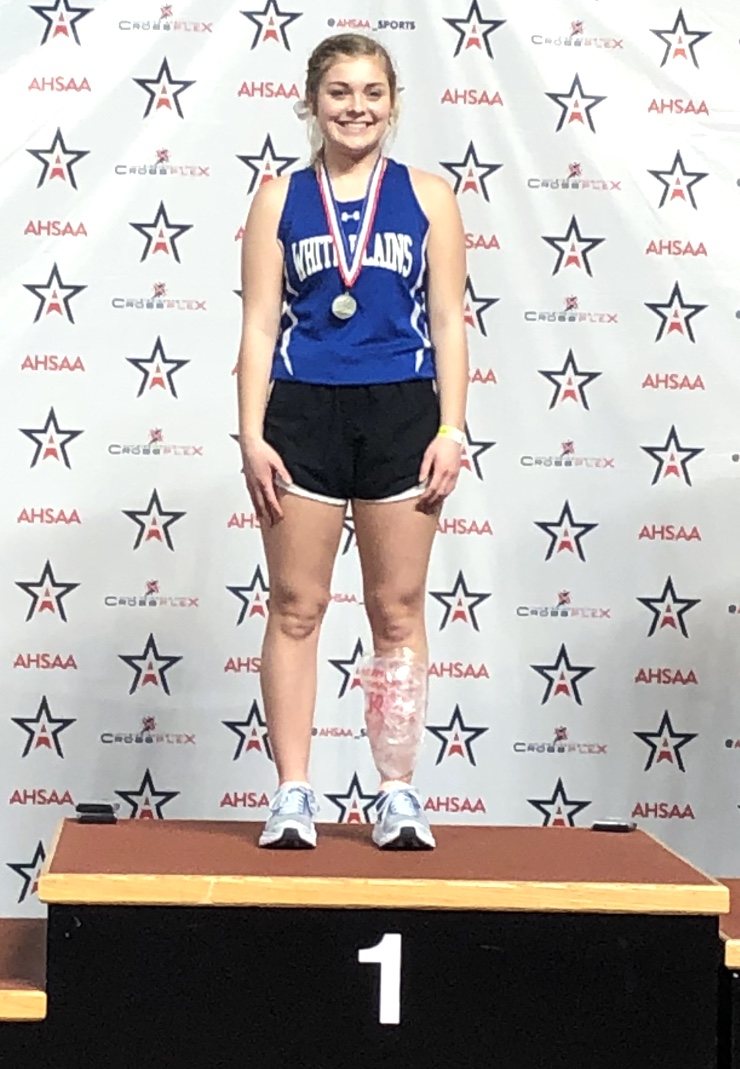 The White Plains junior cleared the bar on her second attempt at 10-feet Friday to win her first Class 4A-5A indoor pole vault title.
 
She has won state titles twice outdoors and was a runner-up as an eighth-grader, but things this season just hadn't been up to snuff.
 
"I've been struggling this indoor season mentally and physically, it's been rough, but I've finally overcome in and I'm finally overcome it and I'm getting back into my groove of things," she said. "It's been tough, but today was really helpful. It meant a lot to get my confidence back up."
 
Yates entered the fray at 8-6 and worked her way up to what would be the winning height. Her two closest challengers, Hallie Grace Williamson of Arab and Makayla Keel of Scottsboro, had already missed their three attempts at 10 feet when Yates nailed it on jump No. 2.
 
As soon as she cleared the bar it was if the dark clouds parted and she was suddenly back in her happy zone.
 
"Everything just went away and I felt like I was back to a place that I was physically and mentally before," she said. "I felt a lot better. I've been in a little rut and I needed to get my confidence back up and that definitely helped starting up in outdoor."
.
Yates wasn't the only athlete from Calhoun County to win state indoor gold Friday. Ohatchee's 4×200 meter relay team repeated as Class 1A-3A champions in a record time.
 
The Indians ran it in 1:34.43, breaking the record set by St. Paul's in 1996 by nearly a five-tenths of a second. Winfield City, running in the same heat with the Indians, finished second at 1:37.82.
 
It's virtually an entirely new team from the one that won it a year ago. Ryker Lambright returned to run the anchor leg, but the first three legs are all new with Noah Fuller, Eli Ennis and Brock England.
 
"He said we were going to fill us a 4×2," Indians coach Casey Lipscomb said. "We've got to have somebody else and it was the other three guys and they, sure enough, stepped up and turned it on."
 
The team has only been together for a couple weeks and hadn't practiced on a full-sized track until they competed for the first time on the MLK Weekend, but they had an idea they could do it. They ran a record-breaking time in the Last Chance Meet last week, but it didn't count as a state record.
 
"I told them all you've got to do is do it one more time," Lipscomb said. 
 
Alexandria's Kaylee Johnson was second in the 4A-5A girls shot (35-7.25); Ohatchee's Jayda Fair finished third in the girls 1A-3A 3200 (12:14.14); Oxford was third in the 6A boys 4×200 relay (1:31.78) and Devion Ball was eighth in the long jump (20-5); Ohatchee's Chris Ferguson was sixth (11-0) and Piedmont's Caden Compton was eighth (10-0) in the boys 1A-3A pole vault.
 
The meet continues and concludes Saturday at the Birmingham Crossplex. Lambright is the fastest qualifier in the 1A-3A 60 meter dash.