My, oh, Myiah
MVP Harris rallies Sacred Heart past Ohatchee in fourth quarter; Pleasant Valley, Anniston also claim area tournament crowns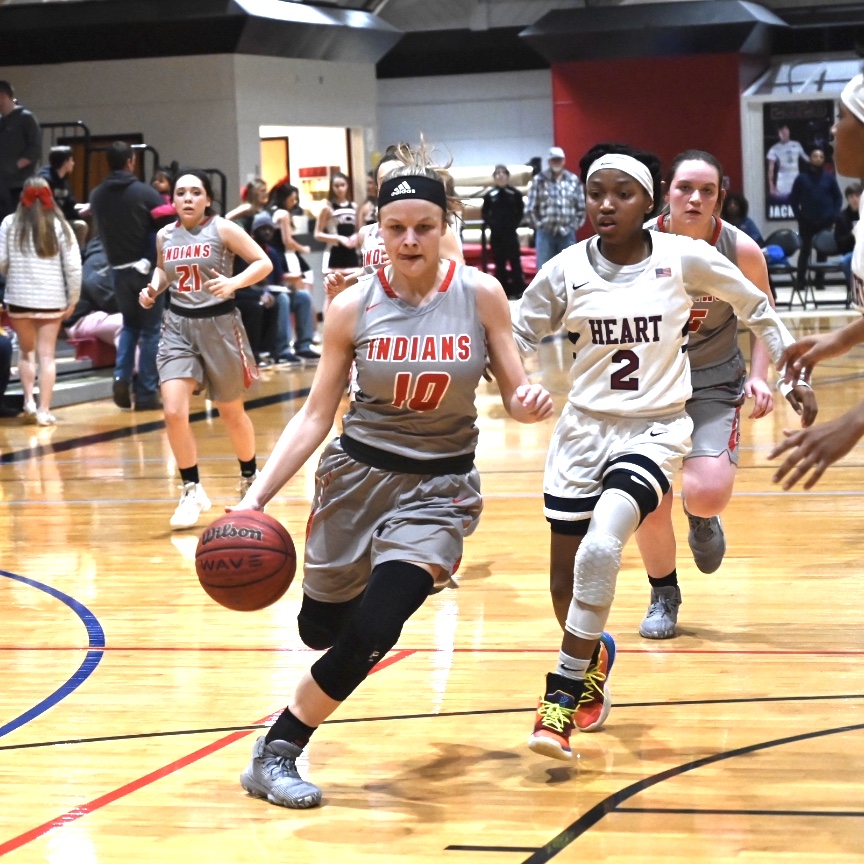 By Al Muskewitz
East Alabama Sports Today
 
ANNISTON – No matter how much Myiah Harris might appear to be struggling in the game she's always doing something to help her team and you can always figure count on her to be there at the end.
 
That's exactly what happened Friday. Even though she was struggling with her shot, the senior guard was playing good defense and went 6-for-6 from the foul line in the final 30 seconds to help Sacred Heart turn back upset-minded Ohatchee 45-40 in the Class 2A Area 11 tournament championship game.
 
The Lady Cardinals now host Ranburne in Monday's sub-regional round, while Ohatchee travels to Area 9 champion LaFayette.
 
Despite her struggles early in the game, Harris still was named tournament MVP.
 
"She's always impacting the game," Sacred Heart coach Marcus Harrell said of Harris. "The bottom line is this: Myiah is a big-time player and big-time players make big-time plays in big-time situations and tonight was one of them.
 
"We were ice-cold shooting the ball and we needed somebody to make some plays. Whether it be her distributing it to the open person on the outside or making a layup or getting a steal or knocking down the free throws to ice the game she definitely did that for us."
 
Harris, who averages 19.1 a game, wound up with 12 points, but was only 2-for-17 from the field. She missed her first seven shots before finally breaking through on a layup a minute into the second quarter.
 
To her credit, while she struggled on the offensive end, the rest of her game didn't suffer. Not to be overlooked were the five steals she got in the first quarter to keep the Lady Cardinals around or the nine points and five rebounds she collected in the fourth quarter.
 
"It was a struggle at first," she said. "I think I had too much energy and all that energy got in the way and it wasn't good. I was trying to battle through it and get it out of my head. I had to make myself concentrate more and focus on the shots and focus on the win."
 
The Lady Indians gave Sacred Heart all it wanted by dominating the boards and getting out in transition. If they could finish around the rim better with the second and third shots they were getting it would have been different outcome.
 
Ohatchee's Jayda Crook grabbed 22 rebounds to go along with her 15 points. Tori Vice had 16 points and six boards for the Lady Indians.
 
Alisia Person hit three 3-pointers in the second half to give Sacred Heart the boost it needed to take the lead. The Lady Cardinals held a seven-point lead early in the fourth quarter, but Ohatchee rallied and went ahead 40-39 lead on a Crook putback with 26.1 seconds to play. 
 
The Lady Indians didn't give Sacred Heart a chance to get in transition and immediately fouled on the inbounds play. Harris hit both shots to put the Lady Cardinals back on top 41-40. Harris second her last four free throws on fouls right after Ohatchee turned it over.
 
"I was on the edge of my seat," Harris said. "I wouldn't say I was worried, I was just on the edge of my seat. I believe in my team that we could pull it through."
 
CLASS 2A AREA 11 TOURNAMENT
Championship game
Sacred Heart 45, Ohatchee 40.
OHATCHEE – Gracyn Snow 0 0-0 0, Jazmine Adams 0 1-2 1, Tori Vice 6 3-7 16, Gracie George 3 2-4 8, Millie Rainwater 0 0-0 0, Jorda Crook 6 3-9 15. Totals 15 9-22 40.
SACRED HEART – Alisia Person 3 0-0 9, Myiah Harris 2 8-11 12, Amiyah Buchanan 2 0-0 4, Taysia West 4 0-4 8, Jordan Sabree 1 0-2 2, Serena Hardy 4 2-5 10, Alyssa Bell 0 0-0 0. Totals 16 10-22 45.
  
Ohatchee                  14  5   5    16  –  40
Sacred Heart            11 8    12  14  –  45
3-point goals: Ohatchee 1 (Vice); Sacred Heart (Person 3). Fouled out: Adams, Sabree. Total fouls: Ohatchee 20, Sacred Heart 19. Officials: Gamble, Coley, Morris.
 
All-Tournament Team: Myiah Harris, Sacred Heart (MVP); Alyssa Gargus, Gaston; Brielle Wood, Westbrook Christian; Jorda Crook, Ohatchee; Tori Vice, Ohatchee; Alisia Person, Sacred Heart; Serena Hardy, Sacred Heart.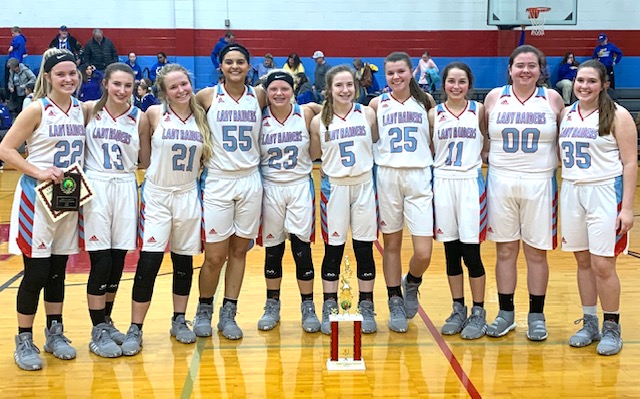 Class 3A, Area 11
Pleasant Valley 52, Piedmont 32: Tournament MVP Emma Hood scored a game-high 15 points and Karmyn Sparks added 11 to lead the Lady Raiders to the area championship.
 
The Lady Raiders played a basic offense because they knew they had eyes on them, but they still had plenty to work with. Six of the 10 PV players who got in the game scored and five had at least seven points.
 
Ava Pope led Piedmont with 10 points and four assists. Z'Hayla Walker had 11 rebounds.
 
The Lady Raiders will host Sylvania in the sub-region round Monday, while Piedmont faces a tough road draw at Pisgah.
 
CLASS 3A AREA 11 TOURNAMENT
Championship game 
Pleasant Valley 52, Piedmont 32
PIEDMONT – Ava Pope 3 3-4 10, Whitney McFry 0 0-0 0, Jaycee Glover 2 0-0 5, LeLe Ridley 2 1-3 5, Hannah Barbee 0 0-0 0, Armani Perry 2 3-3 7, Jenna Calvert 0 0-0 0, Gracie Naugher 0 1-4 1, Z'Hayla Walker 2 0-0 4. Totals 11 8-14 32.
PLEASANT VALLEY – Rylee Haynes 3 0-0 7, Marlie Wright 1 0-0 3, Gracie Hood 3 0-0 8, Emma Hood 5 5-11 15, Macey Roper 4 0-5 8, Anna Worthy 0 0-0 0, Erin Rose 0 0-0 0, Karmyn Sparks 5 1-1 11, Kianna Hester 0 0-0 0, Harbor Parris 0 0-0 0. Totals 21 6-17 52.
 
Piedmont                   8    5   10  9    –  32
Pleasant Valley        14  9   12  17  –  52
3-point goals: Piedmont 2 (Pope, Glover); Pleasant Valley 4 (Haynes, Wright, G. Hood 2). Fouled out: E. Hood. Total fouls: Piedmont 17, Pleasant Valley 17.
 
All-Tournament Team: Emma Hood, Pleasant Valley (MVP); Karmyn Sparks, Pleasant Valley; Rylee Haynes, Pleasant Valley; Macey Roper, Pleasant Valley; Ava Pope, Piedmont; Z'Hayla Walker, Piedmont; LeLe Ridley, Piedmont; Alayzia Neal, Saks; Teana Edwards, Saks; Haley Homesley, Weaver; Kiese Hubbard, Weaver; Blakley Cubb, Wellborn.
Class 4A, Area 9
Anniston 71, Talladega 23: Allasha Dudley scored 24 points and Kiana Montgomery came within two rebounds of a double-double as the host Lady Bulldogs (24-3) won another area championship.
 
Dudley also had two rebounds, two assists and a steal. Montgomery, meanwhile, recorded 18 points, eight rebounds and two assists. Airrianna Colley had nine points, three rebounds, four steals and two assists.
 
The Lady Dawgs will host Cherokee County in the subregion round Monday at 7 p.m., while Talladega will travel to Hokes Bluff.