Blast from the past
Phillips leads Lady Cubs into semifinals over former team; Sacred Heart has slow start, big finish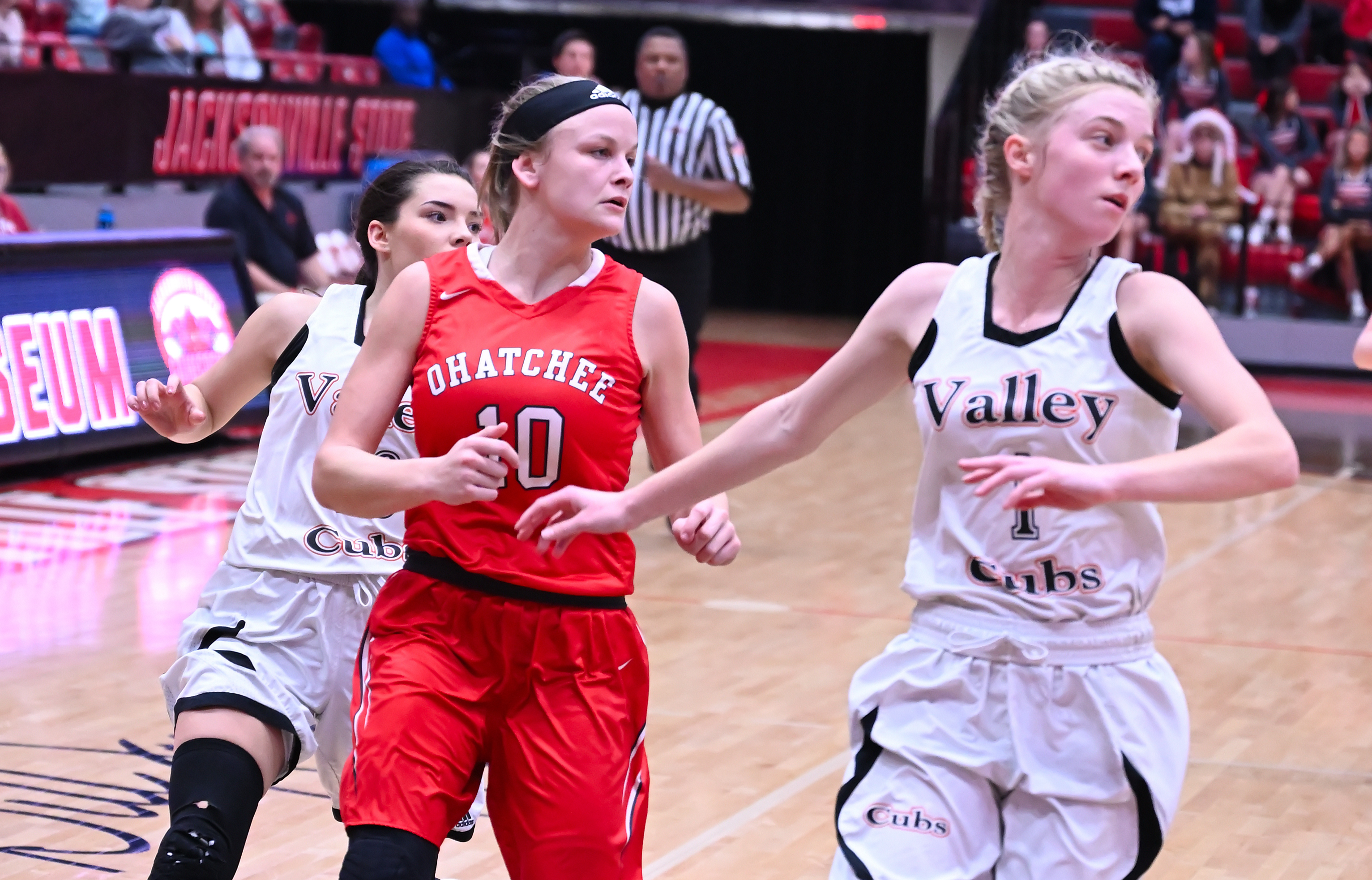 CALHOUN COUNTY TOURNAMENT
All games at Pete Mathews Coliseum, Jacksonville
Girls bracket
Jan. 17 game
No. 12 Piedmont 49, No. 13 Donoho 25
 
Saturday's games
No. 14 Weaver 42, No. 11 Faith Christian 30
No. 10 Jacksonville Christian 55, No. 15 Wellborn 24
No. 8 Pleasant Valley 63, No. 9 Saks 28
No. 5 Oxford 59, Piedmont 12
 
Monday's games
Ohatchee 59, Weaver 31
White Plains 58, JCA 43
Oxford 43, No. 4 Jacksonville 38
No. 1 Anniston 82, Pleasant Valley 37

Tuesday's games
No. 3 Alexandria 52, Ohatchee 44
No. 2 Sacred Heart 69, White Plains 34

Wednesday's games
Anniston vs. Oxford, 4 p.m.
Alexandria vs. Sacred Heart, 7 p.m.

Friday's game
Championship, 6 p.m.

By Al Muskewitz
East Alabama Sports Today
 
JACKSONVILLE – Alexandria girls basketball coach Craig Kiker might find an envelope on his desk Wednesday morning with official Ohatchee stationary containing a bill for services rendered. Or at the very least a note to say you're (not) welcome.
 
Kiker and Ohatchee coach Bryant Ginn are admittedly real good friends, but there are some things that just trump friendship: Like the 90 minutes it takes to play a basketball game.
 
Kiker's Lady Cubs edged the Lady Indians 52-44 in the Calhoun County Tournament pulling away from a game in the final five minutes that had become agonizingly close. The Lady Cubs will play second-seeded Sacred Heart in Wednesday's 7 p.m. girls semifinal.
 
And the player who sparked Alexandria's closing run was one who used to play for Ginn at Ohatchee.
 
Ashley Phillips scored eight of her team-high 20 points in those final five minutes, including three free throws in the final 20 seconds to seal the victory.
 
"I texted her the other day and told her good luck," Ginn said. "I hate that she's the reason she got us. Now she's going to give me a bunch of crap about it.
 
"She'll rib me for a while, but we knew we had to stop her, (Kameron) Simpson and (Kayleigh) Steen from shooting. She started in this tournament for me as a seventh grader (scoring 12 points) and I knew from the look in her eye when they were pressing us that day there wasn't nothing that was going to affect her. I remember that like it was yesterday.
 
"I've been telling everybody since she's in seventh grade she's a player. I also told Kiker to tell me thank you, he owes me some money now. I'm tired of our old players beating us."
 
Phillips transferred to Alexandria shortly before the softball season of that seventh-grade year. She's played softball and basketball for the Lady Cubs ever since.
 
Tuesday night was only the second time she has faced her former team on the basketball floor since moving to Alexandria. The first time was last year in the county tournament when she scored seven points in a 46-29 Lady Cubs victory coach Kiker said they played "a lot better in" than they did Tuesday.
 
"I was pretty nervous before the game because it's my old school but I knew that we were going to work as a team,' Phillips said. "I really wanted to do good this game, but it wasn't just me playing, it was for the rest of the year, too."
 
Alexandria may have come out slow, but it led by seven at halftime. Ohatchee climbed back into it behind Tori Vice and got it tied at 32. Another Vice basket got the Lady Indians within 40-39 before Phillips and Co. started pulling away.

"She just does so much for our team," Kiker said of Phillips. "She's such a smart player, knows the game so much. I'm excited to see where she is in a couple years as a player. She's going to be a good one, I think."
 
And a good bet a Lady Cub.
 
Vice scored a game-high 22 points on a sore ankle after being held to two points in the Lady Indians' win over Weaver Monday.
 
Alexandria 52, Ohatchee 44
OHATCHEE – Jazmine Adams 1 2-2 4, Tori Vice 10 2-4 22, Gracie George 2 0-0 4, Millie Rainwater 1 0-0 2, Jorda Crook 4 4-6 12. Totals 18 8-14 44.
ALEXANDRIA – Ashley Phillips 6 7-8 20, Sarah Pelham 3 0-0 8, Kayleigh Steen 3 1-2 10, Kameron Simpson 4 2-2 10, Jordyn Walker 0 0-2 0, Tyshica Woodgett 0 0-0 0, Rylee Gattis 1 0-0 2, Chloe Gattis 1 0-0 2. Totals 18 10-14 52.
 
Ohatchee               10  10 13  11  –  44
Alexandria            15  12 9    16  –  52
3-point goals: Alexandria 6 (Phillips, Pelham 2, Steen 3). Fouled out: Woodgett. Total fouls: Ohatchee 15, Alexandria 13. Officials: William, Farr, Brown.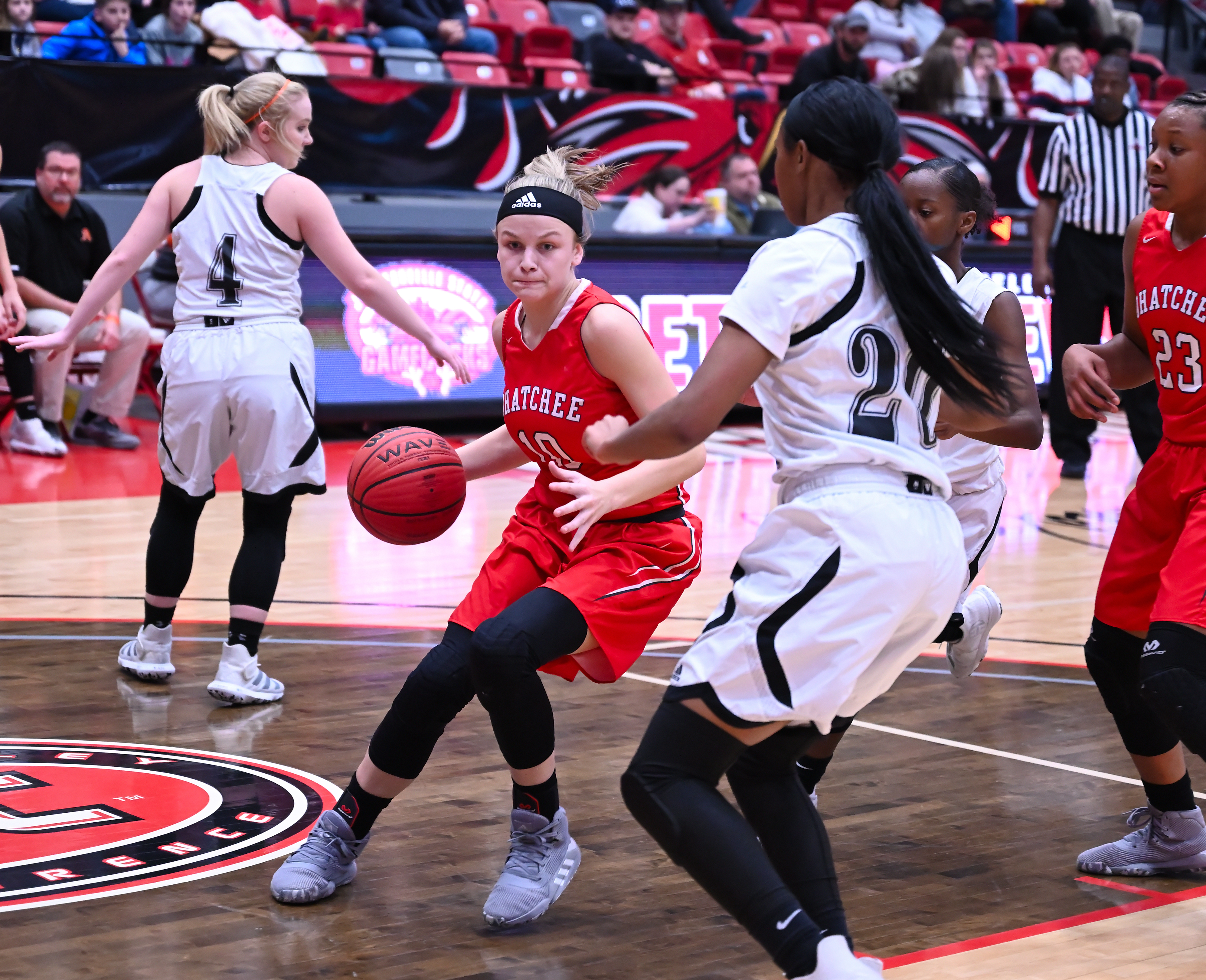 Slow start, fast finish
JACKSONVILLE – For the second year in a row, the Sacred Heart girls were the last team to play in its county tournament bracket.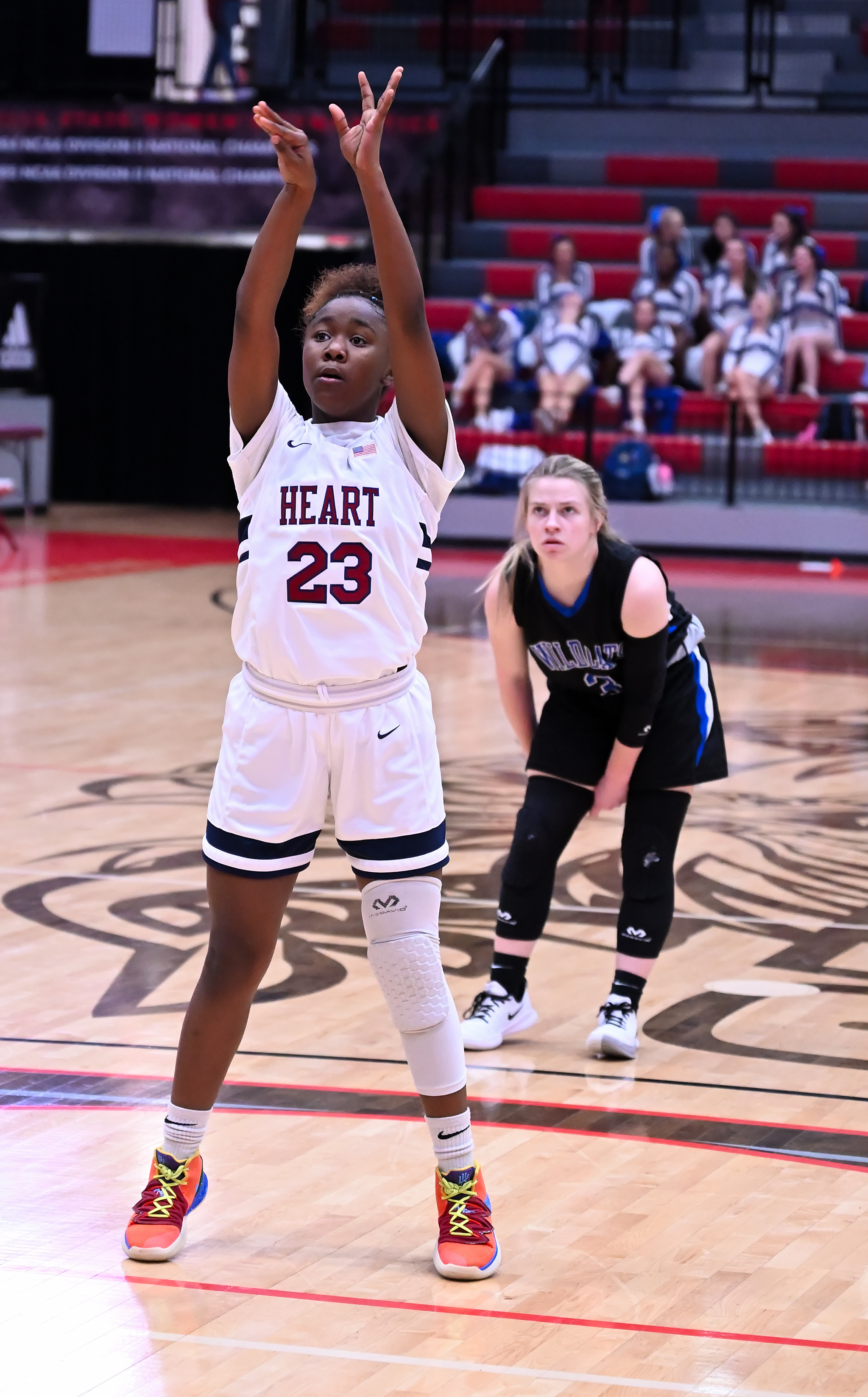 It produced another slow start as the Lady Cardinals were getting their bearings – just like last year – but in the end they found their stride roared past White Plains 69-34. They will play No. 3 seed Alexandria in Wednesday's 7 p.m. semifinals.

The second-seeded Lady Cardinals were led by eighth-grader Serena Hardy's 24 points and Myiah Harris' 21. Lily Ponder was White Plains' leading scorer with 10 points.

Whether it was the long wait or the long day, the Lady Cardinals led only 29-14 at halftime; Hardy had 14 in the half. They made adjustments at the break and pulled away with a 32-point third quarter. Harris had 15 points in the quarter with three 3-pointers.

"We definitely got off to a slow start," Sacred Heart coach Marcus Harrell said. "We've been talking a lot about defense a lot at practice trying to ramp up our defense a little bit and I think that showed. The problem was we were real slow on offense to start off the game. We found a little momentum in the second half and it turned out to be a pretty good game."

Scared Heart 69, White Plains 34
WHITE PLAINS – Callyn Maartin 2 0-0 4, Cheyenne Cochran 0 0-0 0, Hallie Williams 0 0-0 0, Shaniya Calloway 1 2-2 4, Camden Wilson 1 3-6 5, Lily Ponder 3 4-4 10, Adriana Sotelo 0 0-0 0, Angel Bozarth 2 1-2 5, Kaylee Johnson 1 4-4 6. Totals 10 14-18 34.
SACRED HEART – Alisia Person 1 0-0 3, Myiah Harris 8 2-3 21, Amiyah Buchanan 4 0-3 8, Cearia Jenkins 2 0-0 5, Taysia West 1 0-0 2, Joelle Tillery 0 0-0 0, Jordan Sabree 3 0-0 6, Serena Hardy 9 3-4 24, Alyssa Bell 0 0-0 0, Jayda Fomby 0 0-0 0. Totals 28 5-10 69.

White Plains 7 7 10 10 – 34
Sacred Heart 10 19 32 8 – 69
3-point goals: Sacred Heart 8 (Person, Harris 3, Jenkins, Hardy 3). Total fouls: White Plains 8, Sacred Heart 16.