Benefit of Mr. Kite
Antonio Kite leads Anniston into county tournament semifinals; Bulldogs end third quarter on 12-0 run to take control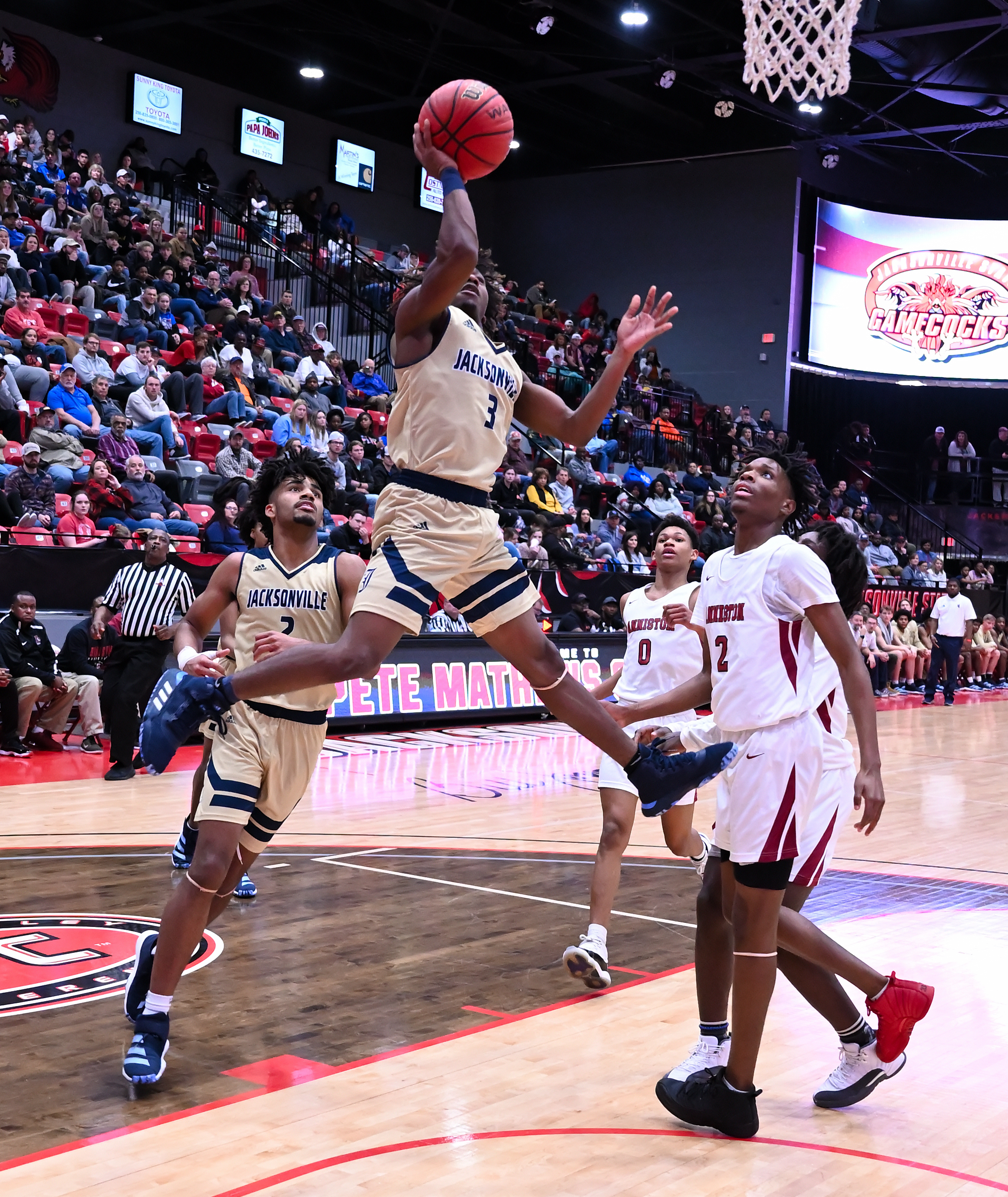 CALHOUN COUNTY TOURNAMENT
All games at Pete Mathews Coliseum, Jacksonville
Boys bracket
Jan. 17 game
No. 12 Ohatchee 76, No. 13 Donoho 56

Saturday's games
No. 11 Weaver 71, No. 14 Faith Christian 58 (OT)
No. 10 Pleasant Valley 63, No. 15 Wellborn 37
No. 8 Jacksonville Christian 80, No. 9 Saks 73 (OT)
No. 5 Sacred Heart 66, Ohatchee 45

Monday's games
No. 6 Piedmont 70, Weaver 31
No. 7 Jacksonville 91, Pleasant Valley 71
No. 4 Alexandria 67, Sacred Heart 61
No. 1 Oxford 84, JCA 47

Tuesday's games
No. 3 White Plains 54, Piedmont 51
No. 2 Anniston 60, Jacksonville 45

Wednesday's games
Oxford vs. Alexandria, 5:30 p.m.
White Plains vs. Anniston, 8:30 p.m.

Friday's game
Championship game, 8 p.m.

By Al Muskewitz
East Alabama Sports Today

JACKSONVILLE – Torry Brown was standing at the end of the Anniston bench frantically signaling in a play for the players on the baseline. All of a sudden the player with the most talent on the floor peels back, floats a high-arching shot and drains it for a 3.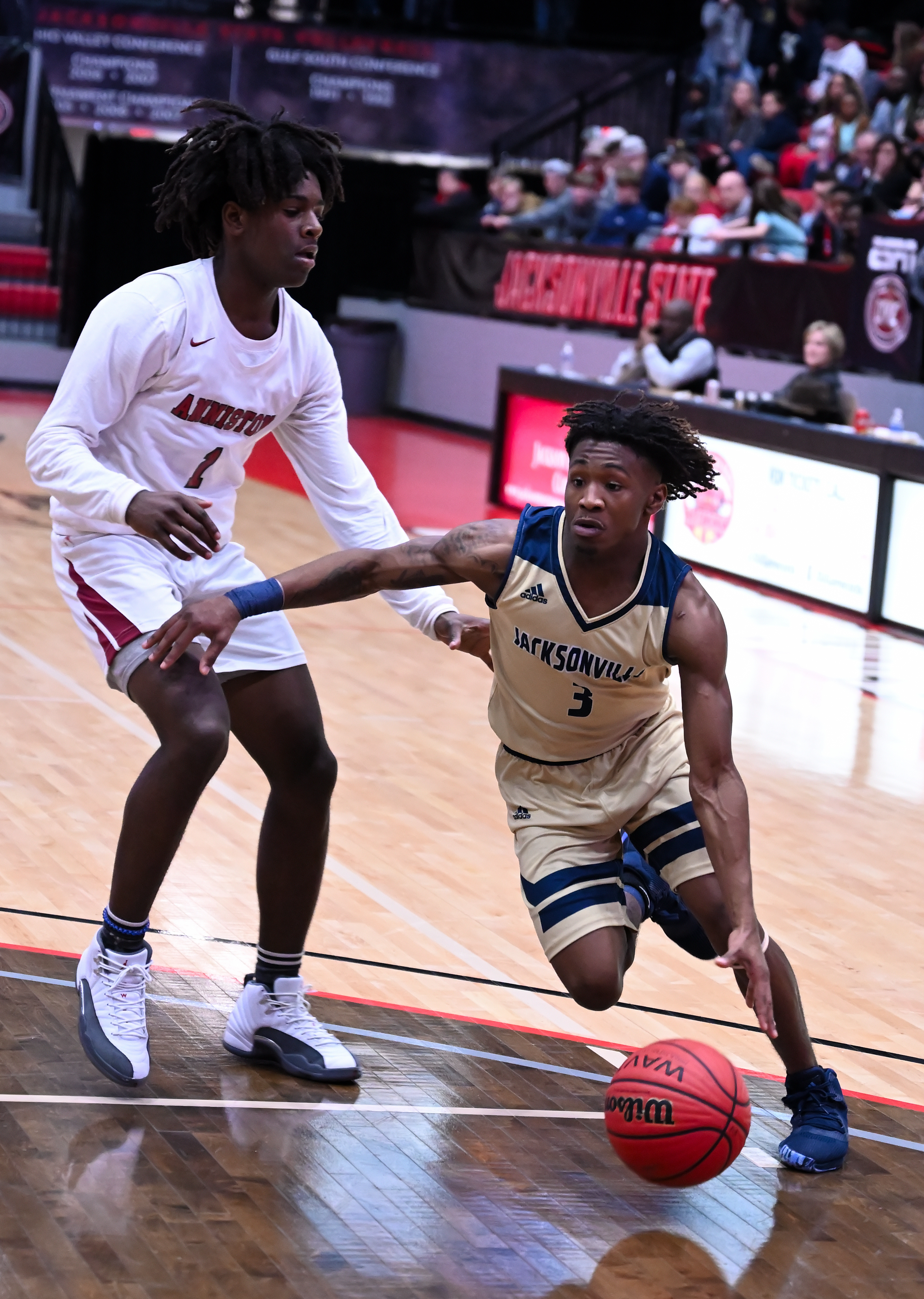 That was not the play the Anniston coach was talking about. Want to know a little secret? All those plays are for the other players on the floor, and it's been that way since Brown first brought that special player onto the floor as an eighth grader. When you've got a talent like Antonio Kite, you kind of clear the way and let him do his thing.

"Spoodie" did his thing all right Tuesday night, and when his thing is sharp, it's impressive to watch. He scored 28 points, hitting long rainbow 3s, getting his teammates involved and in general leading the Bulldogs to a 60-45 victory over Jacksonville in the Calhoun County Tournament.

The second-seeded Bulldogs now play No. 3 White Plains in Wednesday's 8:30 p.m. boys semifinals.

Just so you know the numbers, Kite had 28 points on 12-of-28 shooting. He was credited with three rebounds and four assists, but his mere presence on the floor was worth a whole lot more.

He scored the Bulldogs' last 12 points of the game and could've added two more with a little luck. He dribbled out the final seconds near midcourt before making one last drive to the basket for a monster dunk designed to make a point to Jacksonville post Donavon McCain, but the ball slammed off the iron and caromed high back onto the floor.

"It's really good to have a kid, whether he's a big guy or small guy, just somebody who can go get his own shot and create a shot for other teammates," Brown said. "He can definitely do that.

"And he probably gets coached the hardest more than anybody and it's just because he's young. When he matures mentally and he starts to demand certain things from his teammates then I think his game is going to go to a totally different level."

The game was one of the most anticipated matchups of the tournament as weather issues twice postponed earlier meetings between the teams. And it didn't disappoint.

The game was tied at 25 at halftime and at 30 midway through the third quarter when the Bulldogs amped up their defense with Mark Toyer at the point of the 1-2-2 zone and it produced a 12-0 run that basically decided the game.

Kite and Kwame Milton each had four points in the run. Kite had a rock-the-cradle dunk in the middle of it. Kite had 20 in the second half.

"I knew I had to come on for the team," Kite said. "We were kind of off in the first half and I just had to come out and make some big shots for the team. They told me I had to take more shots because when I take more shots the defense will close in on me and I can dish it to my teammates."

"That guy, I'm telling you, I think he's one of the best players in the state," Jacksonville coach Cordell Hunt said. "Now I haven't seen everybody in the state, but I'd like to see somebody who plays the game a little better and a little harder than him; he's good.

"Q Long did a good job containing him for most of the night, but eventually he just got hot."

Anniston 60, Jacksonville 45
JACKSONVILLE – Donavon McCain 7-17 3-4 18, Q Long 2-6 1-2 7, Kyrie Maynor 3-7 1-2 7, Caden Johnson 2-5 1-1 5, Cam Johnson 1-4 0-0 3, John Broom 0-1 2-2 2, Ron Wiggins 1-1 0-0 2, Yessman Green 0-7 1-2 1, Hudson Harvey 0-0 0-0 0. Totals 16-38 9-13 45
ANNISTON – Antonio Kite 12-28 1-5 28, Kwame Milton 7-11 0-1 15, Daveon Dukes 1-4 3-4 6, Demar Stewart 1-4 0-0 3, Malcolm Harvey 1-1 0-0 2, Mark Toyer 1-3 0-0 2, Tahj Jones 1-3 0-0 2, A.J. Brown 1-2 0-0 2. Totals 16-56 4-10 60.

Jacksonville 10 15 5 15 – 45
Anniston 11 14 17 18 – 60
3-point goals: Jacksonville 4-18 (McCain 1-2, Long 2-4, Cm. Johnson 1-4, Green 0-5, Cd. Johnson 0-1, Maynor 0-2); Anniston 6-22 (Kite 3-11, Milton 1-3, Dukes 1-2, Stewart 1-4, Tj. Jones 0-2).
Rebounds: Jacksonville 34 (McCain 10); Anniston 36 (Dukes 11, Harvey 7). Total fouls: Jacksonville 9, Anniston 13.