Proving their worth
Valley Cubs take down Sacred Heart to reach semifinals of county tournament, Cardinals earliest exit since 2013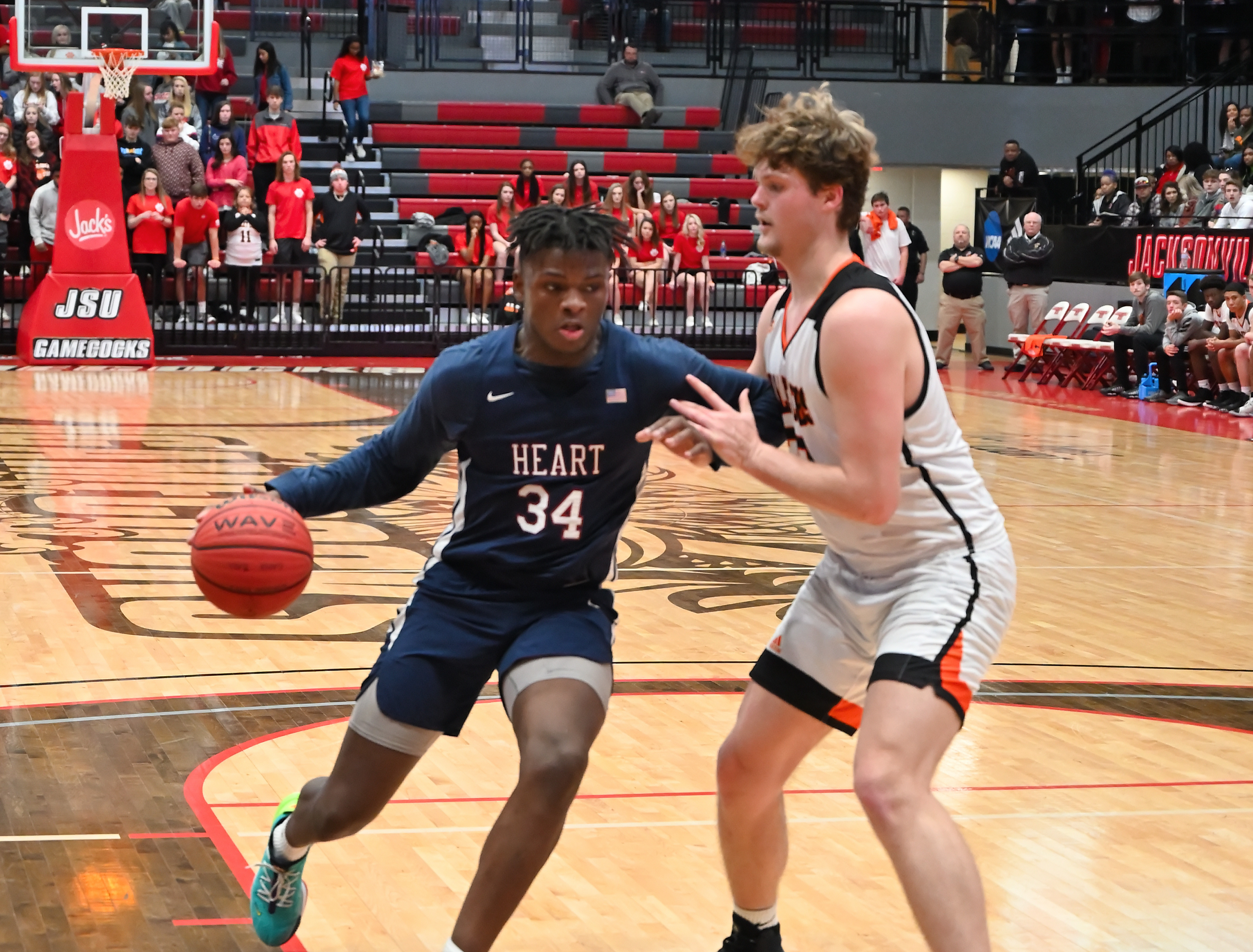 CALHOUN COUNTY TOURNAMENT
All games at Pete Mathews Coliseum, Jacksonville
Boys bracket
Friday's game
No. 12 Ohatchee 76, No. 13 Donoho 56
 
Saturday's games
No. 11 Weaver 71, No. 14 Faith Christian 58 (OT)
No. 10 Pleasant Valley 63, No. 15 Wellborn 37
No. 8 Jacksonville Christian 80, No. 9 Saks 73 (OT)
No. 5 Sacred Heart 66, Ohatchee 45
 
Monday's games
No. 6 Piedmont 70, Weaver 31
No. 7 Jacksonville 91, Pleasant Valley 71
No. 4 Alexandria 67, Sacred Heart 61
No. 1 Oxford 84, JCA 47 

Tuesday's games
Piedmont vs. No. 3 White Plains, 4 p.m.
Jacksonville vs. No. 2 Anniston, 7 p.m.

Wednesday's games
Oxford vs. Alexandria, 5:30 p.m.
White Plains-Piedmont winner vs. Anniston-Jacksonville winner, 8:30 p.m.

By Al Muskewitz
East Alabama Sports Today

JACKSONVILLE – The Alexandria Valley Cubs had been hearing all the things they couldn't do or shouldn't be all season long. Monday night they went a long way to stifling that kind of talk.

The fourth-seeded Cubs reached the semifinals of the Calhoun County Tournament with a tight 67-61 victory over Sacred Heart. They now will play top-seeded Oxford Wednesday at 5:30 p.m. for a trip to the title game.

It was the earliest the Cardinals have been eliminated from the county tournament since 2013. They had played in the finals each of the last six years, winning it in 2015 and 2018

Alexandria was last in the finals in 2015, losing to Sacred Heart. The Cubs last won the tournament in 2006.

"I know it's a big win because it gets us to the next round," Cubs coach Jason Johnson said. "Our guys wanted to prove they were one of the top four teams in this tournament, so I think for that point it was good.

"We're just glad we're getting to play. Our guys were worried we were going to have four days of practice coming up (if they lost) and a lot of running. I think our guys had a little bit of urgency in the second half because they did not really want to have to get on that line and run for the next four days."

It might not be one of the classic Sacred Heart teams of recent years, but it was Sacred Heart nonetheless and that carries weight. The only county teams the Cardinals had lost to in the last six years have been named Anniston and Oxford.

"This was really big," sophomore forward Julian Wright said. "We needed to win this game because we're always underestimated going against teams like that. A lot of people were talking thinking they were going to win and we got to prove people wrong.

"We worked really hard at practice preparing for this so we all believed we could beat them."

On a night the Cubs were playing for teammate Kam Crumley, the guard who passed away on Christmas Night from injuries sustained in a car accident after practice, Landan Williams, Crumley's best friend on the team, led the Cubs with 19 points and 10 rebounds. His first half was a little balky, but he scored 13 points in the second half, including four free throws in the final 1:14 to keep the Cardinals at bay.

Wright scored seven points and seven rebounds, but he drew the defensive assignment on Sacred Heart post Aaron Moore. He made a big save along the baseline with 20 seconds left that Javais McGhee turned into a bucket that made it 67-61.

"We just needed more hustle points on the team," Wright said. "We had to hustle if we wanted to win that game. You've gotta go for all loose ball, got teammates to go for loose balls, too, when you miss and they crash the boards and get the rebound." 

D'Anthony Walton scored 16 points, eight in the first quarter while Williams was finding his bearings, and grabbed six rebounds. Seth Slaton scored 11, nine on 3-pointers; one came with 45 seconds left in the third quarter to give the Cubs the lead for good 47-46 and another came with 2:54 left to give them a 61-56 lead.

"We just came out here and played; we have a lot to prove," Slaton said. "Everybody's doubting us in the county and we've just got stuff to prove. I guess because we're just so young; they know we don't have many old people, so they just think we're young and we can't play with them, but we're going to show them, though."

It was as intense as the final score indicated. There were 11 lead changes and eight ties, the last at 50-50 with 6:05 to play.

Moore had 19 points for Sacred Heart, 15 in the first half. Taishun Hall had 13 and Javen Croft had 10.

Alexandria 67, Sacred Heart 61
SACRED HEART – Taishun Hall 5 0-0 13, Jarek Burroughs 2 1-2 7, Jack Miller 3 0-0 8, Javen Croft 5 0-2 10, Aaron Moore 9 1-1 19, Delroy Francis 2 0-2 4. Totals 26 2-7 61.
ALEXANDRIA – Javais McGhee 4 0-0 8, Collin Taylor 2 0-0 6, D'Anthony Walton 5 5-7 16, Seth Slaton 4 0-0 11, Julian Wright 3 1-2 7, Landan Williams 7 5-6 19. Totals 25 11-25 67.
 
Sacred Heart        16  15 15  15  –  61            
Alexandria            18  11 18  20  –  67
3-point goals: Sacred Heart 7 (Hall 3, Burroughs 2, Miller 2); Alexandria 6 (Taylor 2, Walton, Slaton 3). Total fouls: Sacred Heart 17, Alexandria 13.