Can't touch this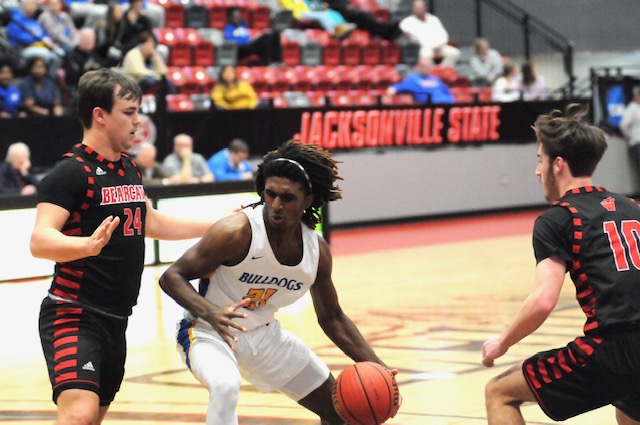 County boys: Weaver starts game with slowdown, but once Piedmont touched it, it was over

CALHOUN COUNTY TOURNAMENT
All games at Pete Mathews Coliseum, Jacksonville
Boys bracket
Friday's game
No. 12 Ohatchee 76, No. 13 Donoho 56
 
Saturday's games
No. 11 Weaver 71, No. 14 Faith Christian 58 (OT)
No. 10 Pleasant Valley 63, No. 15 Wellborn 37
No. 8 Jacksonville Christian 80, No. 9 Saks 73 (OT)
No. 5 Sacred Heart 66, Ohatchee 45
 
Monday's games
No. 6 Piedmont 70, Weaver 31
No. 7 Jacksonville 91, Pleasant Valley 71
No. 4 Alexandria 67, Sacred Heart 61
No. 1 Oxford 84, JCA 47 

Tuesday's games
Piedmont vs. No. 3 White Plains, 4 p.m.
Jacksonville vs. No. 2 Anniston, 7 p.m.

Wednesday's games
Oxford vs. Alexandria, 5:30 p.m.
White Plains-Piedmont winner vs. Anniston-Jacksonville winner, 8:30 p.m.

By Al Muskewitz
East Alabama Sports Today
 
JACKSONVILLE – The Weaver Bearcats might have stood a better chance if it could have held the ball the whole game.
 
The Bearcats, who stunned the Calhoun County Tournament with what amounted to a 28-point turnaround in the fourth quarter and overtime Saturday, came out with a strategy to slow the tempo against sixth-seeded Piedmont Monday.
 
They were successful for the first 90 seconds after winning the tip, never letting Piedmont touch the ball and taking the lead. Then Piedmont touched it and it was over.
 
The Bulldogs scored five of the next seven times they touched it – a 13-0 run – and roared to a 70-31 victory. They advance to play No. 3 White Plains Tuesday at 4 p.m.
 
"For a second, I'm not going to lie, it kind of threw me off," Bulldogs forward Silas Thompson said. "I was like, are they just going to hold the ball all game? I think that was a pretty good strategy on their part, but once we got going I believe that strategy had to go out the door.
 
"Once we got the lead, we got to play our game. But at first that was a good strategy on their part because that kind of threw us off."
 
Piedmont coach JoJo Odam expected to see something different from the Bearcats since the teams played only six days ago (an 85-40 win), but he didn't expect that.
 
The Bearcats won the tip and moved it around or simply held it near the midcourt line until Taylor Thompson scored the first basket of the game. They didn't score again until Thompson hit a free throw with 2:28 left in the quarter.
 
Alex Odam hit a 3-point and a layup and the Bulldogs never trailed again. Later in the quarter Thompson and Odam turned back-to-back turnovers into back-to-back 3s and the rout was on.It was 21-3 after the first quarter and Odam and Thompson had all the Piedmont points.
 
"We knew if we could ever score and maybe set our press we could get it sped up and get back going," JoJo Odam said. "Alex hit a shot and got us going and at that point we were able to speed it back up and get to where we like to play. We like to play up and down."

"We were going to try to make them play a little defense," Weaver coach Marcus Herbert explained. "I watched a lot of film and knew if we got into a running game with them it would get out of hand quickly. We got the first two points of the game and after that they got to running and it went downhill from there."

Thompson finished with a team-high 22 points and Odam had 20; midway through the third quarter they both had outscored Weaver's team. Jack Hayes came off the bench and hit four 3-pointers in the second half for 12 points.
 
Odam was 8-of-11 from the floor. Thompson was 8-of-13 from the floor. Hayes was 4-of-7 from 3-point range.

Cover photo: Piedmont's Silas Thompson (21) drives between Weaver's Taylor Thompson (24) and Jackson Williams. (Photo by Ken Grissom)

Piedmont 70, Weaver 31
WEAVER – Quinton Blackerby 0 0-0 0, Brendyn Knight 1 2-4 4, Kohl Perry 1 0-0 3, Buck McGregor 0 0-0 0, Jackson Williams 2 0-1 4, Kyle Knight 0 1-5 1, Austin Bryant 0 0-0 0, Armane Burton 0 3-6 3, Taylor Thompson 1 1-2 3, Tristan Brown 3 2-2 10, Joey Bolan 1 1-2 3. Totals 9 10-22 31.
PIEDMONT – Alex Odam 8 0-0 20, Omarion Foster 0 0-0 0, Luke Bussey 3 0-0 5, Trey McFarland 3 0-0 6, Silas Thompson 8 4-6 22, Jack Hayes 4 0-0 12, Malachi Jackson 2 0-0 5, Jakari Foster 0 0-0 0. Totals 27 4-6 70.
 
Weaver                  3    7   10  11  –  31
Piedmont              21  17 22  10  –  70
3-point goals: Weaver 3 (Perry, Brown 2); Piedmont 12 (Odam 4, Bussey, Thompson 2, Hayes 4, Jackson). Total fouls: Weaver 10, Piedmont 17. Officials: Madson, Hughes, Corley.