Rock lifts Jackets
Taylor comes off the bench with McClendon, gives Jackets spark to run past JCA in boys county quarterfinals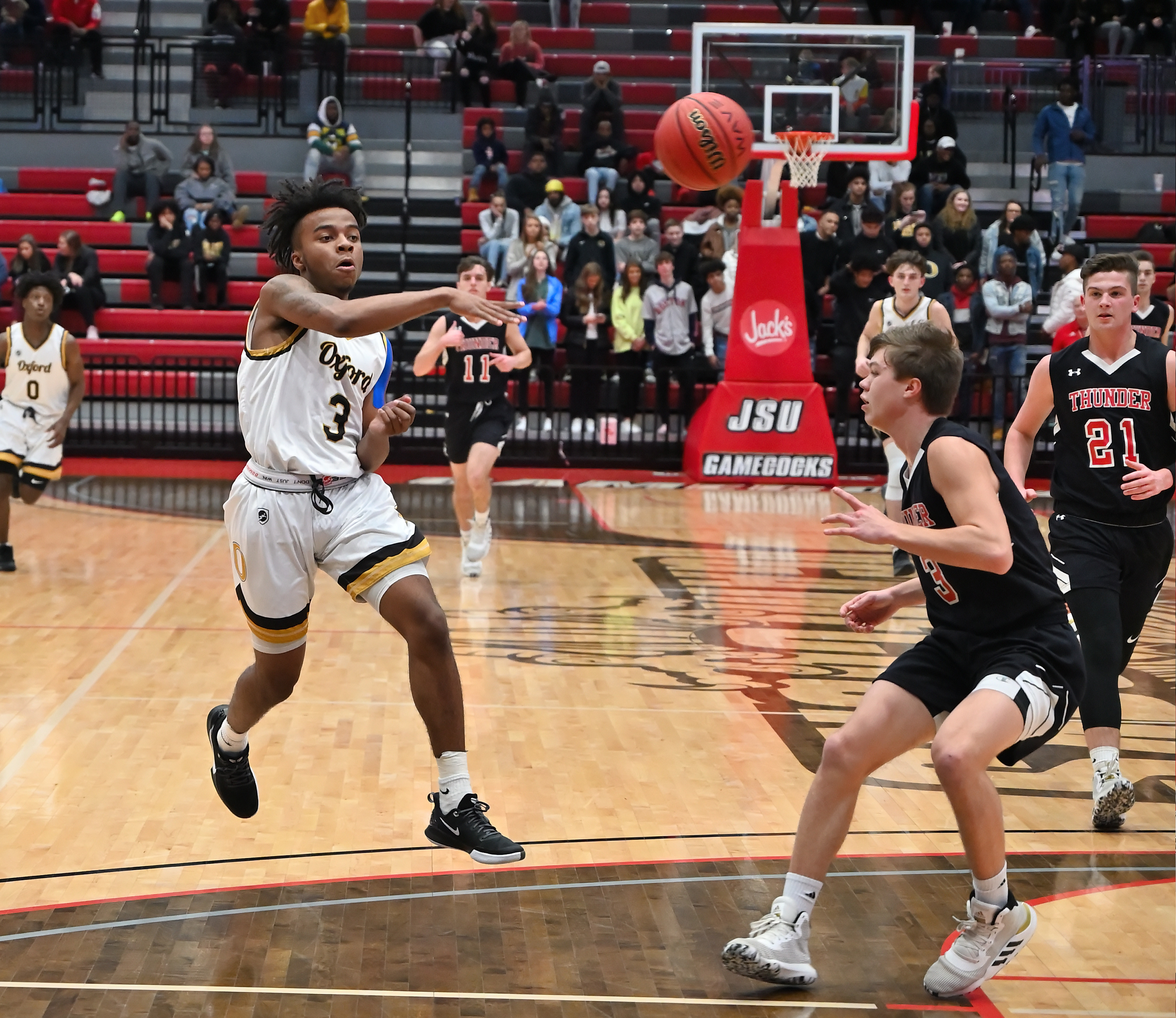 CALHOUN COUNTY TOURNAMENT
All games at Pete Mathews Coliseum, Jacksonville
Boys bracket
Friday's game
No. 12 Ohatchee 76, No. 13 Donoho 56

Saturday's games
No. 11 Weaver 71, No. 14 Faith Christian 58 (OT)
No. 10 Pleasant Valley 63, No. 15 Wellborn 37
No. 8 Jacksonville Christian 80, No. 9 Saks 73 (OT)
No. 5 Sacred Heart 66, Ohatchee 45

Monday's games
No. 6 Piedmont 70, Weaver 31
No. 7 Jacksonville 91, Pleasant Valley 71
No. 4 Alexandria 67, Sacred Heart 61
No. 1 Oxford 84, JCA 47

Tuesday's games
Piedmont vs. No. 3 White Plains, 4 p.m.
Jacksonville vs. No. 2 Anniston, 7 p.m.

Wednesday's games
Oxford vs. Alexandria, 5:30 p.m.
White Plains-Piedmont winner vs. Anniston-Jacksonville winner, 8:30 p.m.

By Al Muskewitz
East Alabama Sports Today

JACKSONVILLE – The Oxford football team counted on Rock Taylor to deliver big plays throughout its state championship season.

Yellow Jackets basketball coach Joel Van Meter doesn't think it's unreasonable for him to do the same thing on the court.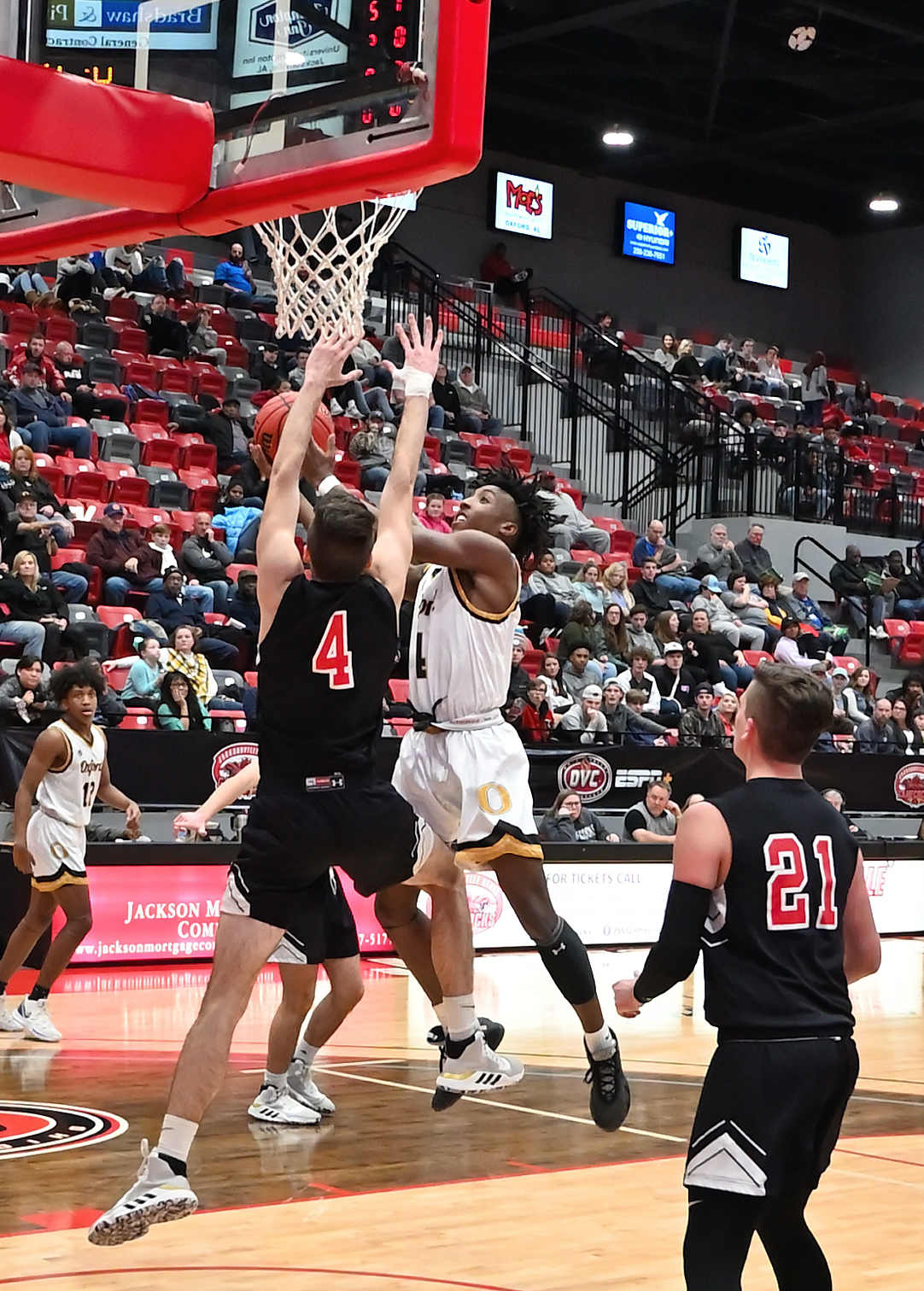 Taylor entered Monday night's Calhoun County Tournament quarterfinals game with Jacksonville Christian about midway through the first quarter when the game wasn't going quite like Van Meter wanted. As soon as the 6-foot-4 forward got on the floor, things immediately changed.
 
It was his presence that provided the spark that carried the top-seeded Jackets to an 84-47 victory. They'll now face fourth-seeded Alexandria Wednesday at 5:30 p.m. with a berth in the championship game on the line.
 
Taylor wound up scoring a team-high 18 points, but he brought so much more to the game.
 
VanMeter started Milas Jackson and Justin Moore he said to get a different lineup as he continues to figure out their best group. He brought in Taylor and Mont McClendon when they two aforementioned starters needed a breather and everything changed.
 
The Jackets had just put together a 10-2 run with the group that had been on the floor to take the lead for good, but they were about to take off.
 
The press kicked in and they ran out to a 41-27 halftime lead. Then they outscored the Thunder 43-20 in the second half. The difference?
 
"Rockafwelloa Taylor," VanMeter said without hesitation, using his player's formal name for emphasis. "His energy, the way that he came out and brought his energy, every single other person fed off of that and our level went way up.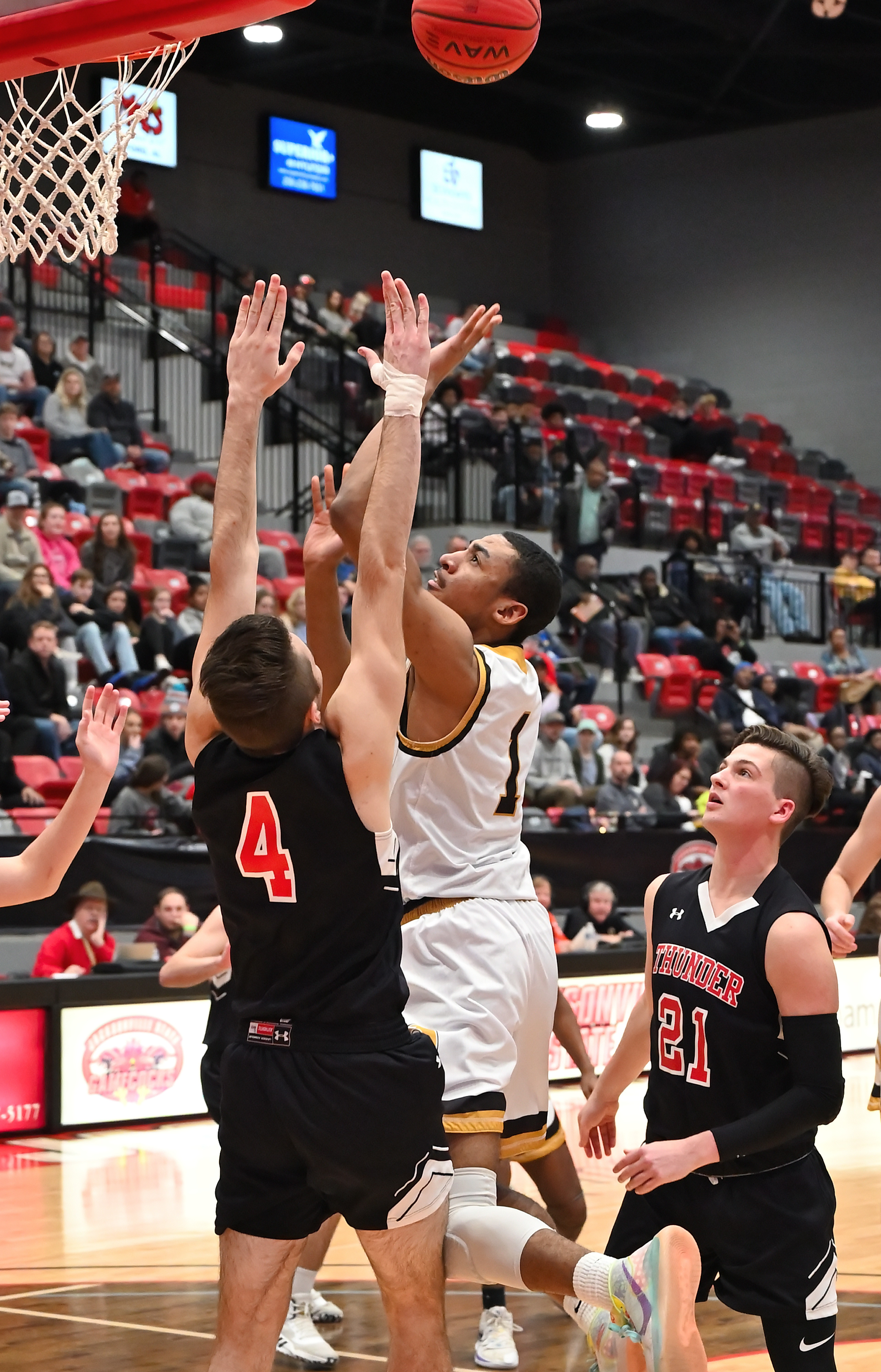 "That's what he's capable of. He goes for 22 and 12 against Mae Jemison; no slouch does that. And it's challenging him. It's like I told him at halftime. You were great every time I watched you in football. Every time on that football team you were great and they depended on you to do something, to be great. We're depending on you to be the same way."

For his part, Taylor likes to have those expectations thrust upon him.

"I like being a leader of the team, being able to lead teams is a big, big role," he said. "You've got to take control, like work hard in practice, work hard in everything."

The anticipated matchup between the two teams' bigs didn't really materialize. Oxford's Zondrick Garrett, a South Alabama signee, had just five points. JCA's Chase Vinson had 15 points and nine rebounds, both well below his season averages.

The Thunder was led by Kobe Messer's five 3-pointers and 23 points.

Oxford 84, Jacksonville Christian 47
JCA – Tanner Wilson 0 2-2 2, Brady Shaddix 0 0-0 0, Chase Vinson 3 9-12 15, Eli Fair 3 0-0 7, Drake Shew 0 0-0 0, Nash Messer 0 0-0 0, Kobe Messer 7 4-4 23. Totals 13 15-18 47.
OXFORD – Cordell Chatman 2 0-0 4, Zondrick Garrett 1 3-4 5, Rylan Houck 4 1-1 9, Mont McClendon 3 0-0 8, Kobe Warren 5 2-2 14, Roc Taylor 7 2-3 18, Bakari Dailey 2 2-2 6, Justin Moore 6 0-0 13, Milas Jackson 3 0-0 6, Peyton Watts 0 0-0 0, Kyler Wright 0 0-0 0. Totals 33 10-12.

Jax Christian 11 16 15 5 – 47
Oxford 23 18 33 10 – 84
3-point goals: JCA 6 (K. Messer 5, Fair); Oxford 7 (McClendon 2, Warren 2, Taylor 2, Moore). Technical fouls: Garrett, Dailey. Total fouls: JCA 12. Oxford 16. Officials: Larkins, Zavchin, Williams.

Cover photo of Rock Taylor (5) by B.J. Franklin