Over the hump
Oxford finally solves Clay-Chalkville in playoffs, reaches semifinals for first time since 2011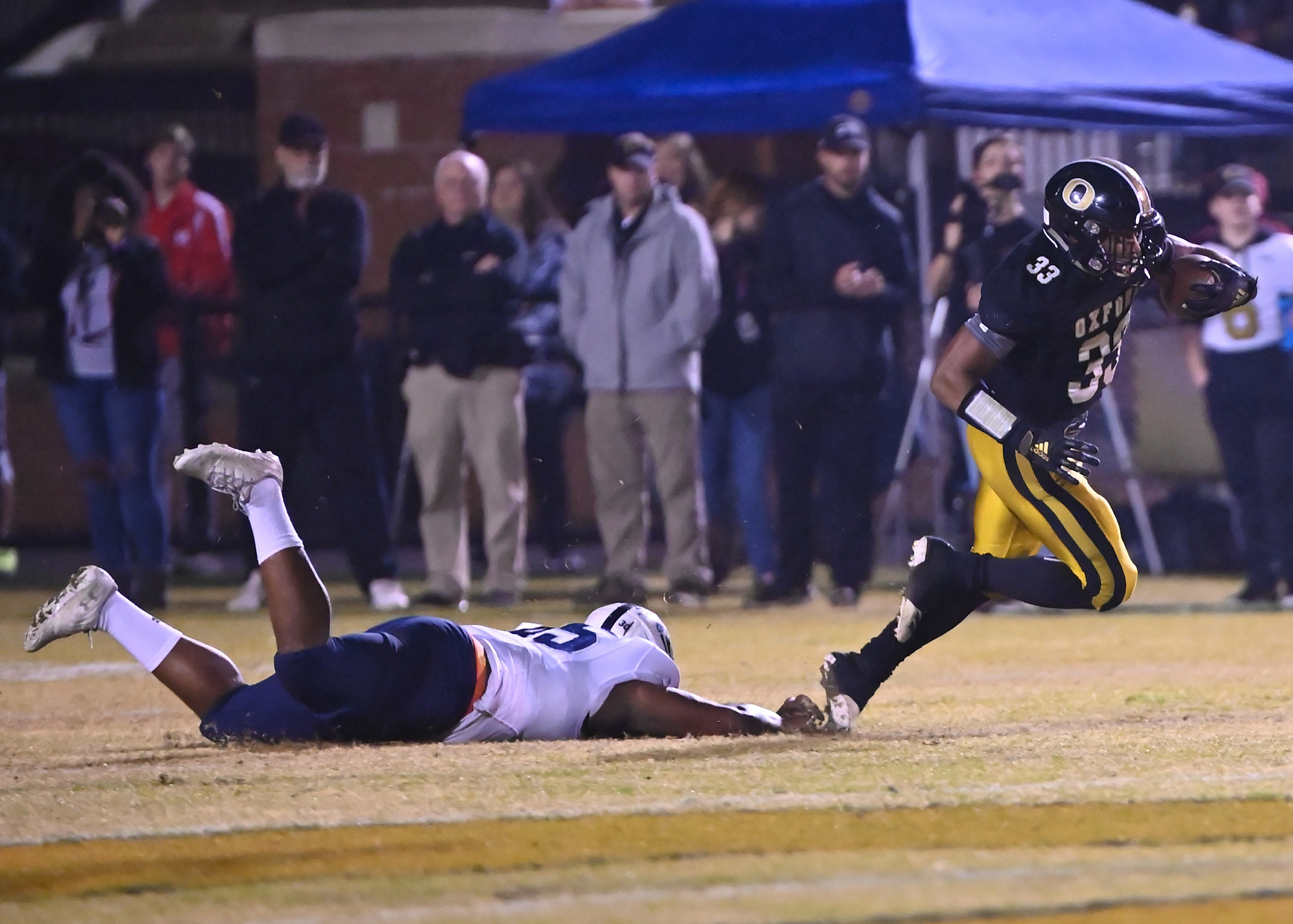 By Al Muskewitz
East Alabama Sports Today

OXFORD — If the Oxford Yellow Jackets were going to make history Friday night they were going to have to forget the past and live in the present.

That's sort of a tough thing to do when standing in their way of a trip to the Class 6A state semifinals was their old playoff nemesis Clay-Chalkville.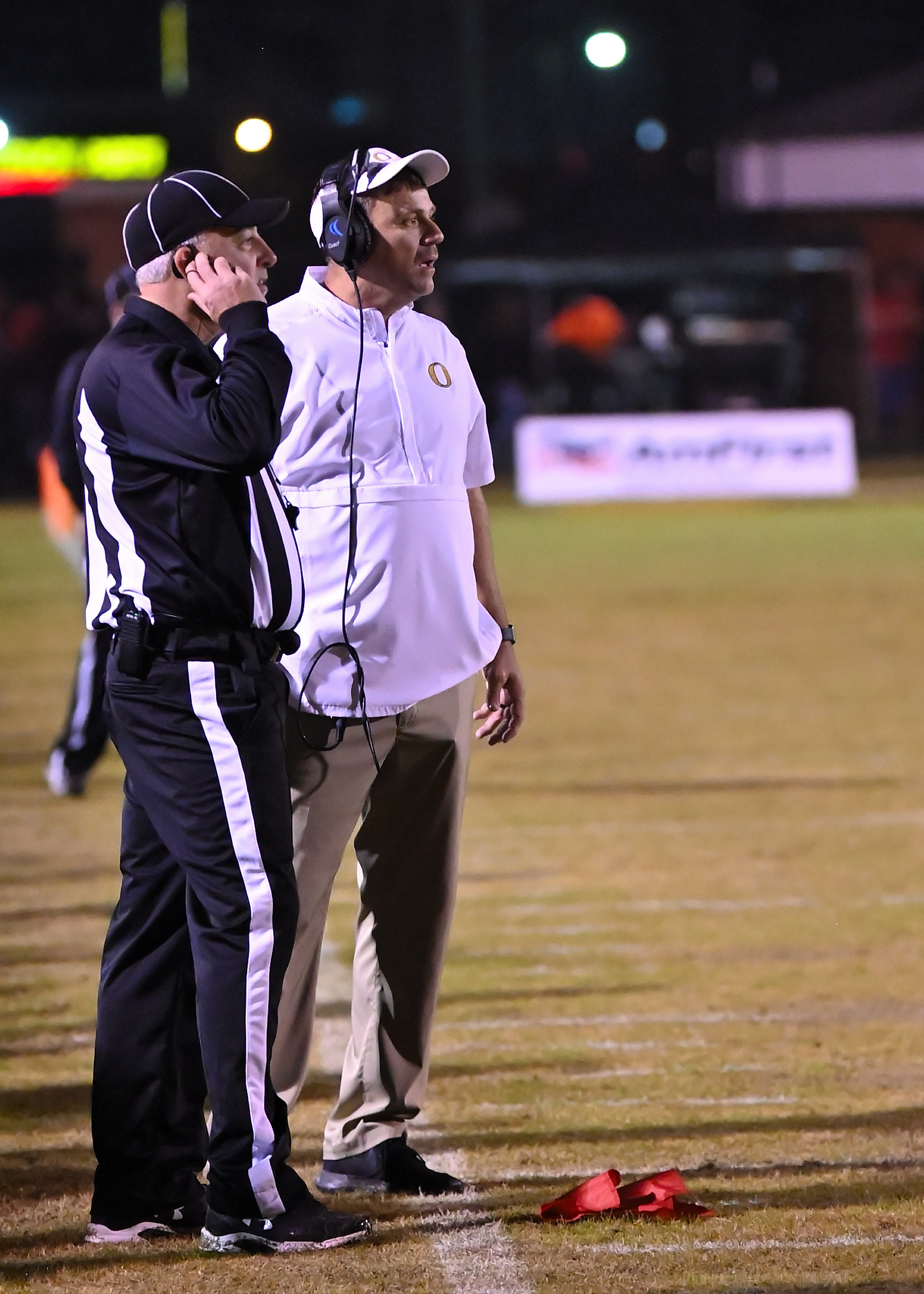 The Cougars had broken the Jackets' heart so many times the last few years it was close to becoming a complex. They knocked the Jackets out of the playoffs in this round each of the last two years and had beaten them six straight times.

But on this misty night, however, the Jackets rose above the history and made a little of their own, beating the Cougars 20-13 at Lamar Field.

They will host Pinson Valley (10-2) next week for the trip to the Class 6A championship game against either Opelika or Spanish Fort. It's their first trip to the semifinals since 2011. They beat Pinson Valley in the regular-season meeting 34-33.
 
"Just getting over the hurdle, getting it in their heads this is where you're supposed to be," Oxford coach Keith Etheredge said. "They have nothing on you. We've got to just execute and do what we do and we'll come out on top.
 
"It's hard. When you play a team over and over and over again and you've gotten beat by them over and over and over again it becomes a head game, but once you beat them then you understand, hey, look, we're supposed to be in this game. We played them nip-and-tuck last game and missed on a couple opportunities, but we made them this game."

Trey Higgins threw touchdown passes to Rock Taylor (63 yards) and Zay Britt (36 yards) two and a half minutes apart in the third quarter and the usually stout Oxford defense held up their end to make it stand.

The Jackets (12-1) held the visitors to 61 net yards in the second half and only 12 rushing. The defense even scored their first touchdown when Delvon Fegans scooped up a fumble and returned it 23 yards to open the game's scoring.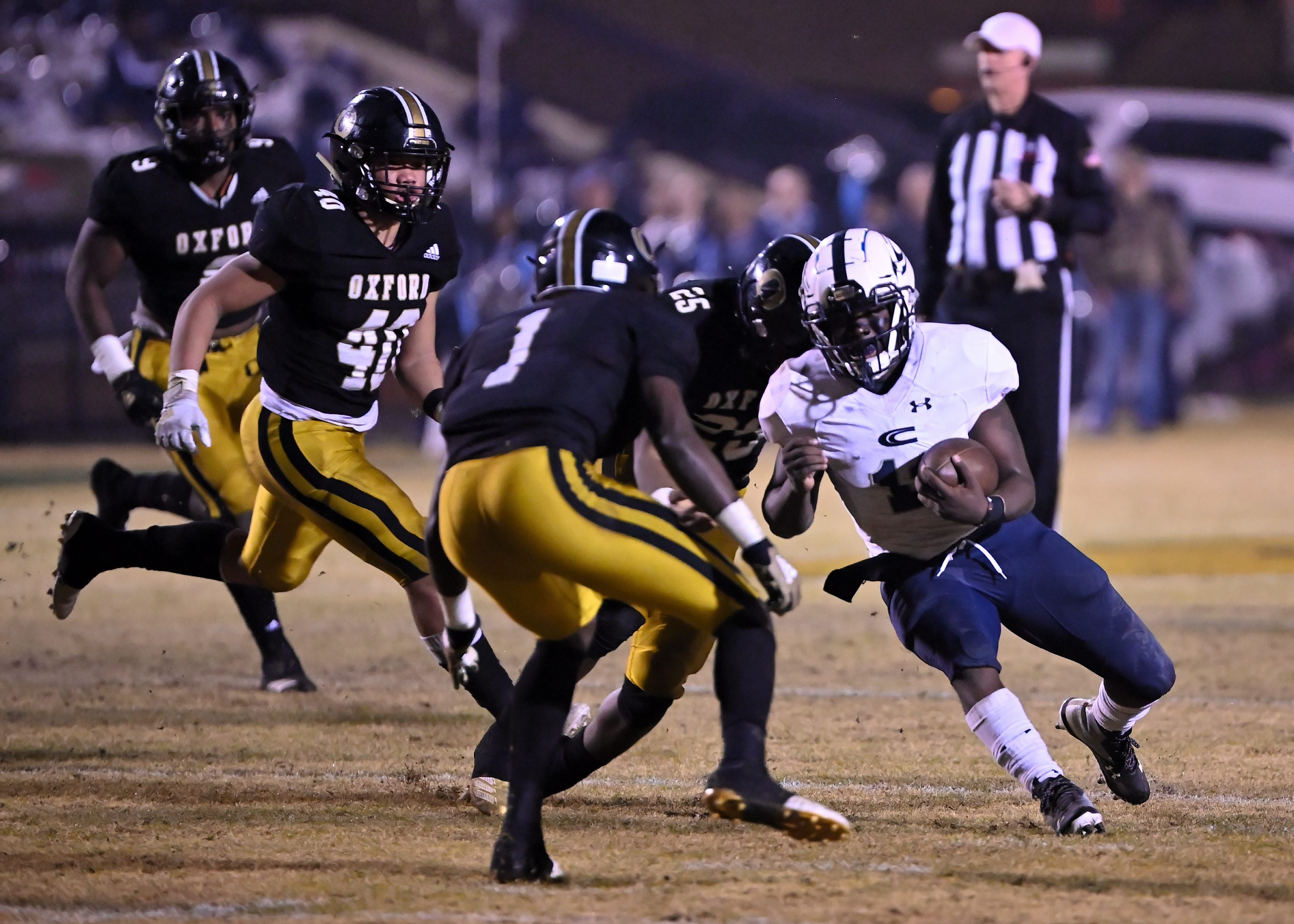 "Coach told us to go out here and play our game," Britt said. "We're going to forget about all that history stuff and we're going to go out here and play our game. If we play our game they're not going to play with us. We're trying to make our own history."
 
The Jackets trailed at half 13-6, giving up a short touchdown drive and two field goals, but made some adjustments during the break that got them some formations that didn't allow the Cougars to get over the top of their receivers. They got Taylor and Britt in some favorable matchups and they made plays on a couple of Higgins' throws that produced the tying and go-ahead touchdowns.
 
Higgins completed three passes for 106 yards and rushed for 68 yards on 21 carries. J.B. Carlisle rushed 18 times for 134 yards, including a 54-yard burst in the second quarter and a 14-run earlier in the quarter that many are still wondering if he was down.
 
"We knew we were in it," Higgins said. "We never gave up and just gave all our heart. My receivers went up and made a play and put six on the board."
 
"We finally got over the hump Oxford football has been on the last few years," Britt said. "That's just great. That just means it's going to be a new era of Oxford football."

To see a gallery of photos from the game, visit www.bjfranklin.smugmug.com
| | | |
| --- | --- | --- |
| CC (13) | | Oxf (20) |
| 8 | 1D | 12 |
| 30-108 | Rush | 40-204 |
| 6-19-0 | CAI | 3-10-1 |
| 85 | Pass | 106 |
| 1-1 | F-L | 0-0 |
| 7-40.6 | Punt | 6-31.6 |
| 5-40 | Pens | 6-55 |

Clay-Chalkville 0 13 0 0 – 13
Oxford 6 0 14 0 – 20
Scoring plays
O – Delvon Fegans 23 fumble return (kick failed), 42.4 1Q
C – D.J. Ward 3 run (Jaren VanWinkle kick), 7:42 2Q
C – Jaren VanWinkle 21 FG, 3:49 2Q
C – Jaren VanWinkle 44 FG, 0:00 2Q
O – Rock Taylor 63 pass from Trey Higgins (Andrew Warhurst kick), 9:47 3Q
O – Zay Britt 36 pass from Trey Higgins (Andrew Warhurst kick), 7:09 3Q