Piedmont powers into semis
Bulldogs reach semifinals for fifth year in a row after taking down Geraldine for second time in a month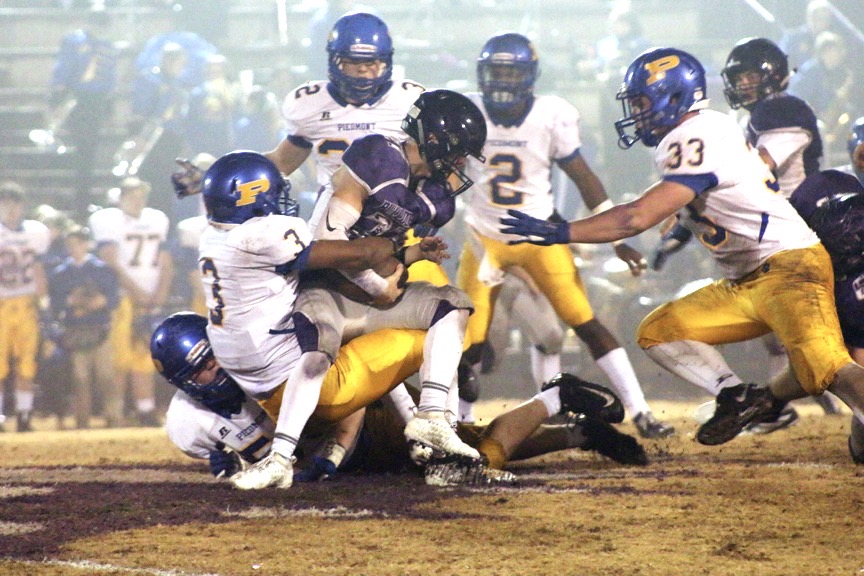 By Taylor Beck
Special to East Alabama Sports Today
 
GERALDINE — Piedmont is headed to the Class 3A state semifinals for the fifth year in a row after beating Geraldine for the second time this month, 33-7 Friday night at Coolidge-Isbell Field.
 
Freshman quarterback Jack Hayes was responsible for four touchdowns and propelled the Bulldogs (12-1) into a rematch with Region 6 rival Wellborn (12-1) with a trip to the state finals on the line.
 
The Panthers won the earlier meeting 40-35 to throw the region into a three-way tie for first place. The game featured one of the headiest and strangest plays of the season when Wellborn quarterback Jett Smith knocked the ball out of a Piedmont player's hands on a punt that hadn't crossed the line of scrimmage and returned it for a touchdown.
 
For Geraldine (8-5), the defeat ends a historic season. The Bulldogs reached the third round for only the second time in program history (2000).
 
Piedmont jumped out to a 26-0 halftime lead.
 
Junior running back Elijah Johnson opened the scoring on a 10-yard run with 6:33 remaining in the first quarter. Bryce Mohon kicked the first of three PATs and it was 7-0.
 
Two minutes later Hayes connected with senior receiver Silas Thompson on a 9-yard pass for his first touchdown and a 14-0 lead. Hayes finished with 194 yards on 14-of-19 passing and two touchdowns and 91 yards with two touchdowns on the ground.
 
Inside Piedmont 20, Geraldine senior quarterback D.J. Graham fumbled the football. Piedmont linebacker Malachi Jackson recovered it at the 19, where the offense took over with 10:31 remaining in the second quarter.
 
With 4:56 left in the half, Hayes rumbled into the end zone for a 1-yard touchdown stretching the lead to 20-0. The extra point was blocked.
 
Piedmont took on downs at its 23 with 1:24 left in the half and needed only 72 seconds to drive down the field and score before heading to the locker room. Hayes' 6-yard touchdown run six seconds before halftime made it 26-0.
 
Coming out of halftime Geraldine's defense tried to spark the offense with a turnover. Anthony Baldwin intercepted Hayes at the Geraldine 20, but the offense couldn't turn the takeaway into points.
 
After a series of punts by both squads, Piedmont broke through to take a 33-0 lead with 9:13 remaining in the fourth quarter. Hayes connected with Max Hanson for a 16-yard score.
 
Geraldine avoided the shutout when Baldwin capped the ensuing 10-play, 63-yard drive with an 11-yard touchdown run. With a successful PAT kick from Jose Garcia, the lead was trimmed to 33-7.
 
Taylor Beck is managing editor of The Sand Mountain Reporter.