Pretty (tough) in pink
Top-seeded Alexandria breaks out pink jerseys for special occasion, beats Jacksonville 3-1 to win second straight county title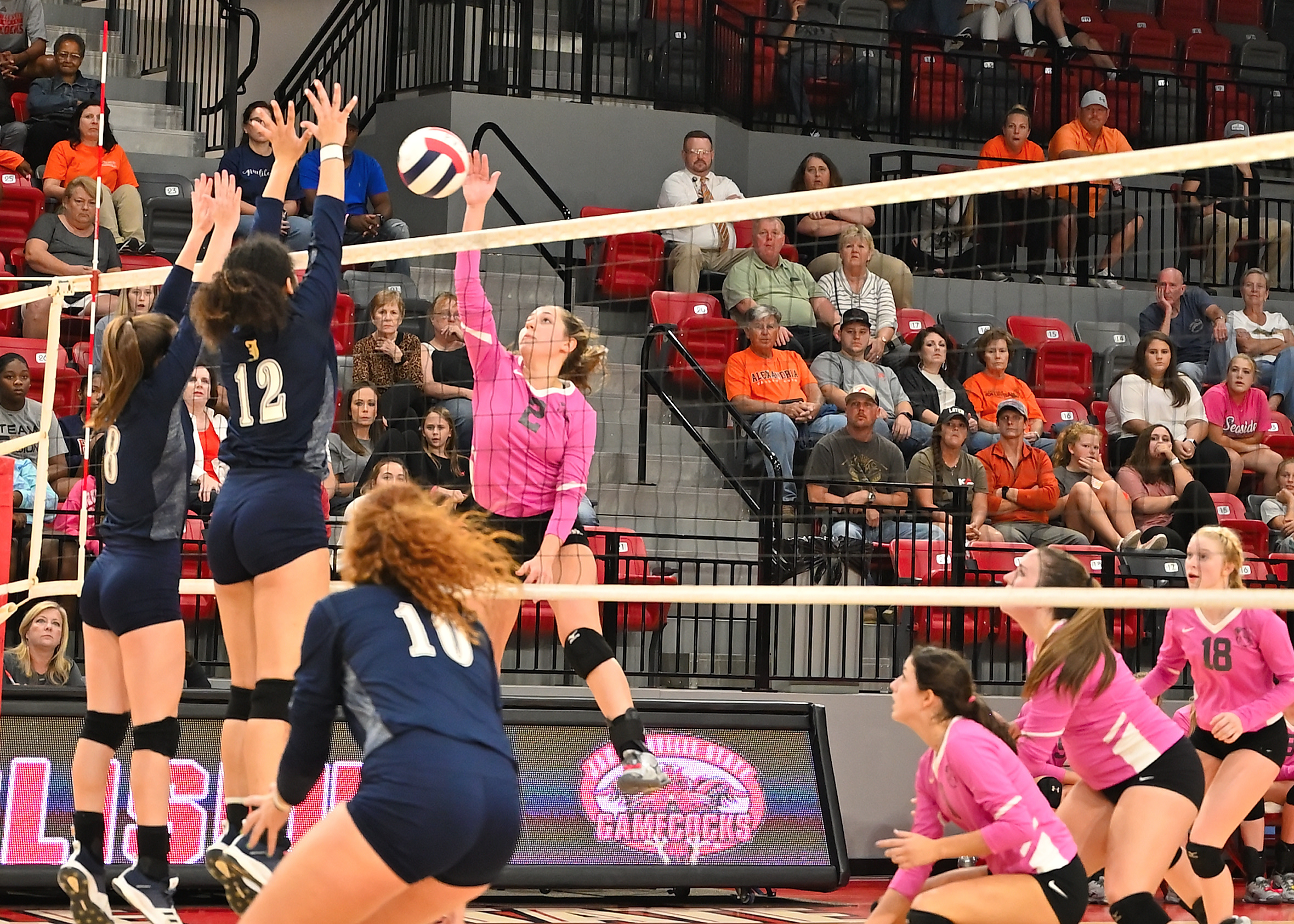 By Al Muskewitz
East Alabama Sports Today

JACKSONVILLE — Whitney Welch knew it was a "special night" and the Alexandria volleyball coach wanted to do something special to commemorate it.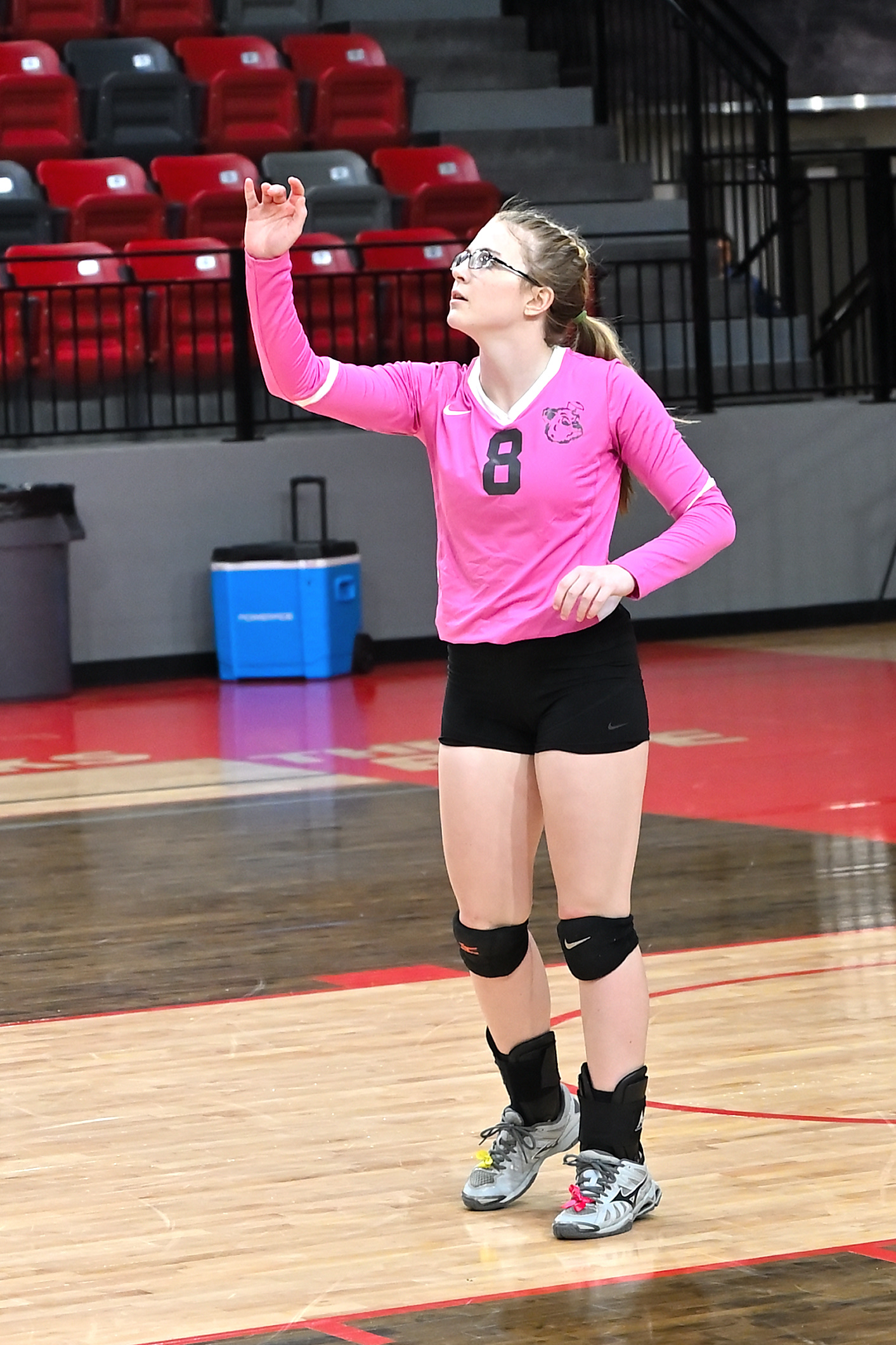 As soon as her Lady Cubs settled into their dressing room at Pete Mathews Coliseum Monday night Welch broke out a set of pink jerseys she'd been saving for a special occasion. Playing in the finals of the Calhoun County Tournament certainly qualified.

The dressing room erupted in excitement.

The Lady Cubs traded (just for the night) their traditional orange for a more pastel pursuit and the pink ladies carried the excitement of their new colors to a 3-1 win over Jacksonville for their second county tournament title in a row.

"Usually we only get (special) jerseys when we go to state, so her pulling out these jerseys really fired us up," said junior outside hitter Jordan Beason, the tournament's outstanding offensive player. "We went crazy. She said if we won tonight we could keep them."

It was the first time the Lady Cubs (38-7) ever wore pink. It's also the first time they have won the county back-to-back. They're the first back-to-back winners since Jacksonville in 2013 and 2014.
 
"I just thought it was a special night so I wanted to bring them out," Welch said. "I wanted to support October (Breast Cancer Awareness Month) and we've never worn pink before so I thought it would be cool to let 'em wear them tonight. They didn't know anything about them and we surprised them with them right before they came out here, so that was kind of cool and they loved it."

The game scores were 25-23, 17-25, 25-22, 28-26. The Lady Cubs got the match clinching point in an intense fourth set on a dig by Sarah Pelham that fell in front of a backpeddling Kayla Broom in Jacksonville's back right corner. Pelham played a big hit from Jacksonville's Brenna Stone to her own front line. The ball came back to her and she sent it over right to end line.
 
"I was hoping it was in," Pelham said.
 
From his vantage point looking down the end line Jacksonville coach David Clark thought the ball was out. What it would have done was given the Lady Eagles (27-11) another serve to tie the set. Instead, it sent Alexandria to its fourth win over Jacksonville this season and sixth county tournament title all-time.
 
"When I saw the ball headed that way I started backing up to the line because I was going to tell her in or out and I didn't say anything," Clark said. "It was out. When I looked down the line that ball was out, but there's a lot of other points that went by the wayside. I thought the difference in the game was their serving versus our serve receive. When we struggled in serve receive we got down points and it took us out of what we wanted to do offensively.
 
"I thought for a good part of the night we handled it OK, we just didn't do it enough. Put ourselves in a hole a couple games and it's hard against a good team to dig your way out, but I was really proud of mine for doing that. We climbed back in games we could've shut it down and just been home an hour ago but they didn't. I'm proud of them showing some grit today and competing, and that's really what I want them to do right now. If you can learn to compete, you've got a chance."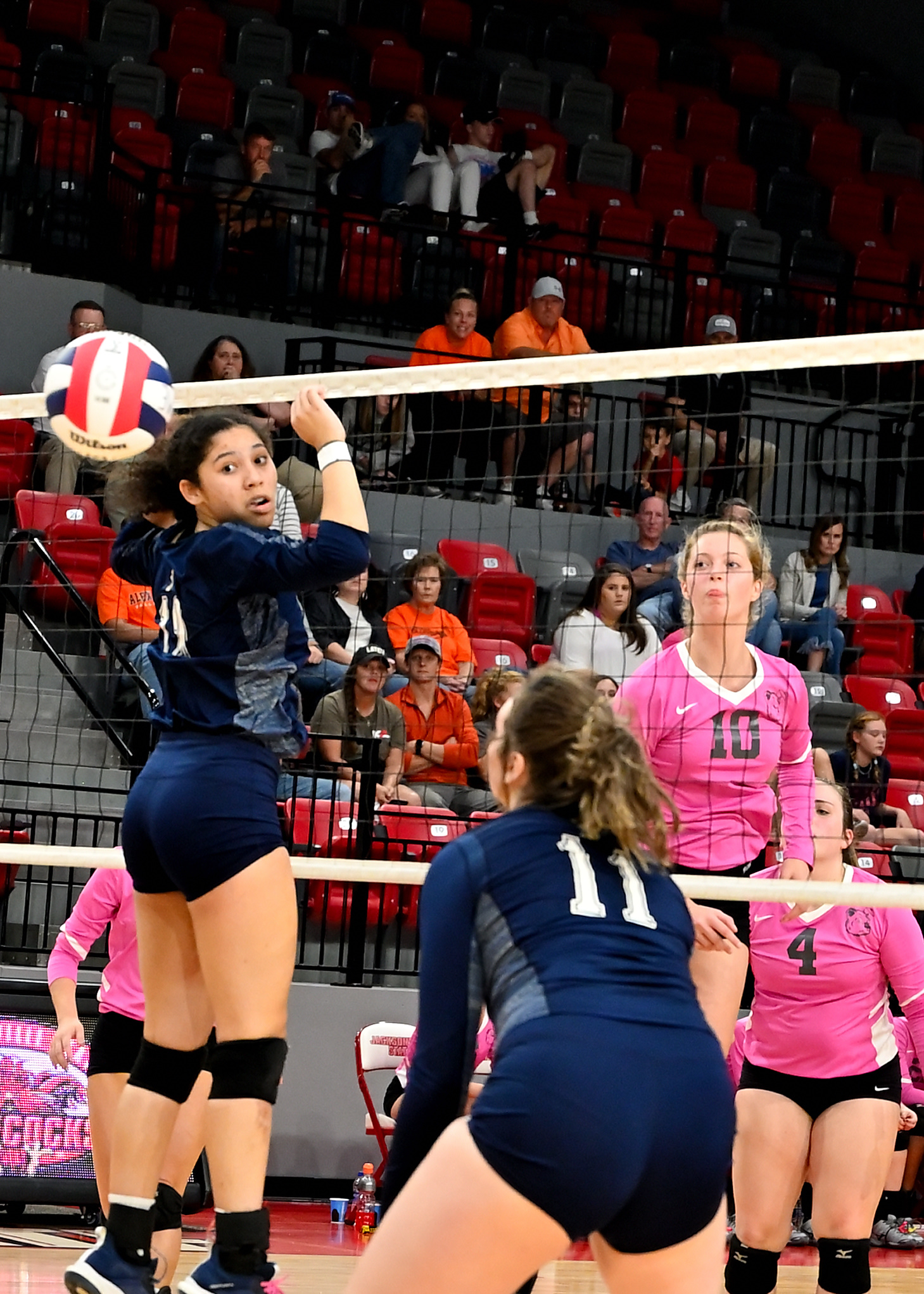 Only one set really got away from either team and that was the second when Alexandria seemingly lost its serve and Jacksonville used a 6-0 run to open the biggest lead anyone enjoyed all night.

Jacksonville rallied from a 23-19 deficit to tie the first set at 23. Alexandria took the lead when the Lady Eagles served long and clinched the set when Jordan Beason and Lexi Weber blocked Brenna Stone in the left front corner of the net.

The Lady Cubs used an early 9-1 run behind Beason and Kandyn Blankenship to take control of the third set. They led the fourth set 7-1, but Jacksonville fought back to take a 23-22 lead. The Lady Eagles also led 24-23, 25-24 and 26-25, but each time Alexandria staved off set point.

"I did not think we serve-receive passed greatly tonight, but the thing about our team is we just keep grinding; we just keep grinding these matches out," Welch said. "They've been in a lot of tight matches and we've pulled a whole bunch of them out and it's because they really like to work hard. I feel like they're resilient and I feel like they love each other, and I think that's important."

Alexandria's Madison Wallace was the tournament MVP. She had 12 kills in the title match and 25 in the tournament. Beason had 14 kills and 13 digs in the final, 41 kills and 28 digs in the tournament.

"I thought they both played great, but I think Madison Wallace had a great Saturday, too," Welch said. "I think Jordan's definitely the best offensive player and I thought Madison really stepped up as a senior in this tournament and had a great tournament and a really great night."

"I don't really have anything to say about me personally, but I believe everything we attain from practice helps us when we go out on the court and we just have to focus on playing the best that you can," Wallace said. "It's not all about me. I think it's everybody working together."

Broom was the outstanding defensive player. She had 29 kills, 20 digs and 10 blocks in the final.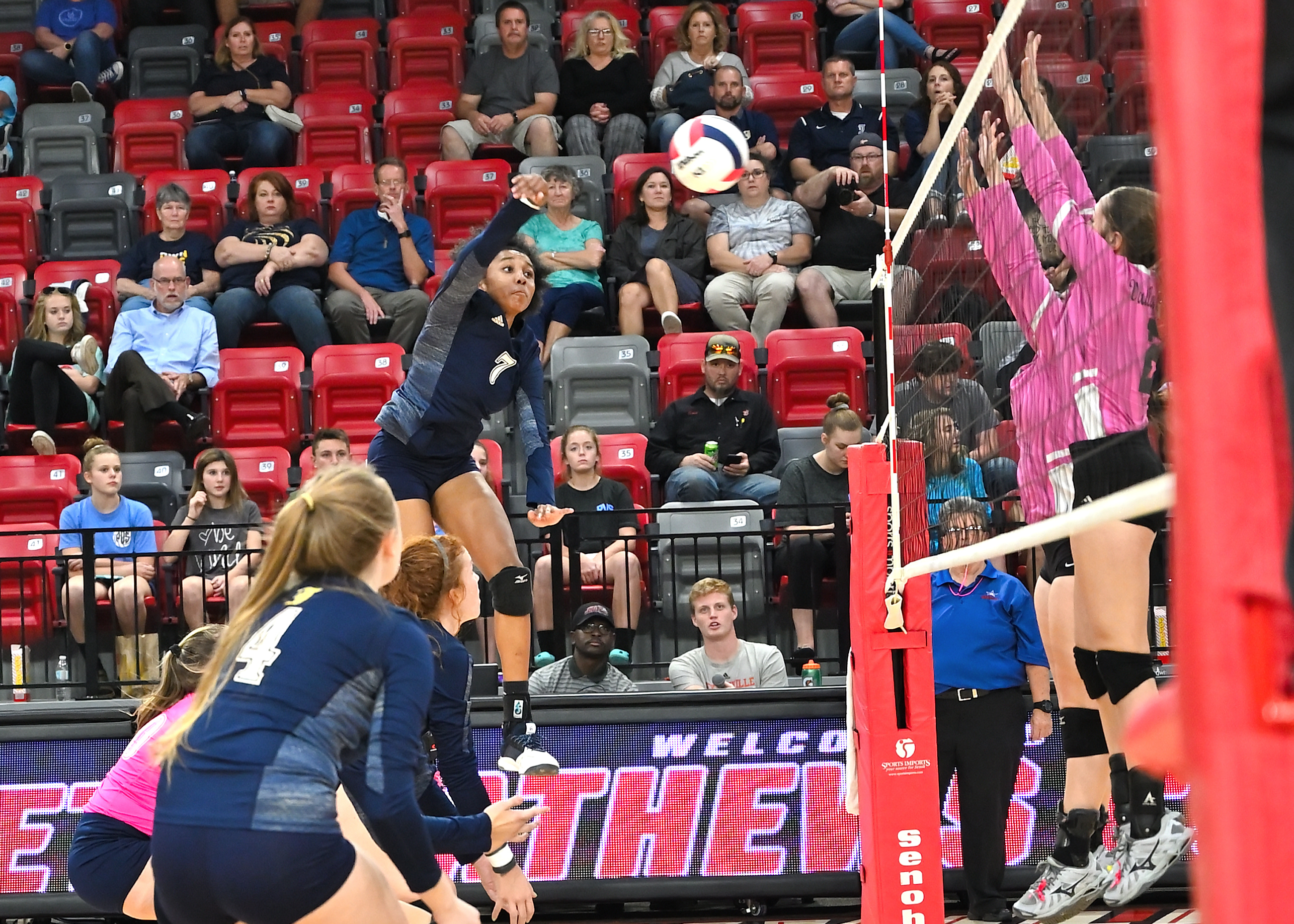 CALHOUN COUNTY TOURNAMENT
Championship Match
Alexandria 3, Jacksonville 1
(25-23, 17-25, 25-22, 28-26)
KILLS – Alexandria: Jordan Beason 14, Madison Wallace 12, Lexi Weber 7, Anna Johnson 4, Kandyn Blankenship 10, Kaylee Smith 3. Jacksonville: Molly Wilson 2, Kayla Broom 29, Brenna Stone 22, Aly Harris 2, Shelby Salmon 1, Allie Thompson 1, Bailee Pritchett 1.
ASSISTS – Alexandria: Lexi Weber 1, Sarah Pelham 1, Anna Johnson 39, Kandyn Blankenship 1. Jacksonville: Molly Wilson 36, Kayla Broom 1, Brenna Stone 2, Aly Harris 5.
ACES – Alexandria: Jordan Beason 1, Kylie Jordan 1, Lexi Weber 1, Sarah Pelham 3, Ashley Parker 3. Jacksonville: Bailee Pritchett 1, Lexi Callahan 2, Kayley Sparks 1.
DIGS – Alexandria: Jordan Beason 13, Kylie Jordan 1, Madison Wallace 1, Lexi Weber 2, Sarah Pelham 9, Ashley Parker 7, Anna Johnson 9, Kandyn Blankenship 6, Kaylee Smith 1. Jacksonville: Molly Wilson 1, Kayla Broom 20, Brenna Stone 14, Aly Harris 4, Shelby Salmon 4, Allie Thompson 2, Caitlin Clark 14, Bailee Pritchett 8, Lexi Callahan 16, Kayley Sparks 1, Anna Leigh Terry 1.
BLOCKS – Alexandria: Madison Wallace 1, Lexi Weber 2, Kandyn Blankenship 2. Jacksonville: Kayla Broom 10, Brenna Stone 5, Aly Harris 1.
RECORDS – Alexandria 38-7, Jacksonville 27-11.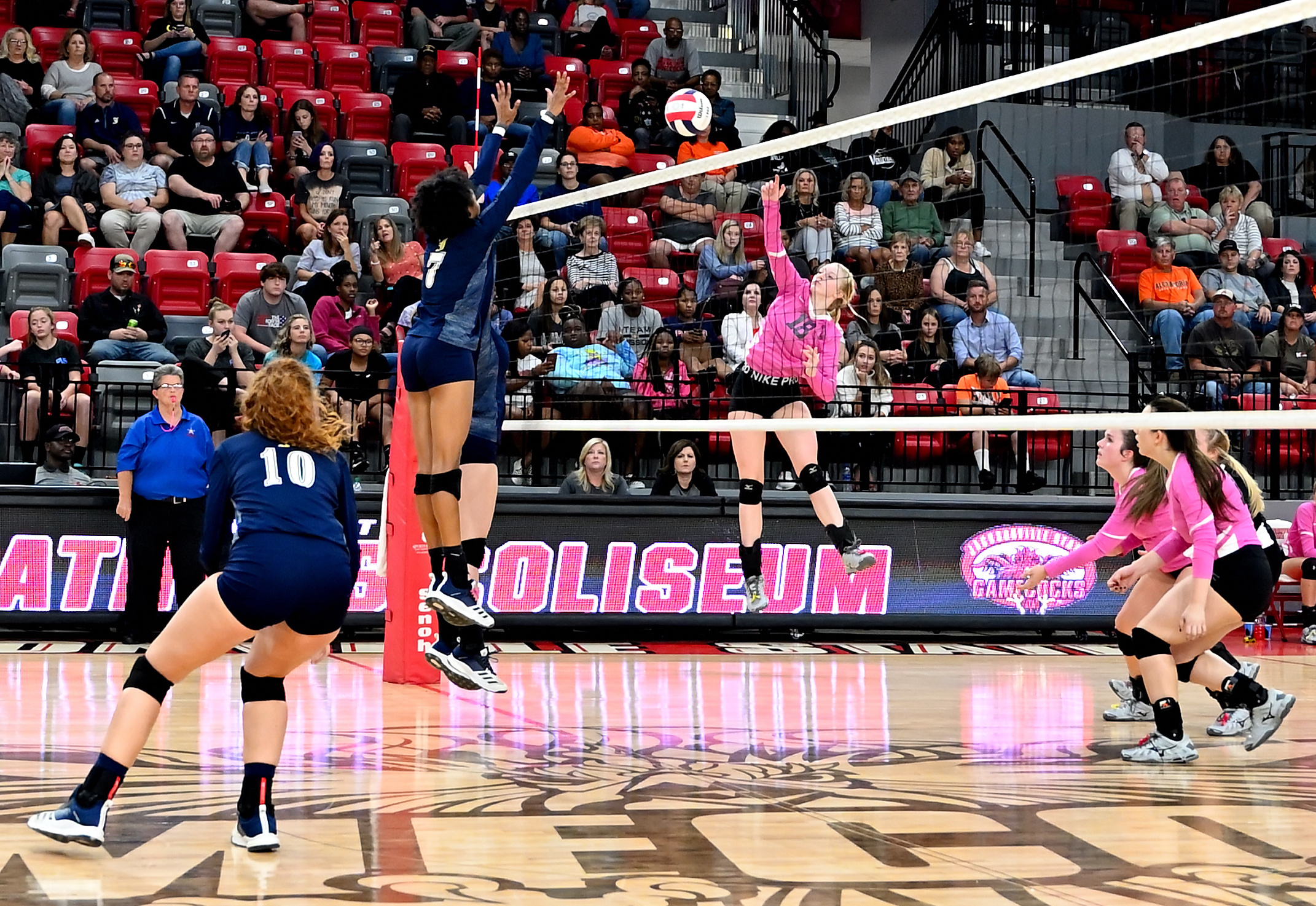 ALL-TOURNAMENT TEAM
Alexandria – Sarah Pelham, Anna Johnson, Kandyn Blankenship, Jordan Beason, Madison Wallace.
Jacksonville – Lexi Callahan, Molly Wilson, Brenna Stone, Kayla Broom.
Donoho – Maggie Miller, Lily Grace Draper.
Oxford – Shania Vincent, Brittany Davis.
White Plains – Gracie Morgan.
Weaver – McKenna Flynn.
Ohatchee – Jorda Crook.
Faith Christian – Sarah Jessica Christjohn.
Outstanding offensive player – Jordan Beason, Alexandria
Outstanding defensive player – Kayla Broom, Jacksonville
Most valuable player – Madison Wallace, Alexandria

To see a gallery of photos from the match click on this link: www.bjfranklin.smugmug.com