Fate in their hands
Munford shuts down Moody for third straight win, keeping alive its playoff hopes in Easley's first season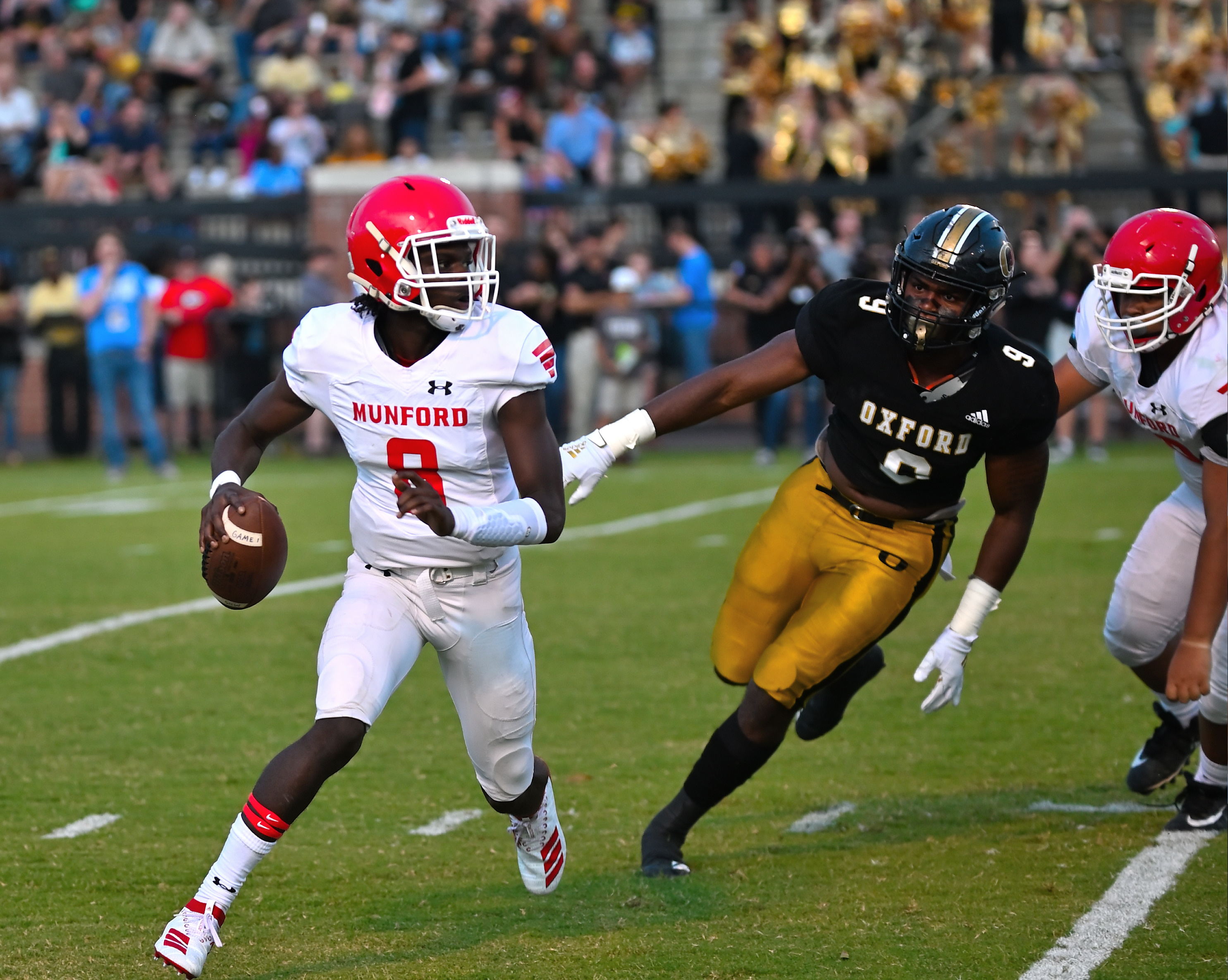 By Al Muskewitz
East Alabama Sports Today
 
MUNFORD – The best any team can hope for this late in the season is to be in a position to handle its own destiny and not leave whatever goals are still out there in front of them to the fortunes of an outside influence.
 
The Munford Lions are lucky in that way. They still have their postseason fate in their own hands after Friday's 20-7 victory over Moody.
 
The Lions' third straight win has them over .500 for the first time in first-time head coach Michael Easley's tenure (4-3) and one game out of their region's final playoff spot, currently occupied by the three-way logjam for second place in Class 4A Region 5. The Lions still have two of those three teams left to play, which leaves their fate clearly in their own hands.
 
"We control our own destiny," Easley said. "We've gotta win, it'll probably take two more wins, but we control our own destiny. You always want to be in a position where you don't have to depend on anybody else.
 
"That's what I told the kids. Let's get the job done ourselves; don't depend on anybody else to do it. We want to get the job done and control what we can control. If we do that we have a shot to get in the playoffs."
 
The Lions already have lost to one of three teams standing in their way, but they still have to play Mortimer Jordan and Sylacauga, teams with a current combined record of 11-3.
 
During their current three-game winning streak, which is as many games as they won all last season, they beat two region opponents and a longtime rival. They stayed on a playoff track Friday with a strong second half on both sides of the ball after trailing 7-6 at the break.
 
T.J. Johnson capped a game-opening 76-yard drive with a 4-yard touchdown run. Moody took the lead early in the second quarter after recovering a Munford fumble just outside the red zone.
 
The Lions regained the lead for good after Moody fumbled away the opening possession of the second half. Jaisiam Tuck hit L.J. Flint with a 37-yard touchdown pass and Justin Sistrunk added the two-point conversion and the Lions were on top 14-7. It stayed that way until the final four minutes of the game when Johnson scored on a 4-yard run.
 
It was a gutsy performance for Tuck. There were some doubts whether the injured quarterback would play in the second half. Even the trainers left the decision up to him. But there he was in the middle of the conversation prior to the Lions' first possession of the half acting like he was good to go.
 
"I just don't know if he can play and he comes walking into the huddle like, 'Coach, I'm good,'" Easley said. "He's such a gutsy kid. He wants to play."
 
And the Lions want to play in the playoffs. They missed last year in coach Bill Smith's final season after going six years in a row and making the state semifinals twice. Easley knows what it takes to be a playoff team; he went every year as a member of Jonathan Miller's staff at Saks before taking the Munford job this summer.
 
"I don't care if it's my first year or my tenth year, we want to be a playoff program and it's something not only we expect to go we want people to expect us to go," he said. "I know smaller schools go through cycles … but we want to be in the playoffs every year."
 
If they take care of things on their end that shouldn't be a problem.
 
MUNFORD LIONS (4-3)
Wins: Talladega (28-15), Springville (45-13), Lincoln (24-10), Moody (20-7).
Losses: Oxford (48-6), Clay Central (34-12), Center Point (32-12).
Remaining: at Mortimer Jordan (Oct. 11), St. Clair County (Oct. 18), at Sylacauga (Oct. 25).