Donoho gets payback
Lady Falcons beat Faith Christian to set up area showdown with Sacred Heart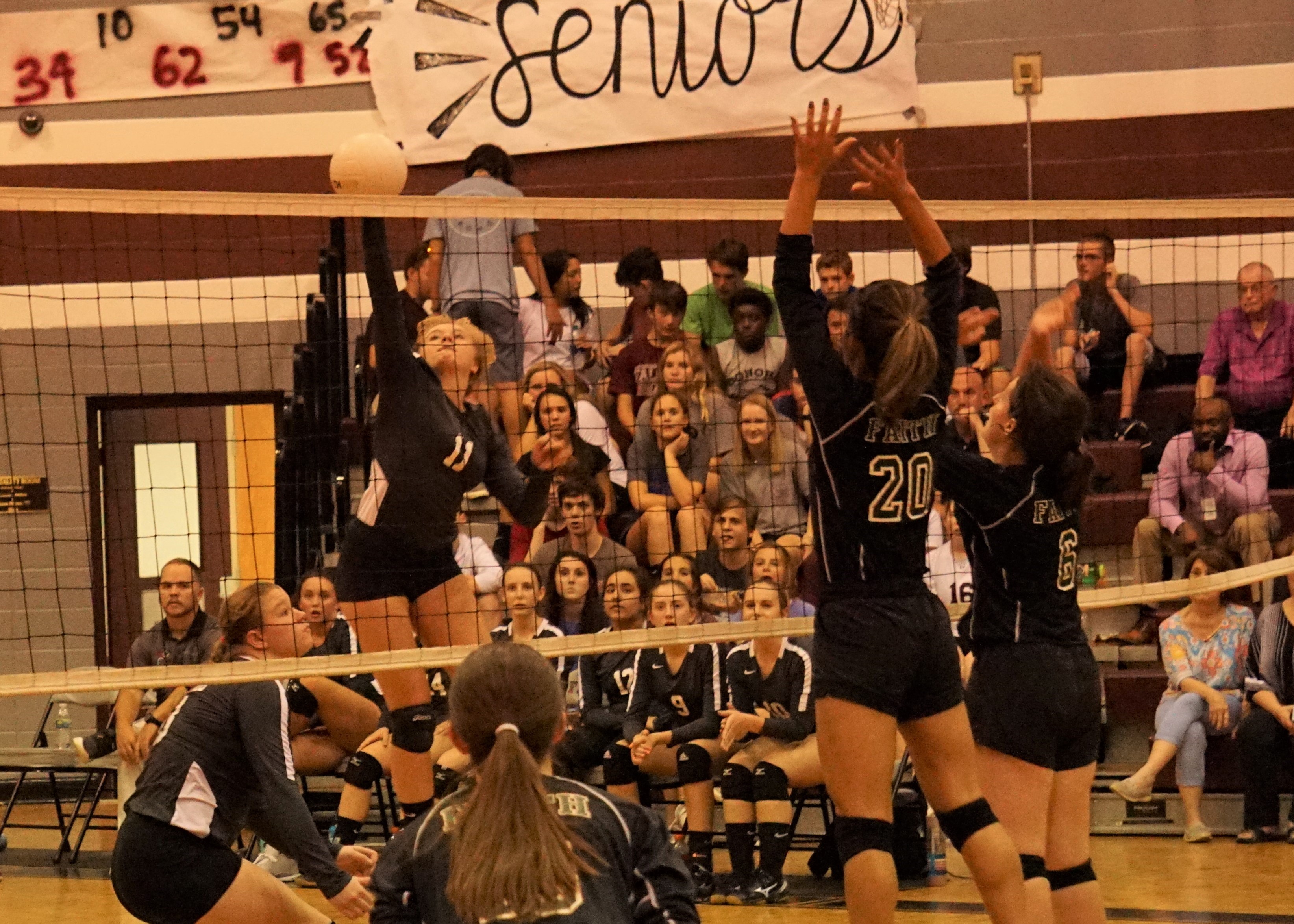 Thursday's matches
Donoho 3, Faith Christian 0 (25-17, 25-15, 25-20)
Ohatchee 3, Westbrook Christian 1 (26-24, 23-25, 25-16, 25-20) 
Sacred Heart 2, Wellborn 0 (25-14, 25-22)
Wellborn 2, Coosa Christian 0 (25-10, 25-14)
Weaver 3, Glencoe 1 (25-22, 21-25, 25-21, 25-13) 
Weaver 2, Oneonta 1
Jacksonville 3, White Plains 0 (25-11, 25-18, 25-15)
Southside 3, Alexandria 0 (25-19, 25-19, 26-24)
Alexandria 2, Boaz 0 (25-13, 25-18)
 
By Al Muskewitz
East Alabama Sports Today
 
Maggie Wakefield derived a lot of satisfaction from her overhead smash that clinched Donoho's 3-0 volleyball victory over Faith Christian Thursday night.
 
The shot closed out the match 25-17, 25-15, 25-20, sending the Lady Falcons into a showdown at Sacred Heart Monday night for the regular-season area championship and hosting rights for the Class 1A Area 10 tournament. It also gave them another win over a rival that beat them handily four times in straight sets last year.
 
"It was really special to us because Faith last year was really good and they beat us really bad last year," said Wakefield, a sophomore middle blocker. "Beating them this year, to our team, was really comforting to know how far we've come.

"It was nice to finally beat the team that you disliked so much. That is definitely a confidence booster to us because now we have a feeling we could go further than we did last year."
 
The Lady Falcons (32-9) were a little tight early, hitting three balls out of bounds in falling behind 3-0, but they rallied to tie it at 5 and then took control of the set with a 9-1 run. They jumped out front in the second set 6-1, 8-3 and 15-5. They went up 8-1 in the third set with Maggie Miller serving and closed it out with three strong points.
 
Mary Marshall Perry had a big-ball kill to make 23-18. Ayesha Siddiqua sacrificed her body to dig a Sydnee Johnson blast and the Lady Falcons converted it to lead 24-20 and Wakefield followed with her kill at the net to clinch it.
 
Wakefield had nine kills in the match. Mercy Mangum had eight kills and five digs. Mya Keel had six digs. Miller had 24 assists and four aces.
 
"Everybody was playing smart ball," Donoho coach Jamie Clendenin said.
 
"I think we came in wanting to win and we played our best," said Miller, a junior setter. "This was one of the best game we've played where we've stayed up almost the whole time."
 
Johnson was Faith's strongest player. She had eight kills and six blocks. Devan White had 15 digs, Jordan Campbell had 14 digs and Lily Becke had six assists. It was the third time this season Faith has fallen to Donoho – all in straight sets – but as a counter in the area race this was by far the most important of the three.
 
"We didn't trust our game plan, we didn't cover what we normally cover," Faith coach Justin Kisor said. "When we played them in the White Plains tournament we were covering anything. A lot of times it comes down to belief. If you don't believe you can play with somebody, that's what happens. I've got to do a better job of getting us to believe."
 
Donoho, Faith and Sacred Heart are all heading to the Decatur Heritage tournament this weekend, where Donoho will play the Nos. 1 and 2 teams in the state in a Group of Death that includes Athens Bible, Lindsay Lane, Hatton and Winston County.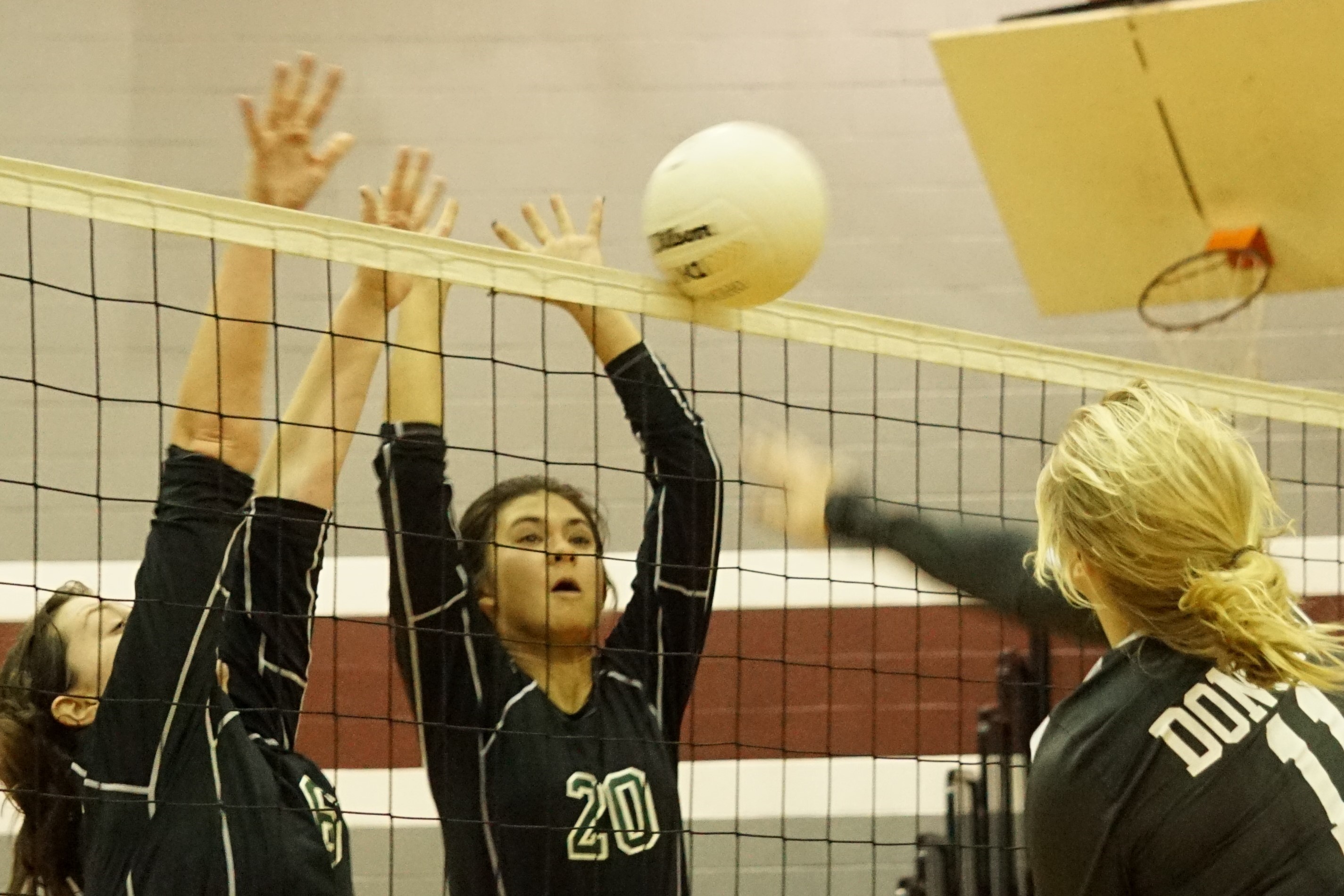 Jacksonville 3, White Plains 0
Jacksonville statistics
KILLS: Molly Wilson 4, Kayla Broom 21, Brenna Stone 13, Aly Harris 4, Allie Thompson 1.
ASSISTS: Molly Wilson 29, Kayla Broom 1, Bailee Pritchett 1.
ACES: Molly Wilson 1, Kayla Broom 1, Caitlin Clark 1, Bailee Pritchett 3.
DIGS: Molly Wilson 3, Kayla Broom 8, Brenna Stone 7, Aly Harris 1, Caitlin Clark 11, Bailee Pritchett 5, Lexi Callahan 9, Kayley Sparks 4, Anna Terry 1.
BLOCKS: Molly Wilson 4, Kayla Broom 4, Brenna Stone 2.