Many happy returns
Piedmont's Foster, Estes return kickoffs for touchdowns, the difference in a 35-14 win over Jacksonville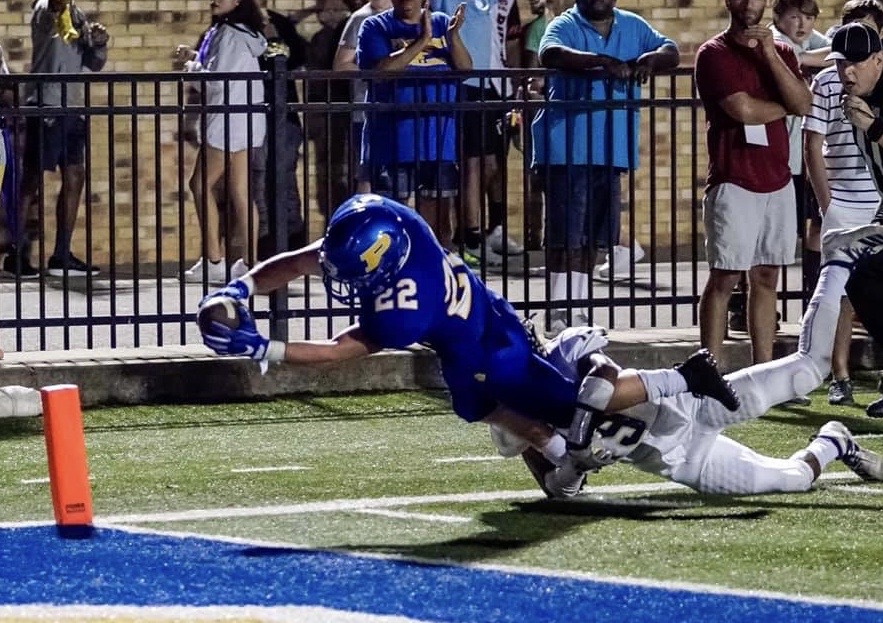 By Al Muskewitz
East Alabama Sports Today

PIEDMONT – Jakari Foster has never hit a leadoff homer in high school, but he can't imagine it being any more thrilling than returning the opening kickoff for a touchdown.

Foster has returned kickoffs for touchdowns before – as recently as last week – but he never returned the opening kickoff for a score until Friday night and it set the tone for second-ranked 3A Piedmont's 35-14 non-region win over Jacksonville.

Foster brought back the opening kickoff 80 yards down the "4-side" of fourth-ranked 4A Jacksonville's 6-4 kick return defense to give the Bulldogs a lead they never relinquished.

It was one of two kick returns the Bulldogs (5-0) returned for scores in the first half. Speedy Austin Estes answered Jacksonville's first touchdown with an 82-yard return up the same "4-side" to give them a 21-7 lead.

The game was called with 9:47 left in the fourth quarter because of heavy lightning in the area – right after Ethan Swinford scored his second touchdown on a 13-yard run to make it 35-14. It was the first time Piedmont coach Steve Smith can ever remember in his head coaching career having a game called before its conclusion due to weather.

Both coaches called the kickoff returns "huge" plays.

"You've got two really evenly matched teams, two very good teams," Piedmont's Smith said. "Coaches always like to talk about those X factors, those difference makers, special teams being one. As we scouted Jacksonville's first five games they had scored on special teams all five games. They do a wonderful job on those. We pride ourselves on trying to a really good job on special teams so we were able to get those two kickoff returns that were really big. I think it would be an understatement to say they were big turning points in the game."

"It's probably a tied game if we didn't have those two things," Jacksonville's Clint Smith said. "It was 28-14 (at halftime), you take away those 14 points and we're tied. It was a huge momentum swing right from the get-go. They did a really good job coming out and getting that momentum.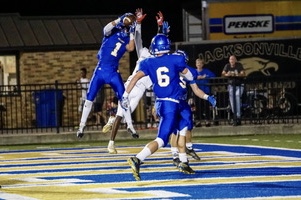 "We've been solid on kickoff all year long and give up two just like that. We played well and did some things well … but we did some things tonight that were just real uncharacteristic. You play a good team like Piedmont things like that show up sometimes. I don't think we played that bad in spurts, we just made too many mistakes when you play a team like Piedmont."

Foster took the low line drive opening kickoff on the right hash. Knowing the plan was to attack Jacksonville's short defensive side, he ran all the way back across the field and cut up the left sideline, streaking past his Piedmont bench on his way to end zone.

"It just feels great," he said. "I like to do interesting things in football."

Swinford gave Piedmont a 14-0 lead with a 22-yard run with 9:51 left in the second quarter. The Golden Eagles answered with a 55-yard touchdown burst by Ron Wiggins, but the Bulldogs swiped whatever momentum that run may gave created when Estes took the ensuing kickoff on the left hash and streaked past the Jacksonville bench on his way to the end zone.

"it was super awesome, especially since they just scored," said Estes, who's been timed at 4.54 in the 40 before. "Coming right after they scored it really put them down. Me scoring that touchdown brought our team up. It was a really good opportunity for our team."

The Golden Eagles (4-2) made it 28-14 at the break when Yessman Green pulled down Luke Jackson's 27-yard heave into the absolute far left corner of the end zone on the final play of the half.

"I didn't even look down, I just felt the end zone," Green said.

They got the ball to start the third quarter, but Piedmont didn't allow them to get anything going. Swinford scored early in the fourth quarter to put Piedmont ahead 35-14. It turned out to be the final play of the game as a few moments later the officials sent the teams to their respective dressing rooms.

This story will be updated.

Piedmont 35, Jacksonville 14
| | | |
| --- | --- | --- |
| Jax (14) | | Pied (35) |
| 12 | 1st Downs | 15 |
| 20-174 | Rush-yds | 28-130 |
| 10-18-3 | C-A-I | 7-10-0 |
| 101 | Pass yds | 91 |
| 1-0 | Fumb-Lost | 0-0 |
| 3-29.7 | Punts-avg | 3-31.3 |
| 5-53 | Pens-yds | 2-10 |
Jacksonville 0 14 0 0 – 14
Piedmont 7 21 0 7 – 35
Scoring plays
P – Jakari Foster 80 kickoff return (Bryce Mohon kick), 11:45 1Q
P – Ethan Swinford 22 run (Bryce Mohon kick), 9:51 2Q
J – Ron Wiggins 55 run (Mason Terrell kick), 8:28 2Q
P – Austin Estes 82 kickoff return (Bryce Mohon kick), 8:14 2Q
P – Silas Thompson 9 pass from Jack Hayes (Bryce Mohon kick), 53.6 2Q
J – Yessman Green 27 pass from Luke Jackson (Mason Terrell kick), 0:00 2Q
P – Ethan Swinford 13 run (Bryce Mohon kick), 9:47 4Q
(Game called with 9:47 left in fourth quarter, lightning)