Big send off
County commissioners recognize the county athletes headed to North-South all-star games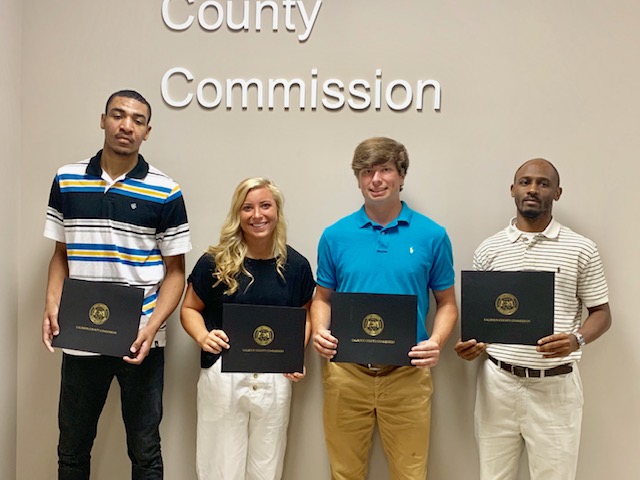 By East Alabama Sports Today
 
Calhoun County is sending 13 athletes to the various North-South high school all-star games in Montgomery later this summer and Thursday morning the Calhoun County Commission gave them a big send off.
 
The commissioners recognized the group as one of the first orders of business during their June meeting.
 
Oxford, the largest school in the county, and mid-sized White Plains have the largest contingent of athletes at the games – four each. Faith Christian has two, while Weaver, Ohatchee and Jacksonville have one each.
 
White Plains is represented by golfers Hanna Dyar and Andrew Miller, Luke Larson (cross country) and Emma Jones (softball).
 
White Plains principal and athletics director Andy Ward called sending four athletes from a school that has 417 students "a real big deal." He couldn't recall the Wildcats sending any in his previous eight years as principal.
 
"I don't know if it was much of a shock as it was a pride thing," Ward said. "You look at that list and the first thing that kind of overcomes you is the pride of having four students selected for the all-star games.
 
"It's just a testament to how hard they work and also the coaches who work with those students on a day-to-day basis. That tells me we've got kids at our school who just work hard and they want to excel at what they do. You just can't say enough about the students we have at our school all the way around, but those four right there, they're not only great athletes, but the most important thing to me is they're great students."
 
Wildcats cross country coach John Moore was excited Larson was selected for the boys race.
 
"Luke was chosen based upon his speed," Moore said. "Of all the nominations, he was one of the top 10 fastest juniors in the North. That is a pretty big honor. He is a hard worker who pushes himself and his teammates. With this being his senior year he has set his sights on leading his team to a possible state championship and is looking to compete in cross country in college.
 
"I'm really proud of him and excited for him to have this opportunity. I'm excited for all four of these White Plains athletes. Every one of them embody the same spirit of hard work and determination. All four put in countless hours to improve their abilities and this all-star selection is affirmation that their hard work pays off."
 
Oxford is sending Wesley Sparks (baseball), UAB signee Tyetus Smith-Lindsey (football), recent South Alabama commit Zondrick Garrett (basketball) and reigning Class 6A Hitter of the Year Sarah Howell (softball).
 
"I think it just exemplifies our total athletic program," Oxford athletics director Larry Davidson said. "We've got football, basketball, baseball, softball represented and I think it's an indication of how hard our kids work and the preparation our coaches give to them. Good kids, good coaches, good school, that makes for recognition in things like this.
 
"I'd like to thank the County Commission for doing something like this. We've been here before with state recognition and state champions, the Commission has always been a supporter of athletics. We've had different County Commissioners in and out and they've all done a great job with this, so we appreciate what they've done."
 
The other all-star athletes from the county include Jacksonville football coach Clint Smith, Weaver's Caleb Allison (football), Faith Christian's Sydnee Johnson and coach Justin Kisor (volleyball) and Ohatchee's Jayda Fair (cross country). Sacred Heart's Jayden Stone was selected for the basketball game but he has since transferred to a private school in Kansas.