6 Enter Hall
Brannen, Bryan, Carpenter, Gunnels, Maniscalco, Tolleson enshrined Saturday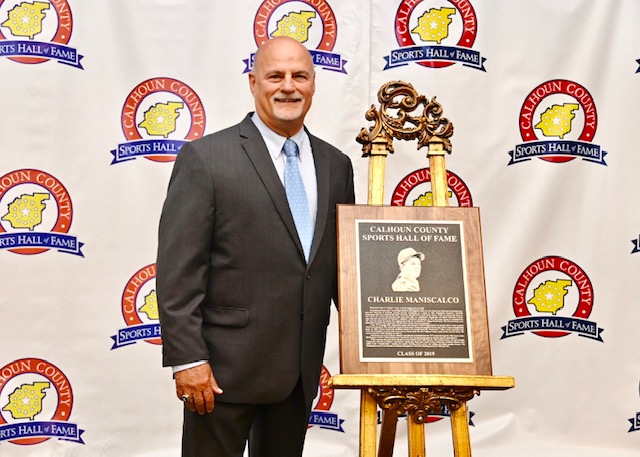 From news release

The Calhoun County Sports Hall of Fame enshrined six new members Saturday night at the Oxford Civic Center.

They are: Jerre Brannen, Danny Bryan, Selina Carpenter, Jerry Gunnels, Charlie Maniscalco and Mike Tolleson.

The honorees at the 15th annual induction banquet represent five separate county high schools. They will formally join the current 88 members of the Hall.

"The Class of 2019 reflects well on Calhoun County in both the number of different sports and the variety of communities represented," said Jon Holder, vice president of the Hall's board of directors. "This group of inductees again demonstrates the depth, quality, and rich tradition of Calhoun County athletics down through the years."

Brannen was outstanding in football, basketball, baseball and track at Anniston, playing three years in each sport, before graduating in 1956.

He was first-team all-county as an end in 1955. As a senior, Brannen was chosen to the 10-member all-tournament team of the Calhoun County basketball tournament after scoring 30 in the championship game. An outfielder in baseball, he was chosen to play in the annual East-West game. After high school, Brannen lettered in football at Alabama in 1957 under coach J.B. Whitworth and in 1958 for Paul Bryant. He played end on both offense and defense and punted for Bryant's first Alabama team which finished 5-4-1.

Bryan made his mark in basketball at Piedmont where he played on the varsity for four seasons before graduating in 1967.

As a junior, Bryan led Piedmont to the Calhoun County tournament championship and was named tournament MVP. He was all-county tournament again as a senior. He was an all-state basketball selection as a junior and again as a senior. Bryan received a basketball scholarship to Jacksonville State University and played for coach Tom Roberson for four years. As a junior, he led the Gamecocks in scoring with 509 points in 27 games.

Carpenter graduated from Pleasant Valley High School in 1987 and Jacksonville State University in 1992.

At Pleasant Valley, Carpenter was a five-year letterman and five-year starter in each of three sports – volleyball, basketball and softball. In volleyball, she played on one state championship team, one state runner-up and one third place finisher. The Raiders were Calhoun County champions once and runners-up twice. In basketball, she was all-county four seasons and played on one Calhoun County tournament champion. Carpenter played on one state championship team and three Calhoun County tournament winners in softball. Carpenter was a four-year letterman and four-year starter in volleyball at JSU. She was All-Gulf South Conference three times and team captain for two seasons.

Gunnels was an integral part of two of Ed Deupree's finest Wellborn football teams. He was a unanimous all-county selection at end as a junior in 1966 when the Panthers were 9-0-0 in the regular season then played to a tie with Oxford in the Calhoun County championship game. Wellborn was 8-1-0 in the regular the following year and Gunnels was again a unanimous all-county pick as an end.

Maniscalco graduated from John Carroll High School in Birmingham in 1969 and Jacksonville State University in 1973. At JSU, he was a three-year starter in baseball for Rudy Abbott and team captain in 1973 when the Gamecocks reached the NCAA championship series. From 1973 through 1985, Maniscalco taught and coached at Oxford High School. He became head baseball coach in 1978 and reached the state championship game that season. His Yellow Jacket baseball teams were area champions in each of his seven years as head coach and he was Calhoun County coach of the year five times. He also served as offensive coordinator in football 1978-84 under Bill Burgess. When Burgess became head football coach at Jacksonville State in 1985, Maniscalco joined him as offensive coordinator. The Gamecocks were NCAA Division II champions in 1992 after finishing second in 1989 and 1991.

He threw out the ceremonial first pitch prior to Oxford High School's first game on the Signature baseball field at Choccolocco Park in March 2016 (cover photo).

Tolleson was a fullback and linebacker at Anniston before graduating in 1966. He was a two-year all-county and two-year all-state selection. Tolleson lettered as a running back for two years at Tampa University then transferred to Delta State and lettered two years at linebacker. He remained at Delta State as a student assistant for one season, then went on to Lineville for a year before going to Livingston as a graduate assistant, which led to a long career as a college coach. His stops included Arkansas, Stanford, Texas-El Paso and LSU. The final 13 years of his coaching career came at the University of Texas where he worked with defensive tackles and coached special teams. In 2005 the Longhorns won the national championship. In 2009, Tolleson was named national special teams coordinator of the year.