On the right track
The focus of a good relationship elevates Bell's game; Anniston senior signs track scholarship with Cambellsville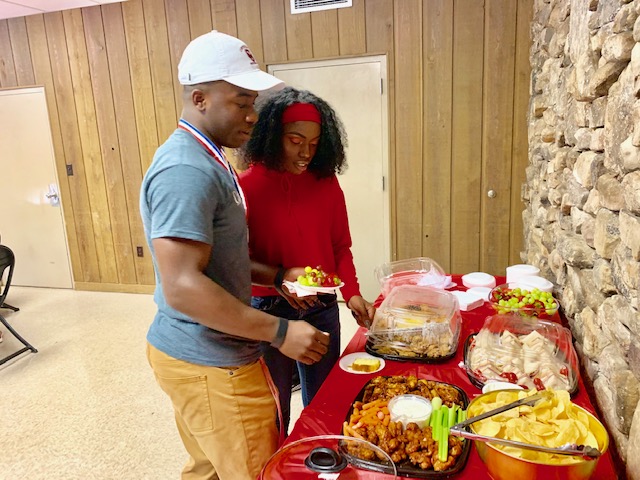 By Al Muskewitz
East Alabama Sports Today
 
It was one day in early March when Anniston senior sprinter Darionta Bell revealed a piece of news high school coaches don't want to hear from one of their top athletes.
 
"Coach, I've got a girlfriend."
 
Bell had been seeing Oxford senior sprinter Jhanya Quinones for a couple months already, but instead of it being a distraction as many coaches fear, the relationship turned out to be the best thing that could've happened to Bell's career.
 
Quinones was already deep into her indoor track season and became Bell's conscience when it came to healthy eating. Over the next few months, Bell's focus went up, his times in the 100, 200 and 400 came down dramatically and it all culminated Thursday with him signing a full track scholarship with Campbellsville (Ky.) University.
 
The two had been dating since New Year's Day, but they actually met at a Fellowship of Christian Athletes dinner in November.
 
"We're both track athletes so we have one mind, one focus," Bell said. "She really just helped push me. You always need that female aspect in a relationship to do those subtle touches so I thank her for being there and doing that the entire track season. She was great … If we didn't meet that night at dinner my life change is totally different, so I thank God for that night, definitely."
 
It wasn't like Bell loaded up on junk food before they met, but he was known to snag a couple donuts every now and then. Quinones just made him more aware of the choices an athlete needed to make. His healthy snacks now are Pedialyte for hydration, granola bars, almonds and fruit smoothies.
 
"I keep a pretty decent diet now," he said.
 
Convincing him that was the way to go, Quinones said, "wasn't instant, but it wasn't gradual either." But after seeing the results it produced he was committed. This spring he won the 400 at the Calhoun County Meet. At state, he was fifth in 4A 200, sixth in the 400 and ran a leg on the runner-up 4×400 relay team.
 
"He still has a sweet tooth for everything," said Quinones, who considers herself a picky eater, "but I was like 'OK, you can eat that because you're going to burn it off, but not the day before meets, not the day of meets.'
 
"I was able to tell him things (Anniston coach Lisa Howard) was telling him, but because it was coming from someone who was the same age as him it's like I'm coming to you as a friend because I understand, we do the same thing. It was like a light bulb coming on."
 
Bell chose the Tigers over interest from Lindsey Wilson, Mobile, Columbus State and Birmingham Southern.
 
He also played football for Anniston for four years. Football may be an option for him at Campbellsville in the future, but for now he was to concentrate on track and academics.
 
And if the urge to grab a little junk food hits while he's at school, Quinones is only a few hours away. She has signed to run for Tiffin (Ohio) University in April.  
 
"It would have been a struggle if I'd have been in Mobile, now I'm only about four hours away, which is drivable," he said.