All hands on deck
Donoho splits with Athens Bible, Piedmont splits at Lauderdale County, both teams play Game 3 Saturday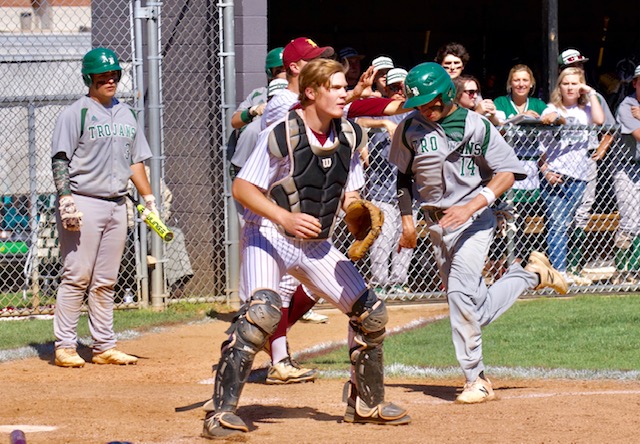 By Al Muskewitz
East Alabama Sports Today

Donoho pitcher Hall Billings says the best part of playoff baseball is the dogpile at the end.

That exuberant exclamation of unmitigated joy that signals your team is moving on to the next round.

To see a gallery of pictures from the game click the following link: www.bjfranklin.smugmug.com

Billings has experienced the dogpile twice in his Falcons' career and it's been the best feeling a player can experience on green grass. Even when he's on the bottom of that mass of humanity.

The next Donoho dogpile will have to wait a day. The Falcons split their second-round Class 1A playoff doubleheader with Athens Bible Friday, winning the opener 2-0 and dropping the nightcap 5-2, forcing a winner-take-all Game 3 at McWhorter-Brock Field Saturday at 2 p.m.

The winner already knows they'll be playing Mars Hill Bible in the next round, but they've got to get there first.

"We've got a lot to look forward to tomorrow," said Billings, the Falcons' Game 2 starter. "I think it'll be my first Game 3 since I've been here. This is what you dream about.

"This is what every kid in the world should dream about whenever they're young. We have a chance to come out here and do something that's never been done, advancing to the third round, and it's going to be all-hands-on-deck. Everybody's got to do it, everybody's got to chip in and do their part."

"I think it's going to be fun," Donoho coach Steve Gendron said. "It increases the pressure on both teams."

The Falcons won the opener behind a pitching performance by Seth Ford that was even better than his opening-round win over Marion County last week and a two-run double by Payne Golden in the third inning.

They led the nightcap twice before the visitors took advantage of some loose play in the fifth to bat around and score four earned runs. The tying run scored on a dropped ball in the outfield, the Trojans loaded the bases when a charging infield left no one covering second on a bunt, and two runs scored on a two-out bloop single into short centerfield. The Falcons have given up only one earned run in four playoff games.

The teams buzzed through the opener in 67 minutes. Ford threw 76 pitches, gave up five hits, walked none and struck out six. He hasn't given up an earned run in two playoff starts.

"I felt like I could command all my pitches and they never knew what pitch I was going to throw," Ford said. "I feel like I kept them on their toes the whole time and got a lot of weak ground balls because of that. A lot of credit goes to (catcher) Reid Willamon. The pitches he called were phenomenal. I felt comfortable that he was going to call the right thing in the right situation. That's something that gets overlooked I feel like behind the plate as a catcher."

The Trojans put four runners in scoring position against Ford, including second and third with two out in the sixth, but he stranded all of them.

"I thought he pitched fantastic," Gendron said. "Last week was the best up to this point and this week definitely tops that."

Gendron wasn't certain of his Game 3 starter immediately after the game, but he has plenty of options.

He said typically in Game 3 it's the team that hits the best that wins because most of the time teams are deep into their rotation. If that's the case, the Falcons need to get on the stick. They scored only four runs in the two games Friday, had 11 hits and struck out 22 times (13 in the nightcap).

"I told them they need short-term memory," Gendron said. "Come to the yard ready to go."

Game 1
Athens Bible 000 000 0 – 0 5 0
Donoho 002 000 x – 2 5 0
WP: Seth Ford. LP: Gage Johns. 2B: Matthew Usery 2 (AB), Payne Golden (D).
Game 2
Donoho 100 010 0 – 2 6 3
Athens Bible 001 040 x – 5 7 0
WP: Matthew Usery. LP: Hall Billings. 2B: Seth Ford (D), Clayton Hamm (AB), Matthew Usery (AB). 3B: Hall Billings (D)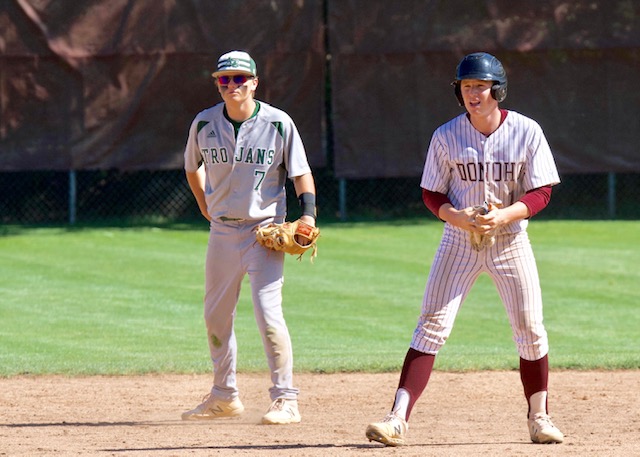 Piedmont: 'We're still alive'
ROGERSVILLE – Bryce Walter allowed two hits and Sean Smith hit a two-run homer late in the game to give Piedmont an 8-2 victory over Lauderdale County and a split of their Class 3A playoff doubleheader, forcing a Game 3 between the two teams for the third year in a row.

Lauderdale County won the first game 7-4, scoring five runs in the first inning and holding on.

The deciding game is 1 p.m. Both of the previous Game 3s between the teams took place in the third round, with the winner each year eventually playing for the state championship.

"We' didn't expect anything less from them," Piedmont coach Matt Deerman said. "There's no secrets there. Whoever shows up and plays the best is the one who's gonna come out on top."

Deerman declined to name a Game 3 starter Friday night, but has a deep pool of options.

The Bulldogs wouldn't mind a carbon copy of Walter's performance. The only two hits he allowed were an infield single and a bloop single over the infield. After giving up his first hit in the third inning he retired 14 of the last 15 batters he faced – with none of the balls leaving the infield. He had only one fly-ball out in the game.

"Bryce was a bulldog tonight," Deerman said. "He got up there and was extremely efficient."

Brant Deerman, Mason Mohon and Smith – the 2-3-4 hitters in the Bulldogs' lineup – had two hits apiece and five RBIs in the game. Smith's homer came in the sixth inning and gave the Bulldogs their 8-2 lead.

In the opener, the Tigers had four-run scoring singles and a sacrifice fly as they batted around in the first. The Bulldogs got off the mat and got as close as 5-4 in the third, but had only one hit the rest of the game. They did get the first two runners on in the seventh, but a strikeout and game-ending double play ended the threat.

"They came out and just outplayed us in the first game," Deerman said. "It was a good wake-up call for us. It's the first time we had to travel that far in a couple years and it showed when we got there. The first inning was the difference in the game, but we came back. I asked them to cut (the deficit) in half and they did more than that."

Game 1
Piedmont 031 000 0 – 4 6 1
Lauderdale Co. 501 001 x – 7 9 1
WP: Brodey Lentz. LP: Logan Pruitt. S: Nathan Grisham. 2B: Bryce Walter (P), T.J. Fairs (P), Dayne Palmer (LC), Slade Brown (LC).
Game 2
Lauderdale Co. 002 000 0 – 2 2 2
Piedmont 030 203 x – 8 8 0
WP: Bryce Walter. LP: Derrek Urban. HR: Sean Smith (P).