Making his pitch
RCR driver Austin Dillon gets to throw out ceremonial first pitch for Braves Friday night; Holmes has eye on Donoho and lead, and more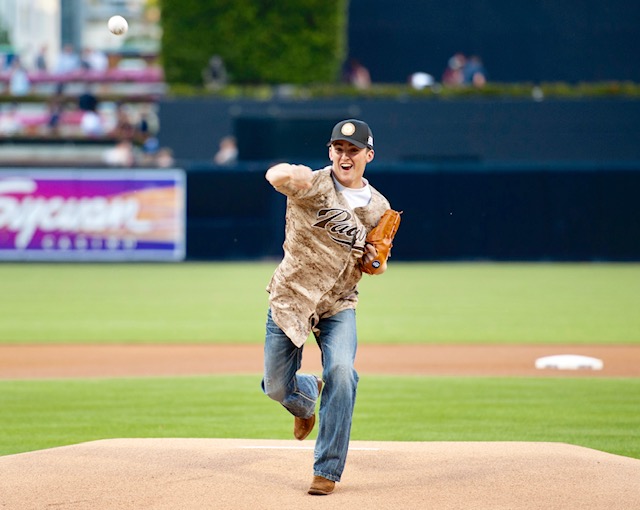 By Al Muskewitz
East Alabama Sports Today

TALLADEGA – When Austin Dillon was growing up, like most boys his age, his dream was to someday play big-league baseball. His dream was to be part of the Atlanta Braves' double-play combination, like his favorite player at the time, Braves shortstop Rafael Furcal.

He can still rattle off the whole roster from that Braves team of his youth; that's how big a fan he was – and still is.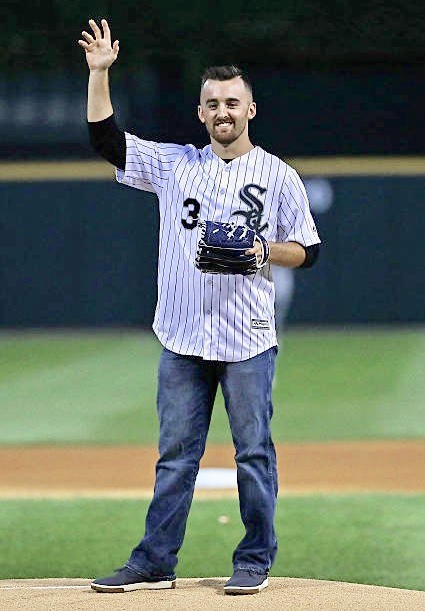 Alas, Dillon never made it to the majors, but he is big league nevertheless driving on NASCAR's premier circuit and winning its biggest race, the 2018 Daytona 500. The closest he's come to playing in the World Series is playing second base for his Southwest Clemmons, N.C., all-stars that made it to the 2002 Little League World Series.
 
But the Richard Childress Racing driver gets to take the major-league mound – if only for one pitch – Friday night when he throws out the first pitch prior to the Braves' game with the Colorado Rockies. It's part of a dual Talladega-Braves ticket promotion for Sunday's GEICO 500 at Talladega Superspeedway and a future Braves game.
 
Baseball was a huge part of Dillon's life growing up, but got bumped down in the lineup of priorities at around 15 when racing stepped to the plate.
 
He has thrown out first pitches before – for the White Sox (2014), Diamondbacks (2016) and Padres (2011) – and all from the mound where he likes "kicking a little dirt." And last year he gave a speech to the Dodgers in spring training and during the season he sang "Take Me Out to the Ballgame" during the seventh-inning stretch at Wrigley.
 
But Friday night is going to be an extra special moment because it's for his all-time favorite team.
 
"The one I've been kind of waiting on is this one because I'm a huge Braves fan," he said Thursday. "Being my first time in their new stadium and being my favorite team it means the most to me. Growing up in North Carolina we didn't have a team here so the Braves are who we gravitated to. So, I'm pumped I get to throw out the first pitch for my team and that's going to be cool."
 
Dillon knows how these things can go and he's seen some of the disastrous celebrity first pitches before, but he won't be in that company. He's still got some zip in that infielder's arm and will be going to the mound with the confidence of Tom Glavine or John Smoltz to throw a first-pitch strike, whatever is considered the strike zone nowadays.
 
"I'm pretty confident I can get it across the plate," he said. "The biggest thing is I'm not going to bounce it."
 
After throwing one over the plate at the Braves game, Dillon will return to Talladega where he hopes to take his No. 3 Dow Chevy across the finish line Sunday. He enters the race 14thin the points standings with two Top 10 finishes.
 
"We're pumped," he said. "This is a new package we're taking to Talladega to create some really good three-wide racing and should get aggressive out there. We feel like we've built a really good race car going to Talladega. You never know what could happen there. We'd like to try to go back to Victory Lane; that's our main goal."
 
FAST-MOVING FAN: Munford's Bret Holmes will have a full day Friday practicing and qualifying and trying to win the General Tire 200, but in the quiet moments between it all you might just find him checking to see how his old team is doing on the baseball diamond.
 
The Donoho Falcons will be playing a home second-round playoff series against Athens Bible and should be somewhere deep in the first game when Holmes starts qualifying and pretty close to finishing the doubleheader when he takes the green flag. The last time the Falcons were this deep in the playoffs (2015), Holmes was one of their senior pitchers.

"When I saw this I was amazed at how how long it has been since I wore the Donoho baseball jersey," Holmes said. "We had some great teams back then, and to see what they have accomplished this season really makes me  proud to be an alumnus of that team. Coach (Steve) Gendron has really done an amazing job of cultivating and  developing these young  players into athletes. I am going to be following closely here in the  coming weeks to see how far they can go.

"Heck, I remember when some of these kids on this year's team couldn't get the ball out of the infield. Now, they are hitting  home runs … and I must be getting older. I really hope they can make a good run at it, and I wish them all the luck in the world."
 
Holmes is making a good run at things in his own right. He comes into Friday's race third in the ARCA standings, 20 points behind leader Travis Braden (see below). He had two Top 10s in three starts. He was sixth at Pensacola and 10th at Salem.

"This is always the race we circle at the beginning of the season,"  he said. "There would be no sweeter feeling than going to Victory Lane in front of  my friends and family from back home, but with that being said, we are having to look at the big picture this season.

"We are only 20 points out of the championship and I want to be as close to in first as possible by Friday night. Does that mean we are going to play it conservative in the race? I don't think so, but really making the best decisions possible for the overall 2019 campaign is at the top of our list right now."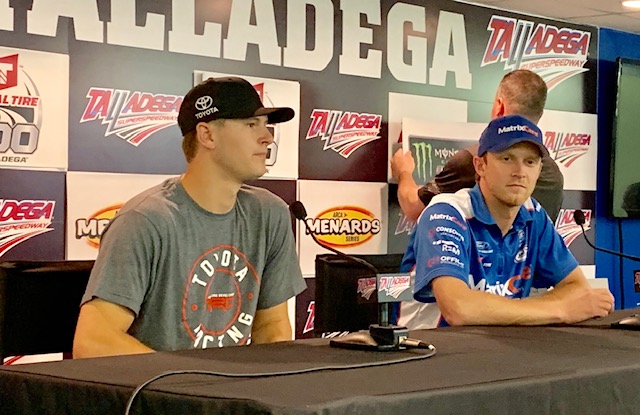 SMART COOKIE: Current ARCA points leader Travis Braden may be too modest to say he's the smartest guy on the track – "I do some dumb things still," he said – but technically you wouldn't be wrong. He holds duals degrees from the University of West Virginia in aerospace and mechanical engineering, making him the Ryan Newman of the series.

"The race car thing was first," he said. "I was always a math guy; I was terrible at the English and reading stuff, but I was really into math, so I wanted to go to school for that. I was a late bloomer, I didn't decide I was even going to go to college until I was almost a senior in high school. Once I looked at my life, my career, it's not an option for me not to go, I have to do this. I really think it's helped me a lot in my life and my career. I value it hugely every day."

He puts that knowledge to good use in their three-man shop. He works on all the cars, assembling a lot of suspension. He helps the crew chief do all the final setup and the pulldown.

"I enjoy it for one; it's fun," he said. "But I also do think it pays off for me a lot of times when we have a good car and we can tweak it based on what I know that we saw in the shop."

YOUNG OLD DRIVER: Todd Gilliland won his first ARCA race before he even had his regular driver's license.

He got his license at 17, won his first race one day after his 15thbirthday and got behind the wheel for the first time a whole lot earlier than that.

"I think I was like 4½ in a dirt lot in a little quarter midget and I just ran out there all day," Gilliland said. "I'm sure it wasn't very good, just did a few doughnuts and just drove it around and had some fun, then ran my first actual race on my fifth birthday in quarter midget."

The third-generation racer, who turns 19 on May 15, does a lot of good things on his birthday. ARCA rules stipulate a driver must be 15 to compete on tracks a mile or longer. Gilliland practiced and qualified at Toledo Speedway on his 15th birthday and then won the race the next day, becoming the youngest driver in ARCA history, a record that doesn't seem likely to get broken.

So, he could drive to Victory Lane, but he still couldn't drive down Main Street.

He didn't take his North Carolina driver's test for the highway until he was almost 17 because his racing commitments prevented him from taking weekend Driver's Ed in school. And that test, well, it might have been scarier than the triple-wide racing he's going to see at Talladega this week.

"I was so nervous," he said. "I actually had a few helmets in the backseat. I was going to ask the (test administrator) if he wanted one but I didn't pull that one."