Gilliland back on top
Gilliand wins General Tire 200 at Talladega Superspeedway, claiming second ARCA victory; Holmes 14th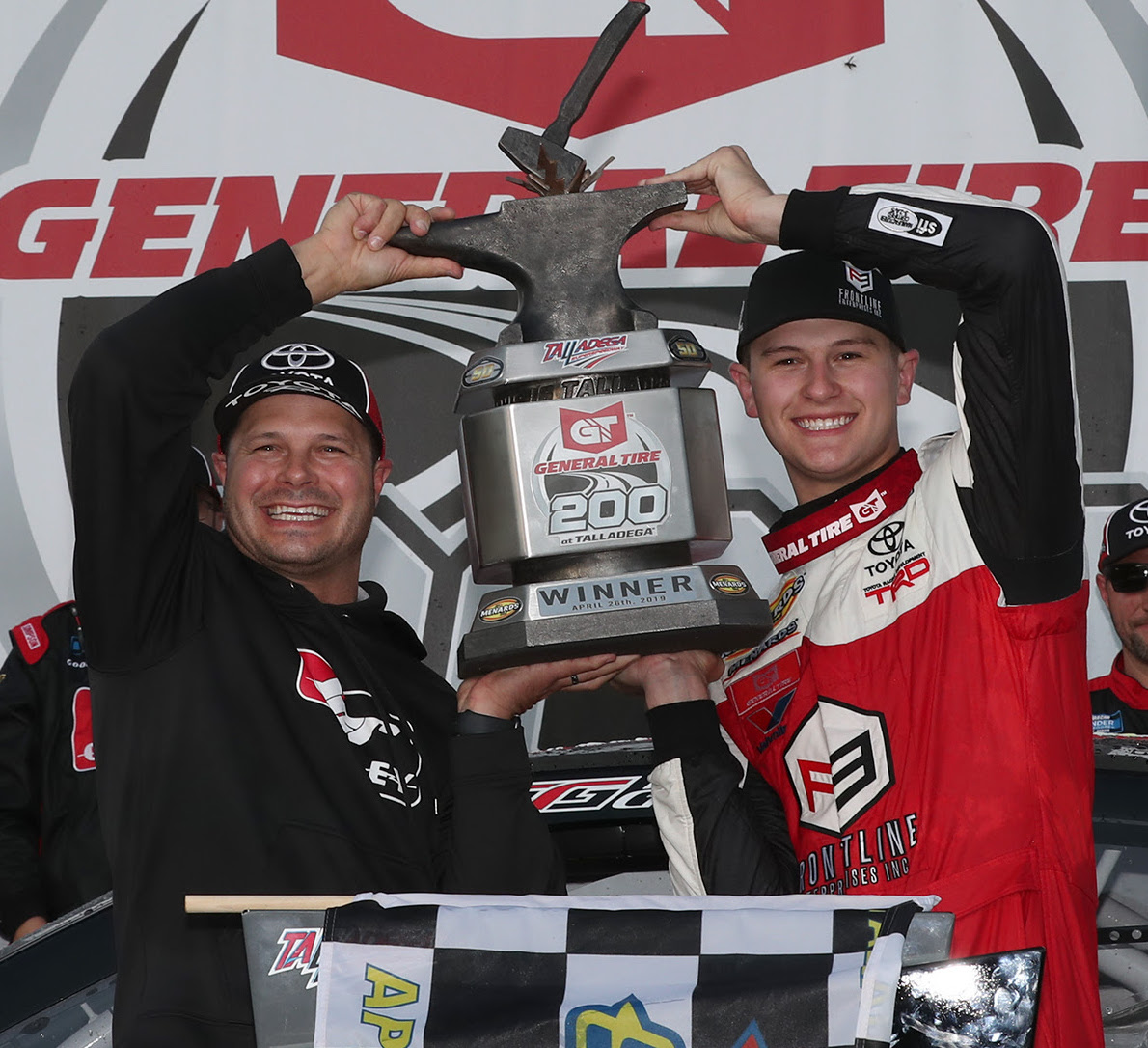 TALLADEGA — Todd Gilliland claimed his first ARCA victory before he could even drive on the street. On Friday he drove into Victory Lane at Talladega Superspeedway "street legal."
 
Gilliland earned his second career ARCA Menards Series victory in the General Tire 200, holding off a last-lap charge from Riley Herbst and Brandon Lynn. He took the lead after the first caution of the race on Lap 43 and led to the checkered flag.
 
"It's been a long time coming," Gilliland said. "We won in our first start at Toledo in 2015 and it seems like we've been so close every time we've raced in ARCA since then but something would jump up and keep us out of victory lane. We were finally able to get the weight off our shoulders here today. It's a huge relief and I think it's exactly what I needed to get my confidence up over on the Truck side too."
 
Gilliland, a full-time driver in the NASCAR Gander Outdoors Truck Series for Kyle Busch Motorsports, won his first ARCA race one day after his 15th birthday, making him the youngest winner in the history of the series. ARCA rules stipulate drivers must be at least 15 years old to compete on tracks a mile or longer. He has been behind some kind of motorized wheel since he was 4. He didn't get his regular North Carolina driver's license until he was nearly 17.
 
Herbst finished second in just his second ARCA start of the season. Lynn was third. Munford's Bret Holmes finished 14th.
 
"We came here to win so second stinks," Herbst said with a chuckle. "We've had a pretty rough couple of weeks so this is a great come back. I wanted to get aggressive on the last lap but we have to look at the big picture too. We're sharing the car this year with Ty Gibbs and he's had a couple of really good weeks in a row so we want to keep him up in the owner's points. I might have been able to make a move but I didn't want to get shuffled out and give away all those points so they asked me to keep it down on the yellow line and that's what we did."
 
Lynn, who started from the pole for the first time in his career, was in the same boat.
 
"The 20 car is leading the owners points so I didn't want to do something stupid and cost them a ton of points," he said. "On the last lap Michael (Self) had a head of steam and if I jumped up in front of him it could have been a huge mess. I don't get a chance to run the ARCA Menards Series very often so it's great to come out of here with another good finish."
 
For Gilliland's father David, himself a former driver and co-owner of the car his son drove to victory, it was an emotional evening watching the third generation of his family win on one of the sport's biggest stages.
 
"I have been around a long time and I've done some things right and I've made a lot of mistakes," the elder Gilliland said. "But this is special. After the year he's had, with all of the ups and downs, it's great for him to come here and get a win like this. I had some really good runs here and finished second behind my teammate here one time. But watching this was better. Todd is a fighter. He's a winner. He never gives up and I think this will be the boost he needs for the rest of the year."
 
Outside front row starter Ty Majeski finished fourth, while Self was fifth.
 
Self unofficially assumes the series championship lead by five points over Travis Braden, who finished seventh.
 
The race was slowed just twice by caution flags, the first at Lap 41 for an incident involving Thad Moffitt and Christian Eckes, and the second for a hard crash by Tommy Vigh Jr. at Lap 51. A total of 15 laps were run under the caution, holding the average speed to 141.398 miles per hour. Gilliland's margin of victory at the stripe was 0.149 seconds.
 
Cover photo: General Tire 200 winner Todd Gilliland (L) and Travis Braden talk to reporters about Friday's ARCA race earlier in the week.