Way out front
White Plains running away with county; LeCroy, Dyar hold medalist leads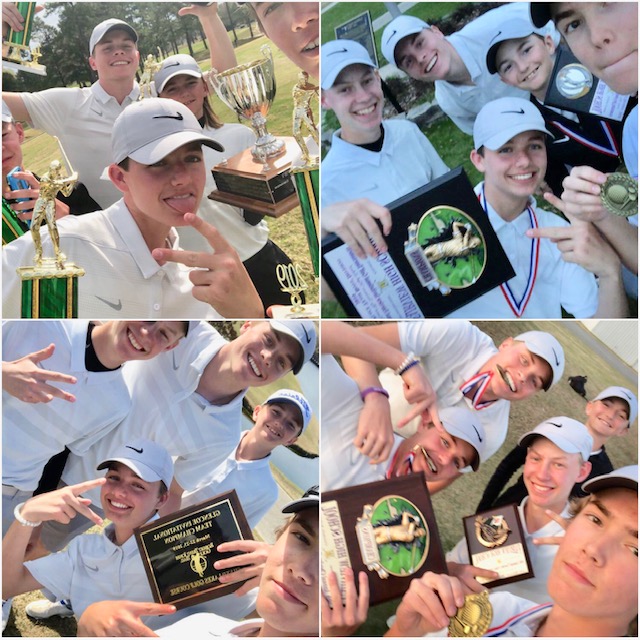 By Al Muskewitz
East Alabama Sports Today

A year ago, Jacob LeCroy and Hanna Dyar stood on the patio during the Calhoun County Tournament awards ceremony and watched teammates collect the prize for low medalist. As much as they love their teammates and their teams won the team titles it couldn't help feel a little hollow.

But that near-miss has driven them to do better this year and Friday both moved to the top of their respective leaderboards in this year's county tournament at Pine Hill Country Club.

Donoho senior LeCroy shot 5-under-par 67 for a four-shot lead over senior teammate Harrison Hughston, the 2018 county champion, and White Plains sophomore Wesley Jenkins.He had six birdies and a bogey.

"I played really, really good golf today," LeCroy said. "I hit some really good golf shots. That made it easy for me because I was hitting good golf shots all day. It could have just as easily been one of those days that was a 63 instead of a 67."

Dyar, a White Plains junior, shot 4-over 77 and holds a three-shot lead over teammate Caitlin Lewis, a junior who played the round of her life.

"On my first side, the back nine, I just had ridiculous bogeys; I wasn't being very confident in my irons," Dyar said. "So on my back nine, which was the front, I just figured it out and learned to play smart. I'm excited for tomorrow."

Playing on its home course, White Plains has virtually locked up both team titles.

The boys put their entire lineup in the top seven, shot a program record 289 and lead Donoho by 25. In addition to Jenkins, the Wildcats counted even-par 72s from Andrew Miller and Kenny Okins and a 74 from most-recent medalist Gage Miller.

The girls had the four best rounds of the day on their side of the field, shot 238 and lead by almost a full scorecard – 63 shots – over Alexandria.In addition to Dyar and Lewis, they counted an 81 from Abby Gattis.

"One-over as a team, man, that's a lot to be proud of for those guys," Wildcats coach Chris Randall said. "It wasn't a lucky day, it wasn't things just fell into place. That's a result of their hard work. A lot of times you have to make guys practice, well, we have to make these guys go home, and it showed off today … To play well on the first day and have that lead is what we were looking for.

"On the girls side, Hanna Dyar was just steady and solid all day, but story of the day is Caitlin Lewis shooting 80. To shoot your career low and make four birdies in this tournament is huge. Very proud of the way the girls executed."

Lewis' previous tournament best was an 89. She seemed to be headed that way Friday with three bogeys in her first four holes, but her fortunes turned in midround she made a personal-best four birdies the rest of the way. She birdied three of the last four holes coming into the turn.

"I just made sure I thought through every shot, really took my time with it and didn't stress out about anything today," she said. "I just kind of stayed calm and didn't let anything get to me. I just brushed it off."

The county championship is one of the few titles that has eluded LeCroy and he has been chasing it since eighth grade, as the favorite the last three years. He appears to be on the cusp of finally breaking through after shooting his first round under par in the event.

"This is definitely one I would like to have more than anything else," he said. "This has always been a big one … especially since I've lost it every year knowing I should win it. I've won the state championship, but can't win the county championship."

A solid 18 holes on Saturday should finally fill that void.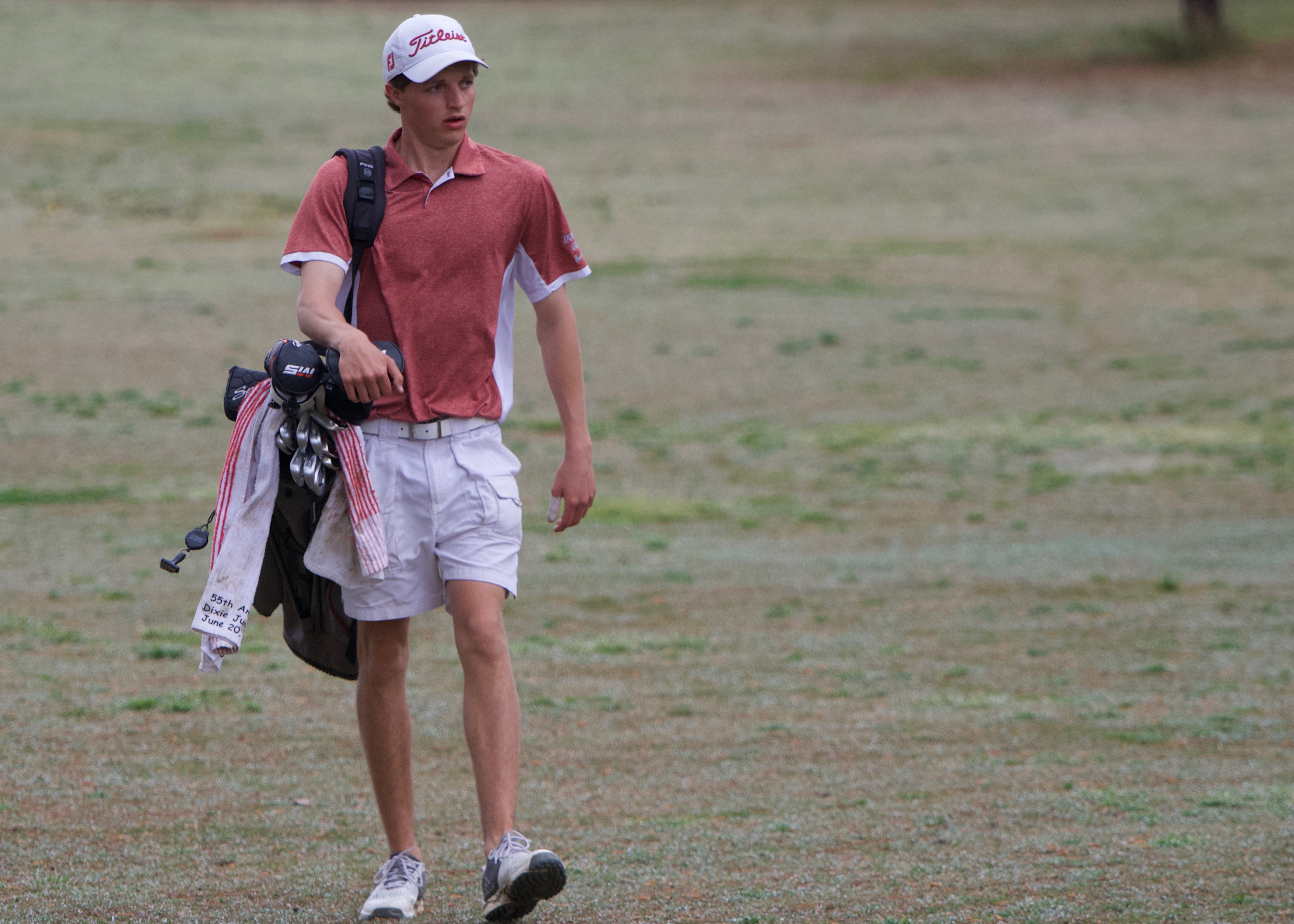 To see a gallery of photos visit www.bjfranklin.smugmug.com

CALHOUN COUNTY TOURNAMENT
At Pine Hill CC
BOYS
Team scores
White Plains 72-72-71-74—289
Donoho 67-71-80-96—314
Oxford 79-89-90-92—350
Alexandria 91-91-93-90—365
Ohatchee 94-100-103-90—387
Weaver 111-105-114-124—454
Jacksonville 108-126-101-119—464
Piedmont 89-120-147-128—484

Individuals (Top 25)
Jacob LeCroy, Donoho 33-34—67
Wesley Jenkins, White Plains 38-33—71
Harrison Hughston, Donoho 37-34—71
Andrew Miller, White Plains 36-26—72
Kenny Okins, White Plains 34-38—72
Gage Miller, White Plains 38-36—74
Gavin Burrage, White Plains 40-38—78
Jake Munroe, Oxford 39-40—79
x-Peyton Bradley, Sacred Heart 42-37—79
Holden Abernathy, Donoho 42-38—80
x-Malachi Gilbert, White Plains 44-39—83
x-Porter Stokes, White Plains 43-43—86
x-Austin Roberts, White Plains 41-46—87
x-Riley Boyd, White Plains 46-41—87
Nick Boyd, Oxford 42-47—89
Ethan Floyd, Piedmont 42-47—89
Zach Nichols, Alexandria 42-48—90
Trenton Lott, Oxford 44-46—90
Jackson Tucker, Ohatchee 47-43—90
Sage Snow, Alexandria 48-43—91
Logan Gable, Alexandria 43-48—91
Landen Souder, Oxford 46-46—92
Ethan Turner, Alexandria 45-48—93
x-Daniel Norred, White Plains 45-48—93
Eddie Ferguson, Ohatchee 48-46—94
Others
x-Taylor Harris, Oxford 96
Chandler Armstrong, Donoho 96
Jack Wert, Oxford 96
x-Dalton Faulkner, White Plains 97
Parker Alexander, Ohatchee 100
x-Brody Smith, Wellborn 101
x-Damon Parr, Pleasant Valley 101
Jud Grass, Jacksonville 101
x-Brody Smith, Wellborn 101
Nick Silvy, Ohatchee 103
Brock Murphy, Weaver 105
x-Brady Goodson, Donoho 105
Jacob McCurdy, Piedmont 107
Jackson Burrell, Jacksonville 108
Caleb Cargel, Alexandria 109
Mason Lee, Weaver 111
x-Samuel Duncan, Pleasant Valley 112
Chris Ferguson, Ohatchee 113
Cody Souder, Weaver 114
x-Braxton Tucker, Alexandria 115
x-Braxton Kiker, Alexandria 115
Coley Birchfield, Jacksonville 119
Hayden Young, Piedmont 120
x-Tyrome Brock, Anniston 123
Chandler Webb, Weaver 124
Erin Gaddis, Jacksonville 126
Sam Payne, Donoho 128
x-Luke Bridges, Pleasant Valley 128
Payton Smith, Piedmont 128
x-Kaleb Holley, Wellborn 131
x-Tyler Little, Anniston 143
x-Individual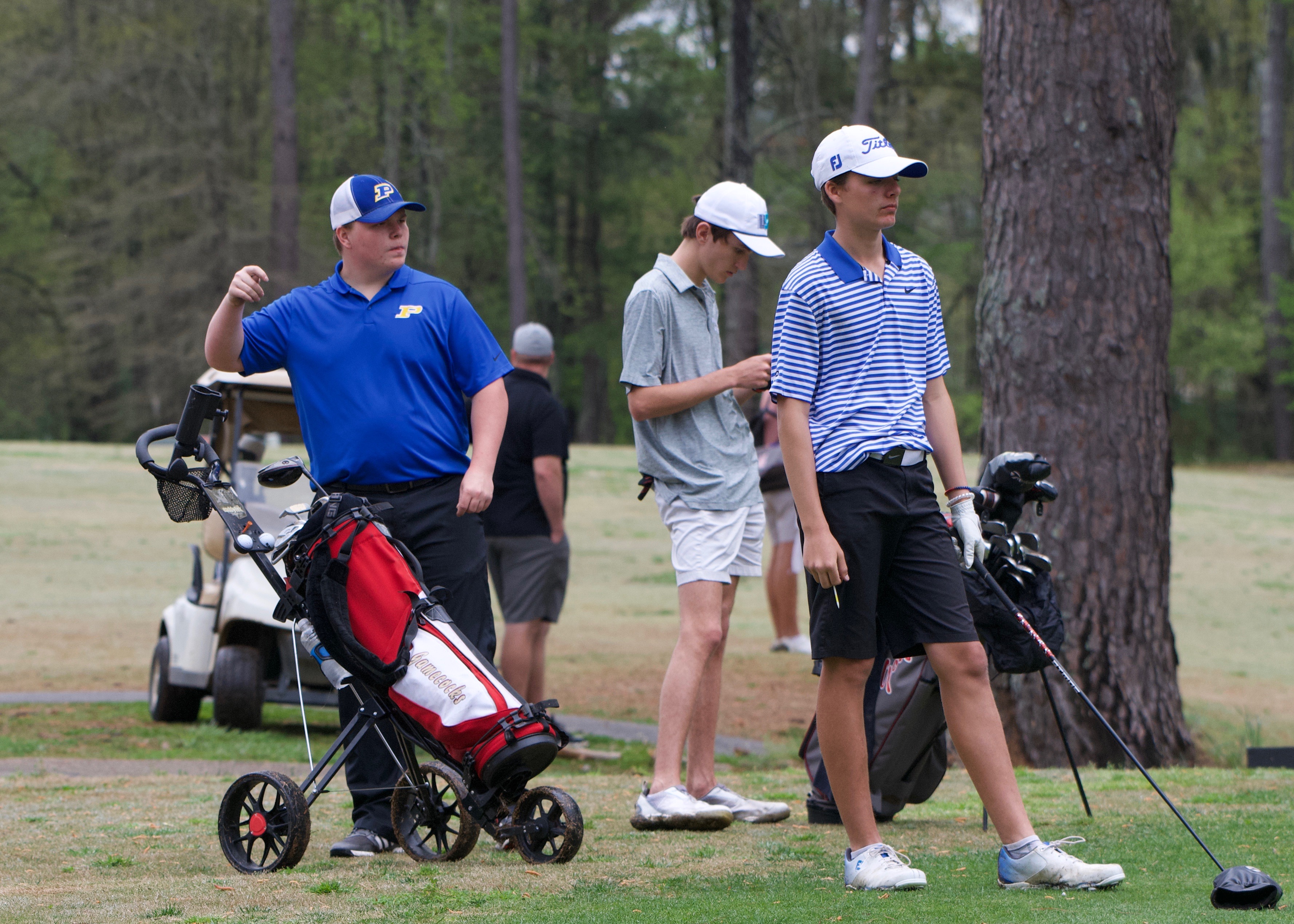 GIRLS
Team scores
White Plains 77-81-80—238
Alexandria 98-102-101—301
Pleasant Valley 107-112-102—321
Oxford 106-118-103—327
Weaver 104-117-107—328
Donoho 110-125-109—344
Jacksonville 102-122-123—347
Piedmont 104-113-133—350

Individuals (Top 25)
Hanna Dyar, White Plains 37-40—77
Caitlyn Lewis, White Plains 39-41—80
Abby Gattis, White Plains 40-41—81
Baylie Webb, White Plains 39-43—82
x-Allison Arenth, White Plains 43-45—88
Ashley Parker, Alexandria 49-49—98
x-Isabel Rogers, White Plains 50-51—101
Emille Brown, Alexandria 49-52—101
x-Reagan Findley, Alexandria 50-52—102
Lauren Sechrest, Alexandria 49-53—102
Gabby Fagan, Pleasant Valley 50-52—102
Caitlin Roland, Jacksonville 49-53—102
Annabelle Page, Oxford 50-53—103
Ella Floyd, Piedmont 53-51—104
Carmella Reese, Weaver 49-55—104
Bella Reeves, Oxford 50-56—106
Gracie Davis, Pleasant Valley 55-52—107
Cara Burgess, Weaver 53-54—107
Piper Pumroy, Donoho 50-59—109
x-Chloe Parris, Pleasant Valley 55-54—109
Lexie Dukes, Donoho 59-57—110
x-Abby Whisenant, Pleasant Valley 54-57—111
Marlie Wright, Pleasant Valley 56-56—112
Katie Knight, Pleasant Valley 56-56—112
Haley Bostick, Piedmont 55-58—113
Others
Braxton Tucker, Alexandria 115
Autumn Ray, Weaver 117
Riley Bass, Oxford 118
Emma Ray, Alexandria 119
x-Morgan Irwin, Alexandria 121
x-Carlie Coleman, Donoho 121
Shelby Salmon, Jacksonville 122
MacKenzie Oliver, Jacksonville 123
x-Mandy Hedgepeth, Alexandria 124
Kallie Callan, Donoho 125
Natalie Howell, Oxford 129
Daisy McElroy, Jacksonville 130
x-Pressley Parris, Pleasant Valley 131
Mayce Chandler, Piedmont 133
Demari Grant, Weaver 133
x-Ivy Kate Hughston, Donoho 135
Emma Kim, Donoho 136
x-Individual