Familiar finals
Donoho, Sacred Heart meet again in girls county finals; Saks, Oxford play it again for boys title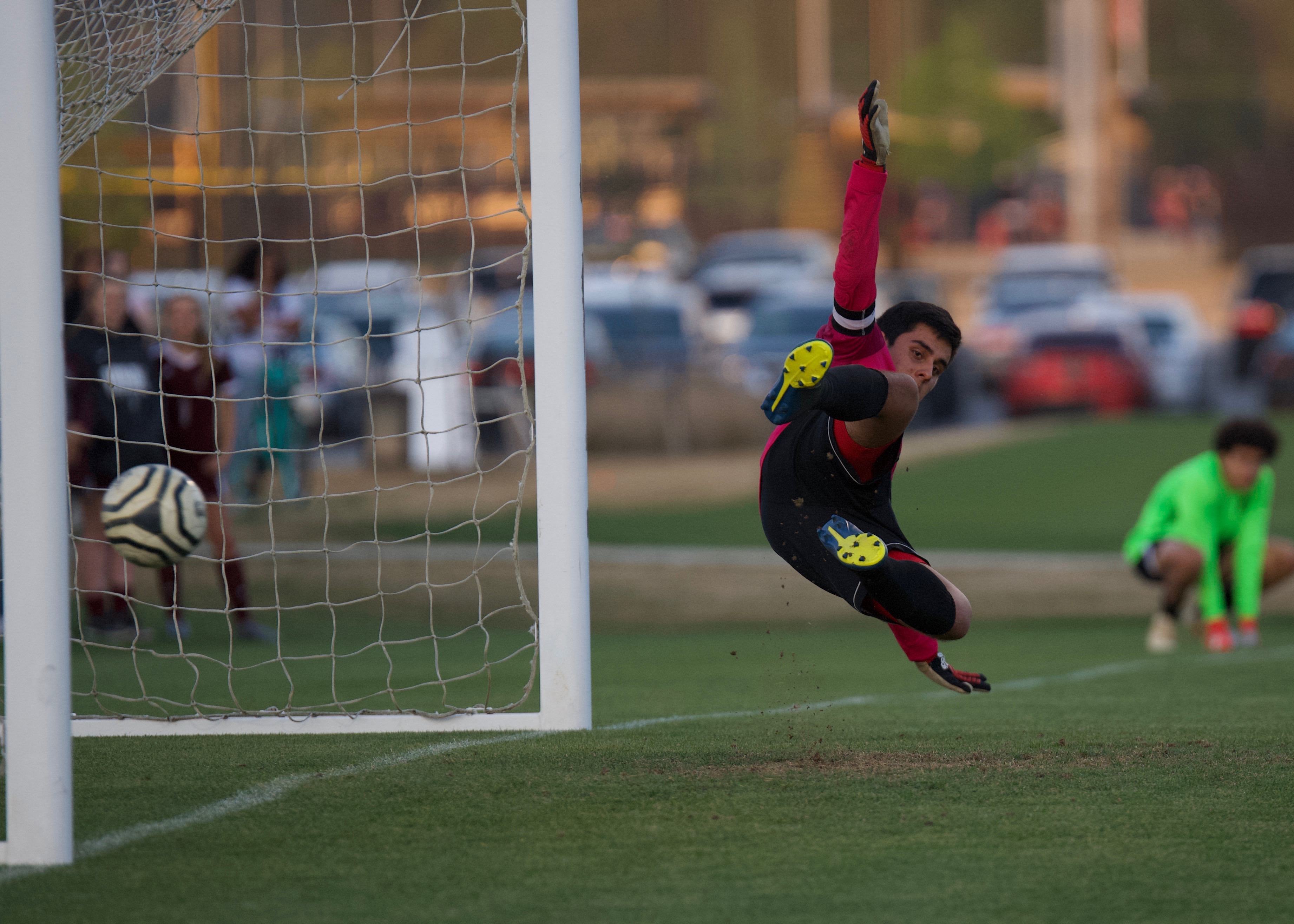 By Brant Locklier
For East Alabama Sports Today

OXFORD — If the championship matchups in this year's Calhoun County Soccer Tournament look familiar, it's because they are.

Both title games at Choccolocco Park Saturday are rematches of last year's county tournament finals: Donoho vs. Sacred Heart on the girls side, Saks vs. Oxford on the boys side.

Donoho and Sacred Heart won semifinal games Friday to set up their rematch. The two-time reigning champion Falcons' only loss this season came to the Cardinals 2-1 in the mud at Sacred Heart. The top-seeded Cardinals say they will be ready.

"They all know each other, they play with each other and against each other in youth leagues," Cardinals coach Arnaldo Ostolaza said.

"Being able to compete with Donoho this year with a new team is very satisfying," striker Abbie Vingers said after scoring four goals in the Cardinals' 6-0 win over Oxford. "We beat them earlier this year and it was a tough game and super muddy. It was real physical because of the conditions."

"We are going to have to play the best we have played all year to win on Saturday," Donoho coach Jay Jenkins said.

"We have a strong team this year and we are going to go into the finals and fight hard to win," Donoho's Kathleen Seals said after scoring six goals in her team's 10-0 rout of Faith Christian.

Over on the boys side, Oxford survived several overtimes and beat Weaver 2-1 in a penalty kick shootout, while top-seeded Saks suffered some injuries and had to hang to beat Donoho 2-1.

Donoho 10 Faith 0: The Lady Falcons won their eighth straight Calhoun County Tournament game and have not allowed a goal in any of them.

In addition to Seals, Erin Turley scored a pair of goals and added five assists for the Falcons (7-1). Seals, Savannah Frickey and Anna Grace Jones added assists.

"Kathleen had a big night for us," Jenkins said. "They were setting their defense high on her and she was faster than them and able to get around them. I am so proud of this bunch – they are really turning it up right now."

"It is hard to believe, six goals," Seals said, "but it does not change a thing. We have a total team effort and it was not one person scoring those goals. It was our team scoring those goals."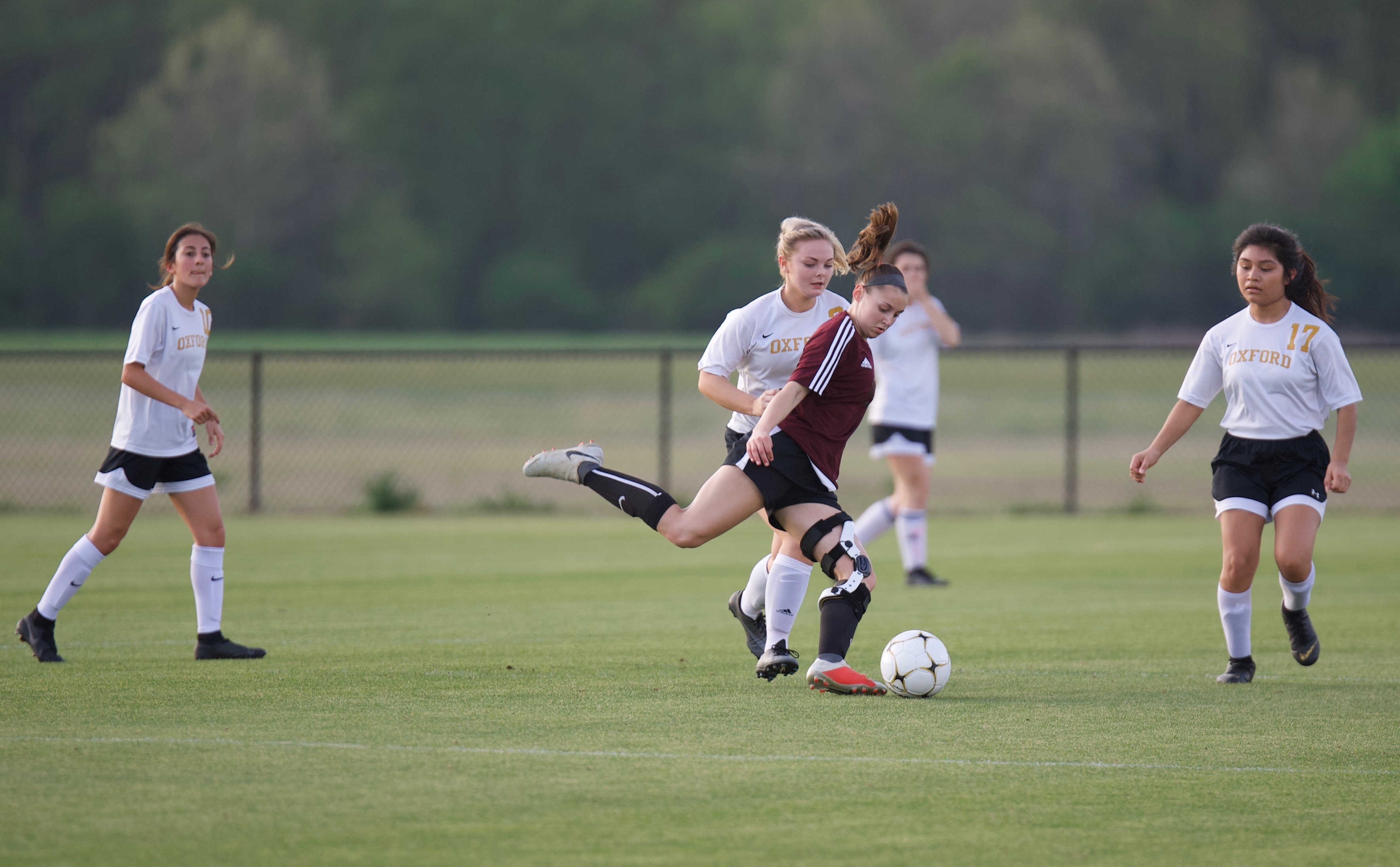 Sacred Heart 6 Oxford 0: Abbie Vingers exploded for three second-half goals to break open a tight game and lead the top-seeded Cardinals (7-1) over No. 5 Oxford.

Ostolaza was not pleased with the way his Cardinals were playing midway in the second half and he pulled Vinegars for a while. "I think I got her attention and she really responded after that, Ostolaza said.

The Cardinals had taken a 2-0 halftime lead on goals by Angel Nguyen and Vingers, but really kicked their game up a notch in the last part of the second half to pull away.

Saks 2 Donoho 1: The top-seeded and unbeaten Wildcats (12-0) survived one of their toughest challenges of the season. They got first-half goals from Jahir Ortiz-Rodriguez and Anthony Cornejo and then hung on in the second half to beat the fourth-seeded Falcons.

Rodriguez' goal came on a perfect corner kick with Corey Watkins setting him up to score.

The Falcons chopped the lead to one on a header by Ethan Miles-Jamison midway in the second half and had several attempts at a tying goal down the stretch.

It was a costly victory for the Wildcats, as three players left the match injured, including leading scorer Kori Watkins.

"That leaves us a little thin going into tomorrow's finals," said Saks coach Dwight McDonald. "Watkins has scored 26 goals this year and that will hurt, but we will have shuffle some people around and change our plan a bit, but we will be OK."

Oxford 2 Weaver 1: No. 2 seed Weaver (9-5) scored first on a goal by Dalton Baca, but could not make it stand up as third-seeded Oxford (4-7) came back in a game that went into two overtimes and eight kickoffs past overtime.

Misael Reyes tied the game in the second half with a goal and the game went into overtime.

The first two overtimes were scoreless and went to a round-of-5 penalty kicks. That session ended 3-3 and the match went to sudden death.

After three rounds of PKs John Hernandez-Cruz jammed one in to give Oxford the win and the celebration began.

"We have played a really strong schedule this year, which has helped prepare us for the tournament.," Yellow Jackets coach Gustavous Barrett said. "These two games have been a bit of a wake-up call as we just can't seem to find the back of the net."

Barrett, who coaches both the boys and girls teams, got caught in a quandary due to 40 extra minutes played in the boy's game. The girl's game was scheduled to start right at the end of the boys' game and it started on time. This left Barrett shuffling between fields, coaching two games at one time. Fortunately, the two fields were right beside each other. Barrett got to the girl's game full time just as the second half was starting.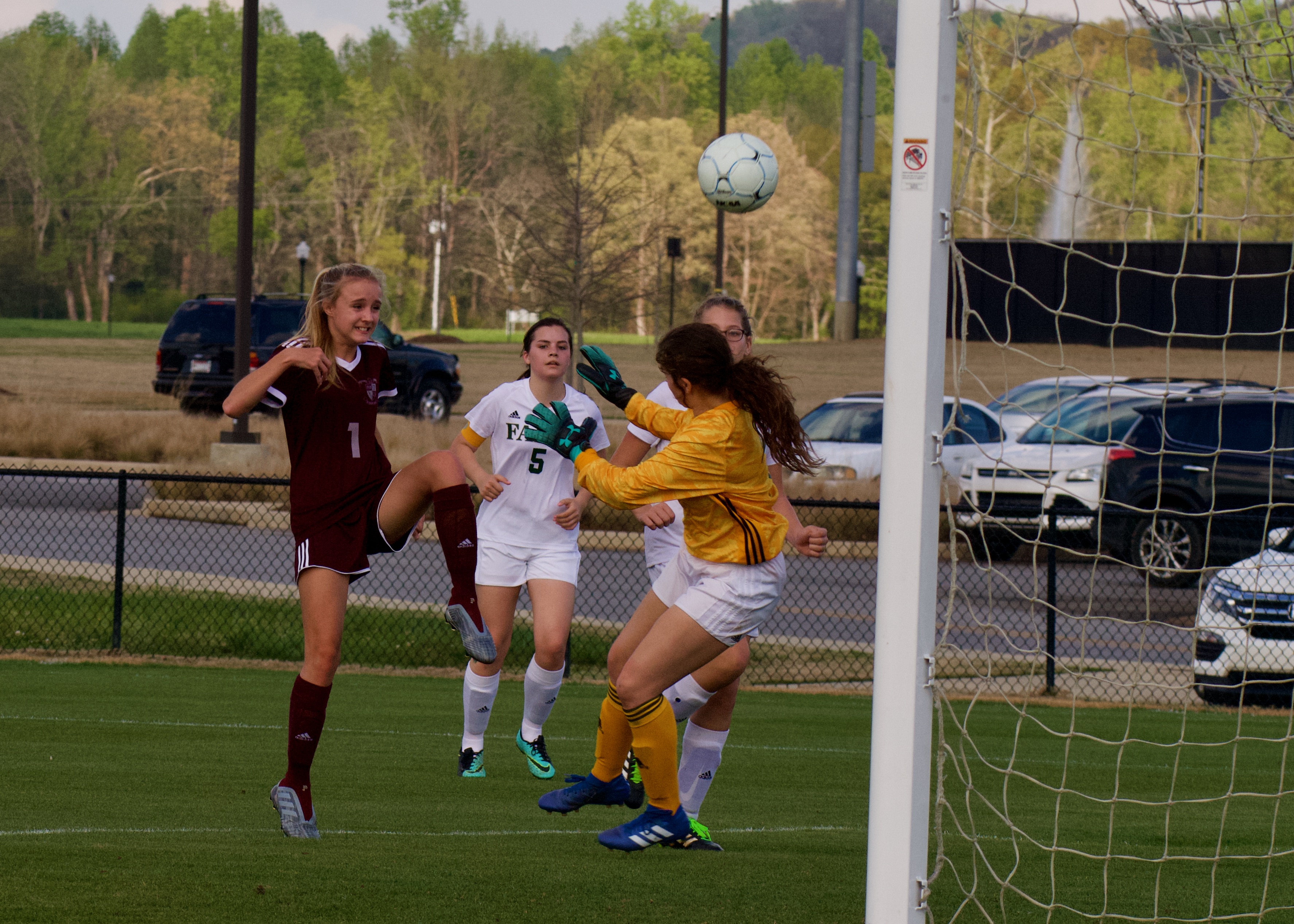 To see more photos photos from the tournament semifinals, including some fabulous shots of the Weaver-Oxford PK shootout, visit www.bjfranklin.smugmug.com