Tigers take title
Talladega uses big second half to beat West Limestone for the Class 4A state title, the school's and coach's first ever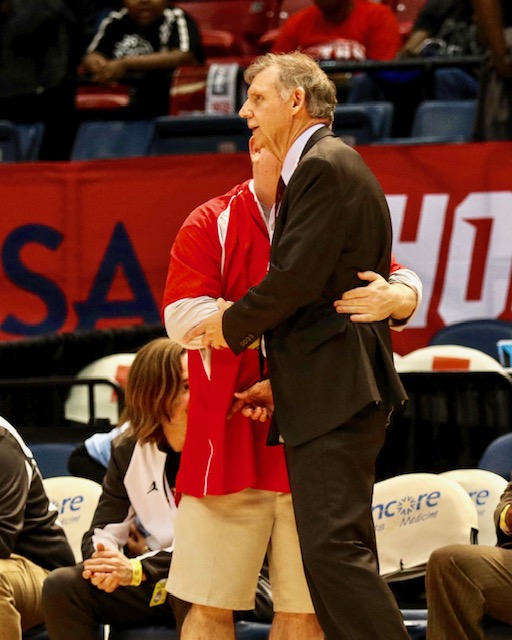 By Al Muskewitz
East Alabama Sports Today

BIRMINGHAM – Chucky Miller figures between his career and following his dad's he has probably seen more state tournament basketball games in his lifetime than anyone around. His 15-week old grandson was watching his first.

Picked a pretty good one, too.

Grandpa Chuck, 62, finally got his state championship Friday night and you could say it was one for the generations – four of them, to be exact.

Miller, one of the winningest basketball coaches in Alabama, brought Talladega its first-ever state title when the Tigers used a big second half to beat West Limestone 60-48 at the BJCC.

"Anybody who's a lifer like me, you want to get this trophy at your school for your players," Miller said. "It means a lot. These people went through a lot of adversity all year, especially the last month, but we hung in there together. I'm just so proud of the team the way they focused these last three weeks."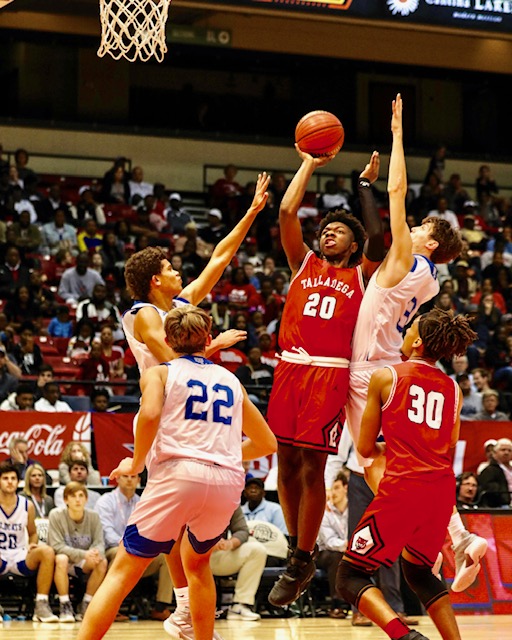 For the record, that's 759 wins in 39 years as a head coach (20 at Wellborn and 19 at Talladega) and one state title. His father, Chuck Sr., also won more than 700 games in his coaching career at Alexandria and Talladega, making them the only father-son coaching combo with 700 wins in the state.

Chuck Sr. came close to winning the title several times, but never reached the top of the mountain. He had teams good enough to win it, but never got to the finals. He passed away in September.

Both also played in the state tournament as high schoolers.
 
"This is a tradition," he said.
 
The coach is convinced his dad is looking down proudly on what the Tigers got done at Legacy Arena. Add in that Miller's sons Ryan and Trey keep the team's stats — Trey played for his dad in the 2006 Final Four — and Ryan's infant son Grayson was at his first game, you've got four generations of this Miller's basketball tale.
 
According to EA Sports Today researchers, Miller was second on the list of winningest Alabama basketball coaches without a state championship behind LaVaugh Hicks, who won 785 games from 1941-77 at several schools in the Mobile area. Chuck Sr. is now No. 2 on that list. Sumiton Christian's Bill Griffin is now the state's winningest active coach without a title (646-349).
 
Miller figures state titles come when you least expect them. He's brought some good teams to the Final Four in the past, but played a lot of good teams, too. When he really thinks about it, this one might fit into that least expected category, not because of any shortcomings of talent, but because of all the Tigers had to overcome getting here.
 
They were 5-5 at one point this season and later in the year underwent some roster upheaval.

None of that mattered Friday. The Tigers (26-8) trailed 28-25 at halftime, but switched presses during the break and that proved to be the difference. They used three mini-runs to outscore the Wildcats 19-8 in the third quarter and increased the lead with a 16-12 fourth. 
 
"I thought our guys turned it up a notch after halftime," Miller said. "We kind of saw what they were doing and had to attack the ball better. I thought most the third quarter every time they caught the ball somebody was within a step of them, then we got the running game going. We're on our game when it's 2-of-1 or 3-on-1."

Tournament MVP D'Corian Wilson had nine of his game-high 19 points, four rebounds, a blocked shot, steal and assist in the third. Kobe Simmons (8 points, 9 rebounds) and Arron Green (12 points, 11 rebounds) joined Wilson on the all-tournament team.

"I just knew we had to come out with some momentum and some energy because first half we were playing kind of dead," Wilson said. "Somebody had to step up as a teammate, as a player, because I know my team depended on me."
 
Now that he's reached the top after such a long journey, anybody who thinks this is the end of the road for Miller should rethink their strategy.
 
"I'm looking forward to next year," he said.
 
CLASS 4A BOYS CHAMPIONSHIP
Talladega 60, West Limestone 48
TALLADEGA (26-8) – JaQuon Chatman 1-3 0-0 2, Arron Greene 5-8 2-2 12, D'Corian Wilson 7-12 3-6 19, J.Q. Wilson 3-7 1-2 7, Kobe Simmons 4-10 0-0 8, KeAndre Brand 0-1 2-2 2, Nigel Scales 1-3 0-0 2, Michael McGregor 0-0 0-0 0, Rontavious Barclay 4-7 0-0 8, RaDerius Montgomery 0-1 0-0 0, Brocker Simmons 0-0 0-0 0. Totals 25-52 8-12 60.
WEST LIMESTONE (21-14) – Marshall Carter 4-12 0-0 10, Braden Tuten 4-13 0-0 11, Alec Baugher 1-5 0-0 3, Christian Clemmons 2-7 0-0 6, River Helms 3-7 0-0 6, Camryn Williams 4-11 0-0 10, Thorne Slaton 0-0 0-0 0, Jackson Morgan 1-1 0-0 2. Totals 19-56 0-0 48.
Talladega               11            14            19            16            –               60
West Limestone   14            14            8              12            –               48
3-point goals: Talladega 2-7 (D. Wilson 2-3, K. Simmons 0-2, Brand 0-1, Scales 0-1); West Limestone 10-36 (Carter 2-8, Tuten 3-9, Baugher 1-4, Clemmons 2-7, Williams 2-8). Rebounds: Talladega 41 (Greene 11, K. Simmons 9); West Limestone 10-36 (Carter 2-8, Tuten 3-9, Baugher 1-4, Clemmons 2-7, Williams 2-8). Total fouls: Talladega 8, West Limestone 12. Officials: Girard Warren, Jose Diaz, Jason Jones.