Lady Dawgs' hopes dashed
Rogers keeps Anniston from doing what it does best, spoils Lady Dawgs' hopes of bringing home a blue champion's trophy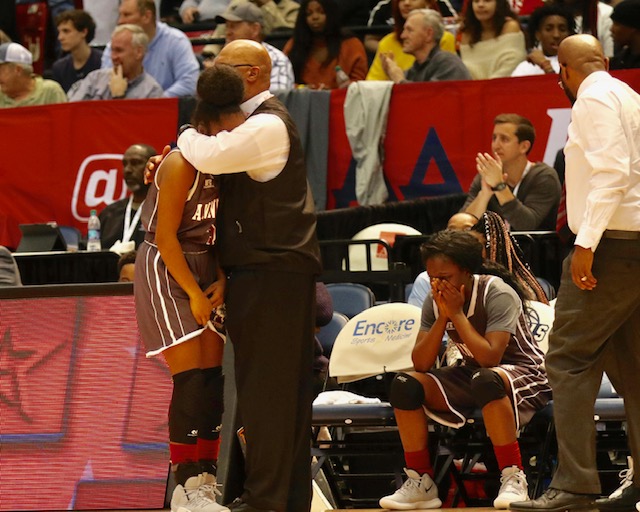 By Al Muskewitz
East Alabama Sports Today
 
BIRMINGHAM — The tears Anniston guard Allasha Dudley shed after the Class 4A girls state semifinals came from fatigue. 

The ones she shed Friday were from sadness.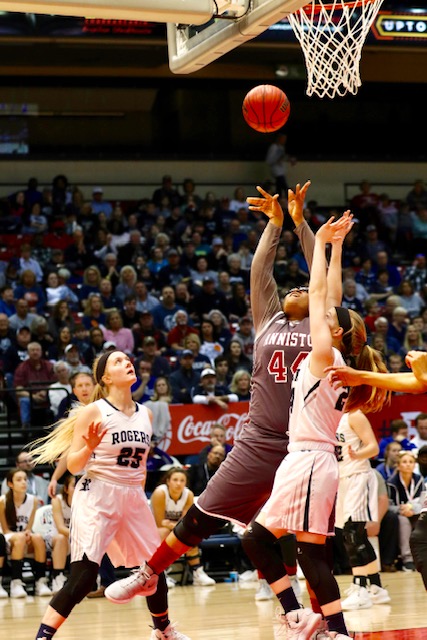 Anniston coach Eddie Bullock's dream of finally winning a state championship came up a tad short as Rogers took away everything the Lady Dawgs do best and scored a 46-38 victory in the 4A girls state finals at the BJCC.
 
It was an atypical Anniston performance. Rogers held the Lady Dawgs (29-5) to 16-of-60 shooting from the field and 3-of-22 from 3-point range, and made averaging a point a minute a struggle.
 
Dudley, who put 36 on Greensboro in the semifinals, scored only four points against the usual defensive blanket of Rogers' Gloria Pounders and did not have a 3-pointer (0-for-6) in the game.
 
"She just denied me and if I went around her another person would help her," Dudley said."I got a little frustrated because from the first game I did so good. I feel like I didn't show up for my team. I tried, it just didn't work out."
 
Not only did the Lady Dawgs struggle from the outside they had trouble finishing around the basket despite grabbing 22 offensive rebounds.
 
Rogers' crisp ball movement and skill at working the clock negated the Lady Dawgs' ability to run and force turnovers, while they were forced into 11 themselves. Anniston scored only three points off Rogers turnovers and had just four fast-break points.
 
It was as if the Lady Pirates (32-3) studied Anniston's slow-motion 28-23 win over Spring Garden earlier this year, but Rogers coach Blake Prestage declined to comment on any game he may have watched for pointers.Prestage did allow it was the best defensive game his team had played this year.
 
Actually, Anniston jumped out to a 5-0 lead on two buckets by point guard Anna Garrett, but Rogers scored the next eight points and never trailed again. 

The Lady Pirates led 21-10 after the first quarter and by 11 at halftime. They had such control of the game, they really weren't affected by scoring only two points in the third quarter and two field goals in the second half (2-for-19).
 
"We kind of dug ourselves in a hole early and we had to fight to get back," Bullock said. "We tried to do the things that we needed to do, but we just quite couldn't get over that hump. They did a good job of stopping the initial passes and slowing us down, and that kind of got us a little bit out of rhythm."
 
The Lady Dawgs did get within six points after post Toniah Foster banked in a 3 with 37.3 left, but Rogers made its free throws in the closing seconds to keep them at bay.
 
Foster scored Anniston's last seven points and finished with a team-high 13. Foster and Dudley made the all-tournament team.
 
Rogers' tournament MVP Madie Krieger led all scorers with 23 points. 

"I knew I needed to handle the ball better, value the ball, but still be aggressive," Krieger said. "I just had to kind of forget the last game, forget where I messed up and just kind of improve this game."
 
The Lady Dawgs were making their sixth Final Four appearance under Bullock and second in the championship game, but are still without a blue trophy.

"We're gonna get it one day," he said.
 
CLASS 4A GIRLS CHAMPIONSHIP
Rogers 46, Anniston 38
ANNISTON (29-5) – Allasha Dudley 2-12 0-0 4, Anna Garrett 3-10 0-0 7, Jordyn Johnson 2-11 0-0 5, Kiana Montgomery 1-1 1-2 3, Toniah Foster 6-13 0-0 13, Measia Kelley 0-1 0-0 0, Charliese Simmons 0-0 0-0 0, Khyla Garrett 0-0 0-0 0, Tiauna Thomas 0-0 0-0 0, Airriana Colley 0-4 0-0 0, Tekyia Jackson 0-3 1-2 1, Asia Barclay 2-5 1-2 5. Totals 16-60 3-22 38.
ROGERS (32-3) – Brooke Jones 0-5 0-1 0, Gloria Pounders 1-5 0-1 2, Erin Brown 3-5 1-4 9, Madie Krieger 6-17 10-11 23, Gabby Davis 2-8 0-0 4, Avery Glover 0-2 0-0 0, Sheyenne Hankins 2-6 0-0 6, Callie King 0-0 0-0 0, Sydney Baskins 1-1 0-0 2. Totals 15-49 11-17 46.
Anniston         10       11       3          14       –          38
Rogers             21       11       2          12       –          46
3-point goals: Anniston 3-22 (Dudley 0-6, Garrett 1-6, Johnson 1-5, Foster 1-1, Kelley 0-1, Colley 0-3); Rogers 5-20 (Jones 0-2, Pounders -4, Brown 2-4, Krieger 1-6, Hankins 2-4). Rebounds: Anniston 46 (Johnson 10, Foster 7, Barclay 7); Rogers 36 (Davis 10). Total fouls: Anniston 19, Rogers 8. Officials: Kenith Booker, Mickey Cunningham, Ken Barnett.