Cardinals reign ends
Coosa Central stuns four-time state champion Sacred Heart in Class 2A title game on a put back in the closing seconds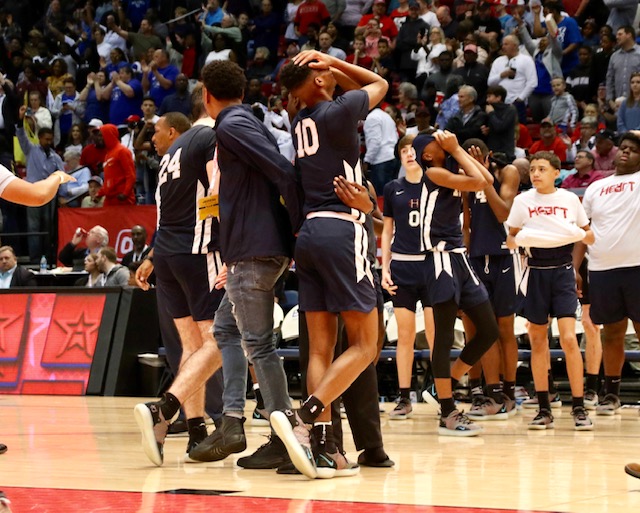 By Al Muskewitz
East Alabama Sports Today

BIRMINGHAM — The difference between winning and losing a state championship was a matter of inches, a matter of seconds.
 
Coosa Central ended Sacred Heart's run of state basketball titles at four Friday when Quinstavious Brooks got inside a crowded lane, snared a rare offensive rebound and put it back in with 2.5 seconds left to give the Cougars a 54-52 victory at the BJCC.

Sacred Heart had won the last four Class 1A titles and were vying for its first 2A crown after getting bumped up in classification by the AHSAA's competitive balance rule for private schools. No boys team in Alabama has ever won five straight state titles.

"The feeling is not the same (as when they've won it all), but it is," Sacred Heart coach Ralph Graves said. "When you put out all that you can and you've won championships before, when you see someone else win it, you're happy for them, too, because you knew what it took for them to be a champion.
 
"Yeah, everybody wants to win, but when someone wins a championship no matter what class you know those guys have put forth the effort, commitment, sacrifice; it comes down to who deserves it. It's not the say we're not deserving of it, either, but you're gonna have a winner and you're gonna have a loser, but we're still champions. And the champions is in your heart not on the scoreboard."
 
The clock read 1.5 seconds when the ball fell through the hoop and Coosa called time, meaning the Cardinals had one last chance to flip the emotional script.

The officials put another three-tenths of a second back on the clock before setting the final sequence in motion. Aaron Moore fielded Khalil Watkins' in-bounds baseball pass in traffic and got it over to Cade Landers.

Landers launched a 3-pointer from right in front of the Cardinals bench right before the horn. The shot hit the rim and then the backboard before falling to the floor.

"The last play, we got a shot, you got a good look at it," Graves said. "If it goes down you're running around the gym crazy, everybody's happy, and if you miss it it's the sorrow part."

And it was the Cardinals feeling the sadness for the first time in six years. They had not lost a post-season game — area, regional or state — since falling to St. Jude in the 2014 state semifinals.

The Cougars (23-4) had only six offensive rebounds in the game before the winning put back. 

"Rebounds have been a struggle for us all year," Coosa coach Jeremy Freeman said. "But I kept telling them it's not about winning the rebound battle it's about winning the key rebound battle. Like there was a key rebound and he was able to put it back in and made history."

Another key element in the game was Sacred Heart's 20 turnovers to Coosa's five. The Cougars scored 19 points off the Cardinals' miscues. Graves called it the difference in the game.

"We saw that on film early," Graves said. "You go by the guy, they're going to let you go by and they're going to reach back and they hit it and tap it and they're off to running. That's the way that they play. I wish we could do that, but those guys made the plays. You're not going to win any championship against anybody when you have 20 turnovers and they have five. It just doesn't work that way."

The Cardinals (22-11) trailed by seven with 2:43 left in the third quarter following a dominant run by tournament MVP Jovon Richardson, but stormed back and led five with 3:51 to go after a three-point play by Landers.They last led at 52-50 on a basket by Jayden Stone with 1:50 to play.
 
They led by nine with 38 seconds left in the first half, but Richardson cut the margin to six when he hit three fouls after being fouled behind the arc with four-tenths of a second to go.
 
"Pressure ain't nothing to us," said Richardson, who celebrated the win with a back flip. "Our class slogan is 'ain't no pressure.'" 
 
On the game-winner, Richardson drove to the basket and thought he made the layup, but the ball came off on the right side to Brooks who grabbed the rebound around Moore and put it back in. Moore had four fouls at the time.
 
"I'm grateful Quin was able to get the tip back," Richardson said.
 
"I would have never thought I'd get a put-back game-winner," Brooks said. "It was a proud moment for me. I'll always remember that."
 
Moore, Stone and Caleb Brown made the All-Tournament team for Sacred Heart.

Coosa Central 54, Sacred Heart 52
SACRED HEART (22-11) – Khalil Watkins 3-7 1-1 9, Allen Marshall 0-1 0-0 0, Caleb Brown 5-10 1-1 12, Jayden Stone 7-18 1-2 18, Cade Landers 3-6 1-2 7, Jack Miller 0-0 0-0 0, Taishun Hall 0-0 0-0 0, Aaron Moore 3-8 0-1 6. Totals 21-50 4-7 52.
COOSA CENTRAL (23-4) – Omar Gaddis 5-13 0-0 12, Jovon Richardson 6-17 7-7 21, Quin Brooks 3-3 0-3 6, Joshua McGhee 4-10 0-2 9, Noel Jones 0-9 6-8 6, Casson Robbins 0-0 0-0 0. Totals 18-52 13-20 54.
Sacred Heart      15            13            11            13            –               52
Coosa Central    8               14            20            12            –               54
3-point goals: Sacred Heart 6-15 (Watkins 2-4, Brown 1-1, Stone 3-10); Coosa Central 5-20 (Gaddis 2-6, Richardson 2-5, McGhee 1-5, Jones 0-4). Rebounds: Sacred Heart 42 (Stone 10, Moore 14); Coosa Central 28 (Brooks 9, Jones 8). Total fouls: Sacred Heart 16, Coosa Central 15. Officials: Ken Barnett, Kenith Booker, Mickey Cunningham.
Post-game perspective
When the game and formal post-game interviews were over, Graves leaned against an outer wall in a Legacy Arena and reflected on his legacy, all that's transpired during his tenure as the Cardinals' head coach. Here are his complete remarks: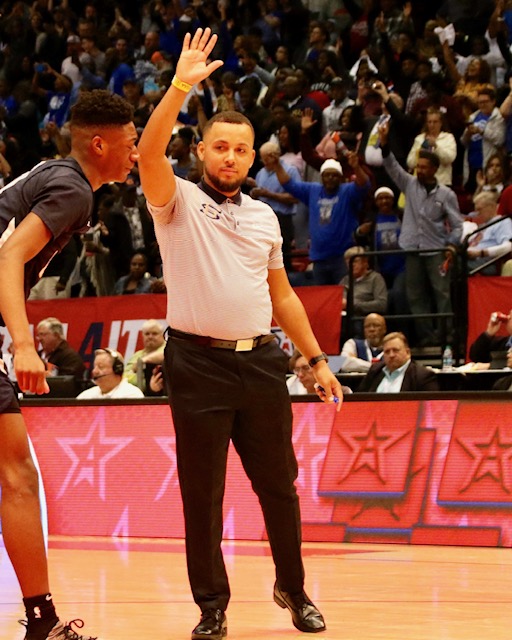 "Ten years ago I was an assistant coach at Anniston and we won it; was really happy, sacrificed a whole lot. I never forget sitting behind the bench after we won it. I ended up leaving the next year because I was angry because I didn't think I got enough recognition as a young coach, because I had done a whole lot of work. But it wasn't about me.

"What I learned was it wasn't mine time yet. Now, looking back at it, when I took the job at Sacred Heart nobody saw this. I know they didn't because I didn't. I remember a lady at Sacred Heart asked me seven times to take the job at Sacred Heart and I told her no seven times, because I didn't believe that a private school or a small school had the talent or could be at basketball. After I told her no the last time — I had just graduated from college — I was like, 'You know, I'm going to see if this college degree thing really works.'

"I put together a resume, never saw the school a day in my life. I never forget going up to the school unannounced and told (principal Charlie Maniscalco) I want to put in for the boys basketball job and he said how do you know. I said don't worry about that, just know that I know.

"I was a hungry, young coach, not knowing what to do, just wanted to be a coach. Then this happened. Where you go on a run and you change the culture of the private and the small school and you win the championships. With me saying all that is to go back to this: I had an opportunity here at Sacred Heart and it wasn't a golden opportunity I didn't think. Nobody thought. But God placed me here. Once he placed me here, He knew what He had for us. He knew what He had for the school. He knew what He had to be awesome. I'm just glad to be the person, the leader of that, in front of that, and be disciple for what He wants us to do.

"Even though it comes with a lot of ridicule, it comes with a lot of jibber-jabber and all that, but God gives his toughest jobs to his toughest people and I'm one of them. With us winning four championships, we know how to handle both. We'll pick out chins up and we'll get back to work and hopefully we'll come back here next year and win it.

"I will say this about Sacred Heart. A big reason I stayed at Sacred Heart is I remember my first year at Sacred Heart we won the championship, we were in the area championship game, we won, played the first round playoff against Gaston and we lost by 15 points. I'll never forget walking off the floor after the loss everybody in Sacred Heart's gym stood up and gave us a standing ovation. So that let's you know that the support is there if you're winning or losing. I know our fans they want to win also, but they understand also a team beat us on that night and we can live with that."